This fun Valentine syllable activity is always big hit with preschoolers and kindergarteners alike around Valentine's Day.
Valentine Syllable Game Supplies
three Valentine mailboxes
permanent marker
construction paper hearts
glue stick
1, 2, and 3 syllable pictures
Valentine Syllable Game Directions
I found the Valentine mailboxes pictured above at my local dollar store.
First, write one number on each mailbox with your marker.
Next, cut out one construction paper heart for each syllable picture. Cut and glue the syllable pictures to the hearts, then laminate for durability.
To play, students will take turns selecting a card, identifying the picture and counting syllables in the word, then placing the card in the corresponding mailbox.
More Syllable Games
Of course you can incorporate more syllable games into your lesson plans throughout the year.
For example, this Syllable Counting with Straws activity is one you can do all year round. This activity works well with a small group of students to build literacy skills.  Your students will build phonological awareness as they count syllables with straws using common items.
Another fun one is the Pool Noodle Syllable Caterpillar activity. This literacy game focusing on syllables is so easy to make and the total cost is only a few bucks. Young children learn best through fun, hands-on activities where they manipulate three-dimensional objects.
When it's Halloween time, then your students will have have fun with this hands on Skeleton Syllable Activity. Forget spooky or scary, these Halloween skeleton gloves are just plain fun!
More Valentine's Day Ideas
There are so many activities that you can incorporate into your classroom for Valentine's Day!
You can incorporate the holiday into your math activity literacy activity or use books to celebrate Valentine's Day!
A light table activity is also a great way to center the lesson around Valentine's Day. When your kids are picking up and manipulating the plastic hearts on the light table they'll be engaging in sensory play and developing those important fine motor skills too!
And no preschool Valentine's Day theme would be complete without a Valentine play dough activity. Playing with play dough is a great way for kids to practice their fine motor skills in a fun, hands-on way. The simple act of pressing chenille stems, beads, cookie cutters into dough has so many benefits for young children.
Your pre-K or kindergarten students could also work on their sight words during the holiday as well.  Using Valentine card sight words is a  highly engaging and fun activity can help your pre-k or kindergarten students get even more excited to practice their sight words.
You could also incorporate songs into the holiday. You can sing Valentine songs during circle time, transitions, or whenever your kids just need to refocus and get their wiggles out!
Fine motor activities for preschoolers with a Valentine theme. Fun with glue, crayons, scissors, paper and more for Valentine's Day!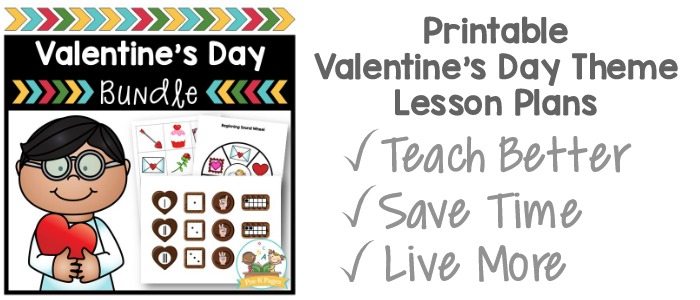 More Activities