I am often asked what materials are in each center in my classroom so I decided to start a new series called "What's in your…center?" This first post is all about what's in my ABC center at the beginning of the year.
What's in Your ABC Center?
Above you can see a picture of the entire ABC or alphabet center and below I have included close-up pictures of each shelf and listed the materials pictured. I also included links to three free printables for you, so keep reading to get your copies!
ABC Center Materials: Top Shelf
On the top shelf you can see the alphabet discovery bottles, one for upper and one for lowercase. The directions for making the bottles can be found
HERE
, just substitute letter beads for the buttons. Also pictured above is the
ABC Center Sign
.

Also on the top shelf is the magnetic Chicka Chicka Boom Boom Tree. You can find the directions for making your own magnetic Chicka Chicka Boom Boom tree plus a free printable to accompany the activity at the bottom of this page.
ABC Center Materials: Middle Shelf
ABC Center Materials: Bottom Shelf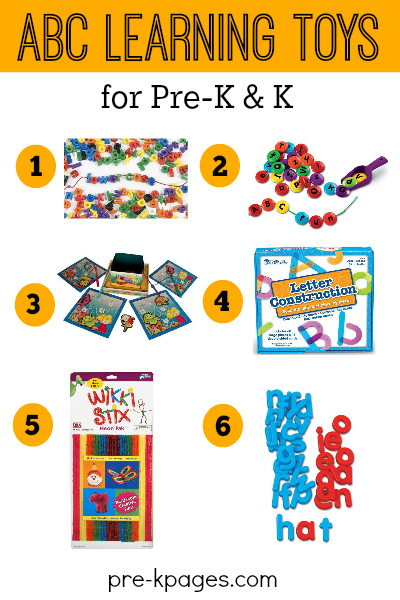 Best Toys for Learning the Alphabet
1. Uppercase Alphabet Beads and Lowercase Alphabet Beads
2. ABC Lacing Sweets
3. Alphabet Fishing Game
4. Letter Construction
5. Wikki Stix
6. Upper and Lowercase Magnetic Alphabet Letters
More Center Ideas
Math Center
Writing Center
Preschool Learning Center
Have you always dreamed of setting up amazing, self-directed preschool learning center for your classroom…but feel like something is missing? How do you know which centers you need? What should you put in them?
Center Essentials Guide
Get your ultimate, step-by-step guide for setting up centers HERE