Are you looking for ways to introduce preschool journals to your little learners? There are many ways to teach young children about the process of writing in preschool. This is the process that works best for the children in my full-day public Pre-K classroom. Hopefully you will keep an open mind and embrace these new ideas as you explore the best way to teach writing to the young children in your own classroom.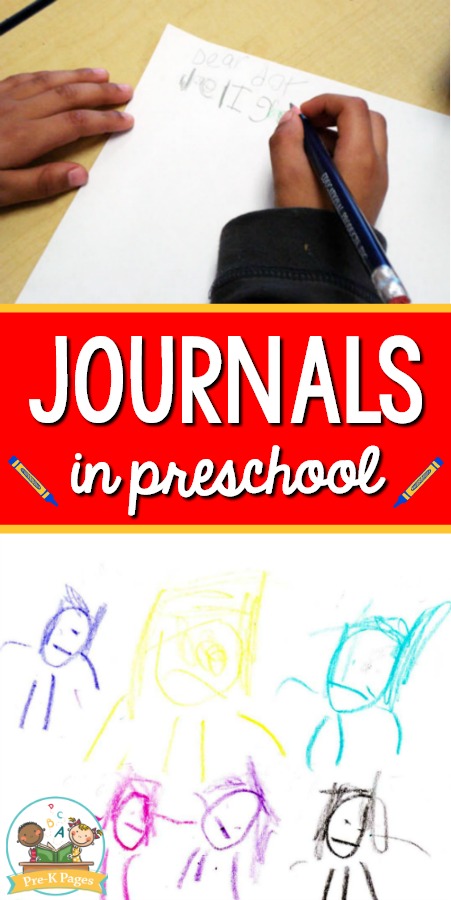 Simple Preschool Journals
Before we begin a conversation about journals, it's important to define what they are first. Simply put, journals are a place for writing and drawing.
Journals are not:
For handwriting practice
Workbooks filled with assignments
For writing prompts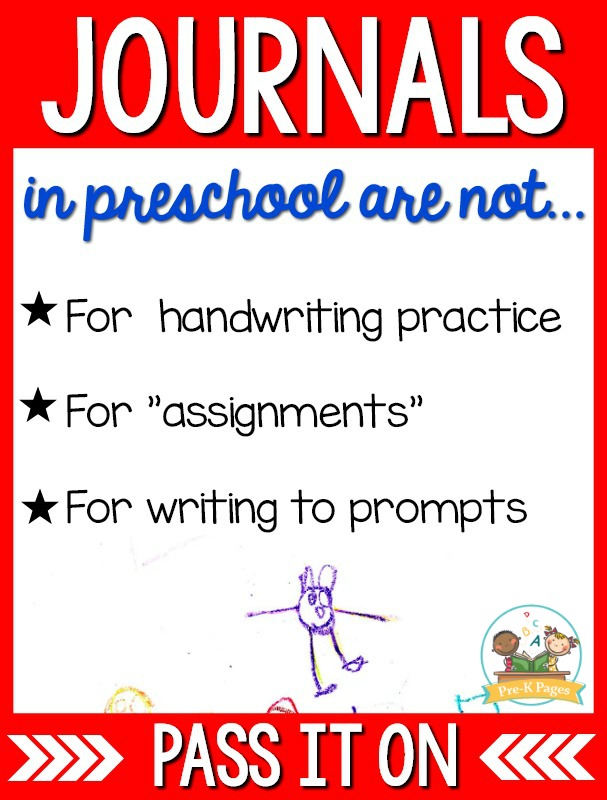 How to Teach Journal Writing in Preschool
Instead of asking how to teach journal writing, instead, I challenge you to think about offering free writing and drawing opportunities daily instead. What would it look like if you gave more freedom and ownership of the writing process to your little learners? Of course, you can still scaffold for support in a number of different ways.
Let's start with why is free writing and drawing important for young children. Writing and drawing are ways to communicate our thoughts and ideas on paper. The thoughts and ideas that children communicate on paper are usually in the form of drawing in the very beginning, and they gradually progress to include writing. If we ask children to draw (or write) about a particular topic, we are essentially telling them what to think and say. This makes drawing and writing less meaningful and motivating for young children.
If we really want young children in Preschool and Pre-K to learn how to draw and write, then inviting them to draw and write about what is most meaningful to them is going to be more effective than telling them what to draw or write.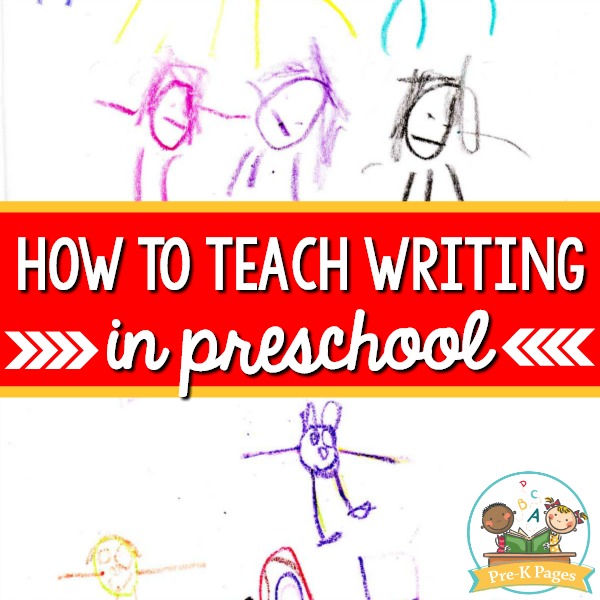 Journal Topics in Preschool
Instead of asking which journal topics are best for preschoolers, I challenge you to think about allowing your students the freedom to choose the topics they want to write about.
Asking children to write or draw about a certain topic has a time and a place. Writing about a field trip or making a class book is a perfectly fine activity for young children, but it should take place separate and apart from their dedicated, daily writing time – not in place of.
Journaling with Preschoolers
Here's a bit of the backstory on how the way I see writing has changed over time:
Pre-K Pages was founded in 2001, over the years the site has changed as it has grown. In 2008 I read two eye-opening books: Already Ready: Nurturing Writers in Preschool and Kindergarten and About the Authors: Writing Workshop with Our Youngest Writers. It was then that I made the decision to remove the "old-school" information about journals from Pre-K Pages. I realized new advances and insights into the way children learn to write had emerged and I wanted to adopt these new ideas in my classroom as well as share them with you here. I encourage you to read the books listed above before deciding to do journals in your classroom.
At first I was a bit skeptical that young children, especially those who were only 4 years old, at-risk, or Dual Language Learners, could handle bookmaking, but I decided to give it a try anyway. The results were amazing and enough to convince me that this is a very powerful method for teaching young children how to become writers, much more so than journaling.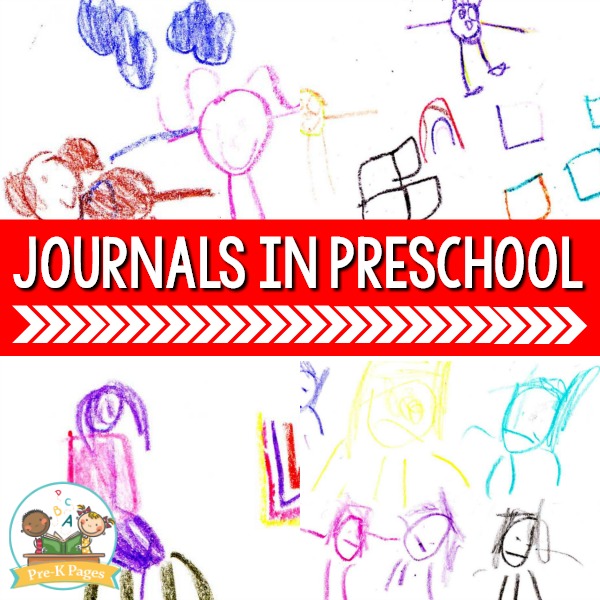 How to Introduce Preschool Journals
With the old-school journal method, children were invited to write or draw on one page of paper per day and then dictate what their drawing or writing was about to an adult. If they were lucky, kids would engage in this process a few times a week at most.
There's nothing necessarily wrong with this method, but it's not highly effective for teaching young children about how the writing process works. The adults do most of the work in the old-school journaling method, which teaches the kids that writing is an adult job and not something they can do. But there's so much more you can do to make the writing process deeply meaningful.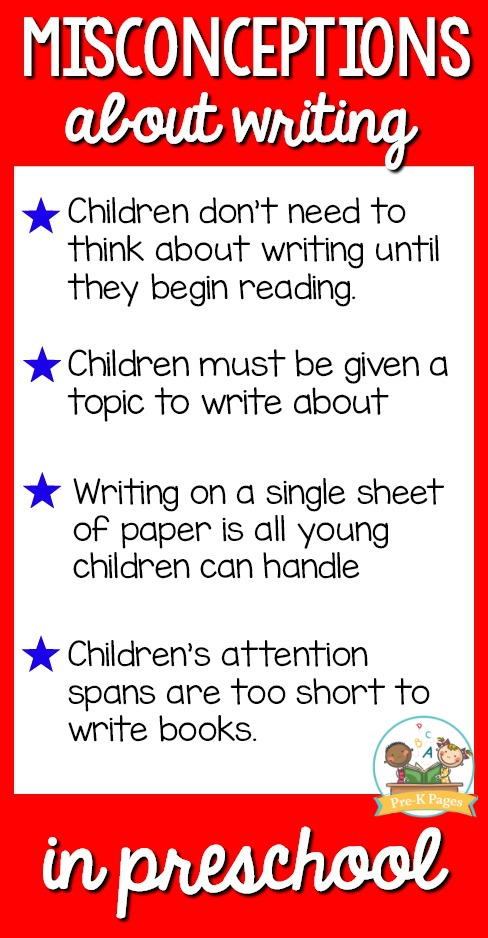 In the book Already Ready the authors dispel some common misconceptions about writing and young children, such as:
Children don't need to think about writing until they begin reading.
Children need to be given a topic for writing
Writing on a single sheet of paper is all a child this age can handle, they're too young for making books.
Children's attention spans are too short to write an entire book. They will never remember what they wrote.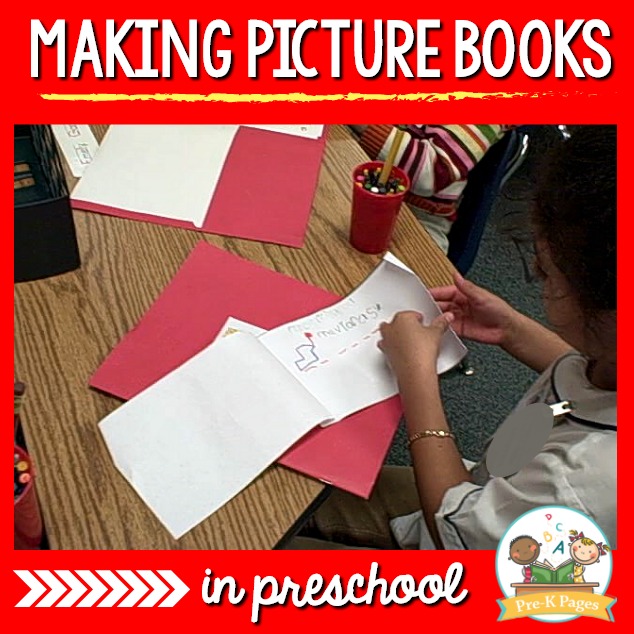 Preschool Journal Template
Instead of spending time searching for preschool journal templates, I challenge you to think about inviting your students to create picture books. You know that feeling you get when you're doing old-school journals? It's that super rushed and frustrated feeling you get when all your kids are waiting for you to write about what they just drew in their journals. There are 16 (or more!) of them and only one of you, and you just know there are a few who have the capacity to wait for about 30 seconds- on a good day.
What if you could transform journal time into a part of your daily routine that really shines? A time that your kids looked forward to and begged to do, even if it wasn't time.
How would you feel if there weren't 16 little hands waggling in the air, impatiently waiting for you to write in their journals? It can be done, and if done well, it's truly freeing.
Why make picture books with young children instead of just drawing on a single sheet of paper and calling it a day?
Picture books are familiar to young children.
Children have background knowledge of how picture books work and therefore can relate to them better than journals.
Picture books help children read like writers.
Making picture books builds stamina, an important part of being a good writer.
Making picture books is fun and developmentally appropriate.
Making picture books aligns with current best practices in education
How to Make Picture Books
Allow children to choose their own topics when writing books.
Provide opportunities for children to make books every day.
Provide supplies for bookmaking in an easily accessible area of the classroom.
Allow children to make revisions to their books.
Invite children to share their books with their classmates, friends, or other teachers and staff members.
Intentionally expose children to different genres.
Explicitly call attention to the different text features when you read aloud to your students.
Oh, and if you're wondering about what type of preschool journal writing paper you need, or maybe you're wondering if you need a printable template – the answer is no! There's no need for special paper or a printable template when it comes to writing in preschool. Blank paper is the way to go!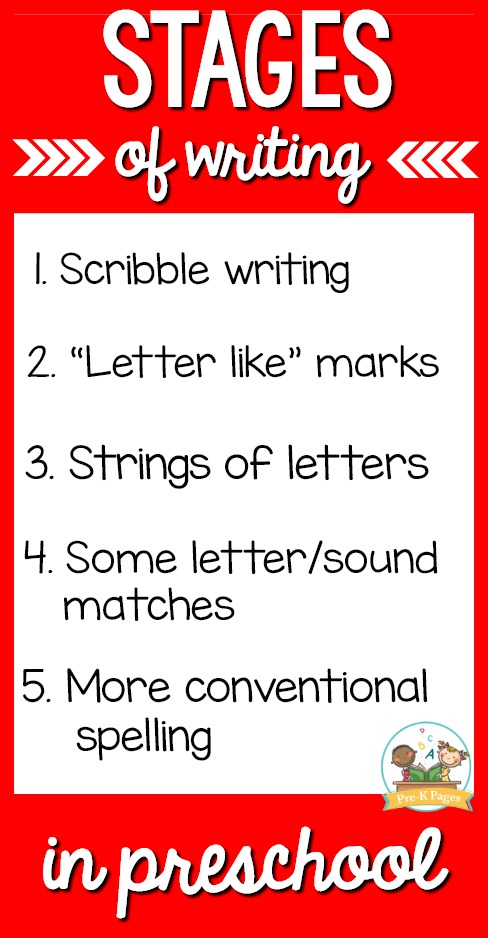 Stages of Writing
The first basic stage is scribble writing.
The second stage involves "letter like" markings, some may resemble letters and others may look more like shapes.
The third stage is when the child makes continuous strings of letters.
In the fourth stage the child actually begins to make some letter/sound matches in his writing; for example he may write the letter "F" next to his picture of a fish.
In the fifth stage the child will begin to use more conventional spellings of words.
Purpose of Writing
 
What is the actual purpose of writing in pre-k? I once saw a poster in a classroom that said "The top ten ways to become a better reader: read, read, read, read, read, read… ". The very same is true for writing, the best way for children to understand that print carries a message and to begin developing their writing abilities is to provide them with consistent opportunities to write. The more experiences children have with using writing tools and writing on blank paper, the more quickly they begin to understand the purpose of writing and how writing works.
Motivation to Write
In Matt Glover's book titled Engaging Young Writers, Preschool-Grade 1 he talks about ways to motivate and invite young children to write. I was fortunate enough to see Mr. Glover present at the NAEYC conference in Dallas. I highly recommend his book in addition to Already Ready. Already Ready addresses the process and the "why" behind bookmaking, Engaging Young Writers addresses the HOW in depth.
Questions About Writing
If you have questions about how any of this works, the best places to discuss ideas like teaching emergent writing in the early childhood classroom is in the Teaching Tribe. In fact, we have on-demand video training on this very topic where I share my best tips and tricks to make it work in your classroom. If you want to get on the waiting list for the Teaching Tribe, do it soon so you don't miss the next open enrollment period!
The information contained on this page is research-based and developmentally appropriate for all young children in Preschool and Pre-K.
If you're looking for handwriting practice ideas, go HERE.
For information about workbooks or worksheets, go HERE.
Writing Resources
More Teaching Tips from Pre-K Pages