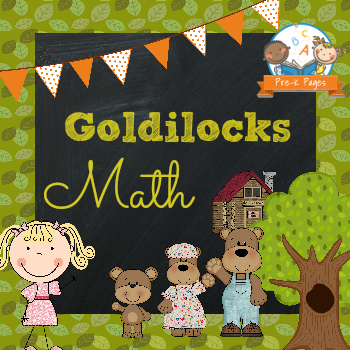 Want a free preview of this product? Click here!
43 pages of fun, hands-on Goldilocks themed math activities to help your preschool, pre-k, and kindergarten students meet early learning standards.
The skills addressed in this packet include the following:
*Counting
*Number Recognition
*Fine Motor Skills
*One-to-One Correspondence
*Graphing
*Patterning
What you get
Porridge Play Dough Counting Mats (Color)
Just Right! Number Identification Game (includes both color and black and white versions)
Goldilocks Board Game (Color)
Goldilocks Graph (color + black and white recording sheet)
Goldilocks Patterns (Color + 3 black and white worksheets)
Porridge Races Board Game (color)
Goldilocks Counting Book (Black and white)
43 pages of instant hands-on math learning made fun for your students!
Additional materials needed: small manipulatives like unifix cubes or similar to use with the board games, bingo dot markers or crayons, play dough