You're like Goldilocks- you want everything to be "just right" in your classroom,
…but staying up until the wee hours of the morning to plan those fantastic lessons?
Is getting old- fast!
You're also a hard worker who wants to build the best foundation for your kids, just like that third little pig,
…but the third little pig had bricks to work with- you're short on time with even fewer materials.
And now the big bad wolf is breathing down your neck- how will you teach them what they need to know?
You need to fit it all in but still keep it fun.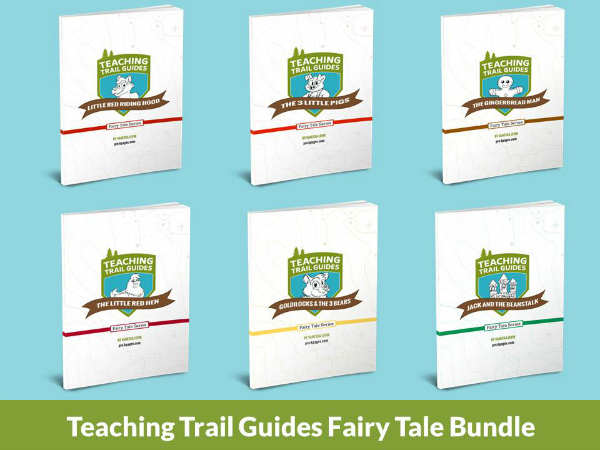 Introducing the Teaching Trail Guides Fairy Tale Bundle
…a collection of done-for-you Fairy Tale lesson plans and activities that take the headache out of planning and keep your kids engaged.
This bundle includes math and literacy activities for each of 6 different fairy tales and supports early learning standards.
And each fairy tale also comes with a complete lesson planning guide – so you can set up literature-based learning experiences for your kids in no time.
With more than 500 pages of printable activities and lesson plans, this bundle will put the joy back in learning, but give you back the weekends you deserve.
Say good-bye to late nights and hello to more FUN in the classroom!
"The children are making connections and learning new skills."
I like your fairy tale packets because I can extend and enrich the fairy tales with math and literacy skills. The children absorb so much more when they can make connections and learn new skills in the context of a favorite story.

Paula Kephart
PreK3
What's inside?
Complete math + literacy small group activities, printable lesson planning guides, and learning center resources for: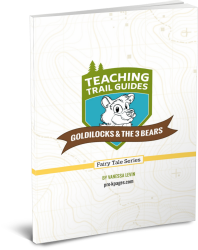 Want more details?
Want a complete list of everything inside? Click HERE to download your preview now and take advantage of this special offer!
Get access to this exclusive bundle of time-saving, power-packed lessons that will bring delight to your kids, while saving your sanity…and your precious time!
"I'm less stressed – everybody is happy!"
I'm new to Pre-K this year and it's VERY different from 2nd grade, I don't know what I would have done without these fairy tale plans and activities. My kids love the activities and I'm less stressed – everybody is happy!

Sana
Pre-K Teacher
Buy the Complete Teaching Trail Guides Fairy Tale Bundle Now:
What happens next?
Once you have added the Teaching Trail Guide Fairy Tale bundle to your shopping cart, you may begin the checkout process.
Follow the directions in the shopping cart to pay for your purchases.
Next, you will be taken to a purchase confirmation page where you can download your documents immediately.
You will also receive an email with a receipt for your purchase.
Your receipt will contain links to download your documents if you missed them on the purchase confirmation page.
All links expire 72 hours from time of purchase, please download and save your fabulous new resources right away.