Lesson plan examples, planning calendars and templates for preschool, pre-K and kindergarten teachers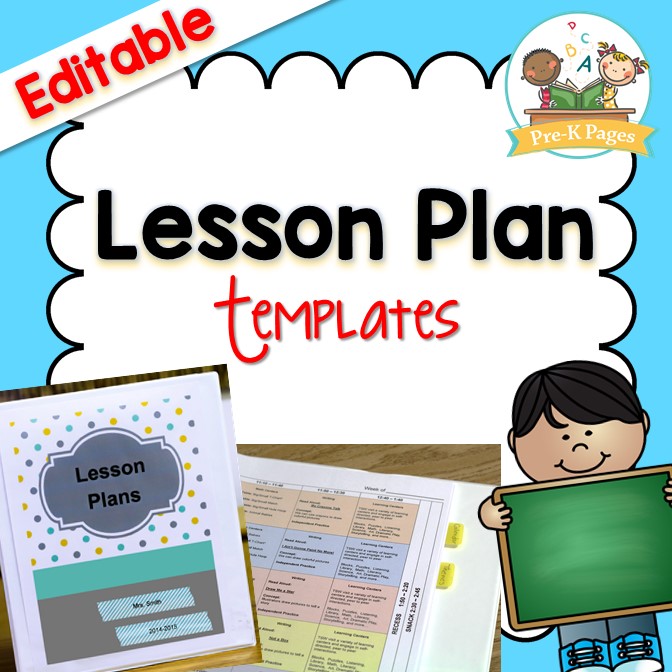 *EDITABLE* 150 page lesson plan packet for preschool school teachers contains lesson plan examples, fillable lesson plan templates, and planning calendars for preschool, pre-k, kindergarten, and first grade students. Never write your weekly lesson plans by hand again!
These electronic lesson plan templates feature fillable forms in PDF that allow you to type your own text into the form fields.
Want to see what the lesson plan template kit looks like on the inside? Take a VIDEO TOUR HERE!
***********************************************************
The Digital Lesson Plan Template Binder has no annual fee and there is no waiting for calendar dates to be updated in the planner!
Just select the month and year from the calendar dropdown menu within the document and watch the magic happen!
The calendars instantly fill in the correct dates and numbers for you to help make planning lesson plans a breeze!
This is the ultimate teacher lesson plan template book!
***********************************************************
The 150 page Digital Lesson Plan Binder contains the following sections:
3 Fillable Cover Pages
13 Weekly Lesson Plan Examples and Fillable Lesson Plan Templates
1 Small Group Lesson Plan Example and Fillable Template
1 Guided Reading Lesson Plan Example and Fillable Template
1 Science Lesson Plan Example and Fillable Template
12, Seven Day Fillable Calendar Templates
12, Five Day Fillable Calendar Templates
***********************************************************
150 pages of fillable lesson plan templates and calendars to make writing lesson planning easier for teachers everywhere!
Type directly into the planning document to customize the lesson plan templates to meet your needs.
Type in your weekly lesson plans and save; then use your preferred template to quickly write your plans each week.
Please note: This is an enhanced PDF file and it must be opened with Adobe Reader.