You see them every day. They're invaluable in our communities. Without them, who knows what our cities, towns, and lives would be like!
Now, you can celebrate them with an entire bundle your students will love!
A bundle so fun and exciting your students will jump for joy with each activity while also learning everything they need to succeed as young students.
This bundle is all about the real-life heroes your students love, such as mailmen, policemen, doctors, firemen, and construction workers. 
You can have all of the super fun and science-backed activities to prepare your students for kindergarten readiness all in one place with The Community Helper Bundle!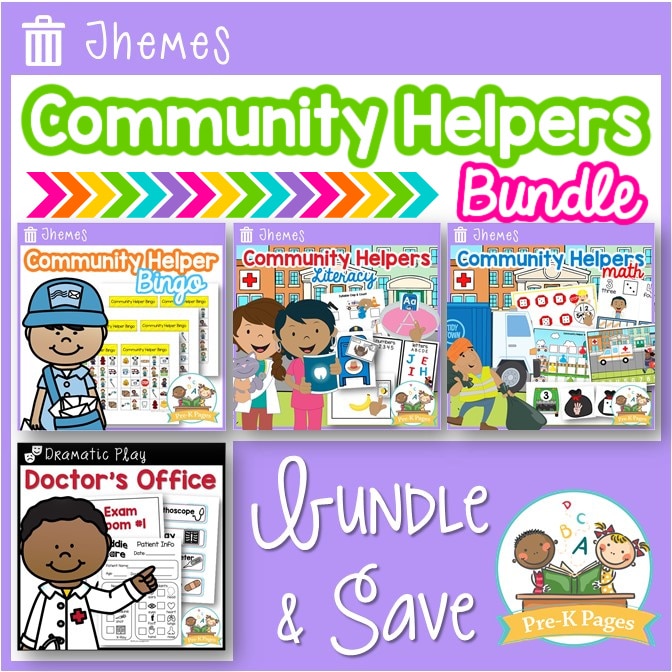 What You Get
111 pages of community helper-themed literacy activities to build a foundation of reading, speaking, and writing success! You'll cover important objectives like syllable mastery, beginning sounds, rhyming, print concepts, and letter recognition!

88 pages of expert-made, science-backed, and kid loved math activities that make learning math fun and easy! Guide your students as they learn and improve counting, number recognition, fine motor skills, 1-on-1 correspondence, graphing, patterning, and numbers!

66 pages of instantly downloadable pages that transform your play center into a doctor's office or hospital, creating the environment your students need to use what they've learned into "real-time" play!

Get the printable Community Helpers bingo game to add even more fun and learning into your lesson plans! The moment you have this, you have a classic game mixed with a fun theme you can use over and over again!
Why You Should Have This Bundle:
They're done-for-you, helping you save hours (even days) of planning

Instantly relieve the stress that comes with planning and wondering if your students will love the activities

Research-based to help your students succeed

Lesson plans for multiple topics and skills

Hands-on learning and more!