Did you know the sense of smell is the strongest emotional trigger?
Our sense of smell is directly related to memory; certain odors can trigger memories long forgotten, both good and bad.
When it comes to our classrooms, we want children to connect good smells with positive memories of school and learning, without overdoing it.
I have always loved having a fresh smelling classroom, but hate using chemical laden plugins and sprays to achieve a fresh scent.
These are some tips to keep your classroom smelling fresh without using lots of harsh chemicals.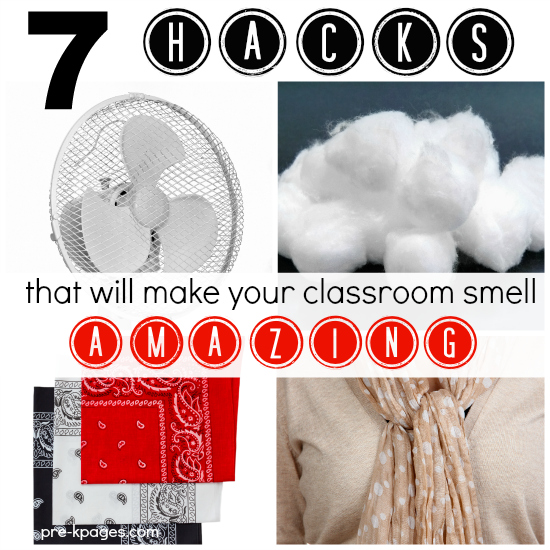 Classroom Scents
It may seem as if teachers have so many things on their plates these days the least of their worries should be how their classrooms smell, but research has shown that the sense of smell is a direct pathway to the brain and is related to the development of problem solving skills.
Unpleasant odors have also been shown to negatively impact learning while certain scents can be used in the classroom to help create optimal learning conditions.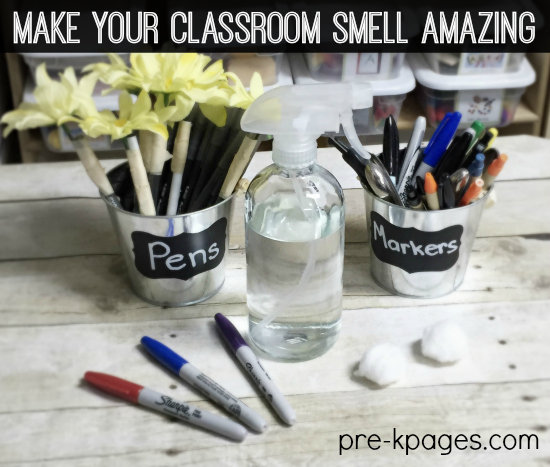 Best Scents for the Classroom
There are so many scents to choose from, here are a few that can help with certain classroom situations:
Peppermint and citrus scents can help with focus and attention; use these after nap time or towards the end of the day when kids are dragging.
Lavender can have a very calming effect, perfect for an active bunch!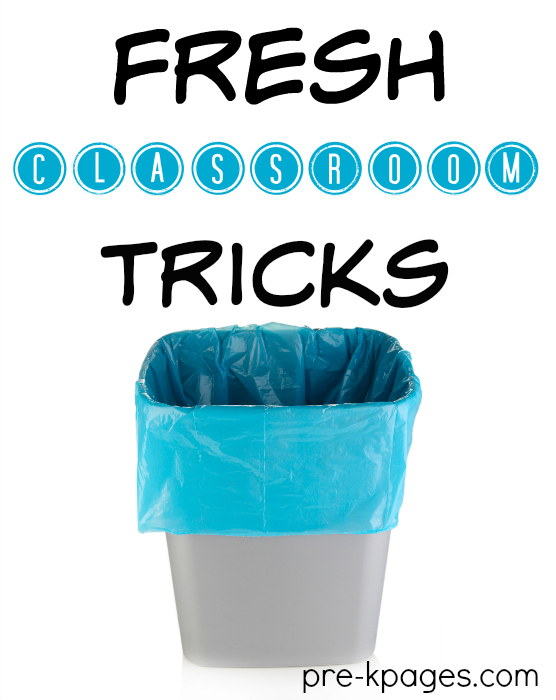 7 Classroom Hacks to Make Your Classroom Smell Amazing!
I have always loved having a fresh smelling classroom, but hate using chemical laden plugins and sprays. The ideas below use essential oils (my favorite!) but you could also use peppermint extract if you prefer.
1. Place a few drops of essential oil on a cotton ball or handkerchief and tape to the back of a fan in your classroom. The fan doesn't have to be large; it can be a desktop fan, placed out of the reach of the children for safety.
2. Use an essential oil diffuser at school to help cut down on odors in the classroom. Diffusers don't get hot so they are safer choices for classroom use. Place the diffuser on top of a tall file cabinet or bookshelf out of the reach of children.
3. Stinky trash can? Place a few drops of lemon essential oil on a cotton ball and place the cotton ball in the bottom of the trash can to reduce odors.
4. Place a few drops of citrus essential oil in a glass spray bottle and fill with distilled water to create a natural air freshener. Use fewer drops of oil for a subtle smell or more drops to increase the intensity of the scent.
5. Accessorize! Place a few drops of your favorite essential oil on a scarf, my favorite is Peace and Calming. While it may not fill the room, you will smell amazing all day long!
6. Add a few drops of lavender essential oil to your favorite play dough recipe to create a calming effect.
7. Attach a bandana or handkerchief with a few drops of your favorite essential oil to the air duct in your classroom to naturally diffuse scents throughout the room.
Can't use these ideas in your classroom? Try them out at home instead!
The oils I use and love are listed on my essential oils information page.
Use Caution with Scents in the Classroom
While there are many ways to make your classroom smell amazing I do want to caution you about allergies.
As somebody who suffers from chemical sensitivities and severe asthma, scents can be a big concern for me. I am fine with light, natural aromas but the harsh chemicals found in most household cleaners and air fresheners can cause a very bad reaction. When choosing scents to use in your classroom, keep them as natural as possible.