War and Peace.
In your classroom, is it more war…or peace?
Far too many Pre-K teachers think they have "bad kids" and chalk their students' behavior up to challenging home lives…
…when in fact, Classroom Management is a skill YOU can build as a leader!
No matter if your students are from:
Underprivileged backgrounds
Families who indulge their every request
Other cultures, with different norms for group behaviors
Second language environments
Special needs situations
With our simple, all-in-one classroom rules + routines units, you'll have everything you need to bring peace, order, and a love of learning to your classroom.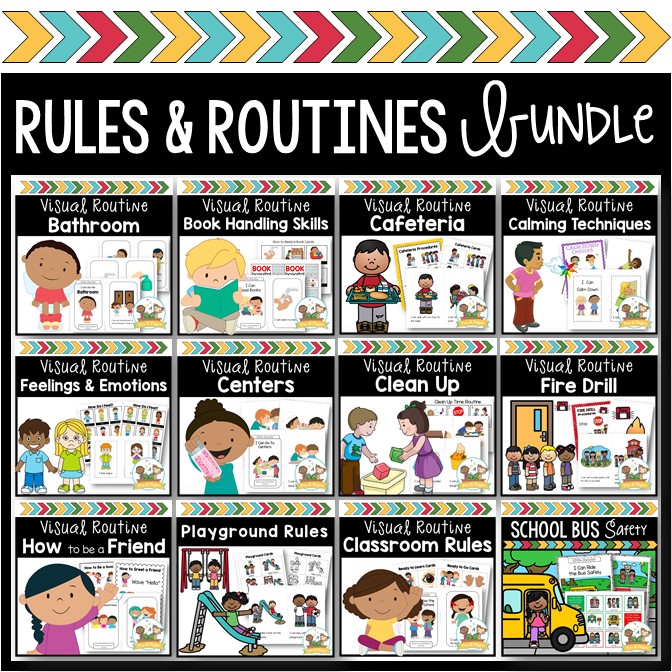 Our Classroom Management Bundle will help you establish rock-solid rules and routines in your preschool, pre-k, or kindergarten classroom. Each unit will help your students learn important social skills with a research-based, multi-sensory approach, using pictures, read-alouds, posters, and cards.
And overcoming second-language or special needs barriers? They're a breeze because of the visual supports included in this classroom management bundle. When you buy this bundle, we'll help you create confident young learners who can follow classroom routines, make good choices, be independent, and kind to others.
See a preview of this product HERE
What You Get
Click on each link below to see the full details of each resource included in this bundle:
1. How to Follow the Rules
2. How to Use the Bathroom
3. How to Care for Books
4. How to Do a Fire Drill
5. How to Be a Good Friend
6. How to Clean Up
7. How to Play at Centers
8. How to Eat in the Cafeteria
9. Feelings and Emotions
10. Calming Techniques
11. Playground Rules
12. Center Management System
13. Behavior Management Making Good Choices
14. Hand Washing Routine
15. School Bus Safety Routine
15 units of visual supports that will help your preschool, pre-k, or kindergarten students learn to follow classroom rules, routines and procedures.
What's Inside?
Some of the resources featured in this bundle contain the following:
Posters: Use these during a whole group lesson, bind them into a class book, or place them on the wall as visual reminders.
Black & White Student Mini-Books: Copy one book per child. (Just fold and staple, no cutting required!) Students can take these books home to practice the routines with parents!
Color Student Mini-Books: Print and use in your classroom to introduce the visual routines to your kids.
Color Full-Page Books: You can use these as-is to create full-size books to read-aloud, or create cards (directions for printing multiple pages on one page are included).
Black & White Full-Page Books: Ink-Saver Version
Individual Support Boards: Students who need extra support can use these resources to help them learn the routines.
IMPORTANT This bundle contains zip files. Please be sure you know how to extract files from a zip file before purchasing.
THESE DOCUMENTS ARE NOT EDITABLE
Get the Rules + Routines Classroom Management Bundle
Here's the truth: Your classroom will either be a breeding ground for chaos (a.k.a. Lord of the Flies) or peace.
If you want to cultivate a love of learning in an atmosphere of responsibility, understanding, and respect…
…get this Classroom Management Bundle today.
Your students learn more. You enjoy teaching more. Your admin thinks you're the best thing that's happened to a Pre-K classroom since the invention of the small-group table and those tiny, pint-sized chairs.
See?
Everyone wins.