This week's Elevating Early Childhood episode is a suuuuuper exciting one! 
 …..but before we start, let me ask you a question!
Has anyone ever said to you: "Oh, you teach preschool; it must be so much fun to play all day!"?
Pretty frustrating, right? 
Many people think teaching early childhood is a walk in the park, even when you and I know the truth: It isn't!
Our job needs time, dedication, and a genuine love for children and literacy. After all, not everyone can teach a small child the alphabet…
Which brings me to today's subject: This week's guest, the brilliant Melissa Leach (of Leach Literacy Training), is here to discuss the science behind teaching letters, letter names, and sounds to preschool-aged children.
Are you ready?
Let 's dive in! 
What is the best way to teach the alphabet to young kids?
There's a genuine science to teaching letter names and sounds that not just anybody can do. It's a talent and a skill that many of us, myself included, have devoted our entire careers to. 
Most people wouldn't imagine how hard it is to get children to understand the alphabet! 
Think about how big of a scope learning the letters of our alphabetical system is. Many different symbols represent letters in different languages. 
For preschoolers starting to learn these symbols and sounds – it's all mumbo jumbo. They still don't know the difference between a numeral, a letter, and a heart shape!
Before teaching young kids how to tell an 'A' from a 'P,' they need to understand the concept of symbols. 
At this point, they don't even need to know the name of any of these letters. You can start by playing games where children can get familiar with how different letters look.
You could show them how letters are made up of parts and tell them they can call those parts whatever they want. 
Sticks, slants, dots, humps, tails – everything goes!
This allows kids to start sorting letters visually and getting familiar with them in a fun way.
Let them walk around the classroom and find letters. Your goal is to playfully get them to discern and match letters, to notice their shapes.
All this may sound like basic level stuff – but that's actually the whole point! We often make assumptions and overestimate young children's abilities. 
For me, it's actually concerning when teachers say they're going to teach all 26 letters in the first 26 days of school.
So, the key is to approach things slowly and at a basic level, always in a fun and playful way!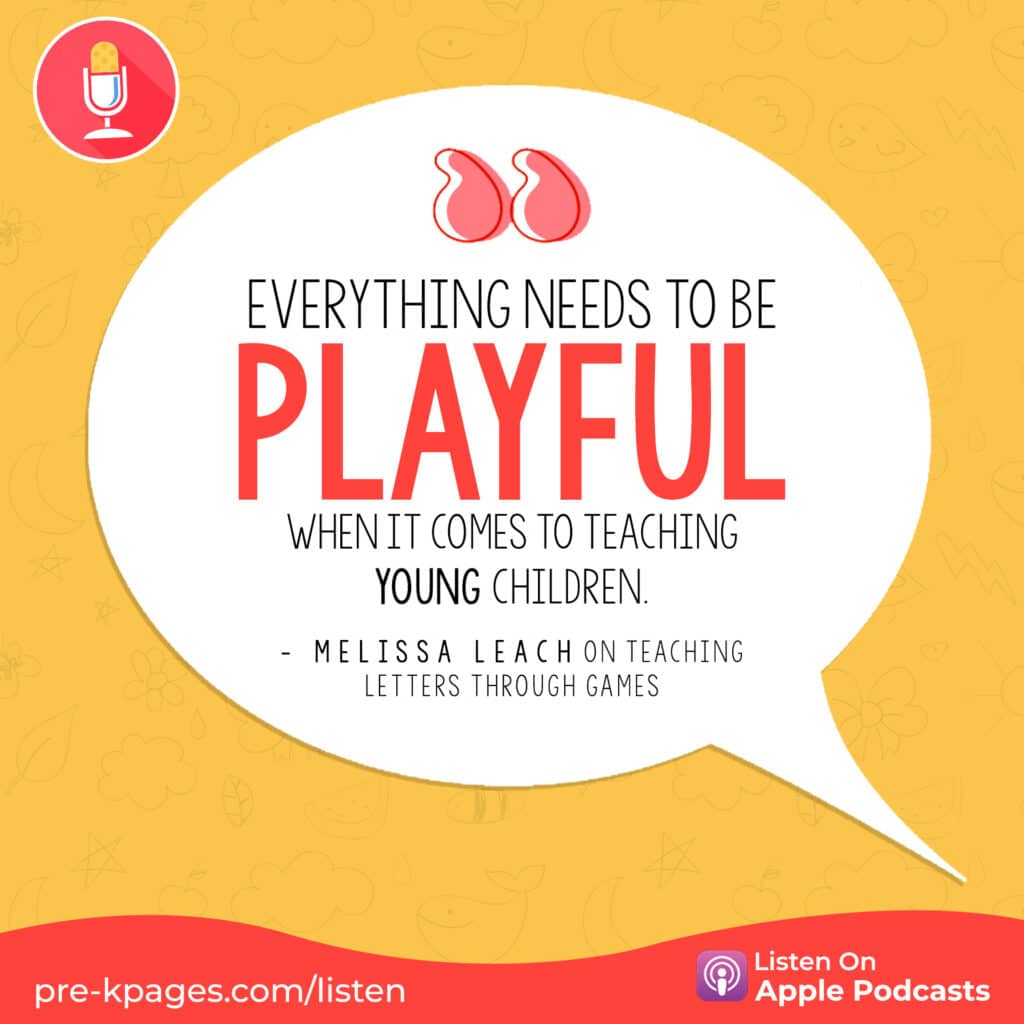 How to get preschoolers excited about learning letters 
Teaching preschoolers the 26 letters in alphabetical order right away will only bore them. Sure, they must learn that at some point, but they need to be engaged first.
So, another thing that can work to your advantage is how egocentric all young children are. They don't care about the word 'apple' because they just learned the letter 'A.' 
When they're starting to understand letters, usually the first thing they'll want to know is what their name's letters are. 
For example, take Jack, Melissa's three-year-old son. After learning the concept of letters, the first thing he asked Melissa to do was to write his name.
So, one of the first letters that Jack probably will be tuning into is 'J'. Later, it might be the 'W' for his brother Wyatt.
Another great example is my 5-year-old nephew. He knows all his letters, but he doesn't like someone asking him what they are. 
One day, I was trying to get him to name the letter 'P,' with no success. He kept playing with his cars. 
He has an older cousin named Patrick, whom he really admires. So, as he didn't want to answer me, I told him the letter 'P' was in Patrick's name. 
He instantly got excited and motivated to learn the better 'P.' Because now this letter had meaning to him, as it belonged to his beloved cousin's name.
It's essential to think about those personal letters. These are the letters that children will care about first and foremost because they allow them to write their names. 
After learning the letters that make up their names, children will start noticing the letters their friends' names begin with. These letters have meaning and importance for them now, and that's exactly what you want!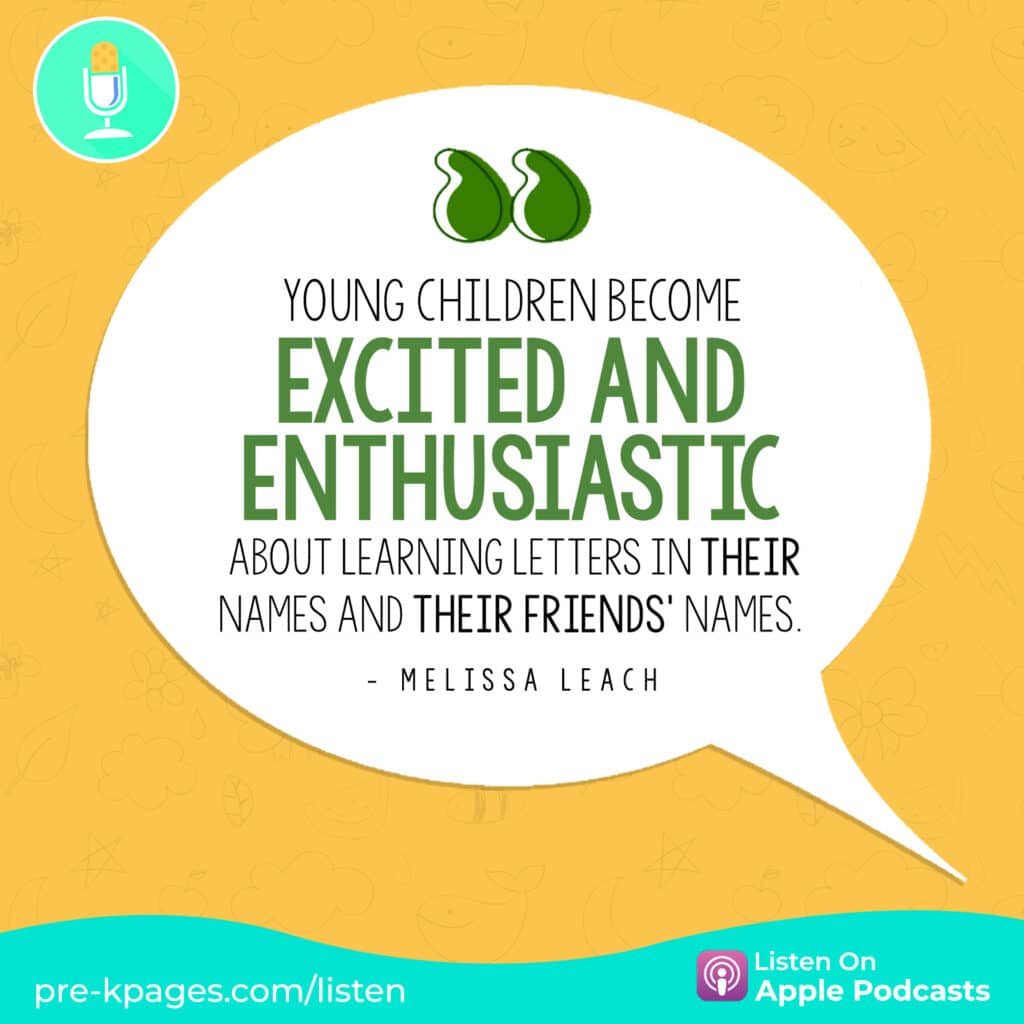 If you want to learn more tips on how to teach the alphabet to preschoolers, watch the video above!

Links Mentioned in this Episode