Early childhood teachers have it pretty rough. We face all sorts of indignities daily without even getting a hint of the respect we deserve as professional educators.
We're constantly looked down upon, whether it's coming from the parents of our students, administrators, or even our own peers!
With all that going on, it's easy to drift into negative thinking, which can lead you down a destructive path. And if you go down that road long enough, you're running the risk of becoming a complainer.
I want to show you a different way.
It's not fair, and I get that. Trust me—I've been there myself, plenty of times before. 
Still, if we genuinely want to change how people perceive early childhood education, we first have to make a mindset shift of our own.
We need to start believing in our own self-worth as educators. If we don't – no one else will!
My goal for this episode is to help you start thinking like a changemaker. It won't happen overnight, and it won't be easy, but I know you CAN do it.
You can do hard things! I believe in you!
If I called you a professional educator right now, what would your reaction be? Would you fight the idea, or would you be willing to accept the role?
Whether you're teaching pre-k, preschool, or kindergarten, like it or not—you ARE a professional educator. I know many teachers struggle to make this leap, but before we can ask others to take us seriously, we first need to be confident about the work that we're doing.
And we have every right to be! 
So if we truly want to elevate early childhood education as a profession, we ALL must start believing in ourselves. No more "I'm just a teacher…" or "I'm just a caregiver…"
Our children are counting on us to be role models, which is why we need to embrace the right mindset—the mindset of a changemaker.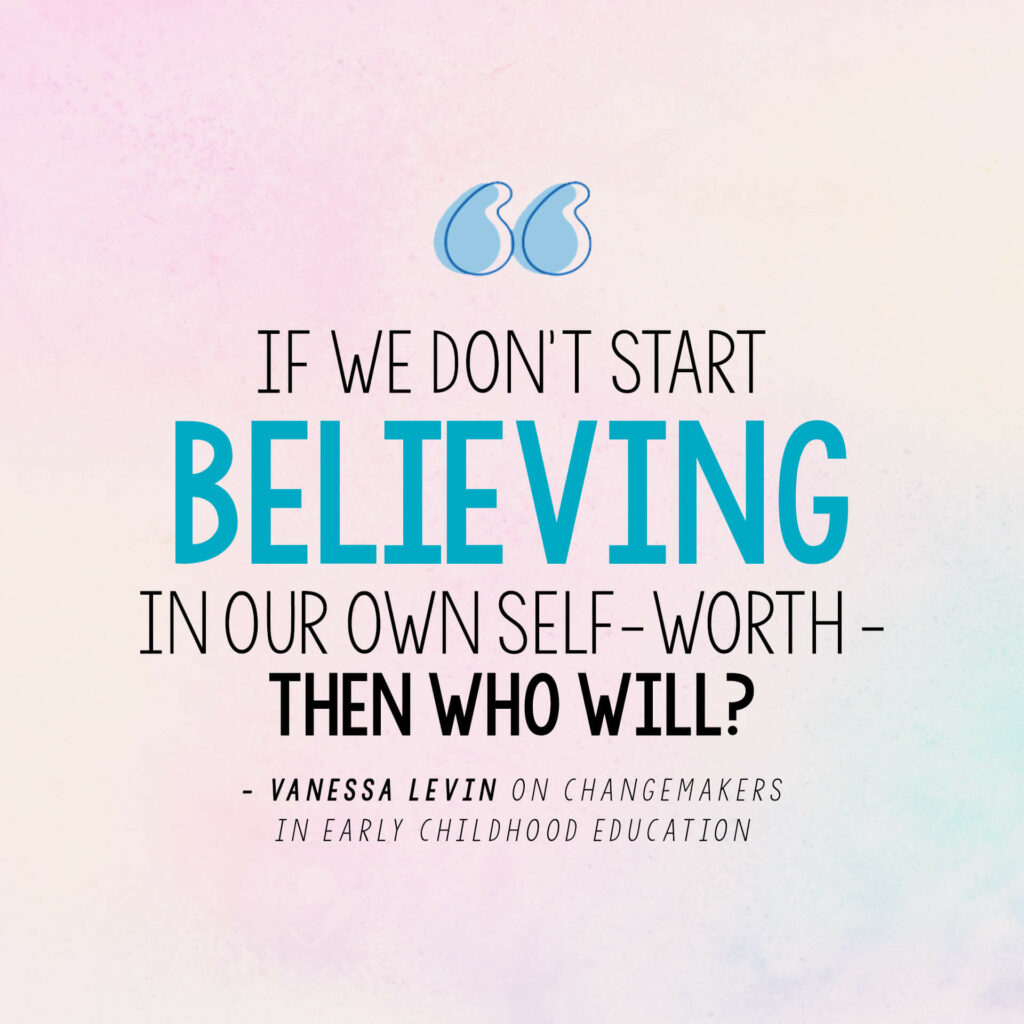 What Being a Changemaker Is All About
Changemakers are the polar opposite of complainers. There are three key characteristics of a true early childhood education changemaker, and they are:
1 – Standing Up for Yourself
Changemakers know how to speak up for themselves when they're being treated poorly without sounding like complainers.
2 – Standing Up for Your Students
Changemakers know how to advocate for their students by focusing on the solutions and not dwelling on the problems.
3 – Standing Up for Early Childhood Education
Changemakers know how to explain the value of high-quality early education to others without losing their cool.
Being a changemaker in early childhood education is about being a leader and a problem-solver. Someone who isn't just pointing out the wrongs in the world, but presenting people with actionable steps to make things right.
If we can do this, our opinions will be valued, and we will get the respect we so rightfully deserve. 
It won't be easy, but this is how we succeed. This is how we elevate early childhood.
My Story of Going From Complainer to Changemaker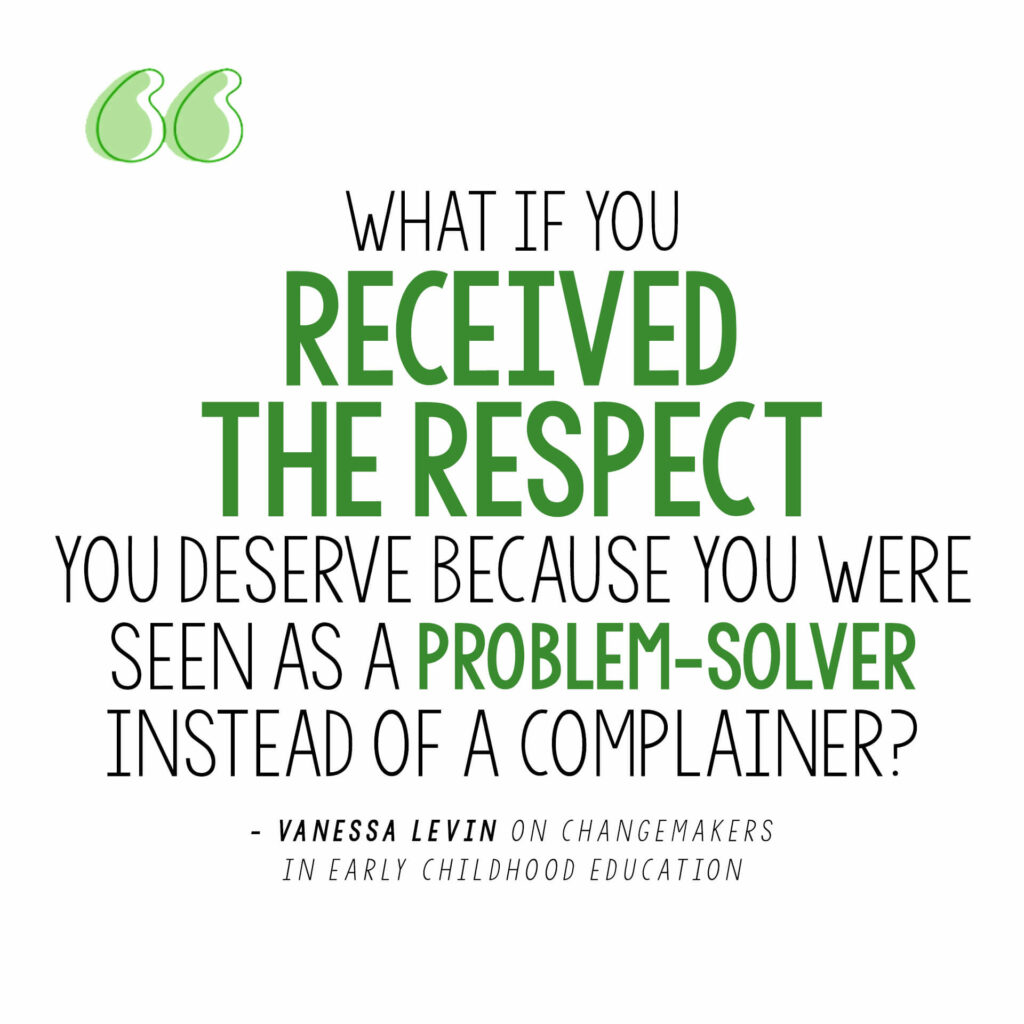 Getting into a changemaker mindset is a choice; you just have to remember to do it every time you encounter a challenge. Here's what happened to me once. I don't know if you've ever experienced torrential rains, but they can be an absolute nightmare for teachers… 
So one time, these rains continued for a little while, and it made us miserable. We were getting drenched, the kids as well… None of us had the proper equipment!
The parents were getting angry, and I felt like I had to do something. So I walked into the principal's office and complained about it.
Do you know what he said?
"Thank you for letting me know. I don't control the rain. Come back when you have a solution."
He turned me away, and rightly so! You see, even though I was convinced that I was speaking up for my colleagues, my students, and myself, my approach was all wrong.
My heart may have been in the right place, but to really overcome the issue, I had to step into the mindset of a changemaker.
I thought about our problem and focused on finding the best possible solution. And after a couple of days, I went back to the principal's office with a clear, actionable plan.
We didn't get everything we asked for, but each teacher did get a nice, big umbrella—a massive win in my book!
Not only because we got the appropriate equipment to fight off horrible weather conditions, but it also taught me that if I had the right approach, I COULD make a difference. 
And all it took was a mindset shift and a dash of self-belief.