Pompoms can be great resources in the preschool classroom. Many teachers use them for art experiences. But these versatile objects can be used for games and fun learning. These ideas can be used in your classroom or home to build fine motor skills and math skills. Check out the fun learning that is contained in the little pompom.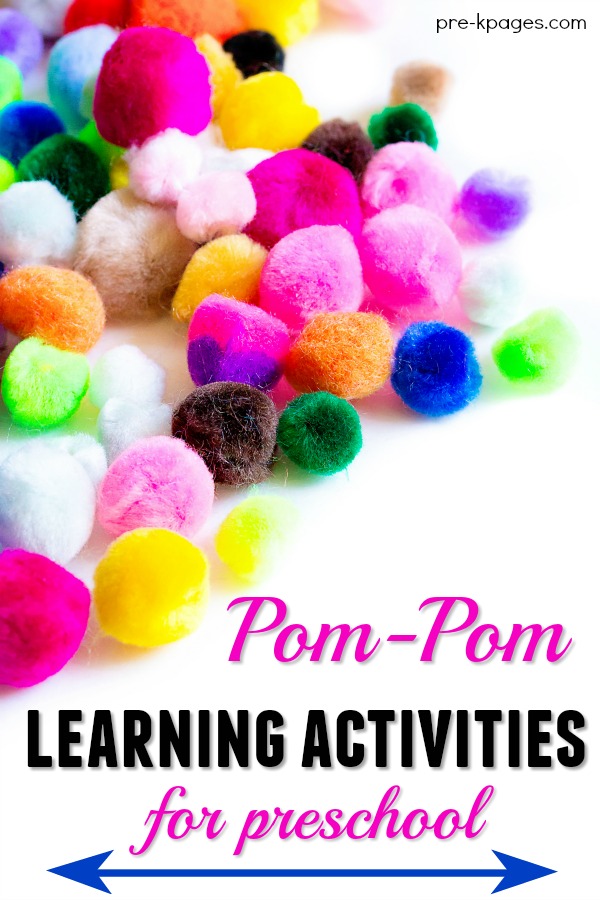 These games and activities can be created with items you already have on-hand (or can easily obtain) or by recycling items for preschool learning. Many of these games can grow with your child, played one way by younger preschoolers and another way by older kids.
Note on the numbered cube: Use a cube that meets the needs and developmental level of your preschoolers. For younger preschoolers, a cube with 1-3 only will work best. Use a pocket cube or small wooden cube to create your own numbered cube with only 1, 2, and 3 on the sides.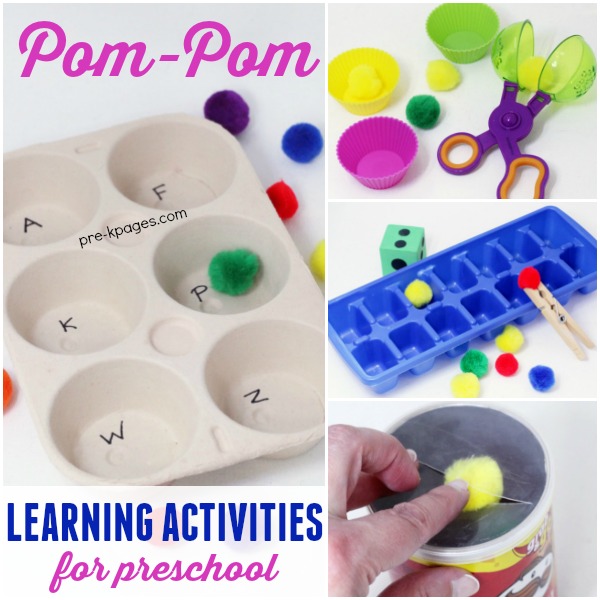 Pom Pom Learning Activities for Preschoolers
Sensory Bin
Fill a plastic container (like a dishpan or larger storage bin) with all kinds of pompoms. Add tools such as tweezers, tongs, ice cream scoops, silicone muffin cup liners, and Handy Scoopers. Preschoolers will enjoy exploring and using the various tools.
Tweezers and tongs strengthen hands and develop fine motor skills, both important for writing. Add chopsticks for older kids to increase the challenge and the development. Handy Scoopers offer practice for scissors skills, using a similar motion and building up hand strength.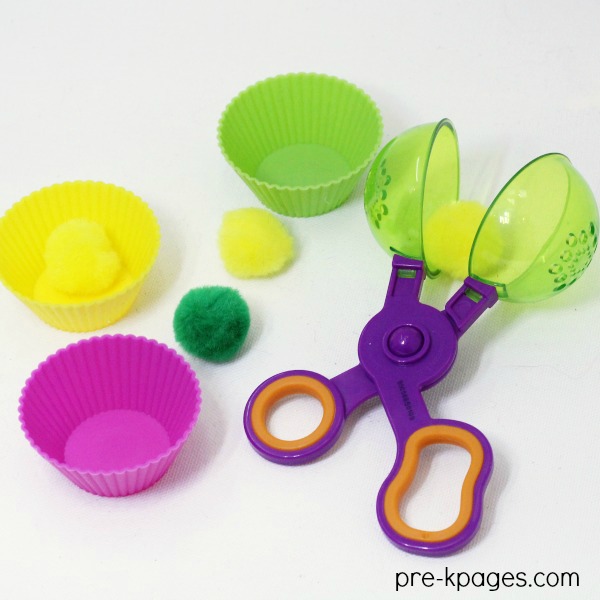 Pattern and Sort
Give kids a group of pompoms and they will often begin to create patterns. As kids master basic alternating patterns, help them create more complex ones.
Preschoolers also enjoy sorting. Invite them to sort by color, by size, and by other attribute. Provide different kinds of pompoms (spiky, glitter).
Use silicone muffin cup liners as containers for sorting.
Pompom Designs
Tape a piece of clear contact plastic, sticky side out, to an easel (or window or wall or other vertical surface). Invite kids to stick pompoms onto the sticky plastic and create designs and patterns. The pompoms can be repositioned easily on the sticky plastic as kids choose.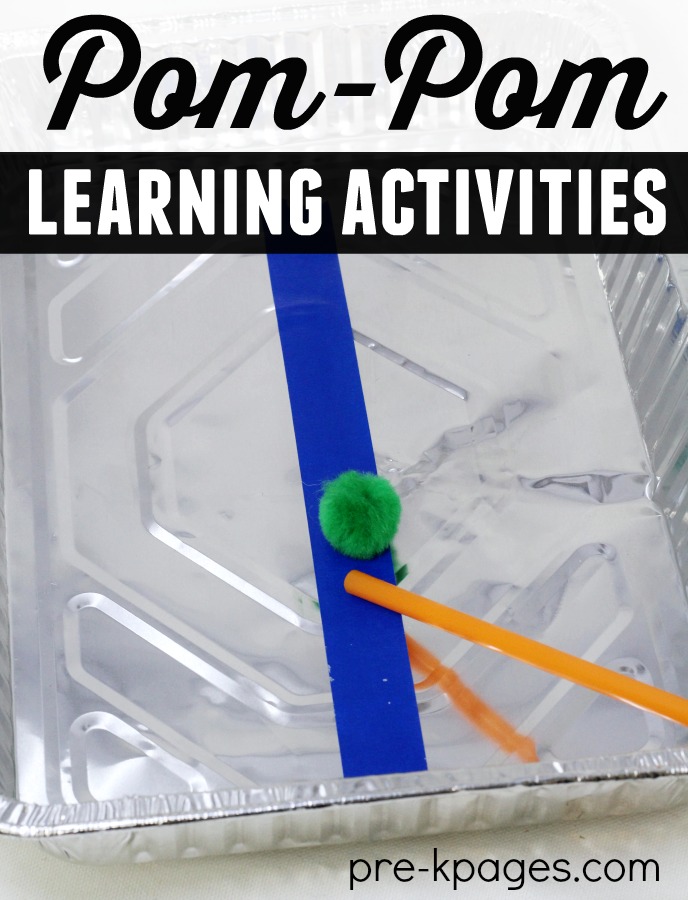 Tape Trail
Materials: tape, straws, pompoms
Place a length of tape on the floor or a table.
Invite kids to use straws to blow pompoms on the tape line. (It's harder than you think!)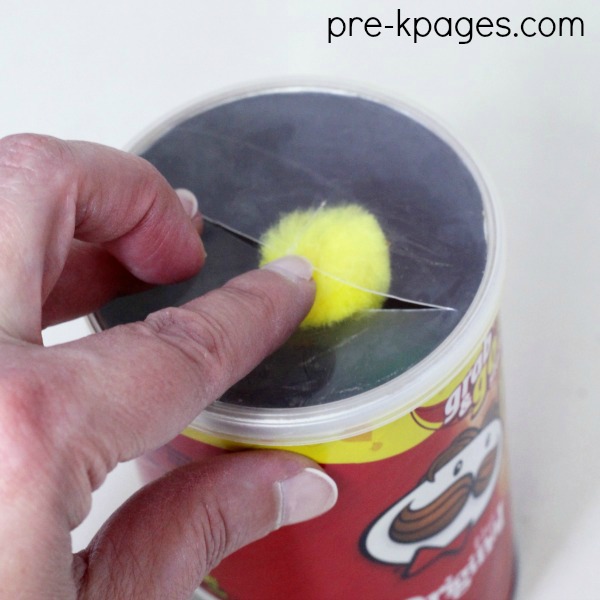 Simple Games
Pompom Push
Materials needed: Small can with plastic lid, pompoms
Cut an X in the lid with a craft knife.
Toddlers can push pompoms through the X and into the can. They will enjoy pushing the pompoms into the can, dumping the pompoms out of the can, and doing it all over again.
For older kids, add a numbered cube. They can roll the cube and push that many pompoms into the can.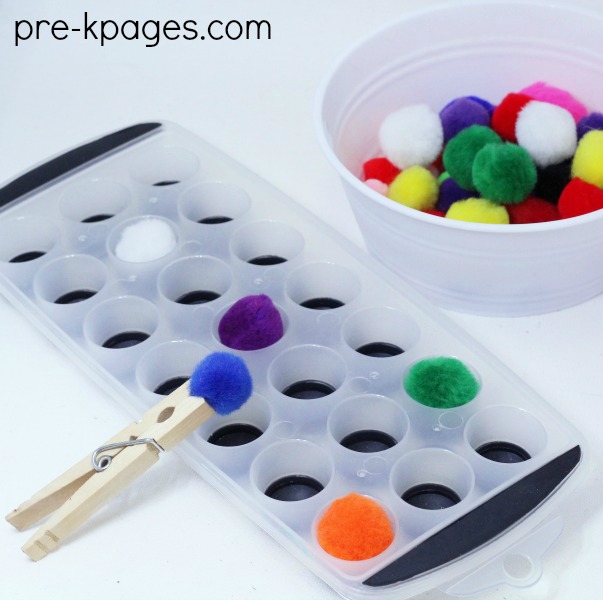 Tray Drop
Materials: Ice cube tray, pompoms, tweezers or tongs
Toddlers can drop the pompoms into the different compartments of an ice cube tray. Offer tweezers and tongs to work those fine motor skills even more.
Older kids can use a numbered cube; they roll and count the pompoms into the tray.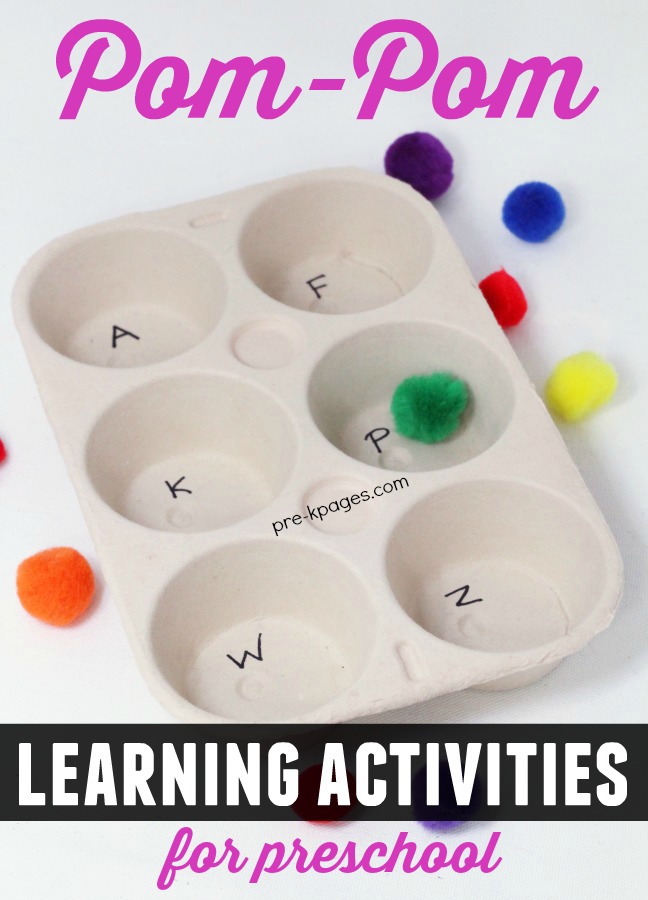 Pompom Transfer
Materials: bowl of pompoms, empty bowl, tweezers or clothespins
Set the two bowls several inches apart. Place the full bowl on the left.
Toddlers will enjoy moving pompoms from one bowl to another. Encourage them to move pompoms one by one. They can use their fingers or large tweezers/tongs.
Older kids can roll the numbered cube and transfer that number to the other bowl. Offer clothespins to use as a transfer tool. Moving from left to right gives practice that will aid later in reading. Also, if bowls are far enough apart, kids will be crossing the midline (the middle of their bodies), an action that stimulates the brain.
Specific Learning Games
Tray Toss
Materials: muffin pan with labeled cups, pompoms
Label each cup of the pan with letters, numbers, dots (like a numbered cube), shapes, colors. Choose whatever concepts you want to reinforce.
Invite a child to toss a pompom onto the tray. He can name the letter (or whatever) where the pompom landed. For toddlers, just practice tossing. This helps kids develop more control over their bodies (and understand "toss" is different from "throw").
Pompom Spill
Materials: cup or small can, pompoms
Place a few pompoms in a can. Kids can shake and pour out the pompoms. Ask, "How many?" Kids can tell you how many pompom are on the table. This game helps build subitizing skills; subitizing is identifying a quantity without counting. (Of course, allow kids to count the pompoms if they need to do so.)
Magnet Board Activities
Magnetic Pompoms
Materials: Cookie sheet or oil drip pan for magnet board, pompoms, button magnets
Use hot glue to attach button magnets to the pompoms.
Kids can use the pompoms to create designs or patterns on the magnet board. Or attach a sheet of paper with a letter printed on it. Kids can place the pompoms on the lines to outline the letters.
Pompom Coaster
Materials: vertical magnet board, magnet pompoms, cardboard tubes with button magnets attached
Invite kids to create a "roller coaster" for the pompoms. They can arrange the cardboard tubes on the magnet board and drop the pompoms through the tubes. For younger kids, place the tubes individually. For older kids, challenge them to try to create a track of several tubes. (This is a great STEM activity.)
Pom Pom Learning Activities Video
Watch the video to see these activities.

Tools Mentioned
Large Pack of Pompoms
Child-Size Tongs/Strawberry Huller
Large Foam Numbered Cube
Silicone Muffin Cup Liners
Handy Scoopers
Mini Ice Cube Trays
Check out these ideas on Pre-K Pages—
Information on Subitizing
Dramatic Play Ice Cream Shop
Nursery Rhyme Number Game
Apple Tree Alphabet Game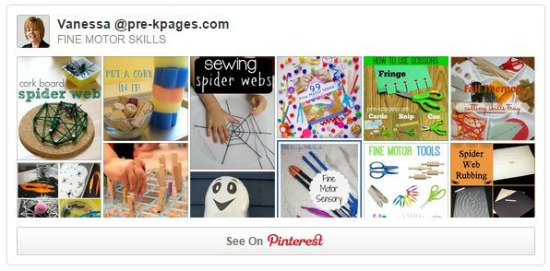 Follow my Fine Motor Skills board on Pinterest for more great ideas to build skills!