Help kids learn to identify their feelings and learn self regulation with these editable feelings chart cards, books and more!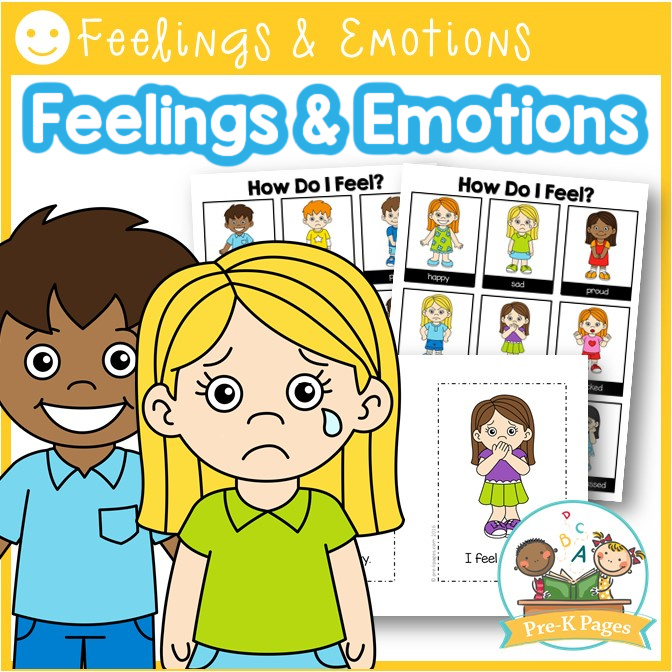 Help school students practice social skills and emotional regulation with coloring pages, books, cards, and posters. These printables will help your Preschool or Pre-K students identify their feelings and emotions.
Your ELL and Special Education Preschool students will also benefit from these visual feelings picture prompts.
What You Get:
4 Full-Color How Do I Feel? Posters
4 Black and White How Do I Feel? Posters
1 Color Full Page Feelings Book
1 Black and White Full Page Feelings Book
1 Color Mini-Book
1 Black and White Mini-Book
1 Full-Color How I'M Feeling Strip
1 Black and White How I'M Feeling Strip
1 Set of How I Feel Today Black and White  Feelings Coloring Pages
Details of The Feelings and Emotions Books
8 How Do I Feel? Posters: 4 in full color, PLUS 4 black and white versions. You can use these posters during a whole group lesson about emotions or hang them in the classroom as visual reminders.
Full-Page Color Book: You can use this as-is to create a full-size book, or create feelings cards for matching or memory games (directions for printing multiple pages on one page are included).
Full-Page Black and White Book: You can use these as feelings coloring pages or to create cards.
Color Mini-Booklet: You can print one to use in your classroom to introduce the concept of feelings and emotions to your

Pre K or Kindergarten children

and keep in your classroom library.
Black and White Mini-Booklet: You can copy one feelings coloring book per child. (Just fold and staple, no cutting required!) Students can

work on emotions coloring

 and take the books home.
How I'm Feeling Strips: These can be used with students who need individual support to help them learn to identify their emotions and feelings.
How I Feel Today Coloring Pages: These half-page, black and white feelings coloring pages for kids feature boys and girls with different hairstyles. Invite kids to choose a coloring page and color in the face to show how they are feeling today.