Have you ever looked at your classroom and asked yourself "how could I make EVERYTHING run just a little bit smoother?"
With The Teacher Success Bundle, your classroom efficiency, learning, fun, and happiness will be at an all-time high!
Here's why: 
The Teacher Success Bundle is your "superteacher" all-in-one package containing over nearly a thousand pages of editable resources, tools, visual aids, techniques, routines, and more to help teach your student in ways they'll love. 
Each of the 25 products in this bundle is hand-picked, backed by science, and uniquely made to help teachers like you bring a new level of organization, fun, and SUCCESS in your classroom.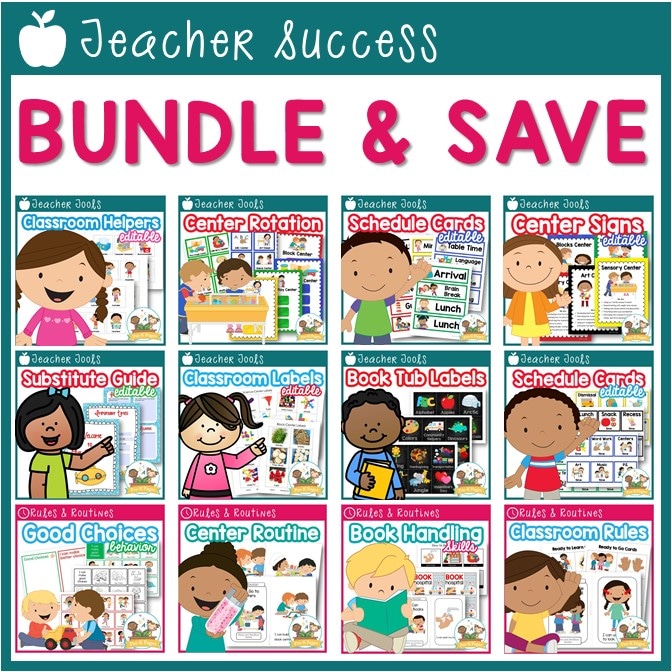 What You Get
30+ different classroom jobs in one eye-catching chart! Enjoy an easier way to track and display classroom helpers! (also includes images of culturally diverse boys and girls!)
260 pages of printable center station signs and cards to streamline classroom management! Also includes step-by-step directions, different versions based on needs, and color choices!
5 sets of daily schedule cards with 13 pages to create your own vibrant and exciting picture schedule your students will be mesmerized over! They'll feel grounded and prepared, because they can see exactly where they are in the flow of the school day.
Over 60 different picture cards to easily organize your class' daily schedule with super cute images your students will adore! Kids feel safe when they know what's coming, so their minds are free to play, learn, and explore. This rectangle version gives you an alternative layout to the square options above.
100+ signs to label your class centers, including your writing center, listening center, art center, puzzle center, and more! A place for everything, and everything in its place. Ahhh…
44 thematic labels for your book tubs or boxes for your preschool or kindergarten! Each label has a distinct image to help you and your students easily identify book types!
162 editable center labels of REAL photographs to label your centers! Labels include the art center (16 labels), writing center (36 labels), math center (24 labels), and more!
100 pages of fillable forms to help your substitutes easily understand your class, to keep records that'll get you up to speed when you return to your classroom, and to keep everything organized to perfection!
18 different sets of mini-books and cards to teach all-important routines and procedures!
85 pages of printable visual picture prompts to help teach your Preschool and Pre-K students how to use the bathroom independently! The clearer you make bathroom procedures, the smoother it will go.
54 pages of printable cards, posters, and books to aid your students in understanding how to handle your class books! When your students care for classroom books, they feel a sense of ownership and belonging—not to mention your books last longer.
67 pages of printable visual supports help you teach your students the important classroom procedures for a fire drill!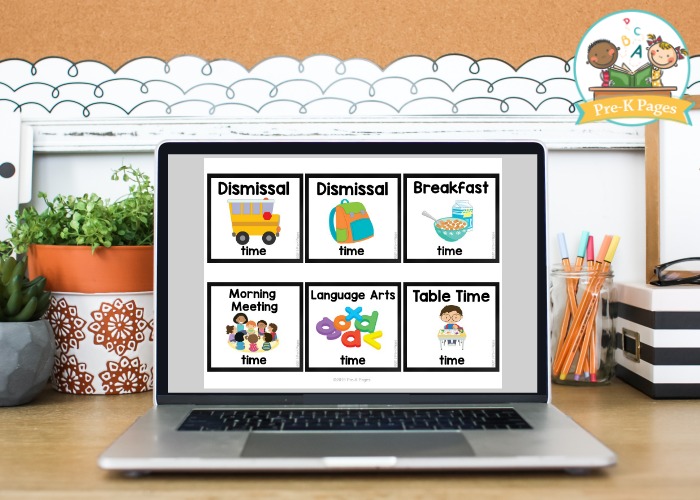 51 pages of printable, editable visual prompts to teach your young learners how to be a good friend and develop social-emotional intelligence! Make your classroom a kinder, gentler place to play and learn.
89 pages of printable visual prompts to help teach your preschool, pre-k or kindergarten students how to clean up in the classroom! This important self-regulation skill will give your students a sense of ownership in their space.
65 pages of printable picture prompts to introduce and show the center expectations of each center in your classroom!
43 pages of printable visual support to help your students learn the all-important cafeteria routine in your school!
15 editable resources to teach your students how to identify emotions and feelings, thus boosting their social-emotional development!
94 pages of printable visual prompts to help preschool or Pre-K students calm down and self-regulate their behaviors and emotions!
42 printable visual prompts to teach your students all the playground rules so they stay safe, friendly, and have fun!
47 pages of printable visual prompts to teach your students how to make good choices! Also includes detailed teacher instructions, a booklet, and a pocket chart!
48 pages of printable visual supports to help your students learn how to wash their hands properly—to lower the germ (and yuck) status of your classroom and keep everyone healthy! Minibooks and posters are included!
62 pages of printable posters, books, and visual support to help your students learn the rules of riding the bus safely! When your students become confident bus riders, they'll have the pride of feeling like big kids.
Ready-made 38 template pages for PARENTS to help them prepare for a great year working together! It covers breakfast procedures, report cards, after school care, and more! The key to getting parents on board with your classroom is laying a great foundation of parent communication, and this handbook is exactly what you need.
29 slide templates to help create an amazing open house presentation! This includes templates for school rules, grading policy, meal payment procedures, and more!
31 pages of student organization and parent communication information to keep your students organized, their parents informed, and your entire class communication at its best!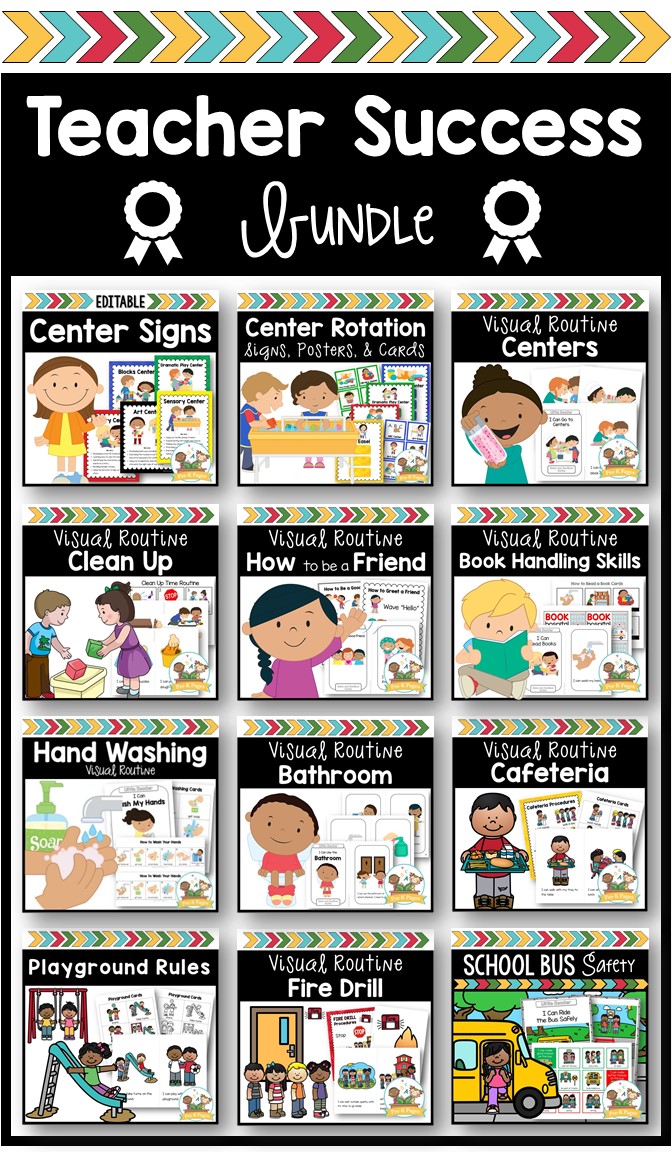 Why Do We Know This Bundle Will Help You Succeed?
Every product is backed by research, proven to work for early childhood education
Effective for both students and teachers
Centered around play-based learning
Praised by teachers all over the world