Bundle and SAVE! on our research-based, hands-on Winter-themed lesson plans + activities!
Just because it's Winter, that doesn't mean mixing fun and learning should give you cold feet!
With our popular Winter Bundle, you'll have snow problem teaching your students with engaging, hands-on, and FUN classroom activities that'll progress their math, literacy, and social skills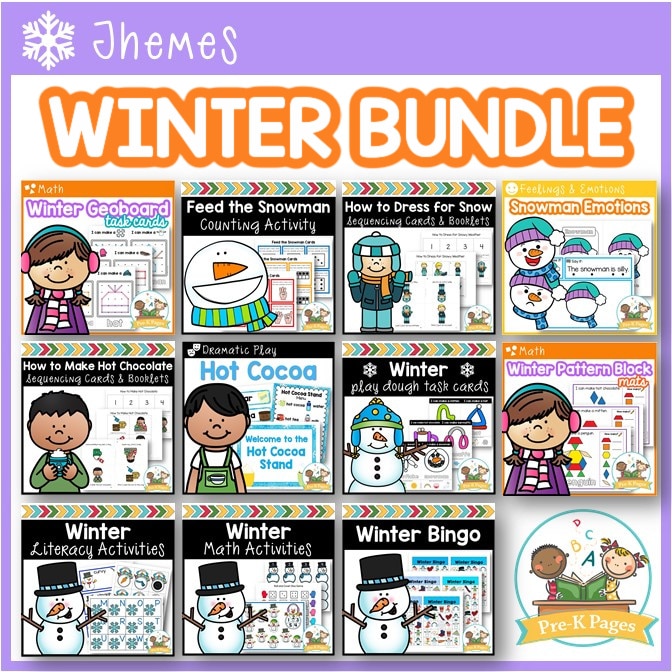 Make learning fun and engaging with this WINTER THEME BUNDLE!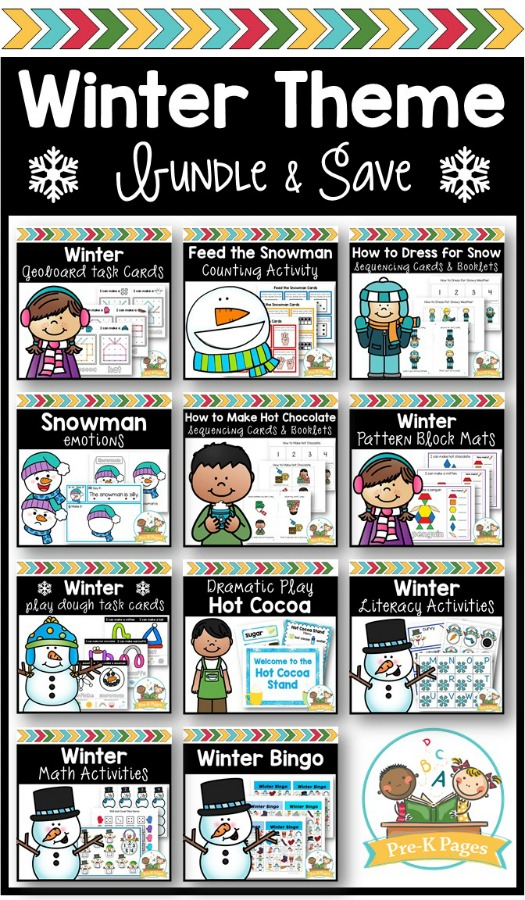 Here Is What's Included
EXCLUSIVE Winter Lesson Plans + EDITABLE TEMPLATE!
Completely done-for-you lesson plans that help you save time, confusion and that empower you with confidence that your lesson plans are effective!
95 pages of fun, hands-on Winter-themed literacy activities, that help your students develop their skills in beginning sounds, syllables, rhyming, and more!
70 pages of entertaining and educational winter math activities that make learning math fun! Improve skills such as counting, numeral recognition, graphing, patterning, and number sense!
65 pages of printable props perfect for your play center, helping your students develop their literacy skills, math skills, and more!
Winter Play Dough Task Cards
Combine classic play dough fun with Winter themes to keep students engaged and immersed in the season!
Feed the Snowman Counting Game
Learning math is about to be a lot cooler! Develop math and counting skills with the joy that comes with Snowmen!
Dress for Snow Sequencing
Help your students recognize and learn patterns while using the beauty of snow!
Winter themes aren't complete without a little hot chocolate! Use this activity to keep sequencing activities fresh and fun!
Fine motor skills, hand coordination, and snowtime fun?! Yes, please! Use this activity to prepare your students to be strong writers!
Emotion learning mixed with snowman happiness! Use the faces of snowmen to develop social-emotional skills!
Shapes and play, but Winter-themed! Discover just much fun you can have with these snowy shapes!
Develop critical early childhood math skills while keeping your students excited for everything you plan for Winter!
A classic game and a cool season—what's not to love? Bring Winter Bingo as the perfect game to excite and educate at the same time!
Number sense and fluency comes in the form of ultra fun Winter-themed mats, proven to teach math skills and entertain young learners!
Keep It Cool With The Winter Bundle
They're done-for-you

Research-based

Proven to entertain teachers and students alike

Lesson plans for multiple topics and skills

Hands-on learning and more!