*FLASH SALE!* Get 72% off—this weekend only—when you purchase Valentine's lesson plans + activities in this amazing bundle!
This February, spend less time planning and more time living…
…all while teaching research-based, hands-on Pre-K math + literacy lessons with a Valentine's Day theme!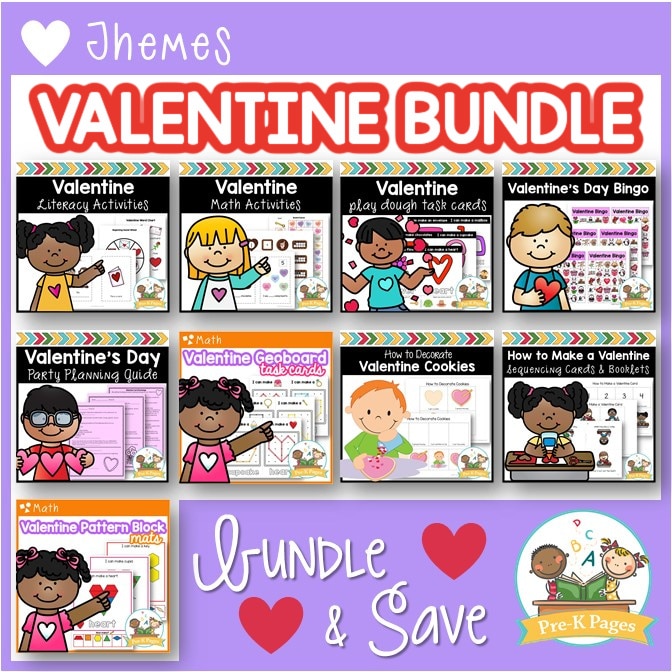 The Pre-K Pages Valentine's Day BUNDLE goes way beyond just "cute" …to give you fun, engaging lesson plans + activities for teaching hands on, standards-based math and literacy to your pre-k students. (Note: they're *also* cute, but that's just the icing on the cake. 😉)
Perfect for small group instruction and centers, our Valentine's Day activities are designed to cover up to two weeks of classroom instruction. Get the bundle now, and you'll have everything you need for the first two weeks of February!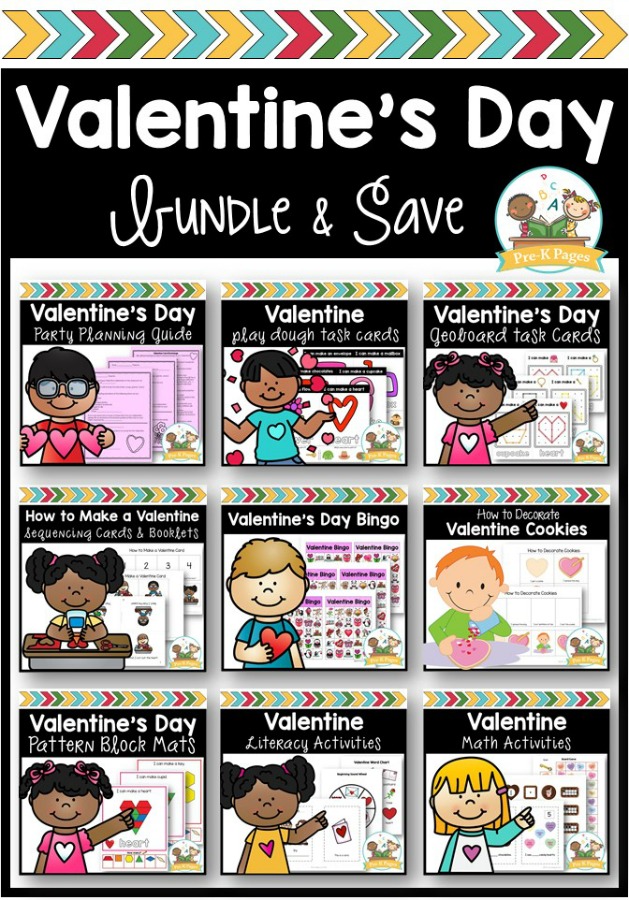 What You Get
EXCLUSIVE Valentine Lesson Plans + EDITABLE TEMPLATE!
100+ pages of completely ready-for-you lesson plans that instantly prepares you with science-backed, kid-approved, and teacher-loved Valentine's Day-theme lessons!
56 downloadable pages of games, charts, and other activities to help your students accelerate their pronunciation, pre-reading, and syllable sounding skills—all centered around Valentine's Day!
63 pages of hands-on activities mixing math and play to create entertaining lessons to improve patterning, counting, graphing, sequencing, and fine motor skills!
Valentine's Day Geoboard Task Cards
16 Valentine-themed geoboard cards to help students experience creating, rotating shapes, and exploring different angles—perfect for their pre-math skills!
Valentine's Day Pattern Block Mats
Improve pattern and color recognition the most fun way possible, with our Valentine-themed pattern block mats that'll have kids smiling from ear-to-ear with each pattern!
Valentine's Day Play Dough Task Cards
The perfect way to incorporate play dough with Valentine's Day! Watch your students laugh and smile all day after bringing these cards into your activity!
How to Decorate a Valentine Cookie Sequence
A super 'sweet' activity! Take home a class favorite that improves child sequencing, fine motor, and hand-eye coordination skills, while also providing your class with a sweet post-activity treat!
How to Make a Valentine Card Sequence
Our ultra-popular activity that helps young learners improve their sequencing skills fast while also creating a super cute Valentine's Day card they can give a loved one!
Combine the classic game with your Valentine's Day theme to create the perfect activity that combines fun, education, and entertainment all in one!
Valentine Play Dough Counting Mats
11 printable color that quickly improves their number sense and fluency within 10, while also mixing in the classic activity of play-dough fun!
Valentine's Day Party Planning Guide
36 pages of everything you need for an amazing class party! Party planning tips, tricks, and pre-written notes to help you cut your planning time in half and still have a memorable party!
Let the 😍😍😍  begin!
Get the Pre-K Pages Ultimate Valentine's Day Bundle
…and know you've got a plan that checks all the boxes: They're ✅done-for-you ✅research-based, ✅fun for you + your students, ✅playful, ✅hands-on explorations in ✅math and ✅literacy
*FLASH SALE!* Get 72% off—this weekend only—when you purchase Valentine's lesson plans + activities in this amazing bundle!