What is the Science of Reading? And what should preschool teachers know about it?
In this week's episode of Elevating Early Childhood, I answer these two questions and more. 
But I won't be doing this alone! 
Yes friends, this is an interview episode! And in it, I will be discussing this hot topic with the lovely Allison McDonald.
Allison is the creator and founder of the early childhood website No Time for Flash Cards. She's also an author, a mom, and a rockstar early childhood educator!
Today, she and I will be discussing all things Science of Reading and what early childhood professionals need to know.
Are you ready?
Let's dive in!
The Science of Reading
We all want to do what's best for our students, however, on the flipside of that, we're also extremely afraid of doing the wrong thing. 
In general, most teachers are rule followers. We like to have a clear set, a bit like a checklist that tells us what we're supposed to do. And that's basically what the science of reading has given us.
However, a lot of teachers were a bit taken aback by it. And that's understandable. When you look at it, right on the surface, it looks like the science of reading basically just blows everything you ever knew out of the water. 
But, when you actually get down to the nitty gritty of it and look into the research, you can see that it actually affirms a lot of things we already did as preschool educators. The science of reading simply offers us the ability to tweak our best practices a bit to make them even better!
It's easy to think of the science of reading as a prescribed curriculum. However, what it really is is educational and cognitive research that can inform our best practices. 
The Importance of Oral Language Development
A lot of what Allison and I discussed in this episode is taken from the book Shifting the Balance. The book has done a fantastic job at breaking down the science of reading. It also thoroughly explains what preschool educators are responsible for, and what kindergarten teachers are responsible for. 
It also made a clear delineation between preschool and kindergarten. 
The book also mentioned something crucial: The importance of oral language development. As you know, oral development is one of the four factors that determine future literacy success. 
And if you know me, then you know that I've always been a proponent of oral language development. I constantly advocate for teachers to make sure their students have time to build those oral language skills through peer-to-peer conversations.  
So, if there is one thing to learn from the science of reading (especially if you want to advocate for more play time in your classroom), it's that oral language development needs children to talk to each other. 
Teaching Vocabulary: Prescribed VS Intention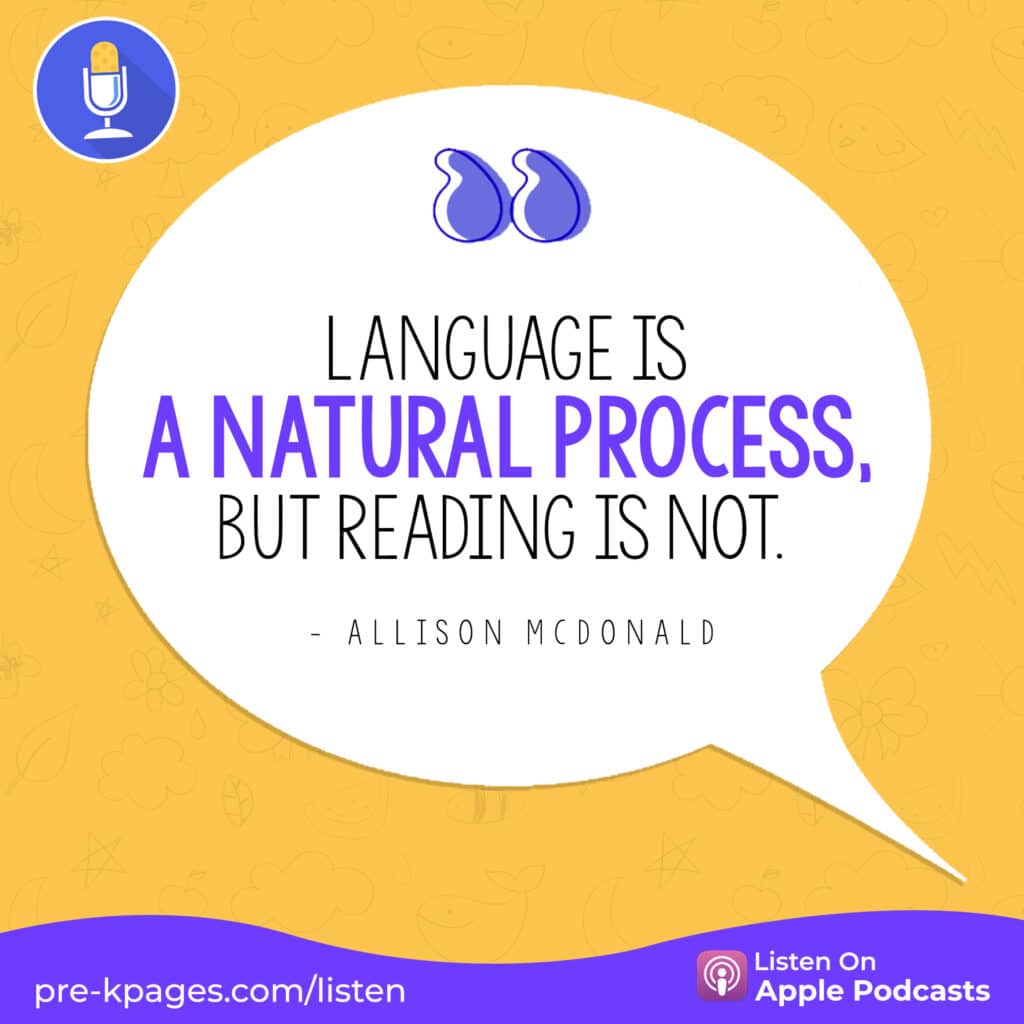 Another argument for the science of reading is the foundation it gives you to build around. For example: Themes in your curriculum.
Using a theme or a unit of study to teach vocabulary is a great way to build background knowledge. As you know, background knowledge is a very important foundation for success with literacy.
There are a lot of different ways to practice early childhood education, which means some educators think we should just let the children play, and others want to put them in desks all the time.
However, having a middle ground approach can give children the balance they need to learn vocabulary and acquire oral skills. Which is why I think themes are pretty useful.
It simply makes sense to give our students multiple opportunities to dive into content, because that's what helps them with literacy, and literacy isn't something they'll pick up naturally, on their own. 
Reading is not a natural process. Language is, but reading isn't. Which is why we need to give our students the foundations they need to acquire these skills. And the science of reading helps us do just that.
Allison and I discuss this subject in more depth in the episode above, so give us a listen to learn more about the science of reading!


Links Mentioned in this Episode