Today's post is written by Dr. Marianne Gibbs, an expert in the field of occupational therapy.
Question: How can I keep my students from switching hands when writing, coloring, or cutting?
As an occupational therapist, I am often faced with this important question about young children's development. First, we must re-frame this question in order to appreciate the developmental perspective rather than assuming we, as educators and parents determine hand dominance outcomes.
Hand dominance is established in-utero. Wiring for hand dominance is completed before birth – we simply provide opportunities for young children to experience the hand dominance acquisition process.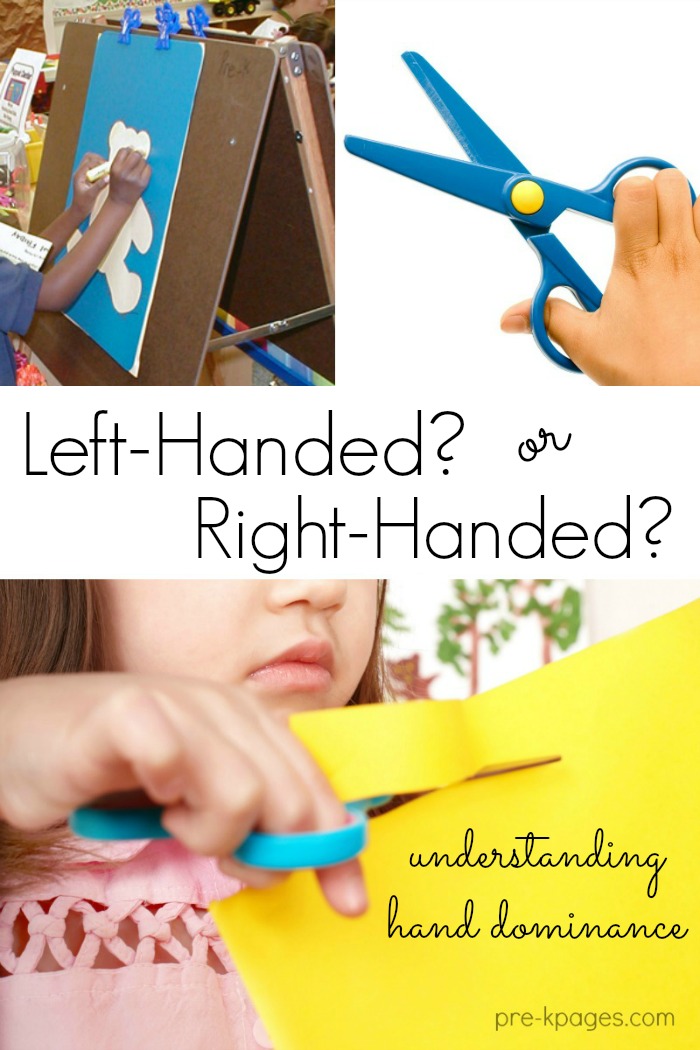 Switching Hands
Alternating or "switching" as it is often referred to, is typical and involves the seemingly spontaneous changing of hands to manage tools and media.
The establishment of hand dominance is a complex brain process. Predominant and proficient use of one hand over the other for handwriting, using scissors, and performing other functional activities in daily life usually emerges in a typical young child between 4 ½ and 6 years of age.
Up to 90% of the population is right-hand dominant and 10% is left- or mixed-hand dominant. Please note that approximately 50% of left-handed writers will use scissors exclusively with the right hand.
Encouraging or forcing the use of a particular hand in functional activities such as handwriting may actually lead to stuttering, stammering, and increased levels of stress within young children.
Research supports our efforts to honor the natural development of handedness in every young child as we guide children in the hand, head, and heart toward performing functional hand skills including handwriting, using scissors, and performing self-help skills.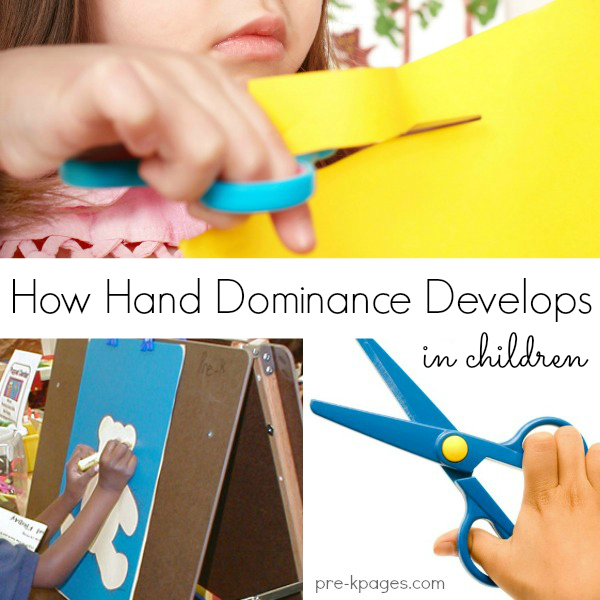 How to Support Hand Dominance
While it may be tempting to help a young child "decide" which hand will be the dominant mover and which hand will be the non-dominant stabilizer, research recommends a facilitative role for teachers and parents.
We must encourage children's use of hands in play and daily activities where two hands are performing different jobs in order to develop hand dominance. Presenting toys and tools at the midline (belly button and desktop levels) allows young children to use the preferred hand to grasp and manipulate the object spontaneously, which reinforces hand dominance acquisition.
Observing the emergence of hand dominance or any other aspect of child development is a gift to the educator or parent. So, don't worry when a young child is switching hands when coloring – instead, realize that you are most likely watching that child's brain working through his/her hands to determine hand dominance for a lifetime.
Enjoy observing the miracle of development…Write Out of the Box!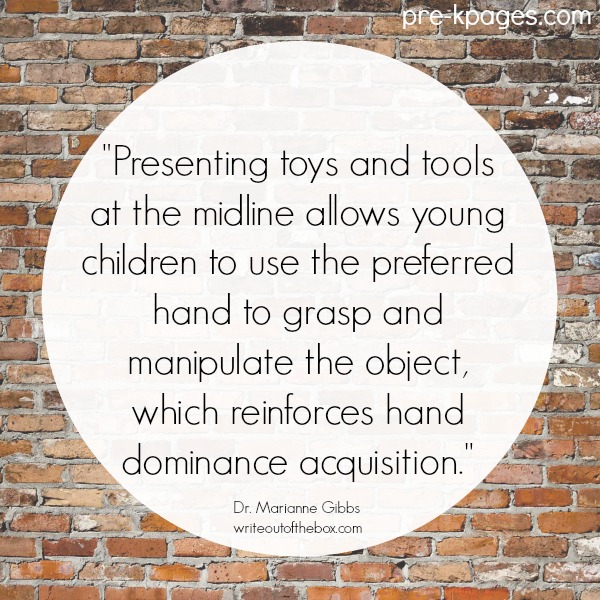 Dr. Marianne Gibbs is the creator of Write Out of the Box!, a website designed to support the development of fine motor skills in children. Her engaging and interactive workshops receive rave reviews from teachers across North America. In her shop you will find a wide array of helpful tools to support the development of fine motor skills.