Do your kids love sensory bins? This birthday sensory bin is sure to be a huge hit in your preschool or pre-k classroom! It's also perfect for an all about me unit study or theme.
If you're wondering what a sensory bin is or why you would want to use one in your classroom, get ready to have your teacher life rocked!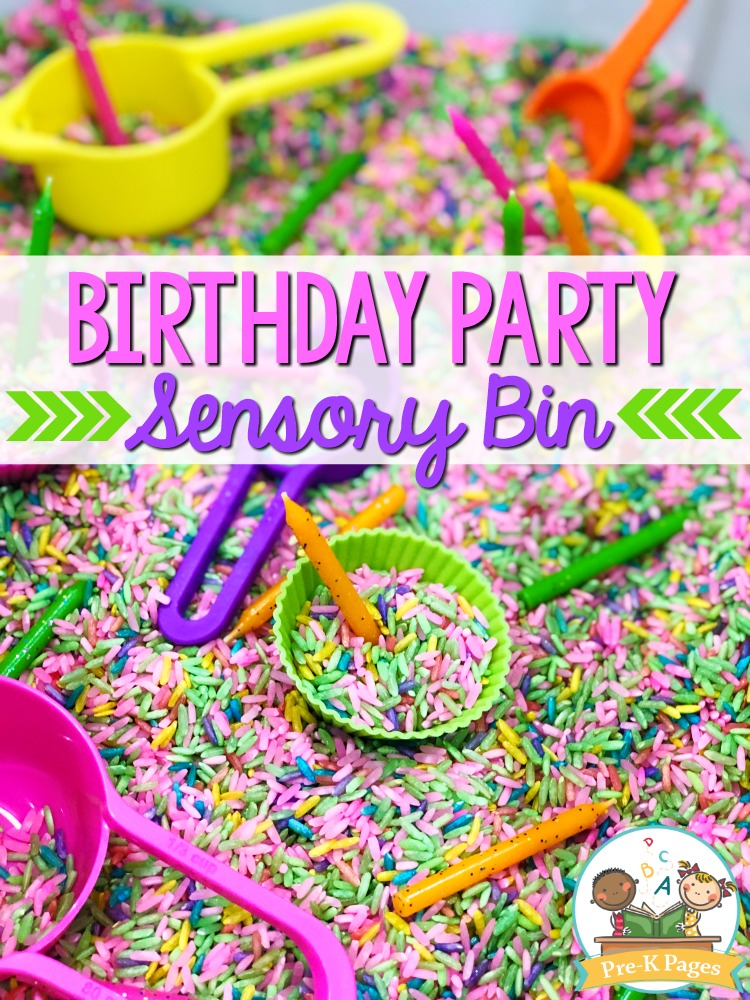 Birthday Sensory Bin
Here's the thing, young children learn best when they can touch and explore things, am I right?
Sensory bins allow kids to explore, play, and discover without any set expectations. All you have to do is invite your little learners to use their senses to explore the materials inside the tub in whatever ways they would like (within reason.)
All of this exploring, playing, and discovering leads to lots of pouring, scooping, and transferring. When they pour, scoop, and transfer your kids are developing important "academic" skills like volume, weight, more and less etc.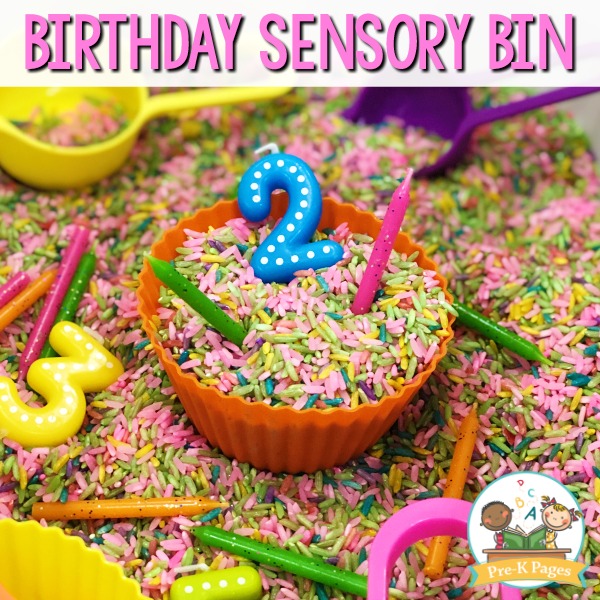 Birthday Sensory Play
And did I mention all the fabulous fine motor skills your kids will be developing when they explore sensory bins?
Fine motor skills are the small muscles in the hands, fingers, and wrists that young children need to develop before they can become successful with self-help skills like feeding and dressing themselves, as well as holding a pencil and writing.
Now that you know what a powerful tool sensory bins can be when used properly, let's get this party started!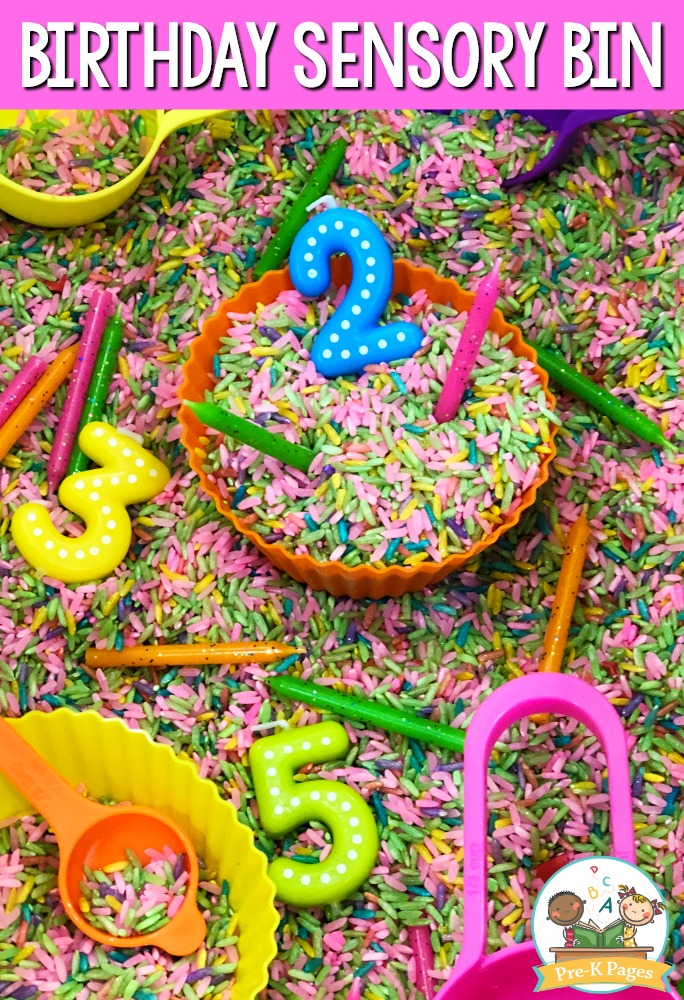 Sensory Bin Supplies
Start preparing your sensory bin by gathering your materials. Here are the things I put in my bin, but you can use whatever you prefer or have on-hand.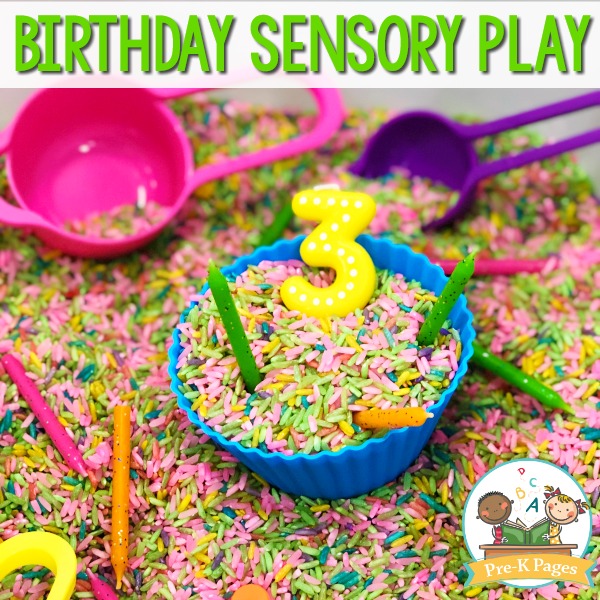 Sensory Bin Set Up
Use a tray or bin to organize your birthday party theme materials before you introduce them to your children.
Then, read your favorite birthday party book aloud during your whole group time. Be warned, they may start singing the birthday party song spontaneously.
When you've finished reading the book (and possibly singing the song if they insist.) you can introduce the tray of items to your kids.
Pass the tray around the group so each child can have a turn to touch and feel the materials and ask any questions they may have.
Ask your students questions about the items on the tray such as, "How does it feel?" or "What do you think you can use that for?"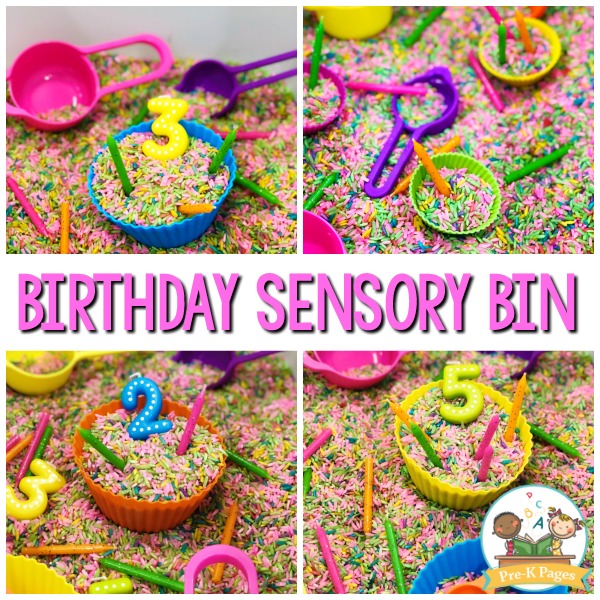 Birthday Party Theme Sensory Bin
Now comes the fun part! Demonstrate how your kids can re-arrange the materials and put the candles and muffin cups however they like.
As they scoop and pour the rice into the muffin cups they'll also be practicing those fine motor skills we talked about earlier.
Of course, counting out the candles and putting them in the muffin liners is great one-to-one correspondence practice. And let's not forget they'll be practicing numeral recognition too!
Don't get discouraged if your kids just want to play with the rice without counting the candles, they'll still be getting lots of important fine motor and math practice by scooping, pouring, and transferring rice.
Open-ended sensory experiences like this allow your kids to learn through play while having fun!