We're having a party and you're invited! It's an online book study blog party where we discuss the topic of challenging behaviors in the classroom.
Here are the answers to the most frequently asked questions about the book study. Please read the details below if you're interested in learning more about how the book study works.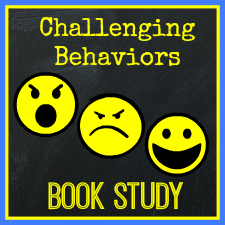 What grades is the book study for?
Our hosts have taught a variety of age levels including childcare, preschool, pre-k, kindergarten, and first grade. If you work with young children in any capacity the book study will be of interest and value to you.
Is it too late to join?
The beauty of an on-line book study is that you can read the posts at your convenience, so it's never too late to join.
What book are you reading?
Instead of just one book, we will read and discuss different types of challenging behaviors. Because there is no one size fits all approach to addressing challenging behaviors in the classroom, each of our hosts will be discussing a particular behavior in their posts and referenced and supported by a book.
Hopefully this approach will help those of you looking for answers to some of your most urgent questions regarding challenging behaviors. If you read a post that really resonates with you and you would like to learn more about that particular strategy then you can get more information from the book listed in the post.
What is the cost to participate?
The discussion is free! You can find the books at your local library or you can purchase them if you prefer.
If you would like to earn graduate credit for your participation you can do so, just scroll down to the graduate credit section for the details.
Which challenging behaviors will you be discussing?
Resolving and Managing Conflict
How to Handle Tattling
Sharing and Taking Turns
Getting Kids to Pay Attention
Self-Regulation
How to Make Friends
How to Make Good Choices
Establishing Teacher-Child Relationships
Separation Anxiety
And more!
How do I follow the discussions?
I have listed the blogs that will be hosting each discussion for you below. Simply follow each blog so you will be notified each time a new discussion is posted. To follow a blog means to subscribe or sign up to receive e-mail updates by entering your name and e-mail in the space provided on each blog.
You can also follow blogs through a feed reader such as feedly.
Karen at Prekinders created this handy book study guide that will be updated with each new post.
Once you are following each blog you can read the book discussion posts at your convenience. To participate in the discussions, simply post your questions or comments directly on each blog post.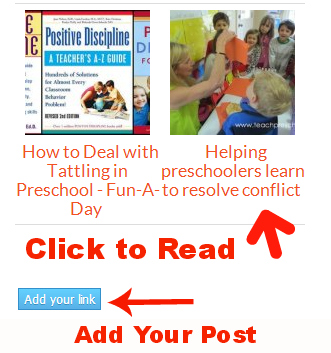 What is a linky?
Each of the posts will also be linked up to the linky. The linky helps keep the book discussion posts organized and available at the bottom of each post for your convenience.
If you are a blogger, you are invited to write and post a response to each discussion on your own blog and then link up using the linky tool. The purpose of a linky is to invite others to share their ideas freely. However, there is no need to have your own blog to participate in the book study.
I created a linky tutorial for bloggers who would like more information on how a linky works.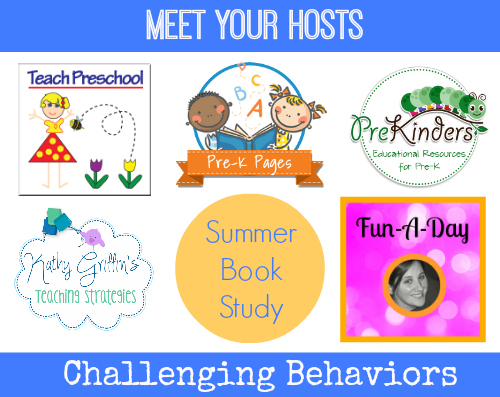 Meet your book study hosts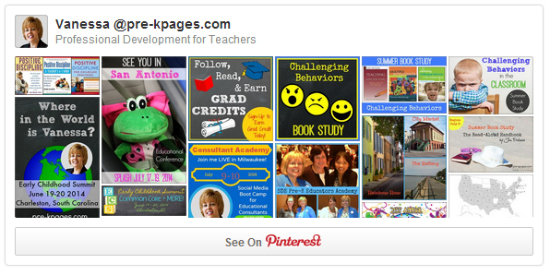 How do I save the discussions so I can read them later?
I suggest pinning each blog post to a board in your Pinterest account, such as this one I created called Professional Development for Teachers.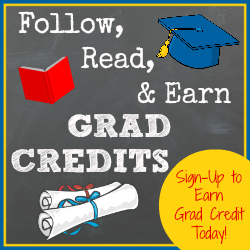 Graduate Credit
You can earn graduate credit from Concordia University for your participation in the book study, learn more and sign-up
HERE
. If you have any questions about earning graduate credit from Concordia University please
read the Frequently Asked Questions
.
Certificate of Participation
On August 1, 2014 I will be posting a certificate of participation for six hours. This certificate is not guaranteed to be accepted by your employer. It is up to you to make sure that the certificate meets your needs. If the certificate does not meet your needs, please seek alternative methods of obtaining approved credit. No additional information will be provided other than the printable certificate. I advise you to save your receipts from purchasing the books or your receipt from the library to prove you checked out the books.
I hope I have answered your questions about the Challenging Behaviors book study. Please post any other questions you may have about the book study below in the comments section.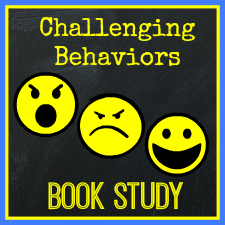 Challenging Behaviors Linky