Emotions are an abstract concept. A preschooler can feel them, but it is challenging to express those feelings into words. Using these ideas, you can help preschoolers identify emotions, use emotion words, learn more about themselves, and understand how to express themselves.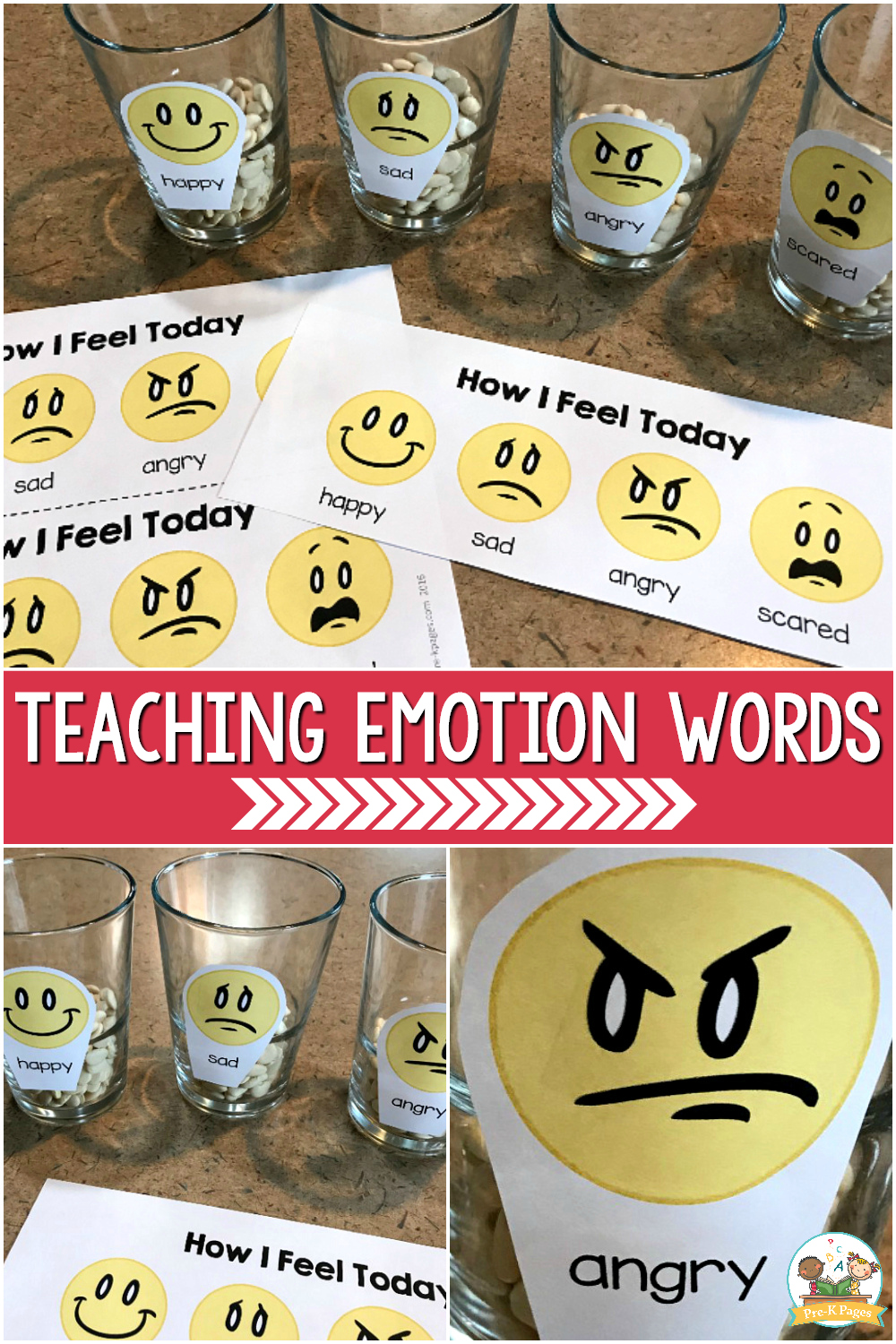 Why Teach Emotion Words?
When young children express their feelings, and share them with others, it allows for a deeper connection. Additionally, once a negative feeling is shared it can seem less intense. We need to teach young children how to share what they are feeling to help get their needs met. We can help build their oral language skills with additional words (vocabulary). Here are some ways to help children learn to articulate and share their emotions.
Teaching Emotion Words with Books
Books set the stage for talking about a variety of feelings in kid-friendly situations. While reading, pause and ask questions. You might say, "She is sad. Can you show me a sad face?"
Give feedback about their expressions. For example, "Hmm, what does a really mad face look like? Wow! I like how Maria squished her eyebrows together, that tells me she is REALLY mad! If her eyebrows were not squished together, she might be a little mad."
Help older preschoolers identify character emotions and possible reasons for those emotions. "She looks afraid. Why do you think she is afraid? Would you feel afraid if you woke up and saw three bears?"
Check out our list of books about emotions for preschoolers.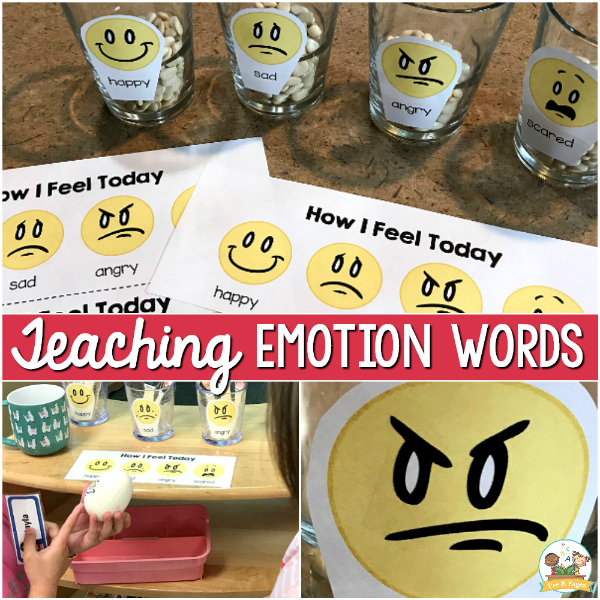 Identifying Emotions with Feeling Jars
Feeling jars are containers with different pictures showing emotions. I use happy, angry, scared, and sad. Each child has his own craft stick with a picture of themselves. As preschoolers come in each morning, as part of the morning routine, they pick their sticks and put them in the container to express how they are feeling at that moment.
As the day progresses and a child becomes upset, we might say, "You look really sad. Do you want to move your feeling stick?" This helps children realize feelings change, and it is normal to go from one emotion to another many times a day. This emotional check-in also helps a child assess emotions and feelings. He may be angry instead of sad. This helps him think through how he is feeling.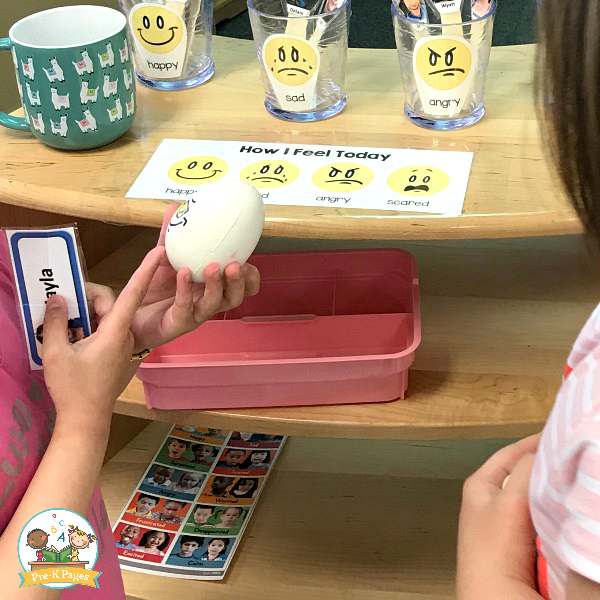 Building Emotion Words Understanding with Props
Look for props that show emotions. I found some silly squishy eggs with funny faces (similar to these eggs). I placed them over by the feeling jars. The kids love to squish them in their hands. A child choosing one of these eggs may spur conversation about that emotion.
Realize children don't look in a mirror unless they have a full-length mirror at home. Most bathroom mirrors are too high. Add non-breakable mirrors to centers or mount them on the wall. This will help the children practice making different faces to express a variety of emotions. Add non-breakable hand mirrors to the art center. Children can examine their expressions and recreate them using different media.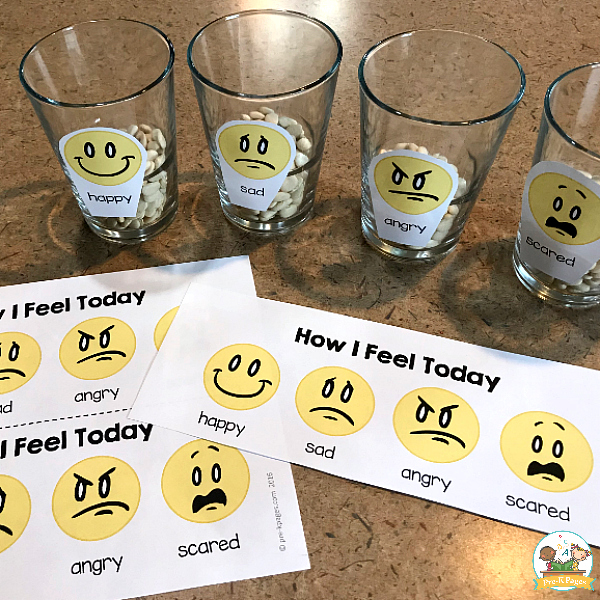 Some Expert Tips
Limit feeling jars to just a few choices. I use simple emoji pictures. When you introduce the concept, identify which emotion the face is feeling and describe how you know it is feeling that way. For example, if the sad face has tears rolling down the face, you might say people usually only cry when they are sad, so we know this is the sad face.
Model all day, every day. Talk about how you feel. You might say "I feel frustrated because some of my friends are not being careful with the toys. Can we be more careful?"
The emoji "How I Feel Today" sign is from the Feeling and Emotions resource. That product contains other posters, booklets, and classroom helps related to feelings and emotions.
Contributed by Carla Goldberg
Help your preschoolers learn to manage their emotions. Provide a cozy corner learning center.