In last week's episode, I talked about how it can be a real challenge to get young children to listen and pay attention during preschool circle time.
But what if I told you it doesn't have to be that way?
What if there was a recipe for a successful circle time that you could follow?
Wouldn't that be amazing?
I know, I know – it sounds too good to be true, doesn't it?
Well, it isn't!
In today's episode of Elevating Early Childhood, a very special guest is joining us to discuss circle time – my good friend Jamie White!
Jamie is known for her highly effective circle time games. And she's a four-time speaker at our annual Sort to Success Summit for early childhood educators.
Keep reading to learn best practices and troubleshooting tips to make your circle time the very best for you and your students!
Let's dive in!
What to Do if Your Kids Are Too Wiggly to Sit for Circle Time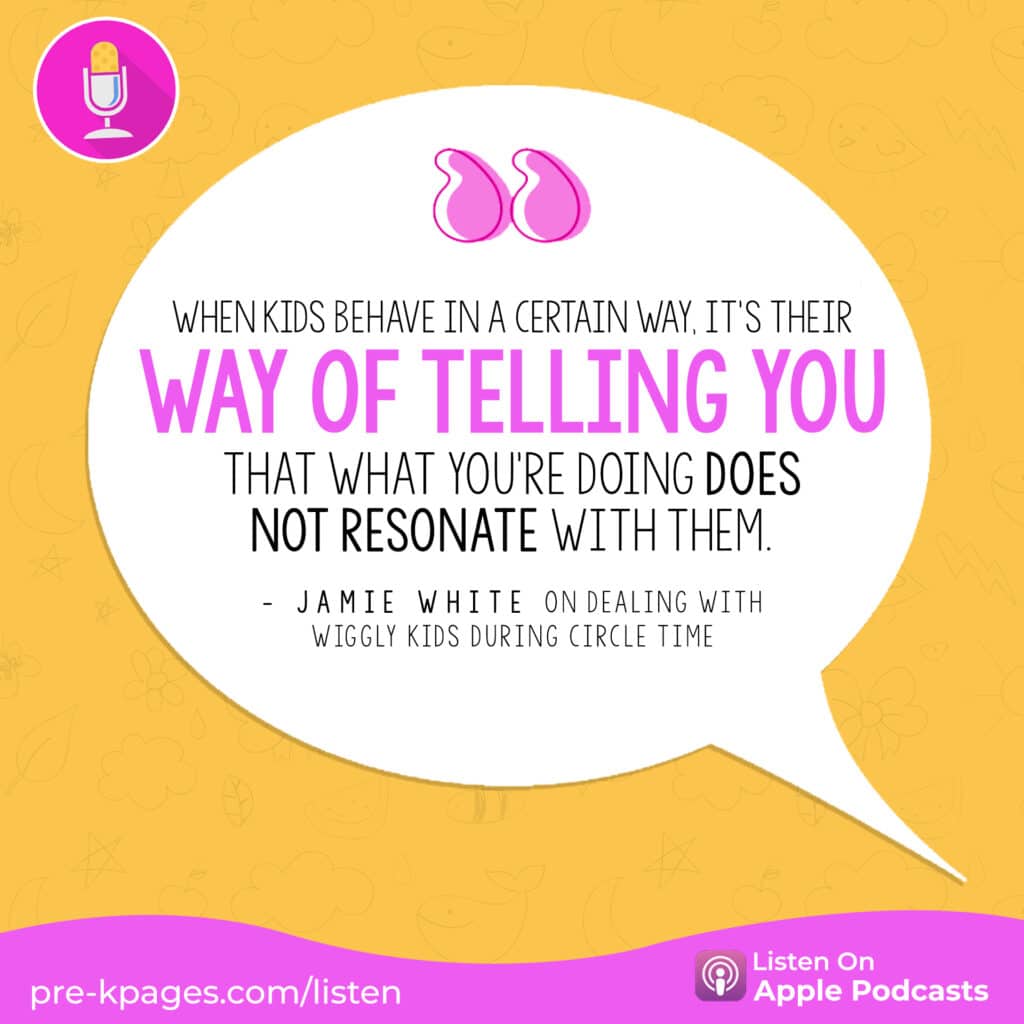 This is one of the questions I get all the time. And I'm sure a lot of educators struggle with this daily. Fortunately, Jamie has some amazing tips!
You see, Jamie doesn't consider wiggling misbehavior. She knows that her kids are not behaving like this to annoy her.
Here's the thing, little kids are wiggly by nature. To expect them to be perfectly still all the time isn't natural or realistic at all. Jamie thinks that she would even worry if they just sat there quietly all the time.
So, when kids are being wiggly, it's their way of telling you that they need more movement. It could also mean that what you're doing is just not resonating with them.
You need to think about wiggling as the feedback you're getting from them. So whenever your kids are getting wiggly, it usually means you need to change what you're doing.
For example, suppose you're reading a story, and they get wiggly. In that case, you could change to a different activity or prompt some interaction with your kids. The idea is to make circle time a fun and attractive activity for young children.
You should also keep in mind that little kids' attention spans are very short. This means that the length of your circle time routine is essential. Having a circle time that is too long is a common mistake many preschool teachers make.
Many teachers think that if they don't tell their kids all the information, they won't learn it. They go through the calendar, the weather, letters, and numbers and end up having a really long circle time.
But you need to realize that that's simply not true. In fact, it's the opposite! Children learn better when you focus circle time on one specific objective.
3 Tips to Make the Most Out of Your Preschool Circle Time Routine
Ultimately, our goal as preschool teachers is to set kids up for success for the day. Having a good circle time routine is essential to achieve that. We know that this is more challenging than it seems, so here are some tips to really make the most out of your circle time routine.
1. Split your circle time routine into three parts
No rule says you have to have just one circle time. Jamie actually splits her circle time routine into three separate parts! Here's how she goes about it.
So, your first circle time session could be a morning meeting. In this session, your goal should be to build community and ensure everyone feels safe and welcome.
Later, you can do a mini-lesson in the middle of the day, where you can have some kind of activity that goes with your unit of study.
The third circle time could be a storytime session. Here, you can have your children sit down on the rug, read them a book, and discuss the story and characters. It's an excellent exercise for listening comprehension and language development.
2. Create a predictable schedule
Children learn best when they have a predictable routine and know what to expect. Little kids tend to worry more about when their mom is coming to pick them up. If you can remove that worry by using a picture schedule, they will be much more able to focus.
When your kids know and understand what comes next and see it in a simple picture schedule, it goes a long way towards creating a calmer classroom.
3. Work smarter, not harder
The best way for students to learn information is to experience it themselves. It will be much more enjoyable for your kids to learn new information through their own experience. They don't need you to tell them 'here's a circle' or 'this is the color yellow.' It's much more effective to have them learn these things in centers or through fun and engaging activities.
Troubleshooting Common Preschool Circle Time Problems
What do you do with children who get up and wander during preschool circle time?
Jamie believes that it's ok if your kids get up and wander. Of course, as long as they're safe and you can still see them! Again, Jamie sees these behaviors as feedback from her kids. They're telling her that what she's doing isn't meeting their needs. And sometimes, it may be something as simple as them just wanting to stretch their legs.
So, what about children who won't come to circle time?
In this case, Jamie thinks that this is actually the teacher's responsibility. It's you who needs to make circle time a fun and exciting time for your children. Your goal is to make it so fun and magnificent that they can't help but want to come to circle time.
A great technique to achieve this is to bring things to circle time to hold, touch and examine. It's all about engaging their senses: as soon as you incorporate a silly dance or a funny puppet, they're all in.
So, try to develop a few strategies to keep your children engaged and comfortable during circle time. Come up with your own little bag of tricks and have fun!


Links Mentioned in this Episode