Friends, today, we're talking… organization! 
Ready?
Let's dive in!
My Top 5 Storage and Organization Tips for Your Classroom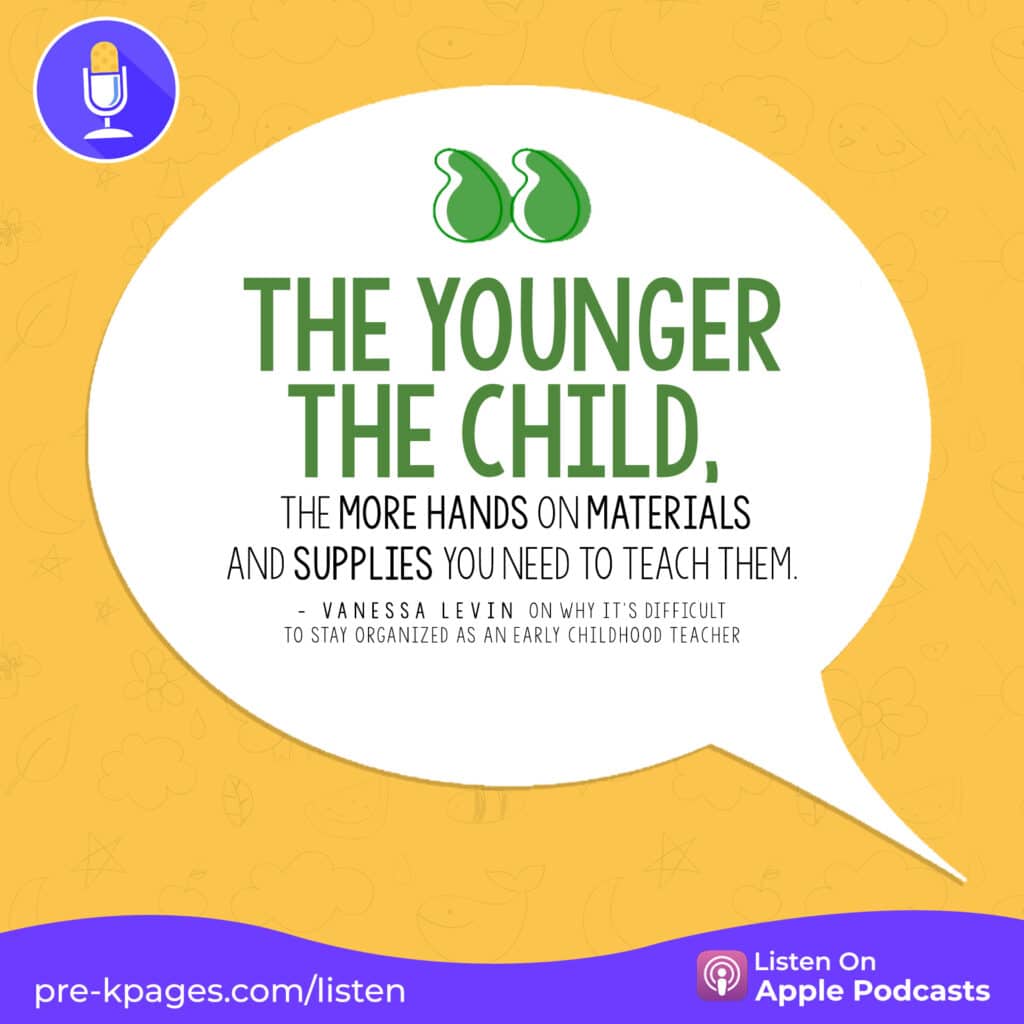 In today's blog, I'll be sharing my top five storage and organization tips for your classroom. You see, I often get asked how I store and organize my classroom supplies. 
I think this is something that all early childhood teachers struggle with. Why? Simply because the younger the child, the more hands-on materials you need to teach them right. It's no secret that paper and pencil activities just don't cut it anymore. 
This is why, when it comes to teaching basic concepts, like counting and math skills, young children need three dimensional objects to feel, touch, and manipulate, in order to truly learn these skills. 
The same is true for learning the alphabet. Children need concrete objects they can touch and feel like magnetic letters. This helps them translate those abstract concepts into the concrete world. 
And this, my friends, is why we preschool teachers have so much stuff in our classrooms! So, if you're overwhelmed by the sheer amount of materials around you, keep reading, because I'm sharing a tip or two on how to stay organized.
Closet Storage Tubs
Now, by "closet storage tubs", I don't mean the great big tubs you might be thinking of. The ones I use are shoebox-sized and super practical. 
I started organizing the materials inside my cabinets using clear plastic shoeboxes several years ago and I've never looked back. I love having absolutely everything visible, accessible, and clearly labeled. That's what makes my teacher's heart sing. 
This system made my life super easy. Now that I have it in place, I can find whatever I need right away, without having to pull a bunch of plastic bags out and having them fall over and make a mess.
Theme Storage Tubs
Storing small things, like tape, scissors, pipe cleaners, glue, wiggly eyes, etc.… is one thing. But storing the accessories for every theme, now that's next level!
And I know, I know… Plastic storage containers, especially the larger ones, are more expensive than dollar store ones. But it's a great investment, especially if, like me, you spent years building up and amassing a collection of items for each theme.
There is truly no price you could put on the amount of time and effort I spent amassing those items. So spending a few dollars on a plastic storage bin to house all of those things was a really easy choice for me.
Clorox Wipes Containers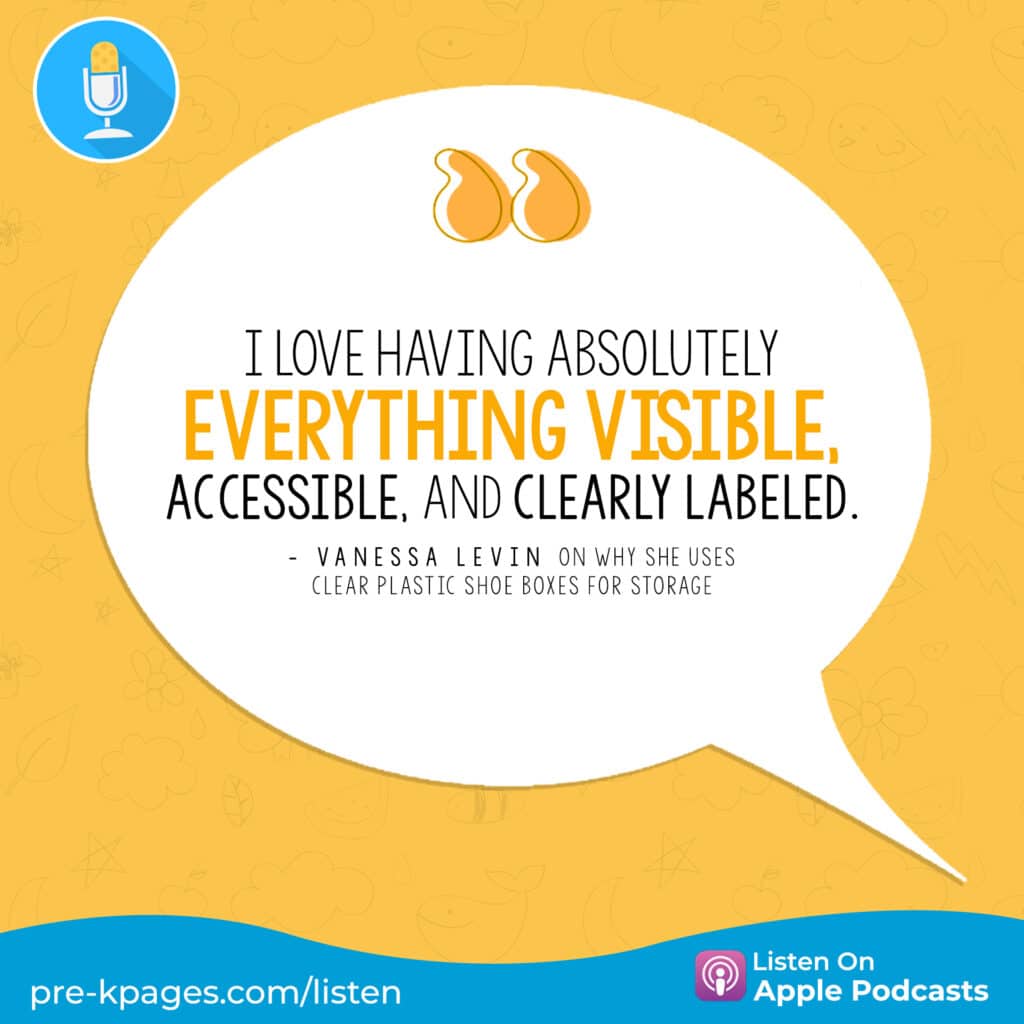 Using Clorox wipes containers to store my yarn is one of my all time favorite storage hacks because it solved a big problem for me.
I don't know about you, but my students have always loved to use yarn in the art center. At the very beginning, I used to just cut long lengths of yarn and put them in a tub in my art center. And that worked fine. 
Then I tried putting an entire skein of yarn in the center, but the kids could never find the end they needed to cut. And that really frustrated them. 
But, since Clorox wipes have become a way of life recently, they're super easy to come by. And guess what? I've discovered that one skein of yarn fits perfectly inside the container, AND you can pull out the end through the hole. How cool is that? 
So you can just put a few of these containers in your art center and your students can pull the yarn through the hole and cut the length themselves. 
Frosting Containers
Storing bulletin board borders can be really tricky, because they are so long and don't really fit anywhere. If you try to stuff them in a drawer, you usually end up with a tangled mess — tell me I'm not the only one who's been there —. 
I even tried one of those special cardboard storage containers a long time ago, but it was just too big and bulky for my liking.
But, one day, I found out that if you roll your bulletin board borders up, they fit inside of a frosting container. And that, my friends, was a real game changer for me AND another upcycled storage container idea that I have fully embraced as one of my organization secrets!
Plus, it's better for the environment. So really, what's not to love?
Book Boxes
All early childhood teachers are picture book hoarders, and I'm no exception. We like to have easy access to them and that's normal! 
So, just like everybody else out there, I started out by storing my books on a bookshelf. But as my collection grew, I noticed that some of my smaller books would get pushed towards the back as I was taking out and putting books back on the shelf. 
It had become difficult for me to find the books I needed for each lesson quickly and easily, and that was a no no in my "book" — get it? —.
So, what did I do? I switched to book tubs! Now I have the books for each theme in their own box, clearly labeled, and it's made my life much easier!
I discuss all of this in more depth in the episode above, so make sure to watch it!