After working with many teachers over the years, I've noticed one thing…
"What is it, Vanessa?" you ask?
Well, the answer is: The lack of flannel boards!
And yes, I can hear you already… "But flannel boards are sooooo old school." 
But let me tell you, they aren't! They can actually be used in very smart ways to teach many standards in your early childhood class!
What do I mean by that?
Tune in to this episode to find out!
Flannel Boards Tips and Tricks
When I asked some of the teachers I knew why they didn't use flannel boards, I was given five types of answers:
"My students destroyed the pieces and/or the flannel board."

"My students just don't like going there."

"I have no idea how I can use a flannel board."

"It's kind of old-school, so I put it in the closet."

"I don't have any space for a flannel board in my classroom."
But I am here to set the record straight about flannel boards, so keep reading!
What Is a Flannel Board?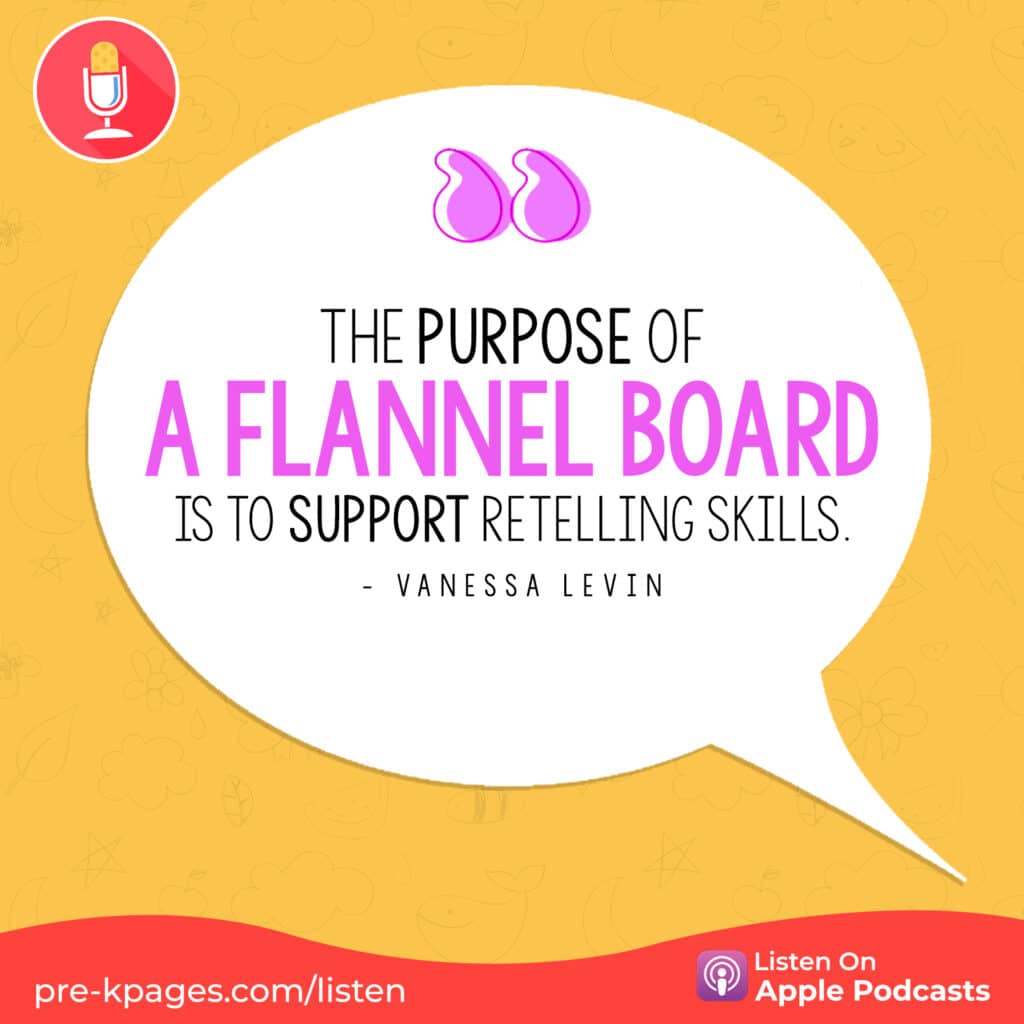 Traditionally, flannel boards used to be made of black flannel. They were on a small, portable, lightweight board that was sometimes propped up by a flimsy little stand.  
Today, flannel boards are made of sturdier material and can take a lot more abuse and heavy use. There are brands that make magnetic flannel boards, which I find super useful. 
What's the Purpose of a Flannel Board?
The purpose of a flannel board is to support retelling skills. Sure, you can use it for other things. But generally speaking, it's a tool that supports oral language and retelling of stories. There are a number of different ways to do that, which I demonstrate in the video above. So, if you'd like to see the whole demo, check out the video!
What Standards Can You Support Using a Flannel Board?
Whether you're using your state standards or your program standards, all early learning standards include some form of storytelling. 
The good thing is, you can find standards for any age group you're teaching. And you can teach them using flannel boards! 
From storytelling to singing rhymes to reenacting stories, flannel boards can support all these standards brilliantly. 
Felt boards are an easy way to support the development of retelling skills. Plus, they bring novelty to the classroom! Sure, you could use a picture book to tell the stories, but a flannel board is just so much more fun!
How to Do a Flannel Board Story With Your Students
Should you just let your students have at the flannel board? Should you just put it up on the wall in your classroom? Or put it out in the center and just let the children use it? The answer is a resounding "No, of course not!"
What I like to do is start with a book my students are familiar with first, and I would read it aloud to them. Then, I would move on to my flannel board and use it while retelling the story. How? Well, there's a demo in the video above that explains it much better, so make sure to watch it!
My Favorite Flannel Pieces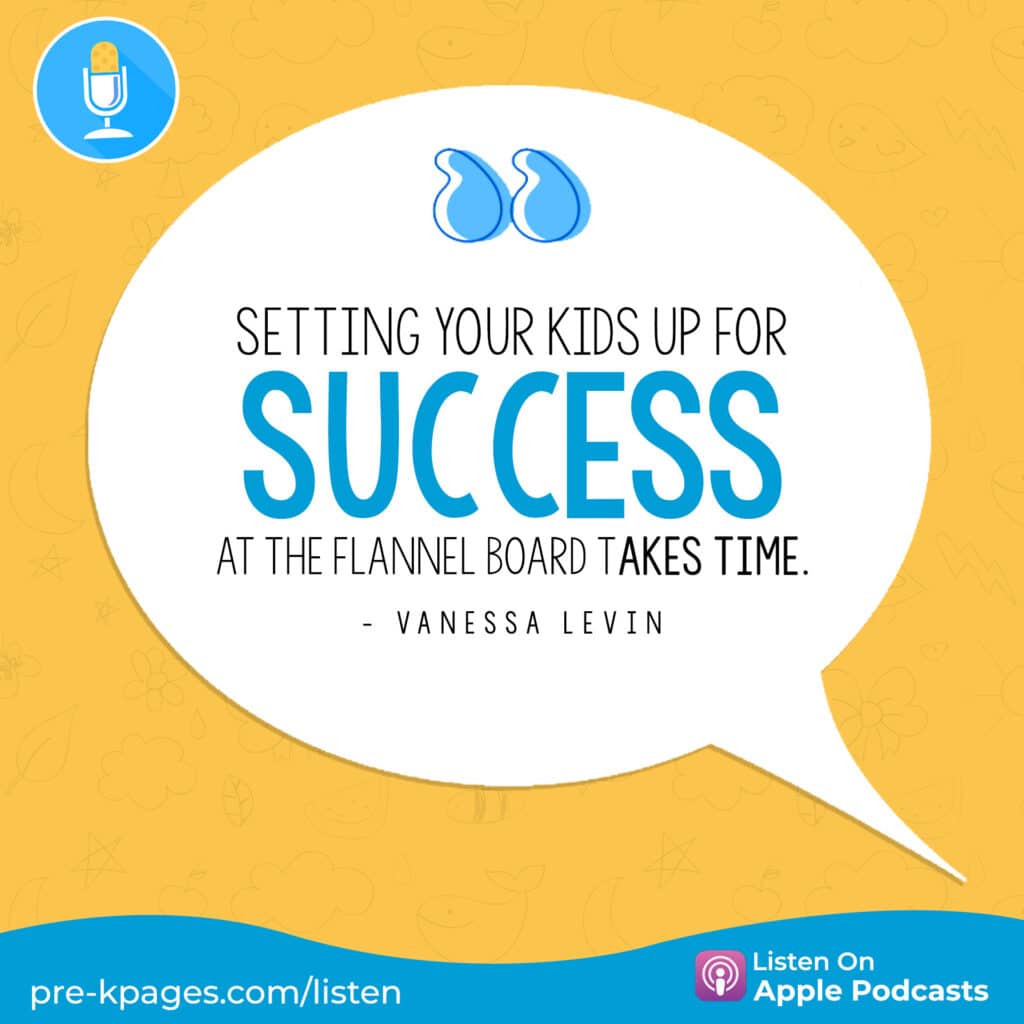 Let me tell you first: Not all flannel boards are created equal, some are sturdier than others. And it's the same for flannels pieces and characters, which is why I'm sharing my favorite ones with you today!
My favorite pieces come from a company called Little Folk Visuals. And, fun fact: Little Folk Visuals has existed for many years now. And back in the days, their products would be sold by representatives who would come to my preschool. 
I remember placing my orders with them and being soooo excited about it. I mean, I've been using their flannel pieces for decades for a reason!
But then Amazon came around, and they started selling them on there, and that's where I get all my pieces from now! 
And here's a quick tip for you: When you order them on Amazon, make sure to get them pre-cut. Because if you don't, they'll come in one giant flannel sheet, and you'll get carpal tunnel trying to cut them all out. Plus, there's a chance your scissors might actually die.
Here are my favorite sets from them: Little Folk: Goldilocks, Little Folk: Nursery Rhymes, Little Folk: Brown Bear, and finally Little Folk: Hungry Caterpillar!
I hope you enjoy them! 
Finally, I also share more info in the video above, such as how to use flannel boards as a learning center and some troubleshooting tips. So, make sure to give it a watch and let me know what you think in the comments below!


Links Mentioned in this Episode