Nursery rhymes are such an important part of any early childhood classroom because they can be used to support a wide array of standards and skills at many different levels.
Nursery rhymes are included in the CCSS, you can find them listed under Standard 10.
You can teach many of the Common Core standards through nursery rhymes such as phonological awareness skills, re-telling, and fluency. Nursery rhymes also help build stamina and independence in emergent readers.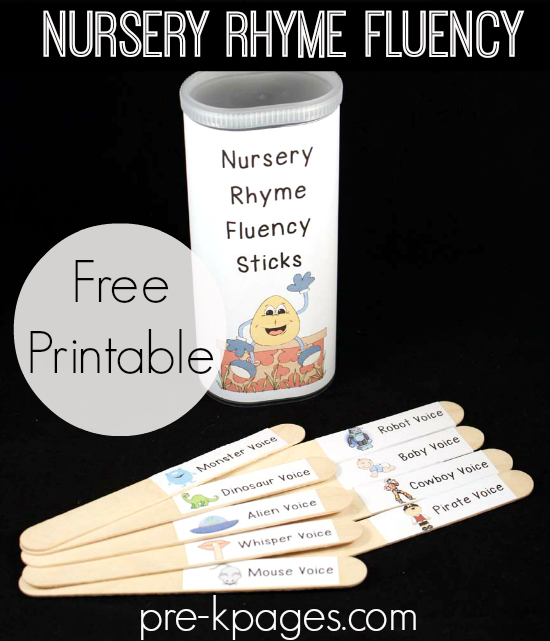 Printable Nursery Rhyme Labels
Today I'm sharing this free printable with you below that will make learning the rhymes fun for your students while building fluency at the same time.
One page has labels and each label has a picture and text. You can print the labels on Avery 5160 or Avery sticker paper and stick them on tongue depressors.
I also included a large label you can attach to the front of a can to hold the sticks as shown in the picture above.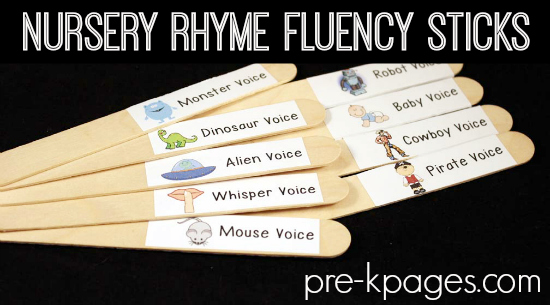 How to Use the Nursery Rhyme Sticks
Place the sticks in a can, I used a Crystal Light container, and select one student to draw a stick from the can.
The picture on the stick will indicate which voice should be used to recite the rhyme. Some of the choices include dinosaur, baby, whisper, and robot.
Kids absolutely love this activity because they're having fun and being silly without realizing they are actually gaining valuable skills.
I recommend doing this activity just once or possibly twice daily when you have a few minutes before or after lunch, before you go home, before you go to specials etc.
This will keep the activity fresh and fun for your students. Have the students follow along as you point to the words on a chart (using a cute pointer of course!) to reinforce concepts of print.
Click on the picture below to download your free copy of the Nursery Rhyme Fluency labels
More Nursery Rhyme Activities