Research shows that children who have memorized nursery rhymes become better readers because they develop an early sensitivity to the sounds of language. (Marie Clay) They can be used to teach many important emergent literacy skills.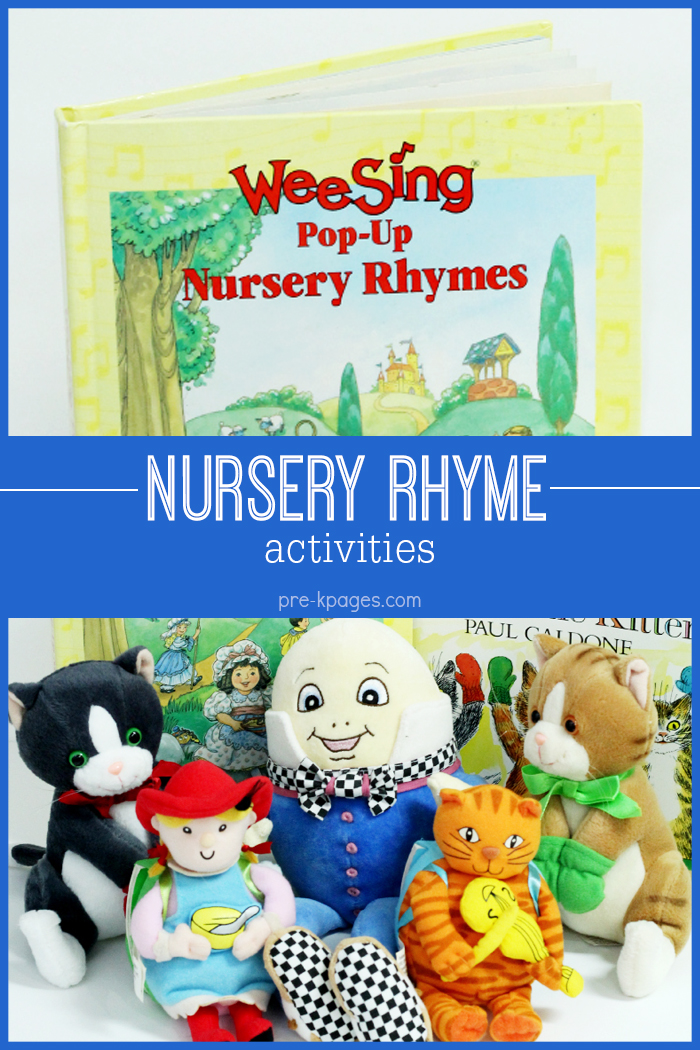 Why teach using Nursery Rhymes?
They naturally help young children develop phonemic awareness skills, which are the necessary building blocks that children need to develop before they can begin to read.
Nursery Rhyme Skills
Here are the skills you can teach:
Rhyming words
Sound/Word Discrimination (syllable sounds
Blending
Word segmentation (syllables (first and last syllables))
Phoneme manipulation
Nursery Rhymes
The following are all benefits:
Enrich young children's vocabulary
Provide opportunities for oral language development
Introduce children to basic story structure such as problem and solution, cause and effect
Are easily integrated into already existing themes
Can be FUN and engaging for young children
For specific activities see the list below:
The Teaching Tribe
Teaching with nursery rhymes is important, but it's only one small piece of the literacy puzzle. If you really want to be the best teacher you can be, the best place to learn current best teaching practices and get the support you need is in the Teaching Tribe. We have many printable lessons and on-demand video trainings to help you become the best teacher you can be! If you want to get on the waiting list for the Teaching Tribe, do it soon so you don't miss the next open enrollment period!
Nursery Rhyme Activities
Nursery Rhyme Songs For Preschoolers
These fun nursery rhyme songs and videos can support the skills you're already teaching in your early childhood classroom.
Printable Nursery Rhyme Books, Charts, and Songs from Dr. Jean
Download the free Jack and Jill printable book in black and white and color, song chart with picture support for emergent readers, and the mp3 song by Dr. Jean!
Free Nursery Rhymes Printables
Nursery Rhyme Notebook Cover- FREE
Nursery Rhymes Tracking Chart- FREE
Printable Nursery Rhyme Fluency Sticks- FREE
Nursery Rhyme Bingo- FREE
I Know My Nursery Rhymes Certificate- FREE

Nursery Rhyme Diploma- FREE
Nursery Rhyme Resources
More Literacy Ideas from Pre-K Pages