Veterans Day is November 11. This day honors the men and women who have served and are currently serving in our nation's armed forces. Since this day comes between Halloween and Thanksgiving, we often miss it and miss opportunities to help preschoolers think about people who serve our country. These Veterans Day preschool crafts and activities below can help you talk with your children about these important people.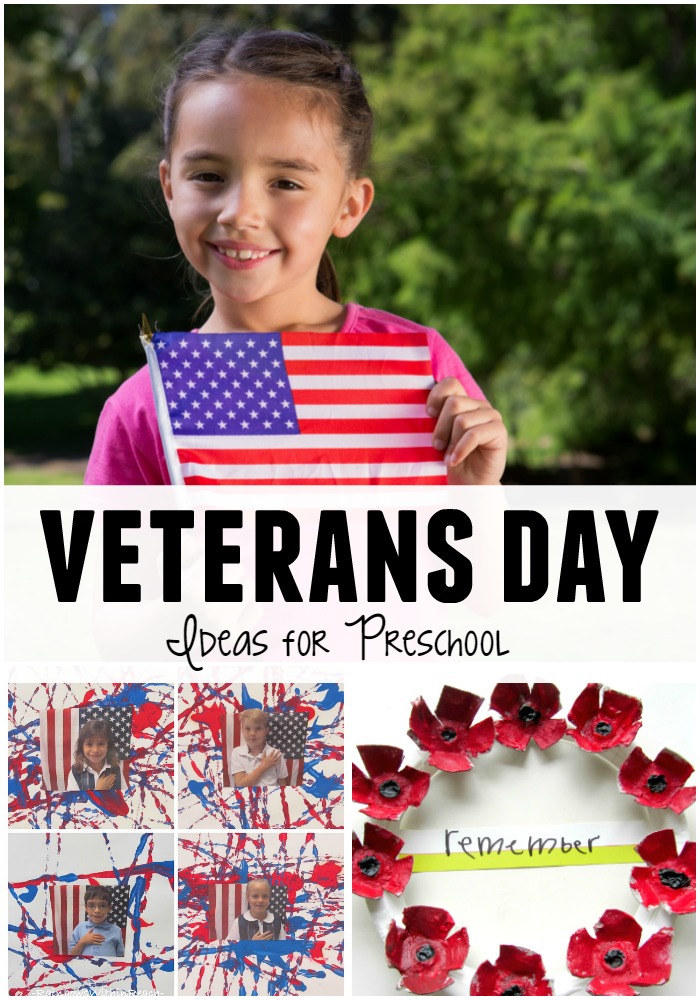 Veterans Day Crafts And Activities Preschoolers Will Love
There are so many great ways for your preschoolers to learn and celebrate Veterans Day. These are some fun Veterans day preschool crafts and activities we love using in the classroom.
1. Go on a Flag Hunt (Pre-K Pages) – It's summer and time for lots of fun. You can also include some fun learning in your summer plans. Since July 4 is coming, here's an activity that can get your preschoolers talking about the American flag and can develop some literacy skills, too.
2. Patriotic USA Songs for Kids (Prekinders) – Try these fun Patriotic USA songs for kids. These songs can be used during a mini unit on America, or during a patriotic holiday, such as 4th of July (Independence Day), Memorial Day, Veteran's Day, President's Day, Flag Day, Patriot Day, you name it!
3. Teaching Kids About Veterans Day (Fantastic Fun and Learning) – There are some very simple and age-appropriate ways we can teach young kids to show respect and appreciation to veterans. Here are some Veterans Day activities, teaching resources, and even some free printables.
4. Free Printable Veterans Day Cards (Sight and Sound Reading) – As a Veteran's Day Lesson Plan, one easy way to teach about the holiday is to thank a veteran or member of the military.  So here are some free Printable Veteran's Day Cards for you today.
5. Simple Ways to Thank a Veteran (Military Wife and Mom) – Want to thank a Veteran but don't know where to start? Here are 7 simple ways to thank a Veteran to try!
6. Remembrance Wreath (No Time for Flash Cards) – Recycle an old egg carton to make this Rememberance wreath!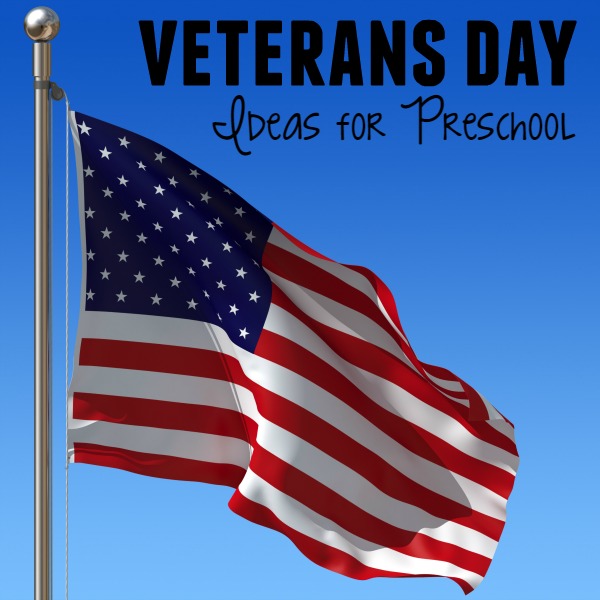 More Veterans Day Craft Ideas for Preschoolers
7. Coffee Filter Poppy (JDaniel4's Mom) – You will be amazed at how easy it is to make this coffee filter poppy flower that you can then gift to a Veteran!
8. Cork Painted Poppy (JDaniel4's Mom) – In this fun Veterans day art activity your preschooler will have fun painting a poppy flower with an old cork!
9. Easy Soldier Craft (Fantastic Fun and Learning) – To go along with all of your patriotic activities this simple Veterans Day craft is easy to make.  And your preschoolers will fun playing with their mini veterans when they were done.
10. Patriotic Activity Ideas (Fun-a-Day) – Here are 10 fun crafts and activities to have your preschoolers try out for Veteran's Day, such as a USA bracelet, Patriotic word building, and Soldier dress-up!
11. Thank You Bookmark (Naturally Educational) – Have your preschoolers make these thank you bookmarks to gift to a Veteran!
12. Veterans Day Ideas (Dr. Jean) – Here are 4 more ideas for Veteran's Day including a beautiful song for your preschoolers to sing!
BONUS: The book Red, White, and Blue by Debbie Clement is a great read aloud for Veterans Day.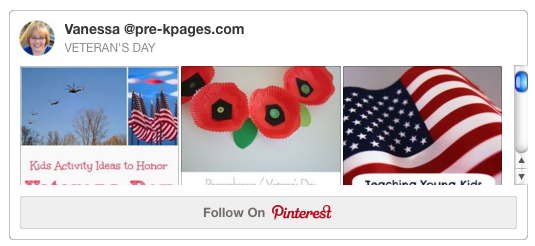 Follow my Veterans Day Pinterest Board for more ideas!