Do your kids love Pete the Cat? The character of Pete the Cat is wildly popular with young children.
Why not capitalize on this popularity and use Pete to teach academic skills such as concepts of print to your students?
Using Pete the Cat will make teaching this skill super fun and your kids will learn to love books and reading- it's a win-win!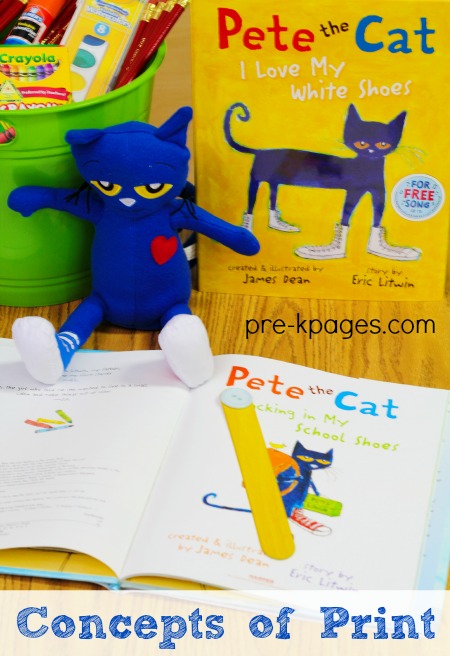 Concepts of Print
Concepts of print are emergent literacy skills that are considered one of the most important factors in determining future reading success.
These skills involve the ability to recognize and understand the functions of print. I have listed some of the components that are included in concepts of print for you below.
Left to right progression (words on the page are read from left to right)
One-to-one correspondence (spoken words match print)
Return sweep (you return to the left after reaching the end of a line of print)
Spaces between words
Top to bottom (words on a page are read from top to bottom)
Beginning and end (where to start and stop reading a word, sentence, or book)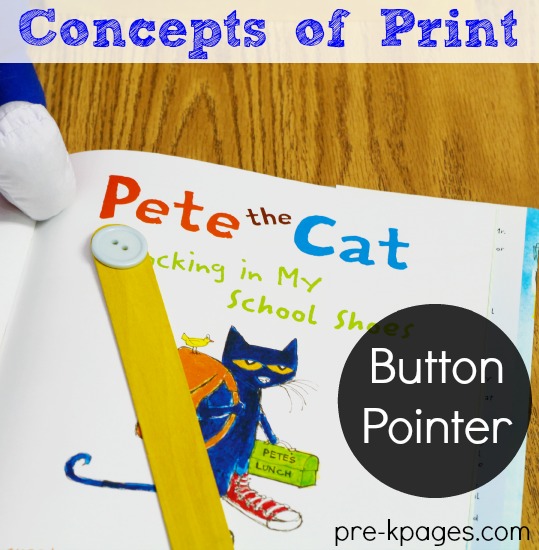 Button Pointer
This button pointer was super easy to make, here are the materials needed to make your own Pete the Cat button pointers.
Materials Needed:
I found the yellow craft sticks at my local craft store. I already had plenty of E6000 glue on hand as well as the buttons.

How to Make the Button Pointer
Use your
E6000 glue
to attach the button to the craft stick and allow to dry thoroughly. I prefer E6000 because it will stick anything to anything – forever! Just be sure to use it outdoors and don't bring it to school.
How to Use the Button Pointer
After you have read some of the Pete the Cat books to your class, especially Pete the Cat and His Four Groovy Buttons, introduce the button pointer to the children.
Use the pointer to point to the text in big books, pocket charts and any charts you create in your classroom to develop and reinforce concepts of print. Kids will love seeing Pete's button and be eager to follow along as you read.
You can make a few extra pointers and place them in your classroom library or make one for each child to use during independent reading.
More Pete the Cat Ideas:
Alliteration with Pete the Cat
Pete the Cat Rhyming Hat
Learning Letter Sounds with Pete the Cat
Learning Prepositions with Pete the Cat
Simple Story Problems with Pete the Cat
Follow my Pete the Cat board on Pinterest for more great ideas!