A preschool classroom library center is a clearly defined space that young children can use independently to browse books. The classroom library plays an important role in creating a high-quality early childhood learning experience that enriches language and vocabulary development.
Preschool Library Center
In your Preschool, Pre-Kindergarten or Kindergarten classroom, the library should be a kid-friendly place where young children can go to look at, or "read" books.
The classroom library area should be a clear, defined space in your classroom with places for students to sit and read.
You can add some "homey" touches to this center such as lamps, curtains, chairs or furniture, and beanbags. When you create an inviting area for reading, your students are more likely to want to spend time in your library center.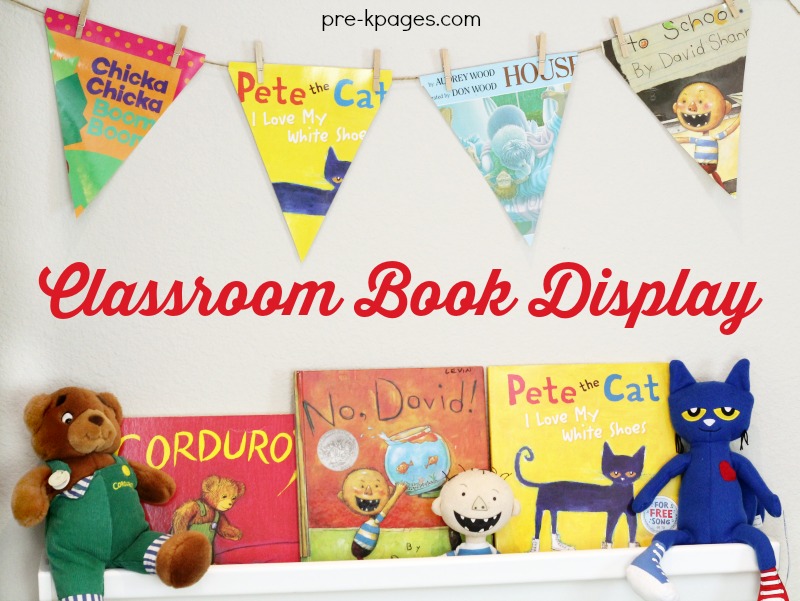 Rain Gutter Book Display
I like to display books throughout my classroom to send the message to my students that books are important, so important that they deserve to be on display.
This book display shelf pictured above was created with a plastic rain gutter from the local home improvement store. I first learned about this genius hack from the legendary Jim Trelease in his bestselling book, The Read-Aloud Handbook.
To create these shelves in your own classroom, just pick up some plastic rain gutters and a tool that will cut them. You can ask your home improvement specialist which tool to use to cut the gutters.
Book Jacket Pennant Banner
I made the pennant banner by cutting the dust jackets of hardcover books. I attached each pennant piece to a length of twine with mini-clothespins from the craft store. That's it, super easy!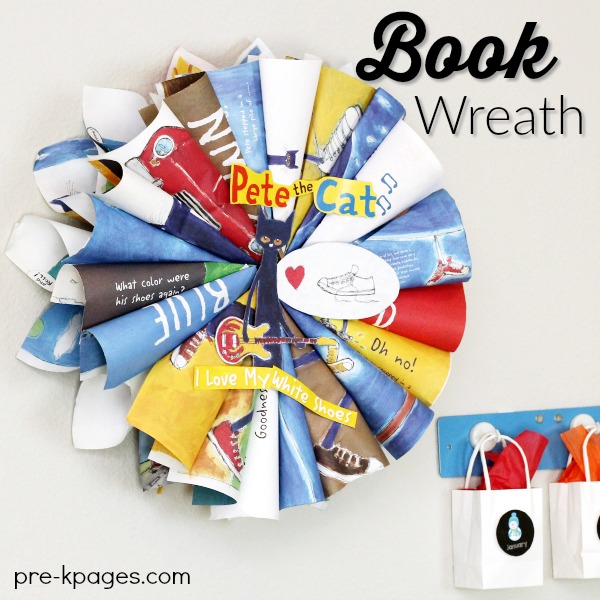 Book Wreath
I tried making my own Pete the Cat book wreath, it didn't turn out – at all! It's so much harder than it looks on Pinterest! After a few tries, and a few destroyed Pete the Cat books, I gave up and ordered this one on Etsy, isn't it adorable? It is purely decorative and has no educational value, I know that, but it makes me happy.
Classroom Library Broadcast
We're talking about setting up and organizing your classroom library- Join us LIVE now!

Posted by Pre-K Pages on Thursday, April 7, 2016
Why Create a Classroom Library?
One of the main goals of any early childhood teacher is to help young children develop a love of reading and books. Reading requires a lot of skill and practice, and to practice you need books. It's simple, the more children are exposed to books, the more they learn to love them.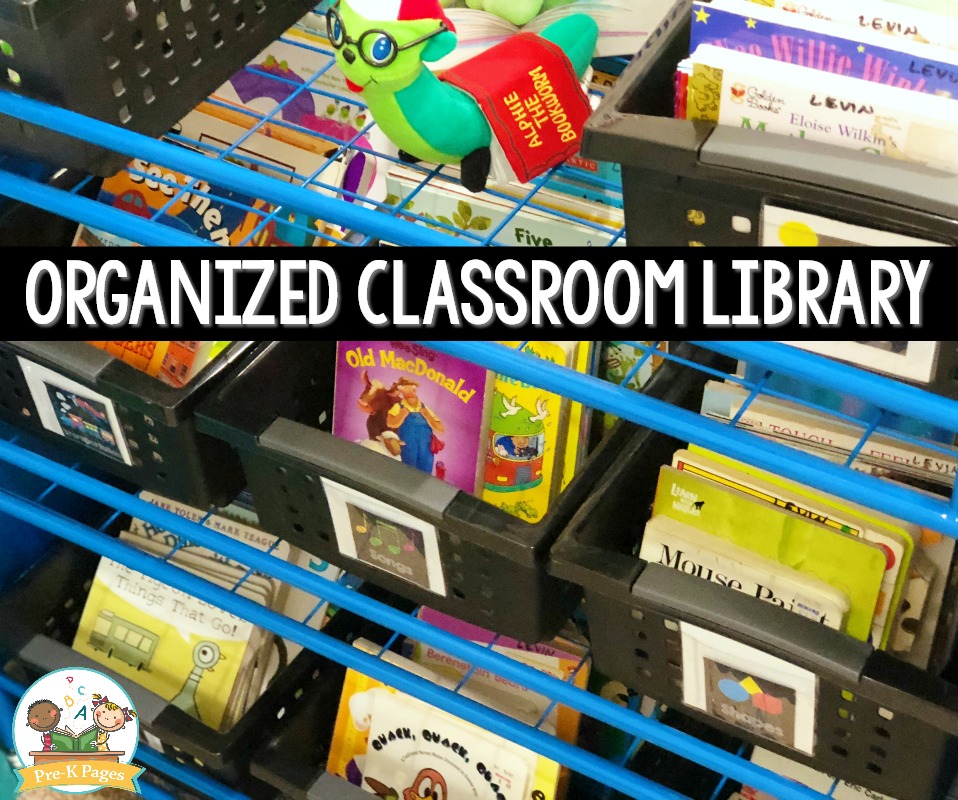 How to Organize a Preschool Classroom Library
I know what you're thinking, "That looks awesome, but my kids would destroy that in a New York minute!" But here's the thing, my kids don't destroy the classroom library because I start teaching them from the very first day of school how to look at and treat books in our classroom.
Another helpful trick that works very well with four and five year olds is to categorize the books by theme, and then color code the books with colored sticky dots.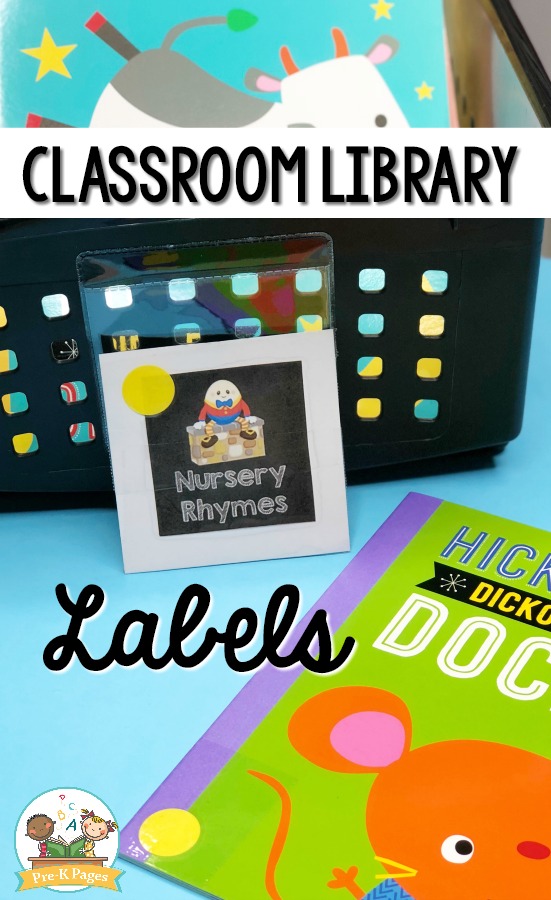 Book Tub Labels
Each book tub has a picture label on the front as well as a colored sticky dot. The book boxes are available to every student, every day of the year and are never put away, but instead remain as permanent fixtures in our library center.
Each book in each box has a corresponding sticky dot on the lower left hand corner so the books can easily be matched to the boxes by the students. When I ran out of colors of sticky dots I started adding a gold star in the middle of the dot or another, smaller sticker.
I do add books by season or theme and rotate them out in one particular tub. You can also use a book display shelf for these thematic books so they don't get mixed up with your regular classroom library books.
HINT:When adding colored dots to your books or boxes always cover the dots with clear book tape or they will be picked off by curious little finger.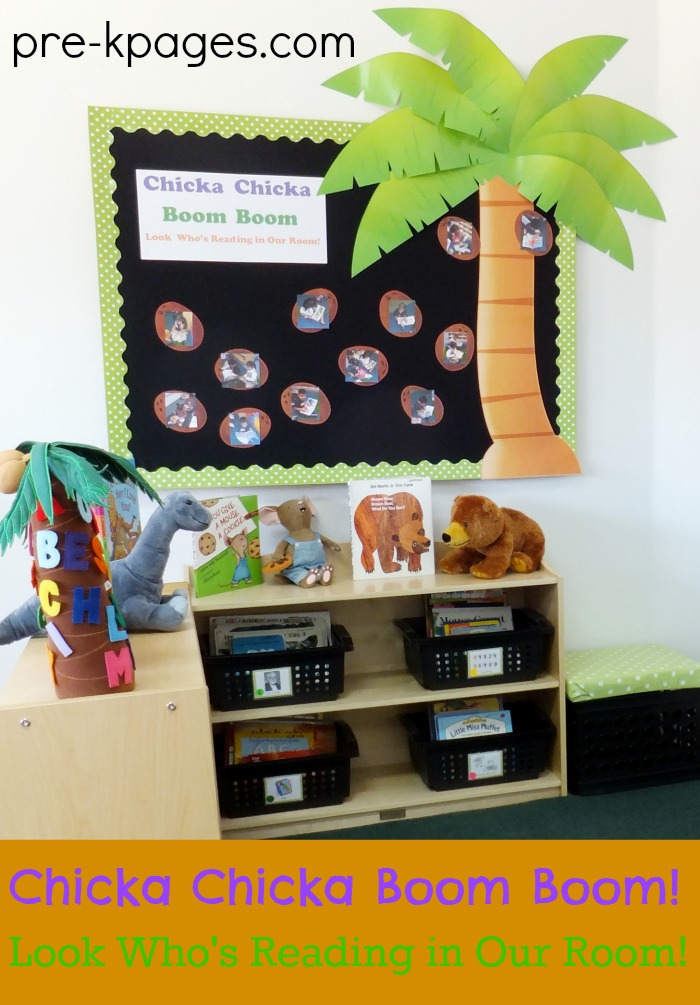 I once had a bulletin board titled "Chicka Chicka Boom Boom Look Who's Reading in Our Room" that featured pictures of the students reading.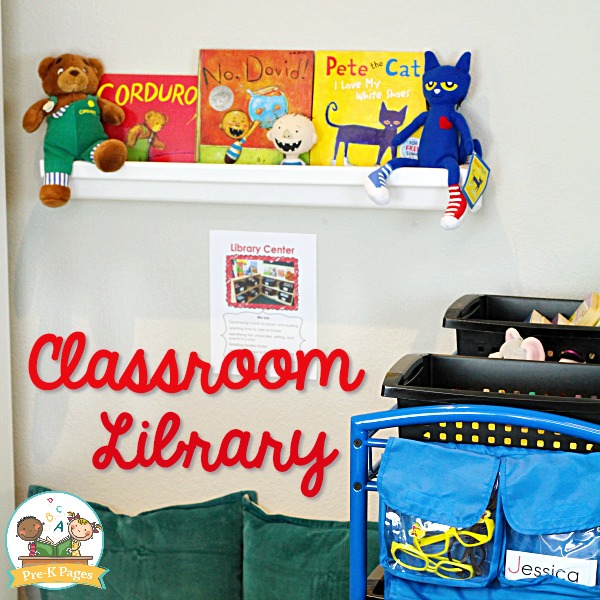 Classroom Library Sign
These signs are perfect for labeling all the centers in your classroom. Just insert a picture of your center directly into the PowerPoint file, the words below are for the adults. Above you can see the Library Center Sign in action.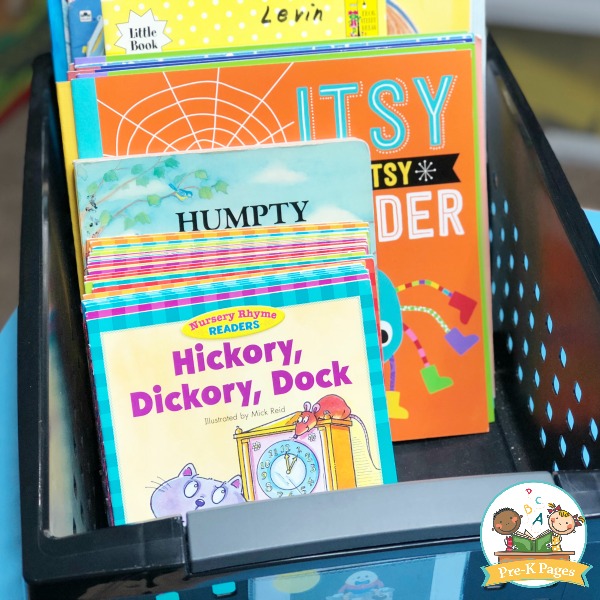 Where to Find Books
This is the sad part of teaching, you will usually have to provide the books in your classroom library yourself. Building a classroom library can take years, don't expect to accumulate as many books as you see pictured here in your first year. The following is a list of resources that new teachers can use to build their classroom libraries:
You can read more about these sales and watch the video on the blog.
Goodwill, Salvation Army, or other used venues
Yard Sales and Library Book Sales: Some of the best bargains around can be found at yard sales or your local library's annual book sale.
Teacher Discounts: Many book stores give teachers a discount. Stores such as Barnes and Noble, Half-Price Books and others all offer a teacher discount.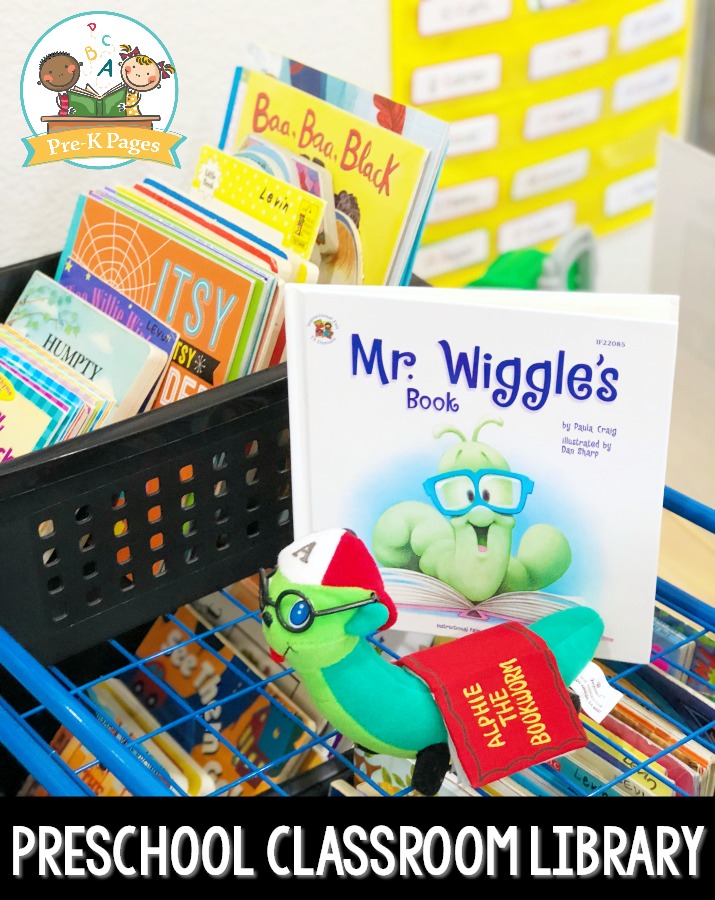 What types of books should be included in the class library and how many?
Including books by favorite authors, good non-fiction, and books your students have shown interest in are all factors to consider when choosing books for your classroom library.
Be sure to include books you have read to the class in your classroom library. Nothing makes a book more appealing to a child than a book that the teacher has read aloud. Including books you have read aloud to your students in your classroom library also allows for independent practice of reading. Nothing is more rewarding than seeing your students fight over copies of Brown Bear, Brown Bear because they all feel comfortable and successful "reading" it independently.
The number of books included in a classroom library is simply as many as space and budget will allow. The more books children are exposed too, the more likely they will find ones that they like and which inspire them to learn to read and love books.
Don't forget to include class made books. Class made books are very inexpensive ways to add books to your library area. I try to make one class made book for every theme that we study and add it to our class library or circulate it in a Buddy Bag. The possibilities are endless for class books and the children really love them because they helped in the process. Class made books will help inspire even the most reluctant reader to pick up a book.
I created a set of 44 printable labels for the book boxes in your classroom library.
What if I don't have enough space in my classroom for a preschool library center?
This is a very common problem, the best way to solve it is to get creative! In some classrooms, the library also doubles as the circle area or word wall area because there simply isn't enough space to allow for a separate area. The most important thing is to provide your kids with access to as many books as possible.
My students mistreat the books in the preschool classroom library, what should I do?
I created a packet designed specifically to help you teach your children how to care for books. Click HERE for details and see a preview.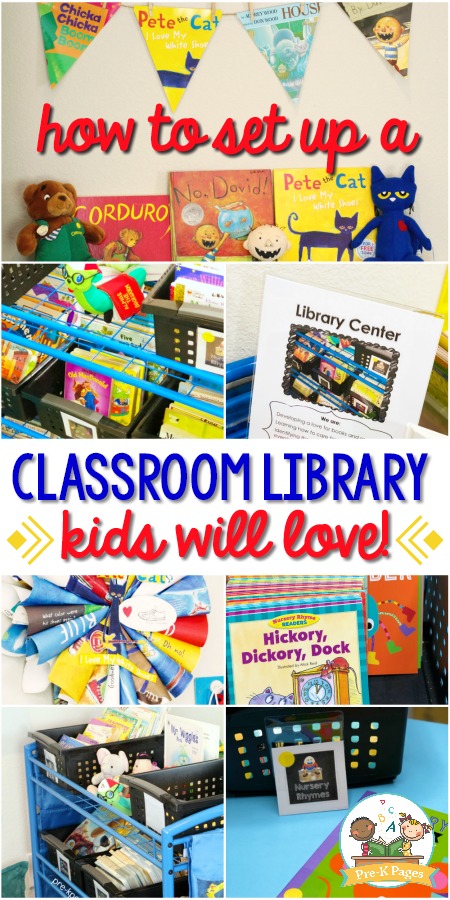 My students don't like to go to the preschool library center, what can I do to make them like it more?
The best way to get your students to develop a love for reading and books is to provide a time during the day in your schedule for B.E.A.R (Be Excited About Reading) or more commonly referred to in older grades as D.E.A.R. (Drop Everything And Read) or simply S.S.R. (Silent Sustained Reading). B.E.A.R. time is a time when ALL students are expected to be reading or looking at books at the same time, including the teacher. In Pre-K and Kinder classes it is not necessary to require absolute silence as the older grades do.
Read books about books. See the list of our favorite books about books at the bottom of this page.
After B.E.A.R. time you can play another game; the "Favorite Book" game to encourage your children to think and read. Select one child to choose his or her "favorite" book from the class library. Allow the student to sit in your chair and ask him why this book was his favorite, what his favorite part of the story was, and any other questions you can think of. Then, read the book to the class making sure to explain that the book is special because it is "____'s favorite". This game helps children understand that books are special and should be treated with love and respect.
By taking the time to introduce books and discuss them you are showing your students how important books are to you. If books are important to you, they will also be important to your students and you will have more students who enjoy visiting the library center.
The Teaching Trailblazers
Having a fully stocked and organized classroom library is awesome! But let's face it, a classroom library can't make you a better teacher. The best place to discuss teaching best practices and get the support you need is in the Teaching Trailblazers. We have many printable resources and on-demand video trainings to help you become the best teacher you can be! If you want to get on the waiting list for the Teaching Trailblazers, do it soon so you don't miss the next open enrollment period!
Recommended Books and Resources
Preschool Learning Center
Have you always dreamed of setting up amazing, self-directed preschool learning center for your classroom…but feel like something is missing? How do you know which centers you need? What should you put in them?
Center Essentials Guide
Get your ultimate, step-by-step guide for setting up centers HERE
More Center Ideas from Pre-K Pages