While enjoying the popular story, The Little Red Hen, let kids get their hands on some wheat for a wonderful process art activity. This art project is something the kids can enjoy doing all by themselves with little to no help from adults – which is perfect for letting them explore colors, textures, and creativity.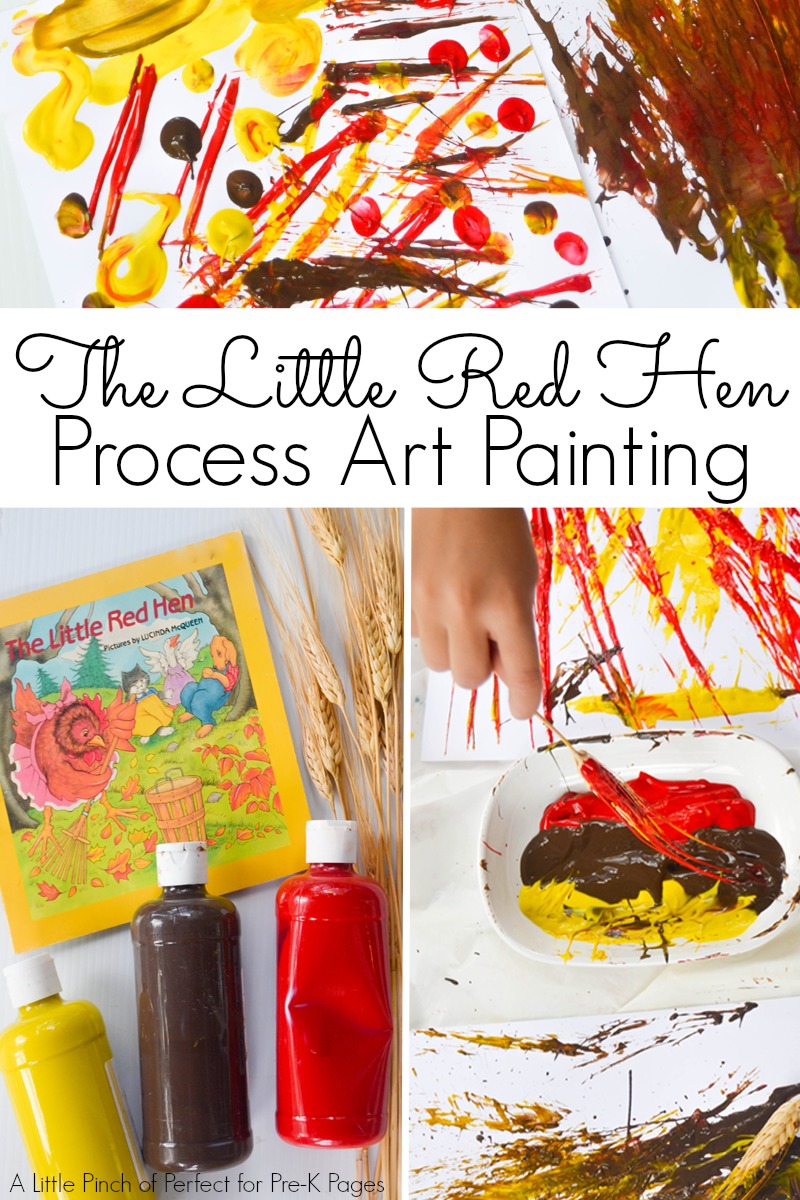 What About Wheat?
Don't know where a field of wheat is? Don't know a farmer who is willing to share? You can order wheat from a local florist like I did. Unlike some flowers, stalks of wheat are really cheap, keeping this activity very inexpensive.
A fun thing to do before you paint is explore an extra stalk of wheat. Invite the kids to remove the chaff (outside covering) to find the seed inside. My kids definitely strengthened fine motor skills with each seed they found, and they had so much fun as they took apart a whole wheat stalk. I also offered a handful of flour for the kids to touch to make the connection between wheat from the field to food on our plate like the bread the Little Red Hen baked. Then it was time to paint.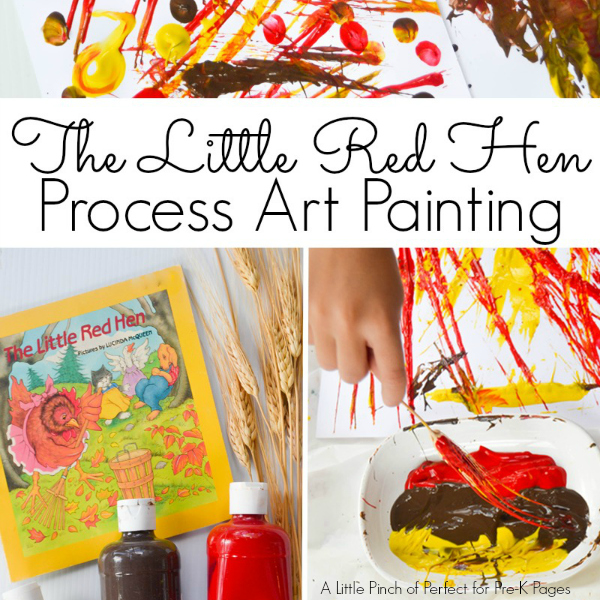 Little Red Hen: Painting with Wheat
Supplies
Craft paint
Trays for paint
Wheat stalks
Craft paper
Tablecloth
Painting smocks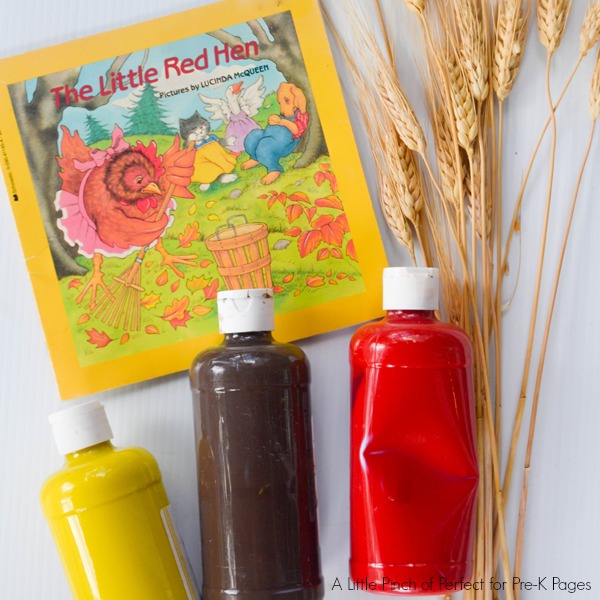 Directions
Fill trays with paint. I used two trays (one for each of my children) with each of the three colors we were using (red, yellow, and brown). If you have several kids, you may want to fill one tray with each color for lots of kids to use at the same time.
Before kids start painting, remind them that the wheat stalks are not strong like sticks and will snap under pressure. This is totally fine and the kids can still paint with them. (It's good to let kids know ahead of time; then they will not be surprised or upset if stalks break.)
Invite children to dip wheat stalks into paint and stamp them on the paper. My kids used the long stalks as handles and would fling the wheat onto the paper. My daughter managed to be very neat and tidy while my son had paint flying all around so you may want to be prepared with a tablecloth, painting smocks, and paper towels. They loved making different textures and designs without using a paintbrush. Exploration is important, so encourage each child to use his ideas for using the wheat with paint.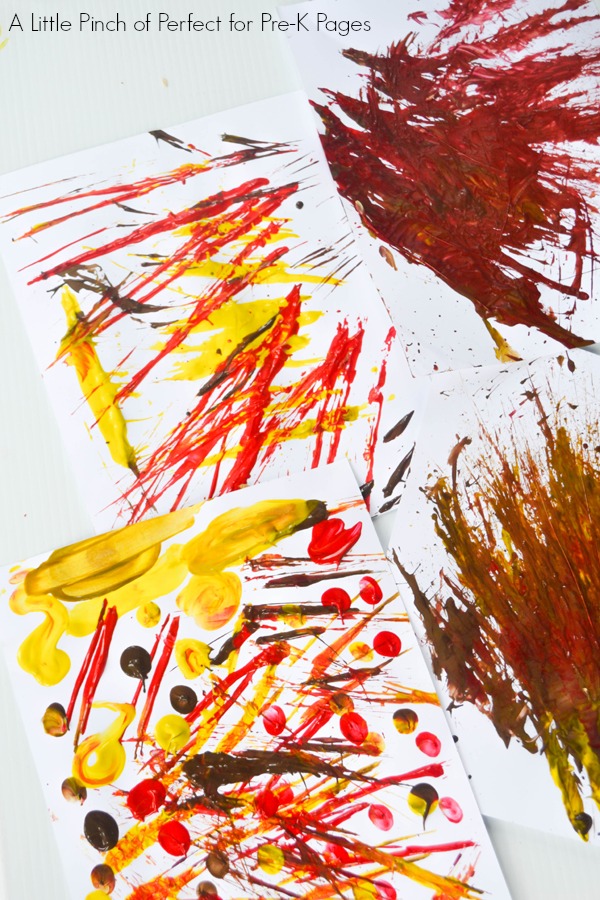 When the kids are done, set the paintings aside to dry and hang them up to enjoy.
BIO: Katie stays busy homeschooling her two kids and sharing their fun educational activities, cute crafts, and free printables at A Little Pinch of Perfect. One of her kids' favorite shapes activities can be found here, Sorting Shapes Activity + Free Printable. Join her community of parents, caretakers, and educators who enjoy having fun and spending time with kids on Pinterest, Facebook, and Instagram.
More Little Red Hen Ideas—
Practicing Sequencing Skills with The Little Red Hen
Printable Picture Recipes
Little Red Hen Comprehension Activity
Little Red Hen Lesson Plan Bundle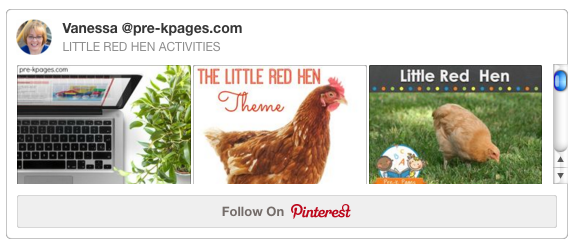 Follow my Little Red Hen Pinterest Board for more great ideas!