Making play dough faces is so much fun and a great way for kids to learn about their body while developing fine motor skills. It is perfect for a preschool body theme.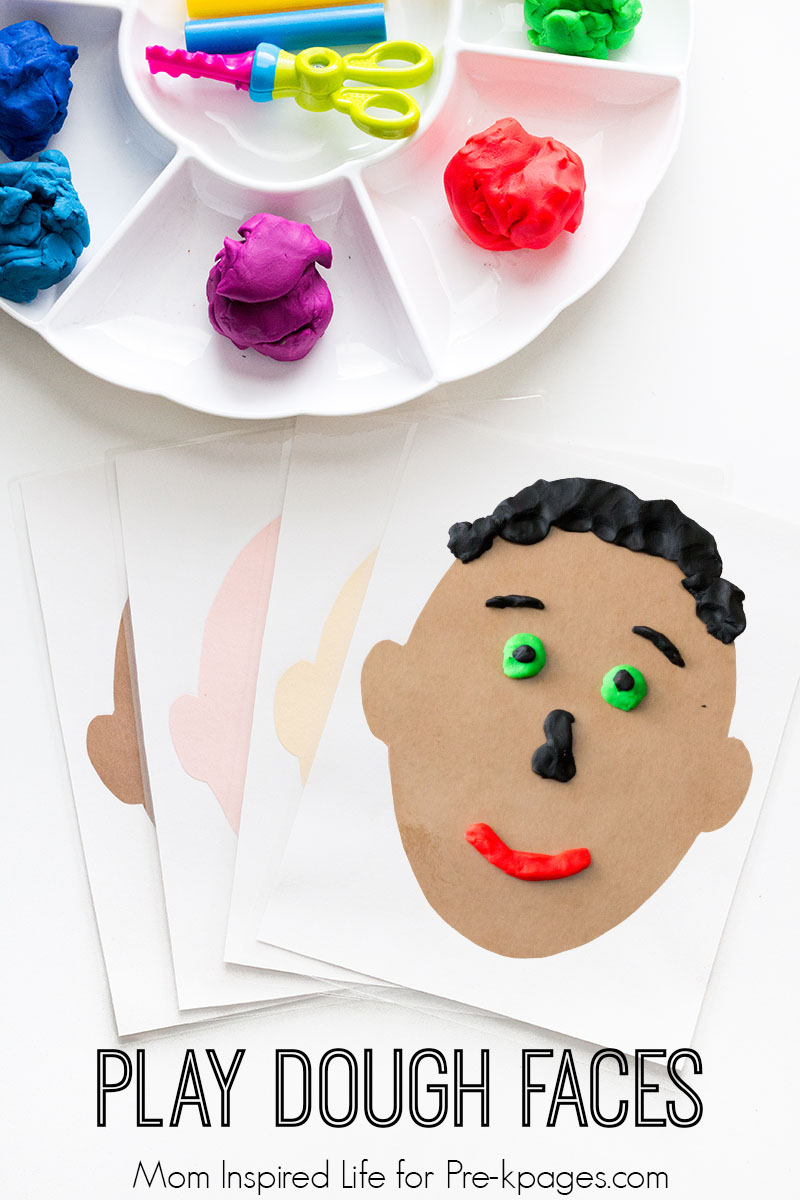 Making Faces Play Dough Activity
My kids always love it when we do a play dough activity. They love to use their imaginations and be creative. So when they saw these blank play dough mats, they knew what to do and were very excited to get started!
While making faces on these play dough mats, young children will develop the following skills will develop their fine motor muscles while learning about the human body – more specifically, the face.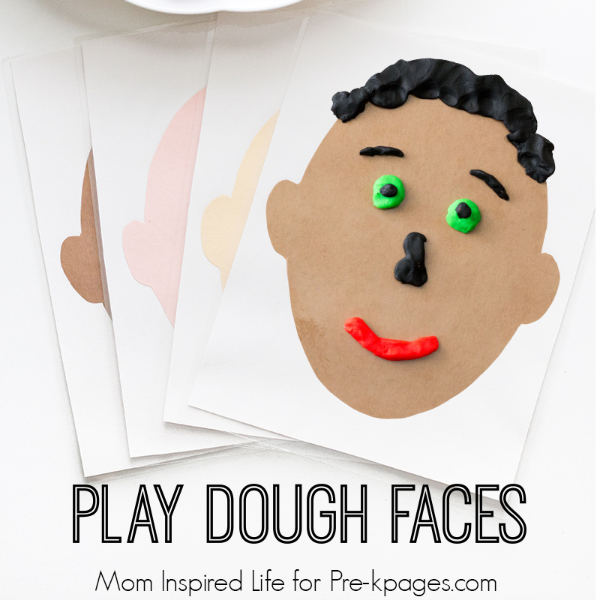 Making the Blank Face Play Dough Mats
Supplies Needed
Draw the outline of head on each piece of multicultural construction paper that you would like to use. You can also trace a template of a head.
Cut them out.
Glue them to a sheet of white construction paper.
Laminate the mats or slide them into write and wipe pockets or page protectors.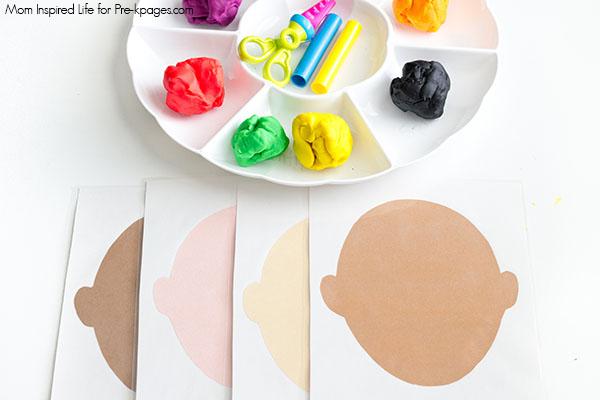 Making Play Dough Faces
I picked out a variety of play dough colors, removed them from the cans and put them on a tray with sections. I placed the play dough mats right next to the tray.
Then I invited my children to come see what I had set up. They immediately knew what to do and were very happy to get started.
They each grabbed play dough and began adding facial features to the heads. My 5-year-old was very detailed and remembered to add things like the pupil of an eye, eyebrows and eyelashes.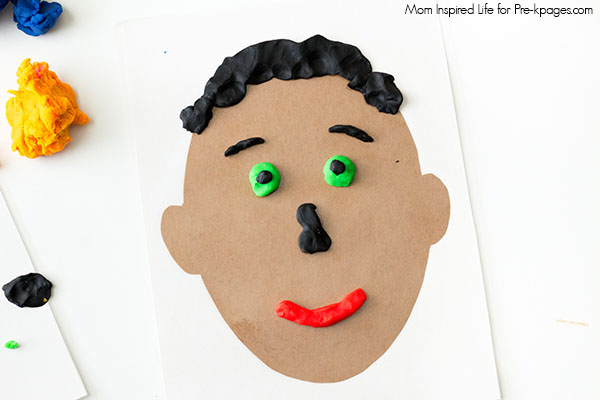 He often looked at my face or his sister's face to see what he might be missing. This was a great way for him to learn about the parts of a face!
My (just barely) 3-year-old was far more liberal with her face decorating. She just put clumps of play dough all over the mat. But we did discuss basic facial features such as eyes, nose, mouth, ears, and hair.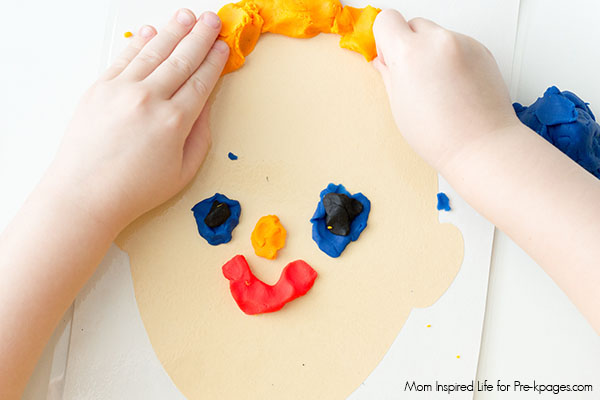 She added these features in her own way. Even though they didn't actually look like actual facial features, they were exactly right in her mind. I love that!
The goal is not for kids to make a perfect face, but rather, to learn about facial features, exercise creativity and imagination and develop fine motor skills.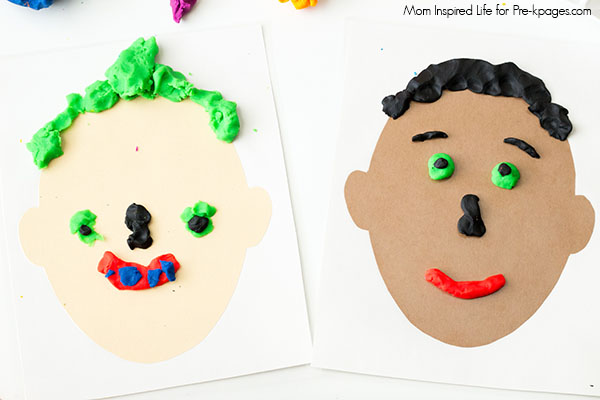 I have added these mats to our play dough bin and they are sure to make an appearance time and time again!
BIO: Danielle is a former elementary teacher, a mom of two and now shares playful learning activities at Mom Inspired Life. Check out her Alphabet Activities for Preschoolers and make sure you subscribe to her newsletter to receive activities straight to your inbox! You can also follow her on Facebook, Pinterest, or Instagram.
More Ideas for an All About Me Theme—
Body Reflexes Action Game
Dental Health Science Experiment
Life Science Books for Preschool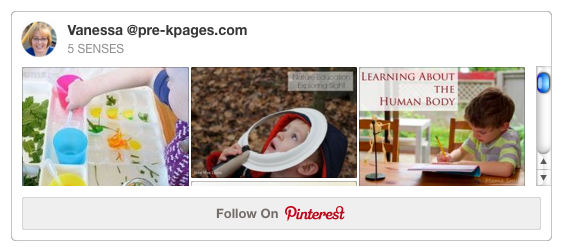 Follow my Senses Pinterest Board for more great ideas!