Many teachers with large class sizes or multiple classes use name tags in the beginning of the year not just to learn their student's names, but to ensure they get to and from the classroom safely.  If most of your students are non-English speaking, they may not understand simple questions such as "what is your name?" – which makes name tags even more important. These editable preschool name tags and tips will help you learn to love name tags again.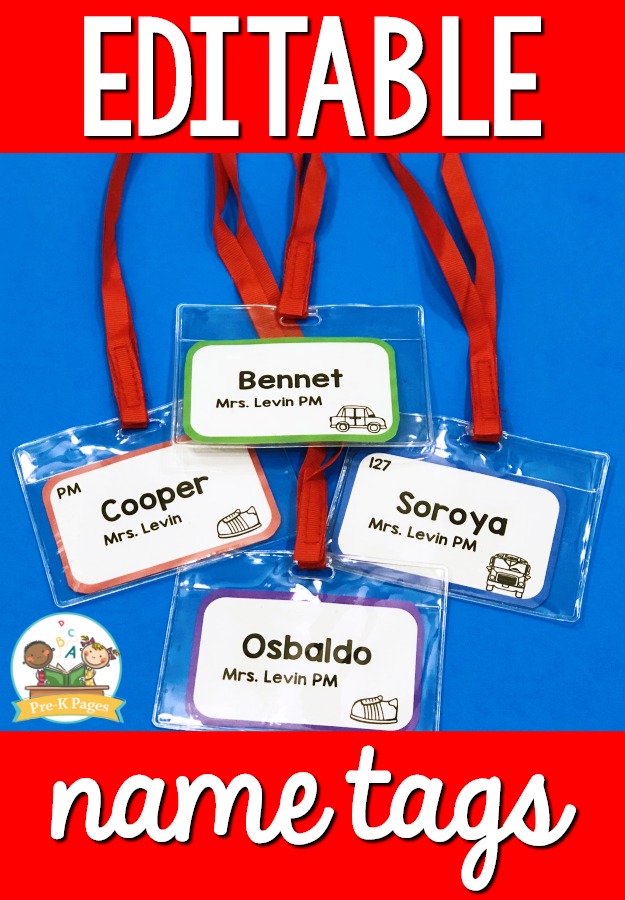 Easy Beginning of the Year Preschool Name Tags
The thing about name tags is that they're a lot of work to prepare, and then they don't last very long. You don't have time to keep making new name tags every single day.
But what if there was an easy way to make name tags that didn't take up a ton of your precious time?
Sounds too good to be true, am I right?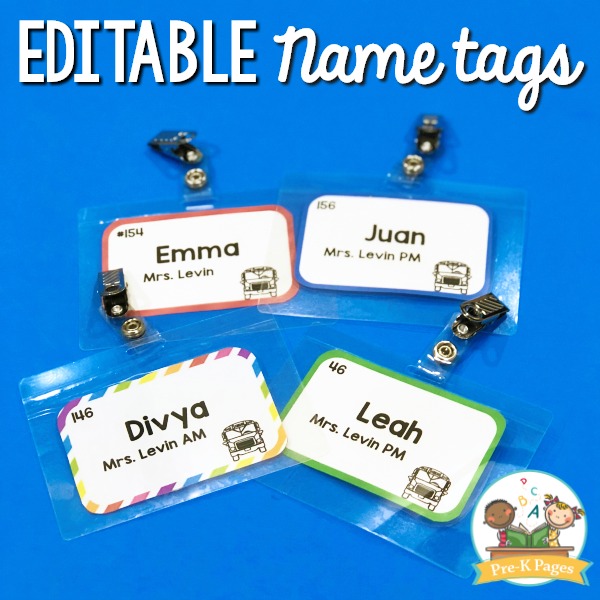 Wrong!
Instead of buying multiple packages of name tags every single year, then laminating and cutting, and then finally writing each child's name and info by hand on each name tag…
What if you could type your student's names and info directly into a PDF and with one press of a button their info would magically appear on the name tags?
And all you had to do was print? Doesn't that sound absolutely amazing?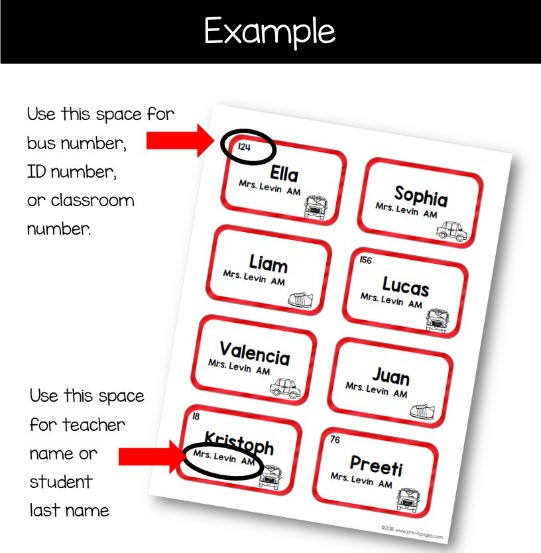 How to Make Preschool Name tags
Start by loading your printer with cardstock paper, this will give your name tags a little extra heft and keep them going for a little longer than regular paper.
Next, type your student's names into the class list portion of the document. Are you with me so far? I told you this was easy-peasy!
This editable document also gives you an option to include the room number in one corner. You can also add the method of transportation the child takes home, such as walk, bus, car etc.
Another cool feature of this editable name tag document is that you can color code your kids, just select the color from the main page and you're done!
Where to Find Lanyards and Clips
You can find the red safety lanyards pictured above at the Target Bullseye Playground around back to school time. These editable name tags fit perfectly in the lanyards.
Keep the name tags all year and use them for field trips or leave them for your substitute teacher when you are absent.
If you don't have access to a Target, then the badge clips shown above are from Wal-Mart and work just as well.
Chewing on Name Tags In Preschool
Pro Tip: Do your preschool students chew on their name tags? The solution may be easier than you think. Did you know chewing helps release pent up energy?
There is a connection to chewing and not moving enough. If your students are chewing on their name tags that means they need to get moving. Singing and moving with songs and fingerplays daily will save your name tags and your sanity!