Dear worn-out teacher,
When exactly did it happen? When did you become so worn-out that you can't anymore? You. Just. Can't.
Was it when that parent (you know the one) demanded "real work" be sent home with her precious little darling daily in the form of worksheets?
Even though it's the first month of school and "Darling" can't hold a pencil and isn't even potty-trained yet.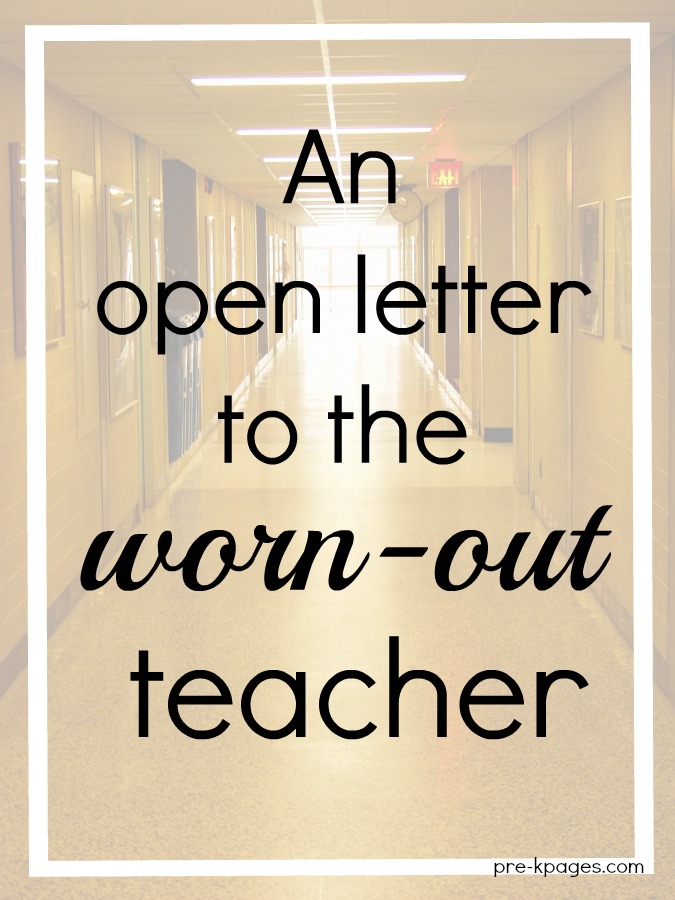 Was it the last time a child threw a chair at your head (approximately 6.8 seconds ago) …because you sang the clean-up song?
Or maybe it was when your principal told you that he was tired of seeing your kids singing and playing …and demanded to see some "real learning" going on.
You spend so much time trying to please everybody — the parents, the kids, and the administration — that there's nothing left of you at the end of the day but an empty, worn-out shell.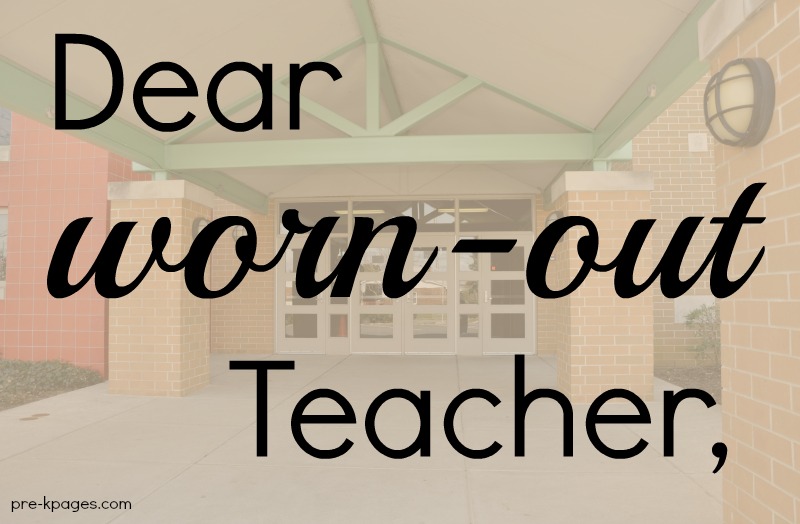 Surely it gets better, right?
Not yet, because you can't catch a break after school either. Before you head home to get dinner started, or to rev up the mom taxi, there are lesson plans to be done and a to-do list a mile long you couldn't make a dent in even if you stayed in your cave classroom until midnight.
I see the circles under your eyes from staying up late cutting out laminating for that amazing lesson today.
I see the look on your face when the principal walks by your classroom door. Just hoping and praying he doesn't get after you about how play dough isn't in the "standards" – again.

I see you lugging your heavy bag home every single night as you trudge toward your car, counting the days until Thanksgiving/Winter/Spring and hoping against hope that you can catch up then.
I know exactly how you feel … because I've been in your shoes before.
You feel like there's absolutely no light at the end of the tunnel right now.
But I want to let you know there is hope.
I survived …and so can you.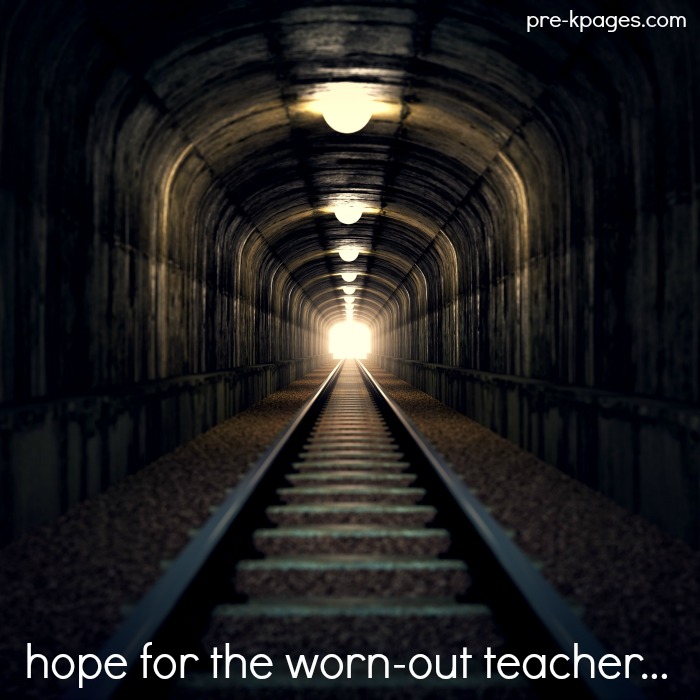 These three things helped me reduce the overwhelm and take back my life.
1) I stopped reinventing the wheel
2) I started working smarter instead of harder
3) I cut out the drama
Stop Reinventing the Wheel
Like you, I too spent long hours at school every single day. I was feeling frustrated because I was barely keeping my head above the water. Eventually, it dawned on me that I was reinventing the wheel every Sunday night.
When I stopped searching for that perfect activity, and started tweaking the activities I had already used – ones my kids actually liked and that held their interest for more than a nano second – I realized that I had the perfect activities all along.
Work Smarter, Not Harder
I became super organized so I wouldn't waste time looking for the supplies and materials I needed to do my job.
I took pictures (and notes) of every activity that actually worked so I would have a visual reminder for next year – and I scrapped the ones that didn't.
And finally, I started saving everything I created digitally, added dates to the name of each file, and organized the files in electronic folders with easy to remember names.
Cut Out the Drama
But it wasn't until I cut the "teacher drama" out of my life that I really started to feel like I was ahead of the game.
I stopped comparing myself to that teacher down the hall (you know the one- with the claw foot bathtub in her reading center) … and I started believing that I was just as awesome as she was – with or without the bathtub!
I started hanging out online with teachers who were encouraging and supportive, instead of ones who try to tear you down.
Dear worn-out teacher…
The truth is, it took years to get to a place in my teaching career where I was confident and content. I only wish I could have gotten to that place a lot sooner!
That's why I created The Teaching Tribe, where teachers like you can find the resources and support you need right away to help you live more and teach well.
The Teaching Tribe helps you work smarter instead of harder by providing you with not only the tools you need to teach well, but the training that goes along with it.
And there's no need to reinvent the wheel when you have hundreds of done-for-you lesson plans at your fingertips.
The Teaching Tribe is a safe haven for asking and answering questions- without all the drama!
This is your shortcut to success, learn more HERE.