What better way to kick off the unofficial start of summer than with a little dramatic play ice cream shop fun?
One of my sweet visitors asked if I would create some signs and labels for toppings she could use in her dramatic play ice cream shop. I thought it was an absolutely brilliant idea so I'm sharing it here with you today.
Keep reading to download your copy of the free ice cream topping signs and labels.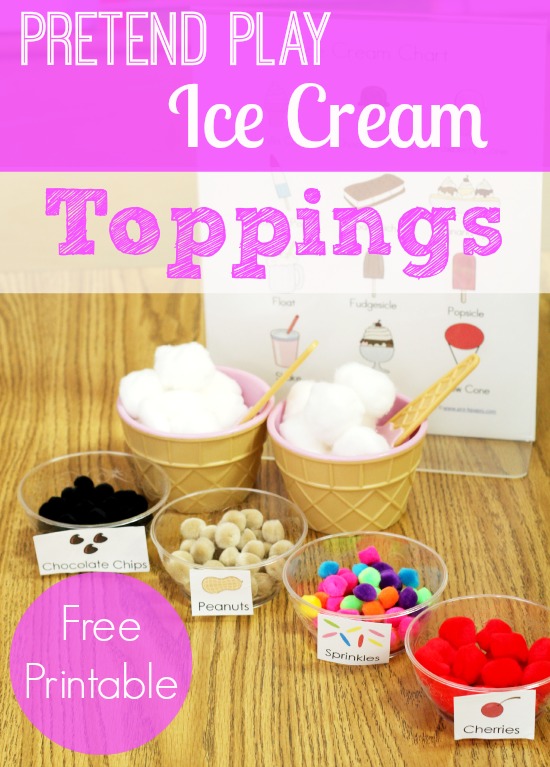 Dramatic Play Ice Cream Toppings
I created an ice cream sundae topping bar for my
dramatic play ice cream shop
using colored pom poms as the toppings. I love using pom poms in the pretend play center because they are very inexpensive and make no noise!
Here are the toppings I chose to feature in the topping labels and signs printable:
Gummy bears
Marshmallows
Cherries
Strawberries
Peanuts
Sprinkles
Chocolate Chips
Whipped Cream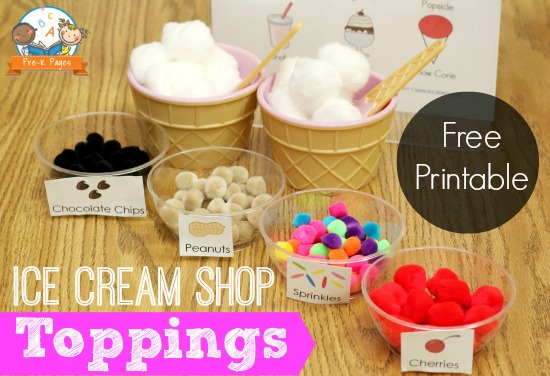 Printable Ice Cream Topping Labels and Signs
As you can see in the picture above, I used white cotton balls as the ice cream. To create the sundae topping bar I gathered the following supplies:
Gummy bears: traditional multi-colored (red, green etc.) pom poms
Marshmallows: mini white pom poms
Cherries: red pom poms
Strawberries: red pom poms
Peanuts: brown pom poms
Sprinkles: multi-colored bright pom poms
Chocolate chips: dark brown pom poms
Whipped cream: large white pom poms
How to Use the Ice Cream Topping Signs and Labels
Next, I printed the ice cream topping labels on cardstock. Then I cut out the topping labels and attached them to the front of small cups with tape. You could also print the labels on Avery sticker paper and stick them directly to the cups.
Also included in this printable are ice cream topping signs for those of you who would prefer them. The signs are like table tents, just cut and then fold along the line.
These signs could also be cut out and used in a pocket chart or taped directly to a flat surface or wall to facilitate clean up and help keep your ice cream shop neat and tidy!
Dramatic Play Ice Cream Shop Video
I also created this video tour that explains how I set up my dramatic play ice cream shop.

Click on the picture below to download your printable ice cream topping labels and signs.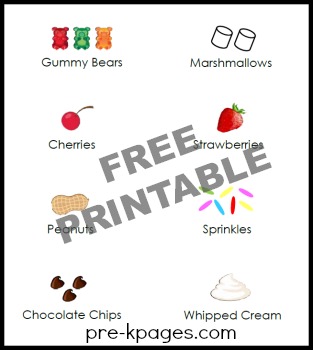 More Pretend Play Ice Cream Resources:
Birthday Club Coupons
Ice Cream Punch Cards
Follow my Dramatic Play board on Pinterest for more great ideas!