Do you struggle to find time to change out the props in your dramatic play center? These printable props will help you easily transform your dramatic play center into a super fun and engaging Ice Cream Shop.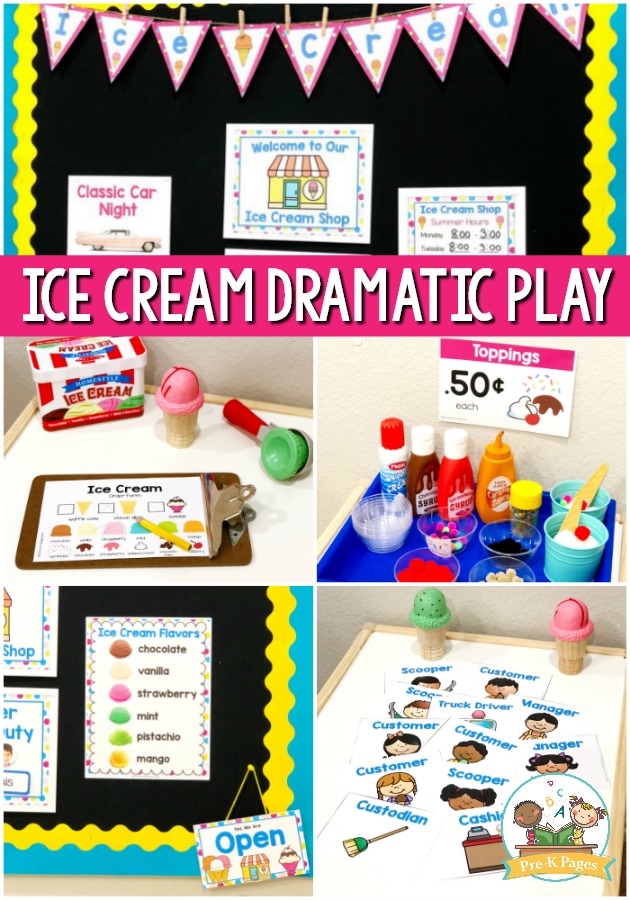 Give your basic housekeeping or dramatic play center a makeover by adding a few simple props. Your kids will love serving up pretend treats and taking orders in their very own ice cream parlor!
The ice cream shop is perfect for a summer theme!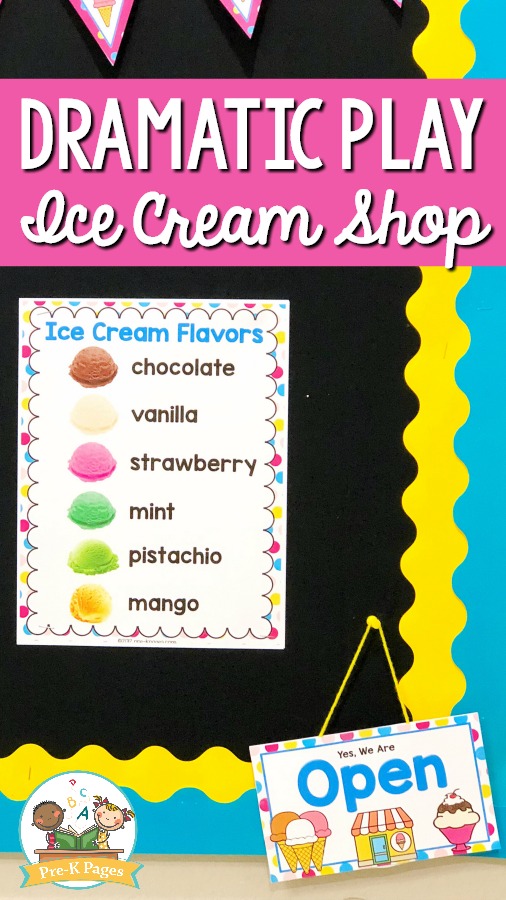 Ice Cream Dramatic Play
This packet also provides research that explains how dramatic play supports academic learning in preschool and kindergarten. The Ice Cream Shop dramatic play kit is infused with literacy, math, and oral language opportunities that support current early learning standards.
Ice Cream Shop Video
Printable Ice Cream Shop Kit Contents
The 150 page Dramatic Play Ice Cream Shop Kit includes the following printables:
Book List
44 Signs (color + b/w, 3 styles)
24 Picture Cards (color + b/w, 3 styles)
32 Labels (color + b/w, 3 styles)
Order Forms (color + b/w, 2 styles)
Punch Card (color)
Coupons (b/w)
Printable Book (color, 2 sizes)
Bunting Banner (color + b/w)
Role Playing Tags (color)
How to Make a Sundae (color + b/w)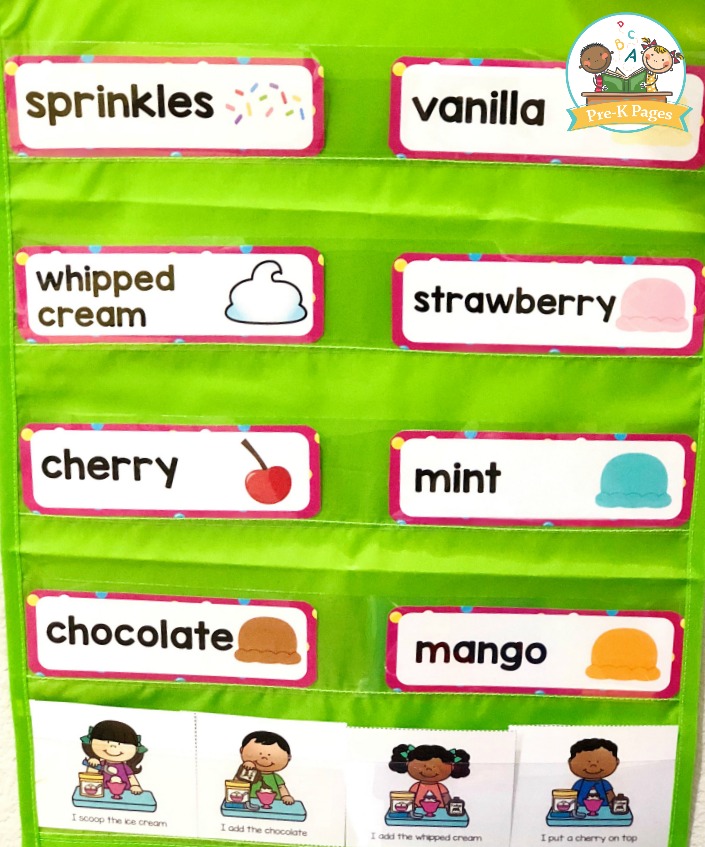 Ice Cream Shop Vocabulary Picture Cards
You can choose from more than 20 different picture cards to display in a pocket chart or on the wall in your dramatic play ice cream shop to create a print rich environment.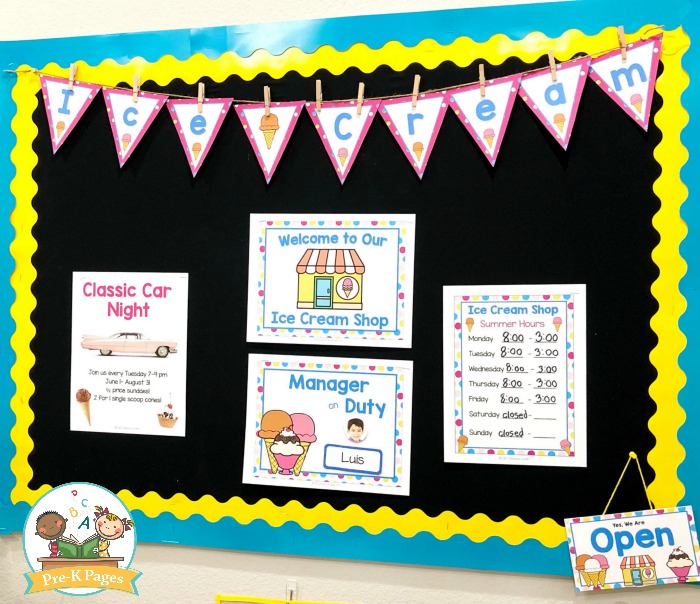 Ice Cream Shop Signs
Pictured above is the ice cream bunting banner, the open sign, the shop sign, the hours of operation sign, manager on duty sign, and the classic car night sign.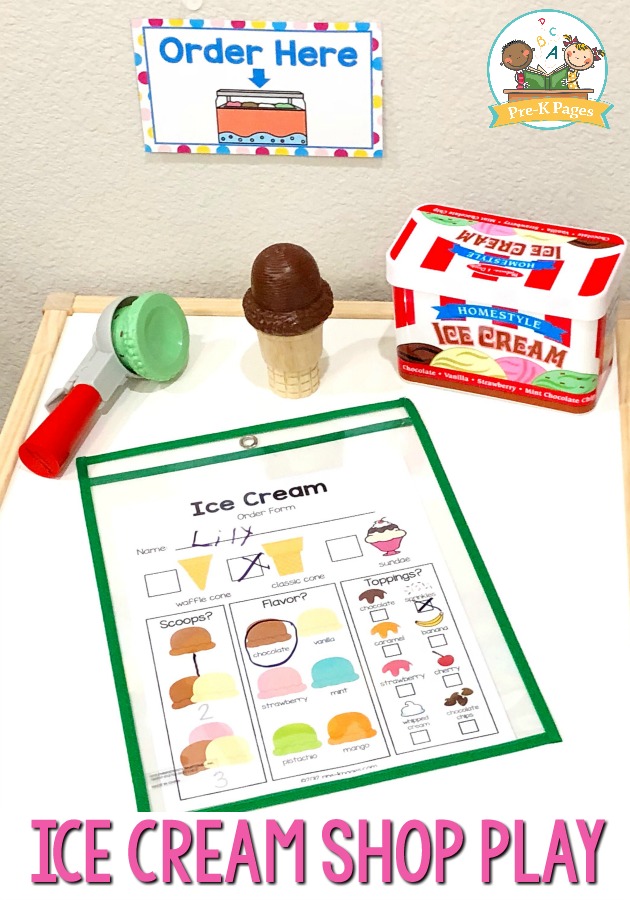 Order Forms
The order forms are available in two different sizes, full and half-page as well as black and white and color. The full-page order forms fit nicely in pocket protectors.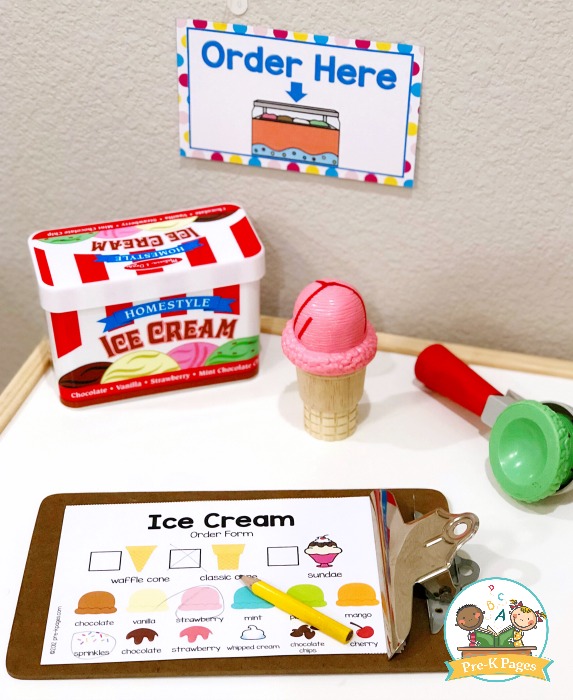 The half-page order forms fit nicely on small clipboards from the dollar store. You can laminate these and invite the children to use dry erase markers, or you can use the black and white version. The ice cream set pictured above is from Melissa and Doug.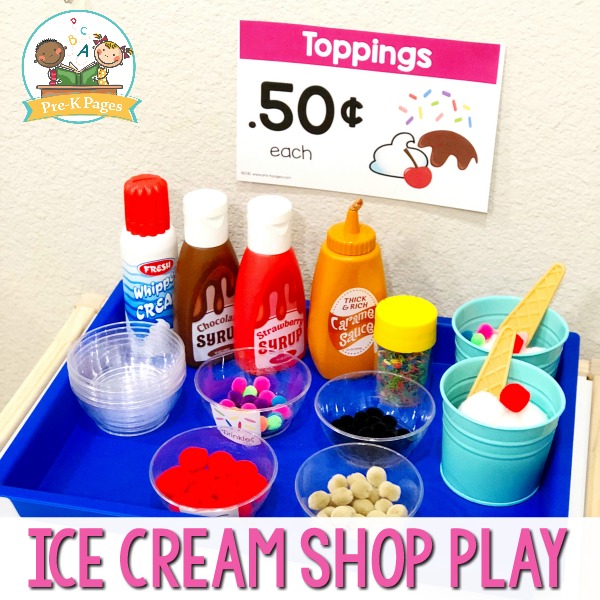 Ice Cream Toppings
You can use pom-poms of different colors and sizes for ice cream toppings. The red pom-poms are cherries, the black pom-poms are chocolate chips, the brown pom-poms are nuts, and the tiny, multi-colored pom-poms are sprinkles. Cotton balls make the best vanilla ice cream! Don't forget the sprinkles- the sprinkles are colored rice in a plastic salt shaker from the dollar store. The holes are hot glued shut so it still makes noise when shaken, but the rice stays inside the container.
The ice cream topping topping containers pictured above are from Melissa and Doug.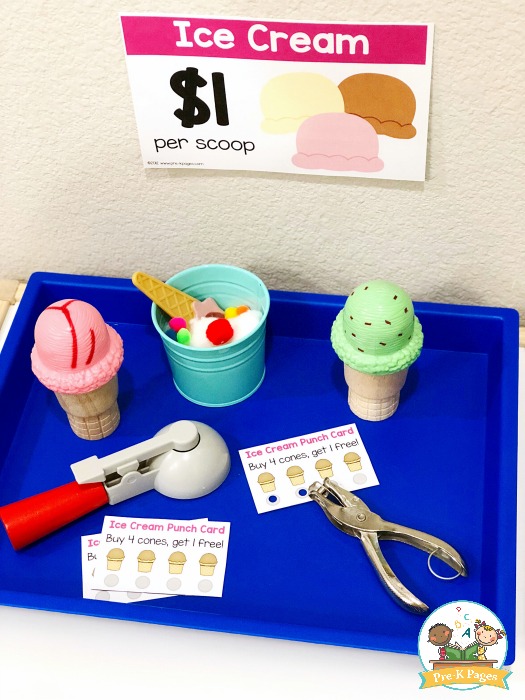 Your little customers will love presenting their loyalty cards to the cashier! These loyalty cards also provide fine motor practice, just add a hole punch to your play center.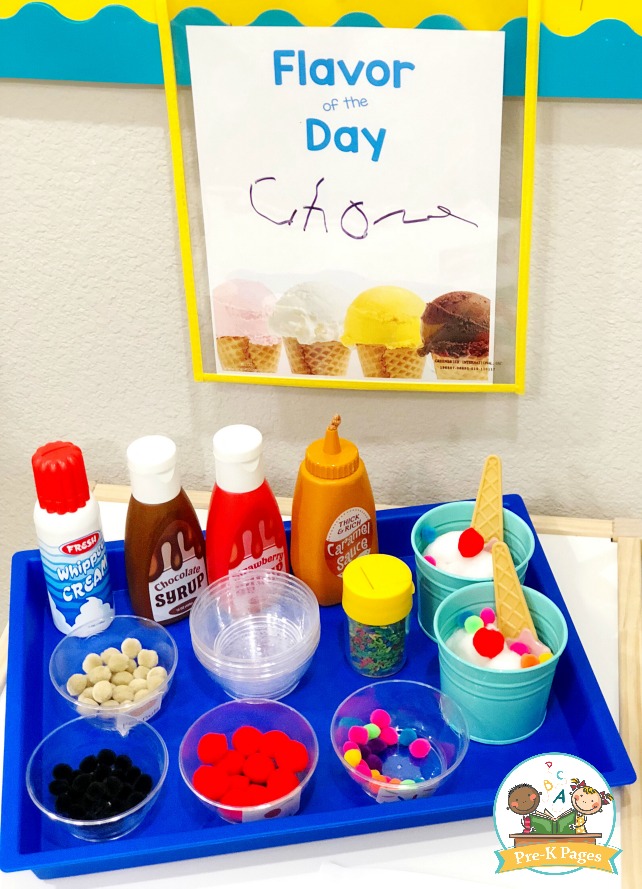 Ice Cream Shop Signs
With more than 40 different ice cream shop signs included, you're sure to find several to suit your needs! There are black and white signs, full-color signs, and signs without words so your kids can use inventive spelling to write their own words. And they're also editable so you can erase the text if you would prefer to have your students attempt to write the words on their own.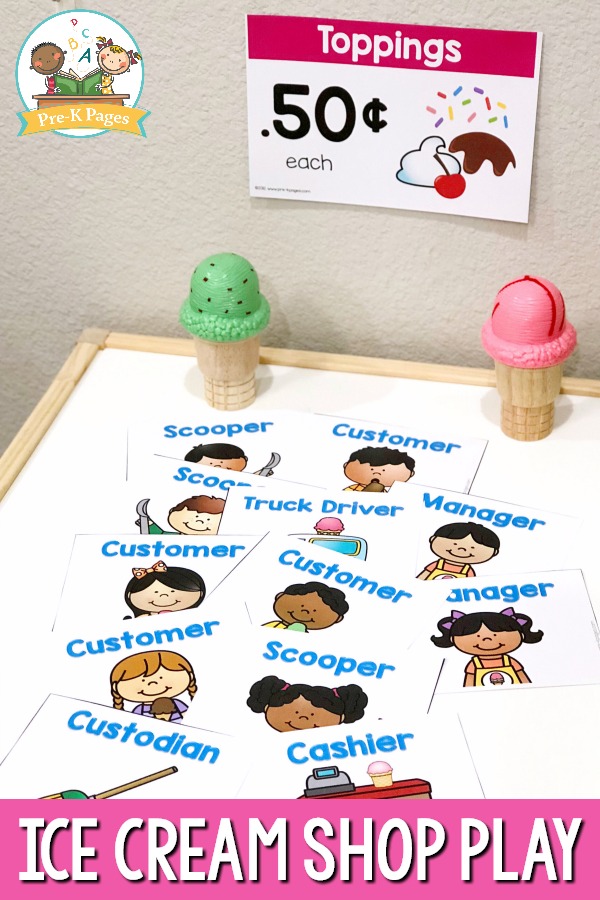 Role Playing Name Tags
Print these role playing nametags on cardstock and laminate, then attach to yarn or string to create necklaces. Or you can add badge clips, they're great for fine motor practice!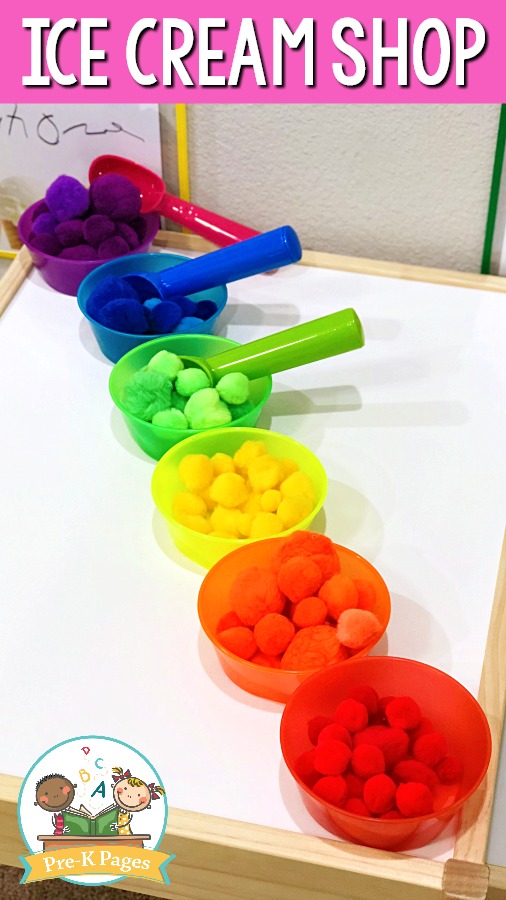 Pom Poms make great ice cream too! Your littles will love sorting the ice cream scoops into the colorful bowls. Another option is to use play dough for pretend ice cream.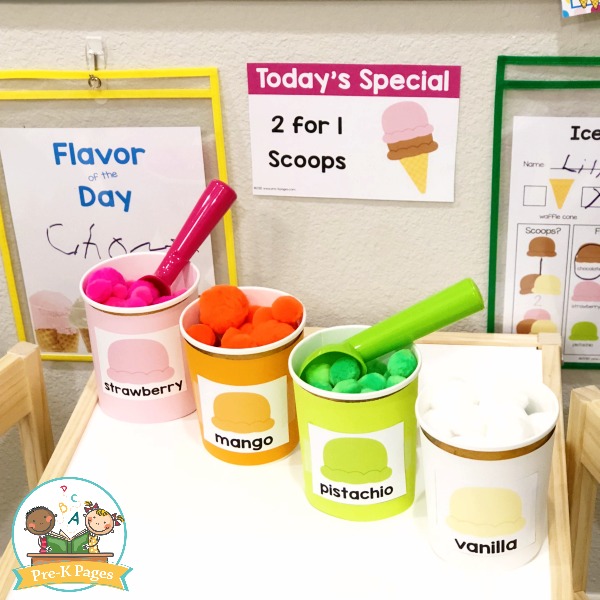 You can ask your local grocery store to donate a few deli containers you can use to create tubs of ice cream in your dramatic play center. Just wrap the containers with colored construction paper, cut out the corresponding labels and attach them to the containers.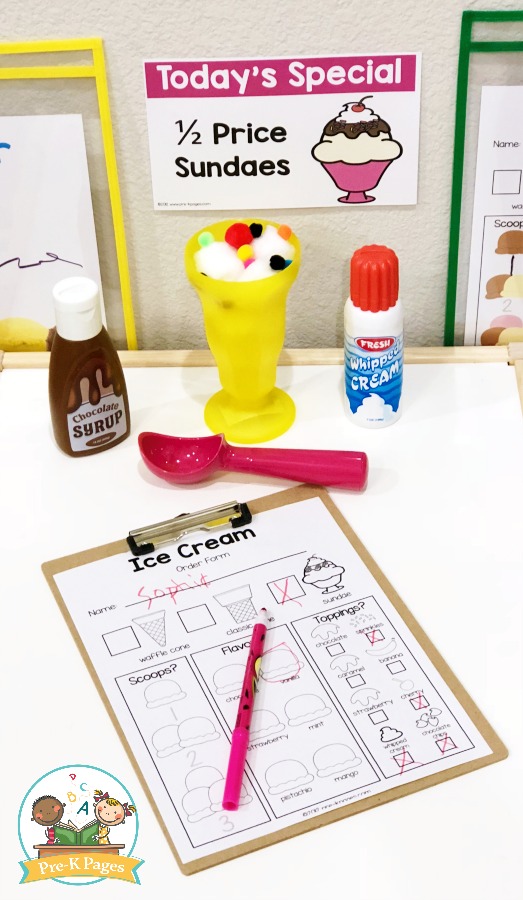 The order forms are also available in black and white, full-page. The sundae cup was a dollar store find and the ice cream toppings are from Melissa and Doug.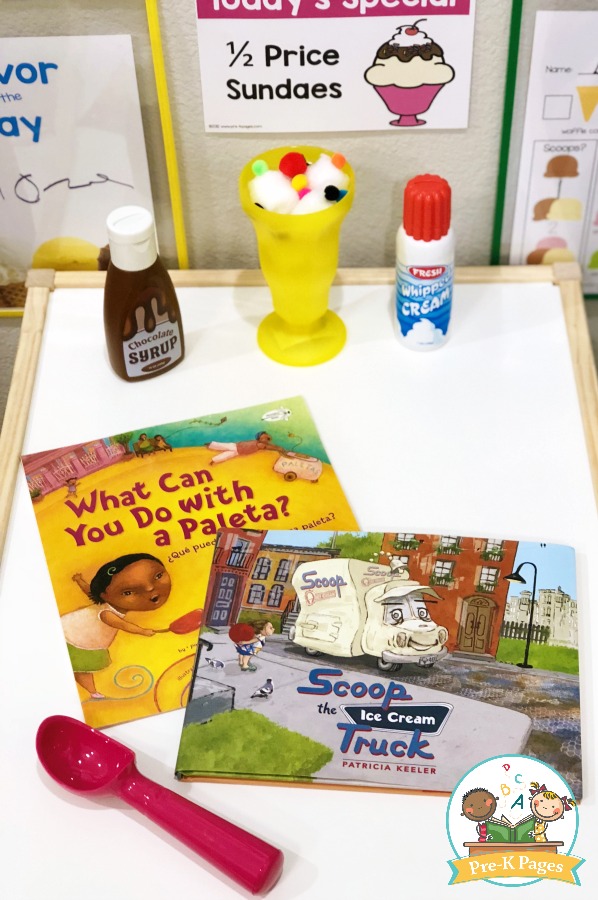 Ice Cream Books
Reading books about ice cream aloud to your students is going to go a long way in helping your students develop oral language and vocabulary they can use when role playing in the dramatic play center.
Purchase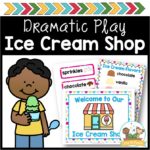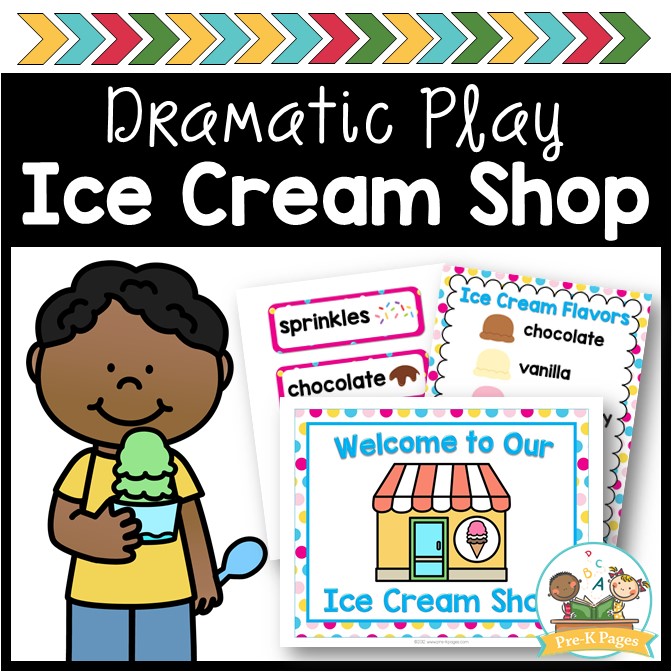 155 pages of printable props to help you easily transform your dramatic play center into an ice cream shop. Includes literacy, oral language, and writing opportunities that align with current…
More Dramatic Play Themes from Pre-K Pages
Dramatic Play Ice Cream Resources