For Teachers Who Want To Teach Fun & Creative Lessons – Despite New Distance Teaching Requirements
Finally, You Can Have All Of Our Popular
Take-Home Lesson Plans In One Fantastic Bundle!
15 Lesson Plan Sets That Cover 15 Weeks Of At-Home Teaching
We can all agree that teaching during a pandemic isn't easy…
Actually, it's downright difficult!
You're forced to teach at home and use lessons you know would be 1000x better suited taught face-to-face…
…which means teaching them online may lead to unengaged kiddos, disconnected lessons, and your pre-made plans thrown on the shelf…
I know those changes haven't been easy for you, BUT you still want to bring your best for the children you teach, even with the threat of more school closures this fall.
The big lesson of 2020 for Pre-K teachers?
You need to be prepared for anything that comes your way this Fall.
You might have a district that plans "intersessional breaks" throughout the year, where students stay home, but you're still responsible for their at-home learning…
You might have to run your classroom with staggered attendance, with two days each week designated for virtual learning/teaching…
We could have another (!) spike this year, that closes schools for a month or more…
…OR (crossing my fingers) this year could be easy-breezy, where daily classroom life finally feels normal again.
The thing is, you never know.
But even if you don't know exactly what's going to happen, you CAN be prepared for anything that comes your way.
Which is why we want to do our part to ensure you have the best lessons that aren't just fun—they also:
Involve hands-on, play-based activities
Require minimal prep time or materials for parents
Prove effective for teaching the standards and getting your students Kindergarten ready
…and they're backed by scientific research on how young children learn best!
Today, we want to offer you ALL 15 of our fun-filled, made-for-home-learning lesson plans at a discounted price.
That's 15 weeks of amazing lesson plans, completely done-for-you, and prepared to be shared with your class via their parents at home…
This Pre-K Distance Teaching Bundle Is Ideal For Teachers Who Want Help Their Children Happily Learn From Home While Still Meeting Early Childhood Education Standards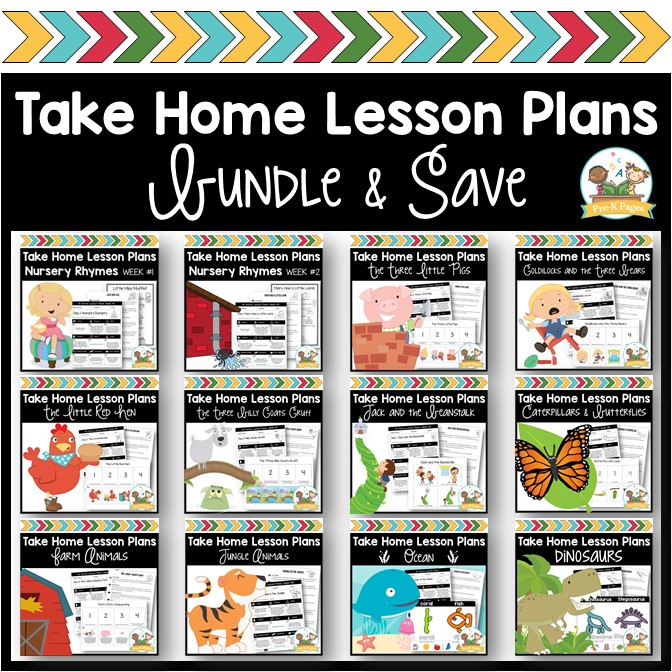 This set of preschool at home lesson plans contains fifteen weeks of lesson plans. Each week focuses on one subject for the entire week.
Distance Teaching Lesson Plan Bundle
NEW! Editable daily lesson plans with a different guide for each day of the school week, Monday-Friday
Distance Learning Toolkit: Everything you need to make distance learning successful for you, your students, and their families
A helpful checklist for parents to follow—including places to write their child's name, teacher's name, and date—to document each child's progress
Additional printable resources to make your lessons extra fun for your kids
Simple, step-by-step instructions for parents
Educational rationale (in plain English!)—the why behind each activity—for parents or administrators
A professionally written note to parents from the teacher
Reference list of carefully curated online resources, giving parents extra support for the following categories: active, academic, animals, and calming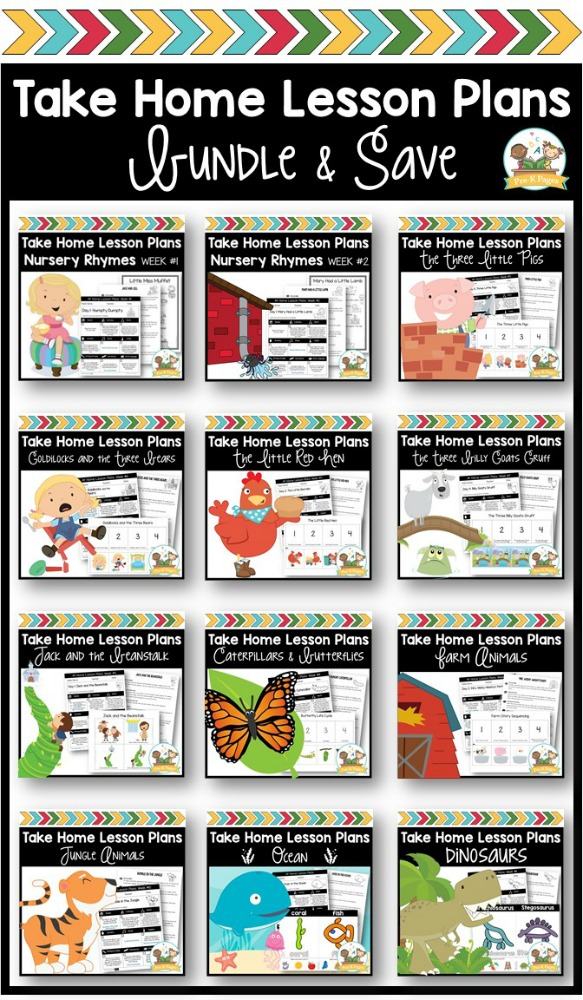 About the Distance Teaching Lesson Plans Bundle
These plans are entirely black and white, in case you need to print them and send them home
Additional resources are offered in both color and black and white to allow your parents choices
Each day's lesson plans are separated into individual documents so you can easily email or upload them to the cloud platform of your choice to share with parents
Zero worksheets, busy work, or fluff!
Research-based, hands-on activities to make learning at home both fun and playful—so kids don't even realize they're learning!
Take the hassle out of homeschooling during school closures with these done-for-you lesson plans that make use of materials you already have in your own home. This is the perfect way to grab more than a full semester of lesson plans at an amazing value!
What's Included in the Bundle:
EXCLUSIVE Distance Learning Toolkit + Video Training
TAKE HOME LESSON PLANS – NURSERY RHYMES VOL 1 (Humpty Dumpty, Jack and Jill, Hey Diddle Diddle, Little Miss Muffet, Hickory Dickory Dock)
TAKE HOME LESSON PLANS – NURSERY RHYMES VOL 2 (Mary Had a Little Lamb, Little Boy Blue, Muffin Man, Row, Row, Row Your Boat, Itsy Bitsy Spider)
Get the Pre-K Pages Distance Teaching Lesson Plan Bundle…
…and know you've got a plan that checks all the boxes: They're ✅daily, ✅done-for-you, ✅research-based, ✅fun for you + your students, ✅playful, ✅hands-on explorations in ✅math, ✅literacy, ✅science, and more!