Need to make lesson plans for your students to do at home due to school closure? Or are you a parent who has been suddenly thrust into teaching your child at home?
These Pre-K lesson plans are perfect for teachers and parents who want to help young children meet the standards at home in fun and playful ways.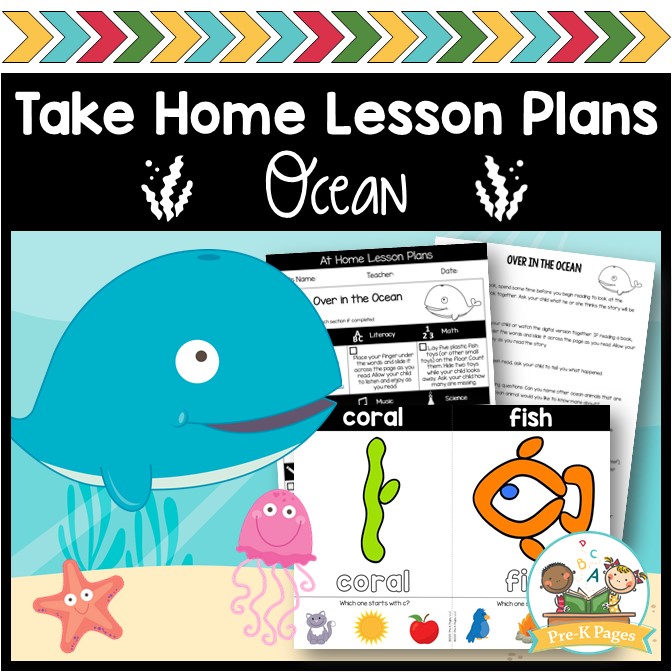 This set of preschool at home lesson plans focuses on one book for the entire week, Over in the Ocean.
Preschool at Home Lesson Plans: Ocean Edition Includes
Editable daily lesson plans with a different guide for each day of the school week, Monday-Friday
A helpful checklist for parents to follow—including places to write their child's name, teacher's name, and date—to document each child's progress
Supplemental printable resources to make your lessons extra fun for your kids
Simple, step-by-step instructions for parents
Educational rationale (in plain English!)—the why behind each activity—for parents or administrators
A professionally written note to parents from the teacher
Reference list of 16 carefully curated online resources, giving parents extra support for the following categories: active, academic, animals, and calming
About the Preschool at Home Lesson Plans: Ocean Edition
Plans are entirely black and white, in case you need to print them and send them home
The supplemental resources are offered in both color and black and white to allow your parents choices
Each day's lesson plans are separated into individual documents so you can easily email or upload them to the cloud platform of your choice to share with parents
No busy work or fluff!
Research-based, hands-on activities to make learning at home both fun and playful—so kids don't even realize they're learning!
Take the hassle out of homeschooling during school closures with these done-for-you lesson plans that won't have your students' parents knocking on a neighbor's door, begging for supplies. These plans make use of materials you already have in your own home. Weeks 1-11 are also available. Grab them all!
Get the Pre-K Pages Take Home Lesson Plans, Ocean Edition
…and know you've got a plan that checks all the boxes: They're
daily
done-for-you 
research-based, 
fun for you + your students, 
playful, 
hands-on explorations in 
math, 
literacy, 
science, and more.