Editable diplomas graduation invitations, and program templates for a Pre Kindergarten or Kindergarten graduation ceremony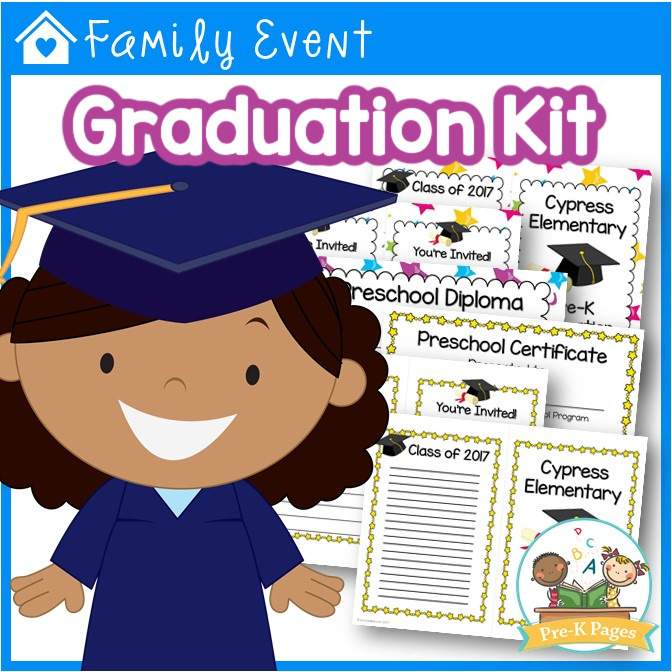 Celebrate the end of the year with 88 editable pages of templates and printable graduation certificates that will make planning and preparing for a preschool, pre-k, or kindergarten graduation ceremony easier!
Add your own text to these printable done-for-you diplomas and create an amazing and memorable graduation program for students and parents. There is so much more to this kit than you'll find with a free printable diploma.
See a free preview of these graduation certificates HERE!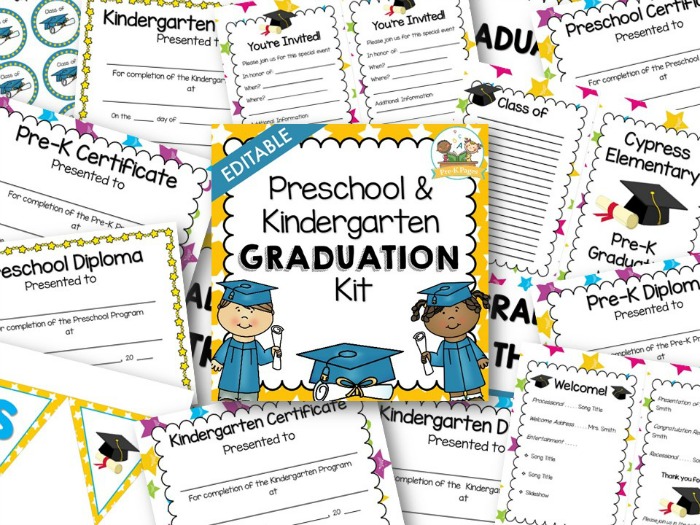 What's Included?
There's so much more than just Preschool diplomas and Kindergarten diplomas in this kit!
Free Step-by-Step Tips for Getting Started
Graduation Song List
Helpful Tips for Creating Your Own Graduation Video/Slideshow
Ceremony Welcome Speech
Graduation Ceremony Congratulatory Remarks
Graduation Cupcake Toppers
Keepsake Ideas For Parents
Graduation Invitations For Your Class
Graduation Ceremony Program
Editable Diplomas

(for Preschool, Pre Kindergarten, or Kindergarten Graduation)

Graduation Pennant Banner
Graduation Signs
What you get
Pre-written Graduation Speech and Congratulatory Remarks (EDITABLE)
Printable Cupcake Toppers (full-color)
Printable Ceremony Program (full-color, ink-saver, b/w – EDITABLE)
Printable Preschool Diploma,

Pre K diploma and Kindergarten diploma, and Graduation Certificates

 (full-color, ink-saver, b/w – EDITABLE)
Printable Graduation Invitations (full-color, ink-saver, b/w – EDITABLE)
Printable Graduation Pennant Banner (class year is EDITABLE)
Printable Graduation Signs (full-color – EDITABLE)
List of popular graduation songs
List of graduation keepsake ideas
Tips for creating a graduation video or slideshow
How to Assemble the Graduation Programs
88 pages of done-for-you, editable graduation printables in PowerPoint format to make planning your Preschool, Pre-K, or Kindergarten program a breeze!