Art is a form of creative expression; the art center in a preschool classroom is a place where your little learners can to go express themselves creatively. While it's an important center to have, setting it up and keeping it stocked can be challenging.
Even if you're working with a small space you can still have an amazing art center, you don't need tons of space.
Often, the most popular materials in the art center aren't the traditional items you might expect to see. Let the children's interests guide what you put in the art center and see what they are inspired to create.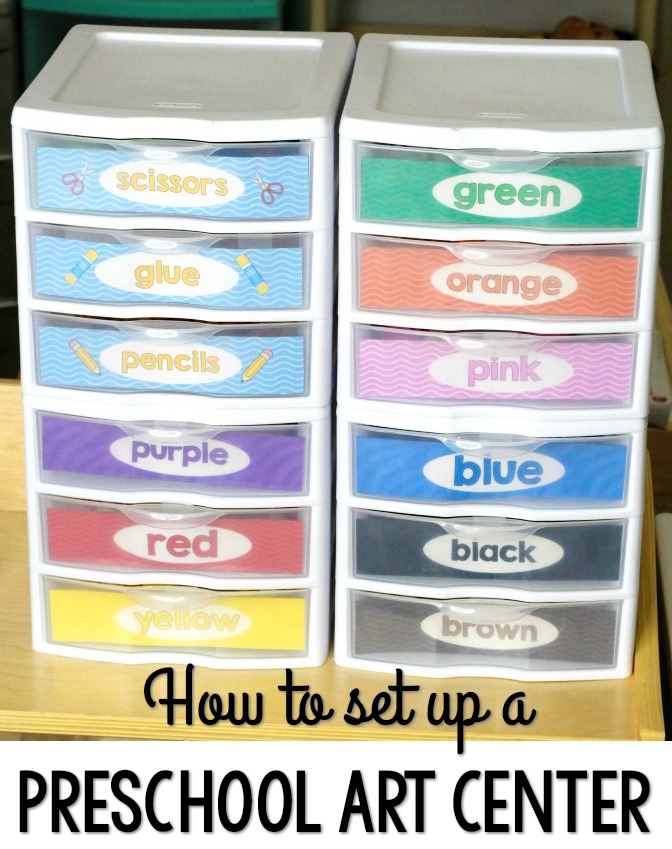 How to Set Up a Preschool Art Center
When children have the freedom to explore art materials and create whatever they wish, they are engaging in process art. The art center is a space that children are free to visit in the classroom daily. There are no templates or step-by-step directions to follow, and no expectations of a finished product.
Of course, having art supplies organized and easily accessible to children is also an important part of this center. When children can easily find and use the materials in the center they will be more likely to create with them.
Pictured above, you can see how I store the scissors, glue sticks, pencils, and markers in the art center. The labels shown in the picture are available in my Classroom Organization Bundle.
And be sure to grab my FREE Your Center Essentials Guide that will help you set up any center in your preschool classroom! The guide will help you figure out where to set up your centers, complete with classroom maps, video tutorials and SO much more.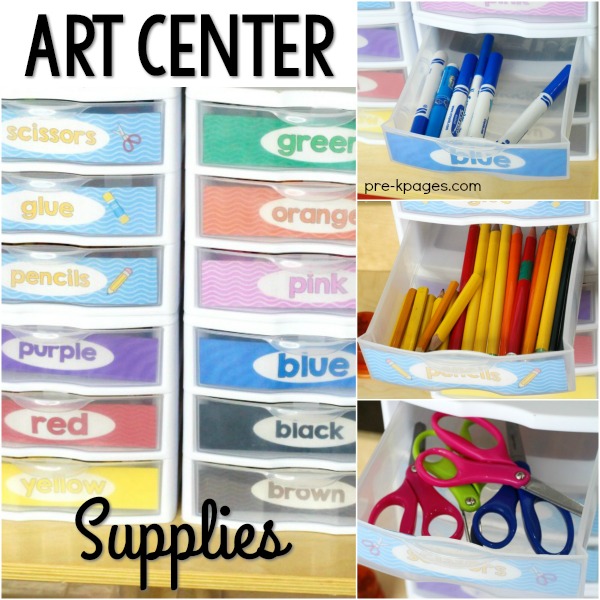 Art Center Supplies
When stocking your art center, keep in mind that young children will benefit most from materials and tools that inspire them to create. Here are some of the most common and popular materials that children enjoy using in the art center on a daily basis.
Glue Sticks
Liquid Glue
Scissors
Crayons
Markers
Pencils
Paper
Yarn
Pasting Pieces (alphabet)
Material lists like this one are included in my FREE Your Center Essentials Guide – be sure to grab it!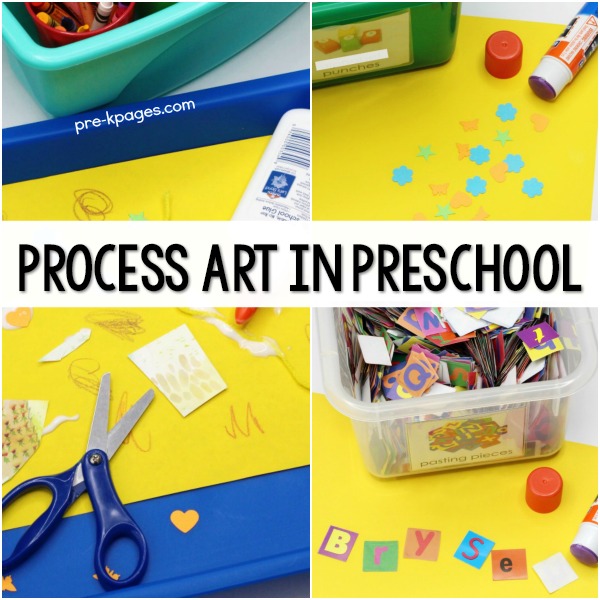 Process Art in Preschool
As the name suggests, process art is all about the process of creating and not about the end result. Children enjoy exploring the supplies freely and making creations that are meaningful to them.
When children are in charge of the process and the materials they use, they are more likely to remain focused and on-task.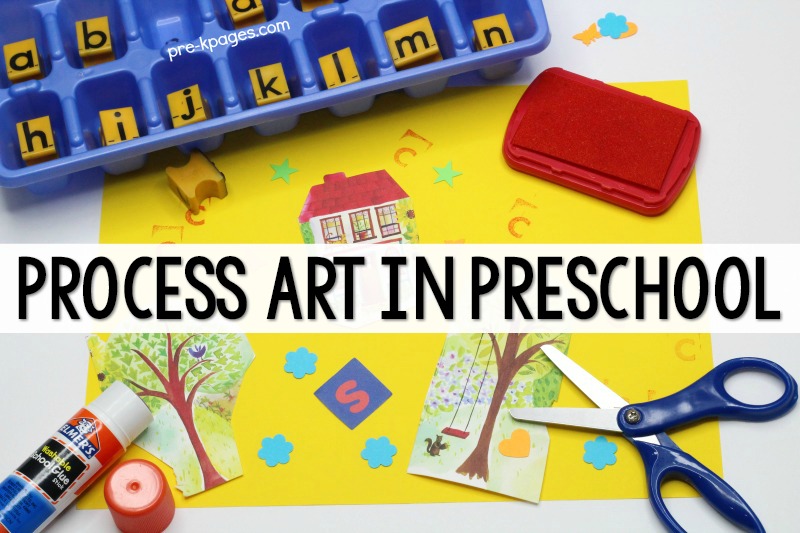 Preschool Process Art
Another benefit of providing your students with daily opportunities to engage in process art is that they are developing additional skills such as fine motor. Punching paper shapes with craft punches and then gluing those shapes to paper is great fun, but it is also fantastic fine motor practice.
Young children love cutting pictures from recycled greeting cards and gluing them to paper to create collages or new pictures. They have no idea that they are actually practicing fine motor skills!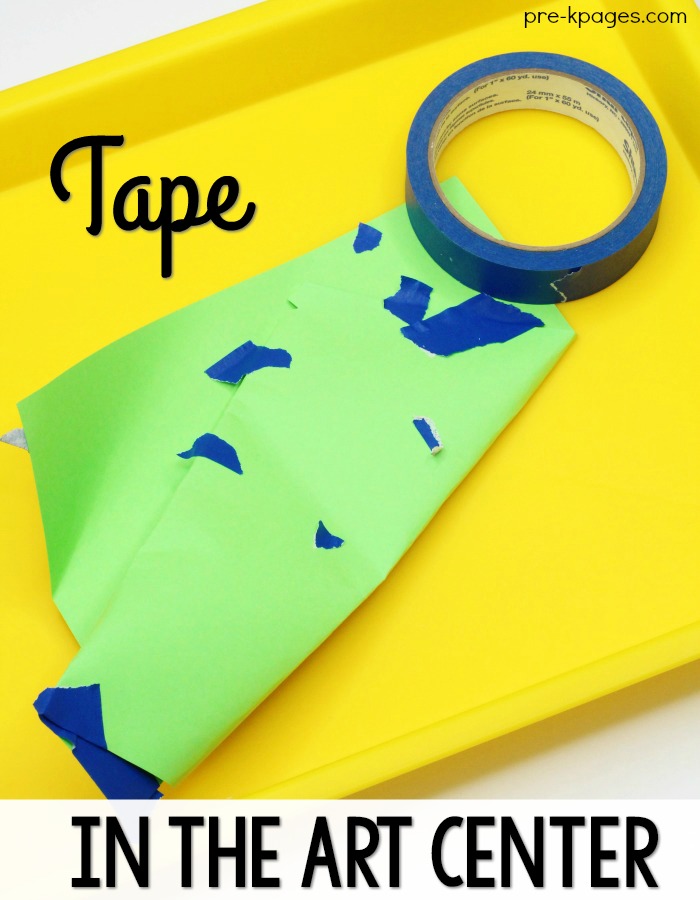 Tape in the Art Center
Another material children like to use often is tape. Tape is always available and children use it frequently to create everything from "presents" to "rocket ships" and more!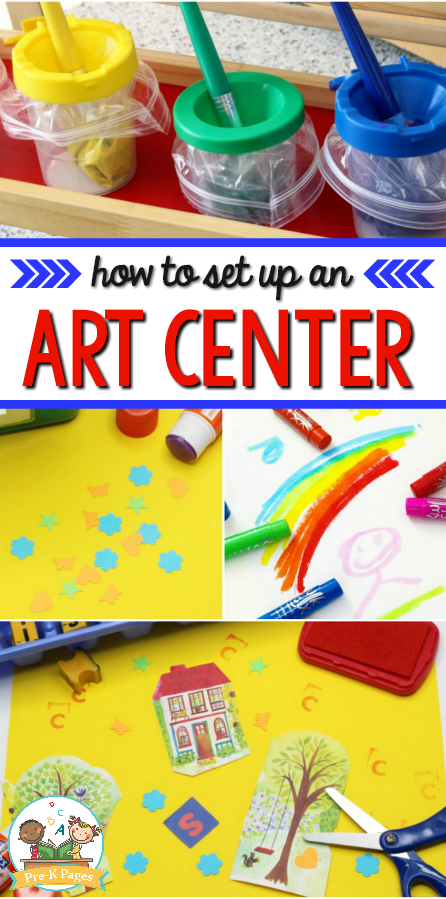 Watch the Art Center Video
And don't forget  you can get more more video tutorials like this one to set up centers in your classroom with my Center Essentials guide!
The Teaching Tribe
Having a well stocked art center is awesome! But let's face it, an art center can't make you a better teacher. The best place to discuss teaching best practices and get the support you need is in the Teaching Tribe. We have many printable lessons and on-demand video trainings to help you become the best teacher you can be! If you want to get on the waiting list for the Teaching Tribe, do it soon so you don't miss the next open enrollment period!
Preschool Learning Center
Have you always dreamed of setting up amazing, self-directed preschool learning center for your classroom…but feel like something is missing? How do you know which centers you need? What should you put in them?
Center Essentials Guide
Get your ultimate, step-by-step guide for setting up centers HERE
More Learning Centers