How can you make small group time work for you?
I answer this question in today's episode of Elevating Early Childhood.
When it comes to small group time, many preschool professionals find themselves scratching their heads.
What is it? How does it work? And is it really that important?
Well, let me tell you one thing: If done right, small group time can be highly effective and allow you to target the needs of each student!
So really, what's not to love?
If you're curious about small group time and how you can implement it in your preschool classroom, this episode is for you!
In it, I'll be answering a few questions about small group time, such as how long they should last, how you can manage them, and more!
Are you ready?
Let's dive in!
Question #1: What Are Small Groups?
Small groups are a highly instructional method that allow you to target your instruction to meet the needs of each of your students.
Question #2: Why Are Small Groups So Important?
It used to be common practice to teach everything to the entire class at the same time. This was before studies proved that the human brain learns at its own individual pace. 
Today, that's no longer best practice. Instead, teaching in small groups is! This is because it allows you to easily differentiate your instruction for your students. Plus, the benefits of daily small group instruction are much greater than those of whole group instruction. 
Scaffolding is another important aspect of small group instruction. If you're not familiar, scaffolding is when you provide specific support to help a child move to the next level of learning. And to scaffold for a child, you must understand the learning continuum for each specific skill, and know where each child is on that continuum. 
All in all, small group time is a much more skilled way to teach!
Question #3: How Long Should Small Groups Last?
This is where a lot of teachers get lost, but I'm here to help, so here we go: Small groups are only effective if they're short and sweet. As you know, small children have short attention spans. So, it only makes sense that small group time should match those attention spans!
Question #4: How Many Students Should You Have In Each Small Group?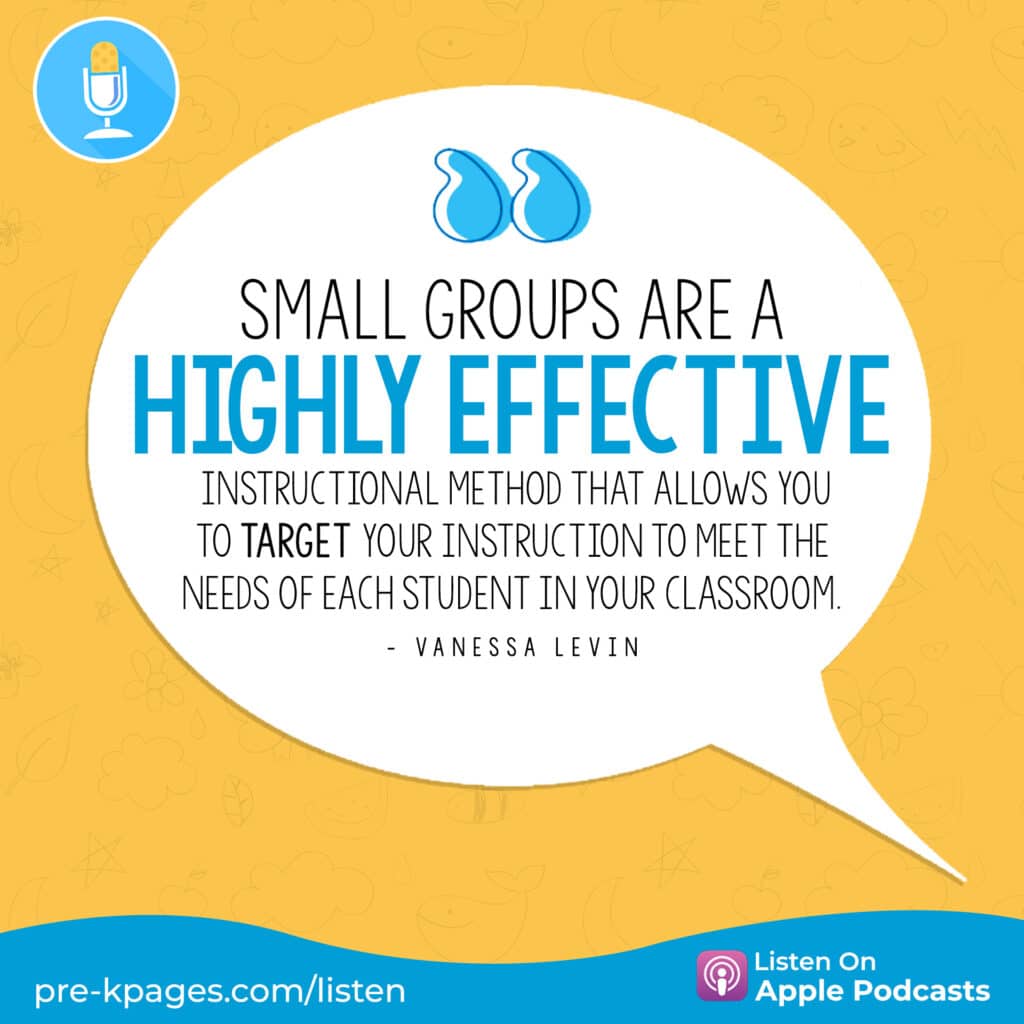 An effective small group has no less than three students and no more than six. Personally, I prefer to have no more than five students. This is because if your groups are too large, they tend to drag on for long periods of time.
Question #5: How Many Groups Should You Have?
The answer to this question depends on how large your class is. My ideal number of groups is four with a class of twenty students. But if you have more students than that, then you might have more groups. Really, it all depends on how many children you have in your class.
Question #6: How Do You Know Which Children to Put In Which Group?
Creating small groups is not a guessing game. High quality childhood programs use assessment data to create small groups. 
Assessments are a highly effective tool that you can use to help your students get from "Educational Point A" to "Educational Point B". 
Teaching without using assessment data is like driving a bus full of preschoolers while blindfolded. 
So, you can either use your assessment data to create your small groups yourself, or you can use something like the ESGI assessment tool, which creates the groups for you!
Question #7: Where Should You Have Your Small Group Lessons?
You'll have to designate a place in your classroom that is specifically for small group time. This is so your students know where to go when it's their turn. 
I try to locate my small group area away from the noisy areas of the classroom, like the block center and the dramatic play center. 
You can also either use a table for your small group, or just sit on the floor. I've done it both ways over the years, and liked both. 
Next, you'll need an area for your small group materials because you want to have everything prepped in advance. Otherwise, you're going to lose your students' attention. This is because the minute they come and sit with you in small group, their attention span clock starts ticking. 
Question #8: When Should You Have Small Group Time?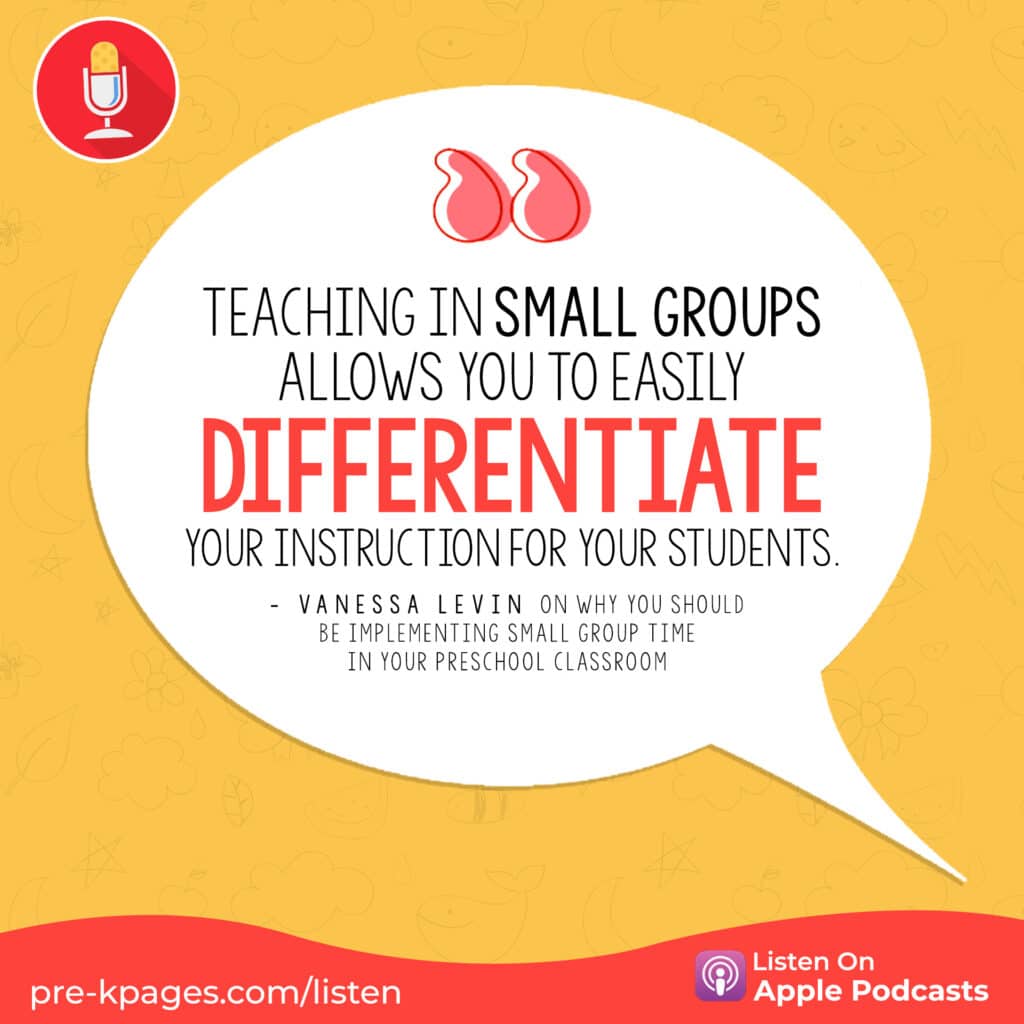 Small groups are most effective when you do them daily. So, find a place in your schedule, and set it aside for working with small groups. However, you don't have to meet with every small group every single day. That'd be too much for you and for the children. 
Question #9: How Do You Manage Small Groups?
This is the question that I get asked the most, and here's my answer: When it comes to managing your small groups, there are three pitfalls you should avoid at all costs. 
First, don't split your class in half, and teach one half and have your assistant teach the other. This robs your students of the opportunity to practice independent learning and problem-solving skills.
Secondly, don't create your small groups based on personalities and then keep those children in the same groups all year long. While it may be tempting, it's actually contrary to small group best practice. Your small groups should be flexible and change whenever necessary, based on your assessment data. 
Finally, don't have your small groups during center time. If you do this, it's going to be an uphill battle. Instead, you can have more than one center time in your daily schedule, with one specifically designated for small groups. 
Question #10: What Types of Activities Should You Do During Small Groups?
My answer to this is actually another question: What does your assessment data tell you? Answer that question and you'll know which activities to do during small group time.
But, if you need some help, here's a little something to get you started! 
I go into all this in more depth in the video above, so make sure to watch it! 


Links Mentioned in this Episode