Why do toddlers do what they do? Have you ever asked yourself that?
I know I have! After all, little children sometimes do some astonishing things, and I would love nothing more than to understand why!
And this is exactly why I've invited this week's guest to come to the podcast and talk to us about it.
My good friend (and this week's guest) Devon Kuntzman is a coach, a former orphanage director, and the founder of Transforming Toddlerhood!
She has spent the last 15 years working with families and children from all over the world, and today, she's here to discuss toddler behavior with me.
Plus, she also offers some tips on what you can do to help toddlers become successful, so really, what's not to love?
Are you ready?
Let's dive in!
Watch Episode 19 Video
Listen to Episode 19 Audio
Summary: Why Do Toddlers Do
That
?
If you've ever taught toddlers, then you may be wondering: "Why on earth do toddlers do what they do? I've asked myself that same question before, so you're not alone! 
You see, I love teaching preschoolers, but toddlers are an entirely different ballgame. And this is exactly why I invited my dear friend Devon Kuntzman to the podcast. Devon is basically the toddler whisperer, and she's here to answer all your wildest questions about toddlerhood.
Explaining Toddler Behavior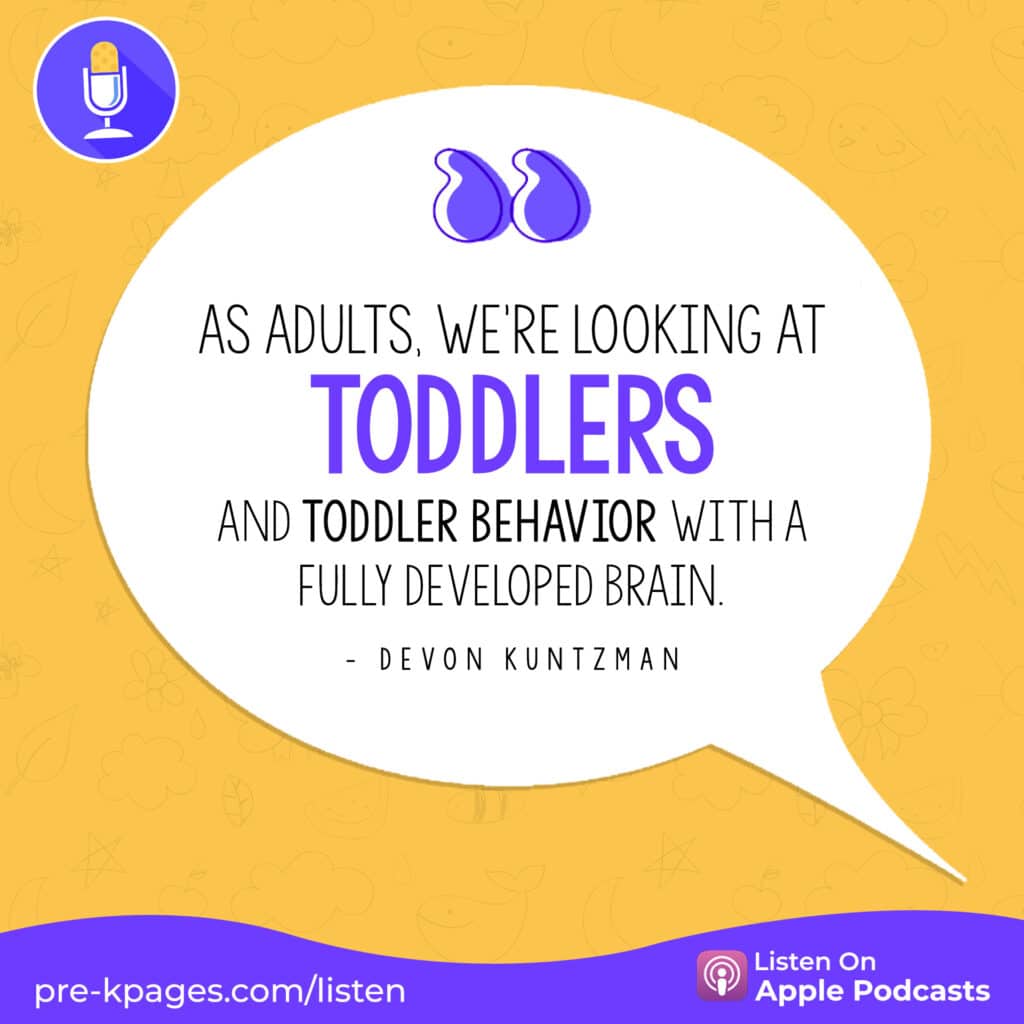 According to Devon, the first thing we need to know is that, as adults, we're looking at toddlers and their behavior from the perspective of someone with a fully-developed brain. As you might know, the human brain is not fully-developed until our mid-twenties. This means that, as adults, we're able to access both the lower brain and the upper brain. 
So, contrary to toddlers, adults have a firm grip on logical thinking, logical reasoning, and all these other brain functions and skills that toddlers simply don't have access to. But, when we're looking at toddler behavior, we're looking at it from an adult and logical point of view, and that's the first mistake we tend to make.
Toddlers actually spend most of their time (if not all of it) thinking with their lower brain and their emotions. And those feelings can easily get overwhelming, which means a lot of toddlers go into a stress response when it's all too much for them.
Toddlerhood and Independence
There is one overarching goal during the toddler years, and that is to become an independent individual. Babies relate to themselves as an extension of their parents and caregivers. And often, parents also relate to their babies as an extension of themselves.
However, when the toddler years start, children start realizing that they're a separate individual. They have their own impact on the world and their environment, including the people around them. Those toddler years are when they realize that they can think and do things differently than their caregivers.
This whole process unfolds during toddlerhood, and that's when toddlers develop a sense of self. And, along the way, there also happens to be power struggles, but this is all in service of the little ones discovering who they are as a person.
And the way they do this is through experimenting and exploring. They're no longer an extension of their caregivers. They have their own agenda, and that often leads to challenges and frustrations on both sides. This developmental drive plays a huge role in toddlers' behavior. 
Challenges in the Classroom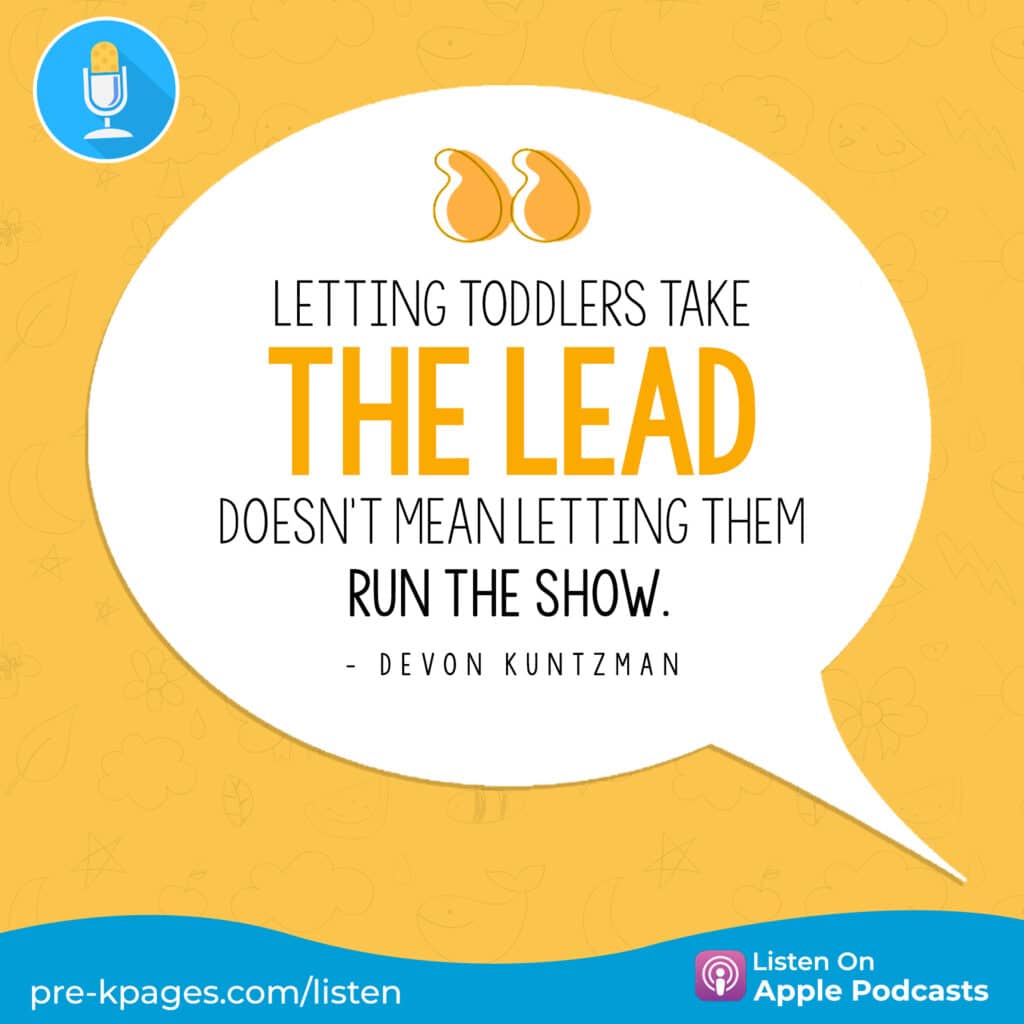 Because of where they're at developmentally, toddlers tend to have a strong drive to experiment and explore. You could even say that toddlers have an "egocentric" view of the world. However, this isn't a cause for alarm, as it's developmentally appropriate. 
However, in the classroom, that equates to everyone wanting to do what they want. And this can be challenging. It's difficult to get all the toddlers in one place, doing the same thing; because not only are they driven to experiment and explore, but they also severely lack impulse control. 
This is because that part of the brain that's responsible for logical thinking is also responsible for impulse control and emotional regulation. And like I've already stated, that part of the brain isn't fully-developed yet in toddlers.
This can present a few challenges in a classroom setting. That lack of impulse control is so strong that it's really hard to get toddlers to focus on one thing, and that can be quite frustrating. And this is exactly when the adults make the mistake of labeling toddlers as terrible or bad or even rude. 
Toddlers aren't bad or disrespectful, they simply lack impulse control.
Adjusting Our Expectations
Toddlerhood is characterized by this strong expectation gap. What does this mean? Simply that there's a gap between what we expect of toddlers and what they're actually capable of. 
The reason this happens is because, well, toddlers are capable of so many things, right? They're making verbal progress leaps and bounds and their physical capabilities are growing immensely. And when we see that, we start to think that toddlers can also control their feelings and emotions, and therefore, control their behavior.
And so, this expectation gap happens because we adults tend to overestimate toddlers' emotional regulation and their abilities. But, somehow, we also tend to underestimate their physical abilities. So we find ourselves being overly careful all the time, or doing things for them they can do, because we want it to look a certain way or we want to save time, etc… And this is exactly what leaves us struggling with toddler behavior.
So, how can you close this expectation gap? Well, Devon goes deeper into that in the episode above, so make sure to tune in to learn the answer!


Links Mentioned in this Episode