Are you looking for age-appropriate classroom rules for preschool or Pre-K? Establishing rules and expectations in your early childhood classroom can be tricky. There are several things to consider, such as how many rules should you have? How will you introduce the rules to your little learners? And that's just the beginning. But don't worry, you'll find the answers to all your questions about establishing preschool classroom rules and expectations below, and more!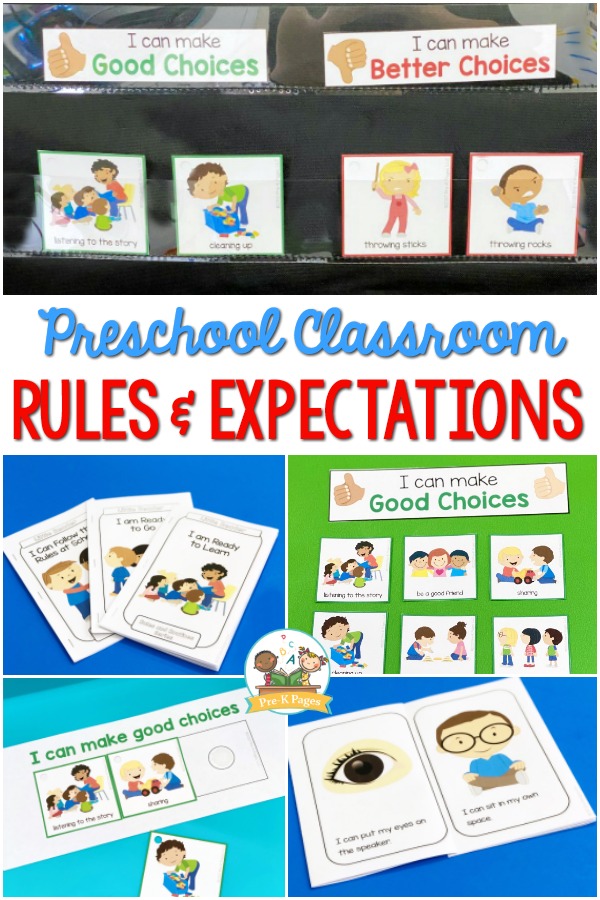 Pre-K Classroom Rules
It can be easy to fall into step with your colleagues who teach older children and use rules like "be kind" or "be respectful." And don't even get me started on words like obey and responsible, those words are even more abstract and meaningless to young children. There's nothing wrong with using any of those words with adults, but they mean absolutely nothing to young children. What does kind look like? What does respectful look like? You may have one idea of what those words mean, but your colleagues, parents, and administrators may have different ideas.
Your rules will be more successful if you keep them short and simple to avoid confusion. There's plenty of time for your kids to learn big vocabulary words like responsible and respectful, but the rules shouldn't be one of those times.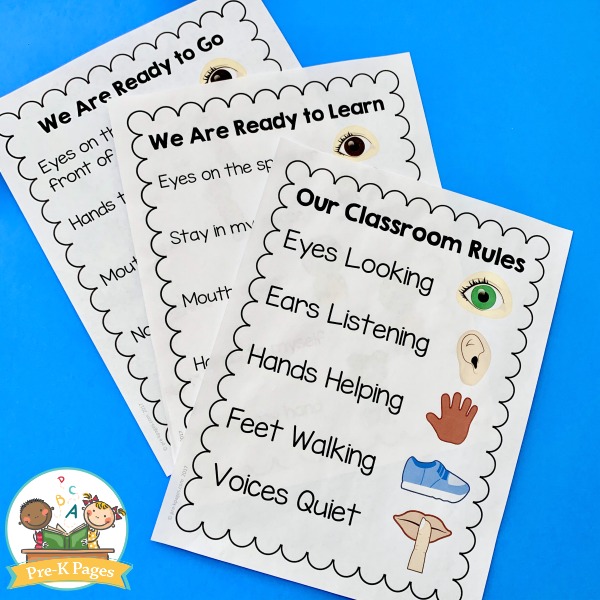 Using Rules with Visual Picture Cues
You'll have the most success getting your students to follow the rules if you use concrete rules which can be easily shown to your students with pictures. Using visual picture cues is very helpful for all children, but they're especially helpful for students with special needs and dual language learners. Picture cues can also help you quickly and easily remind children of the rules when necessary.
Eyes Looking
Ears Listening
Helping Hands
Walking Feet
Voices Quiet
I like to start by introducing each rule separately, not all at once to reduce overwhelm and frustration. I start with eyes on the very first day of school and add a new one each day. By the end of the first week of school I've introduced the most important rules to my students and we can move on to establishing expectations. Of course, we'll continue to review the rules daily with lots of redirection and reminders throughout the year.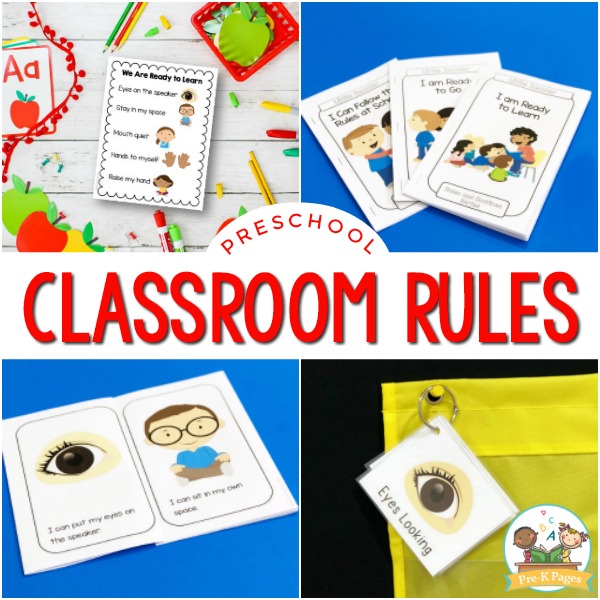 Teaching Classroom Rules
It's no secret that teaching young children to follow your classroom rules and expectations isn't easy. Establishing rock solid rules and expectations is important for creating a successful classroom environment where your little learners can thrive.
Here are a few simple tips to help make learning the rules much easier for your students.
Use visuals
Have just a few rules (3-4 is ideal)
Make them easy to understand
Act them out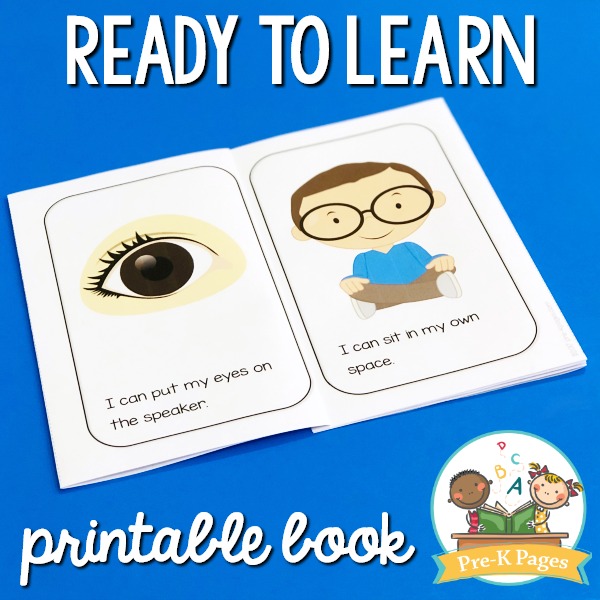 Included in the classroom rules kit is a printable rules poster, rules cards, and books you can use to make teaching the rules to your preschool children easier. You can use these resources during circle time, small group time, or anywhere in your school building.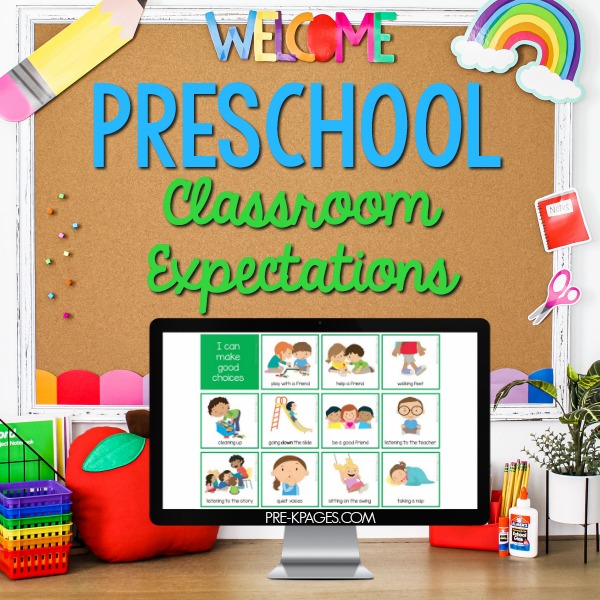 Establishing Rules and Expectations
Now that you know the steps to take when introducing the rules, and the types of rules to use, let's look at how you can establish expectations in your preschool classroom. Teaching rules and expectations go hand-in-hand. Teaching expectations is just as important as teaching letters and numbers in preschool. Without clear expectations you'll have more behavior problems and classroom management issues – yikes!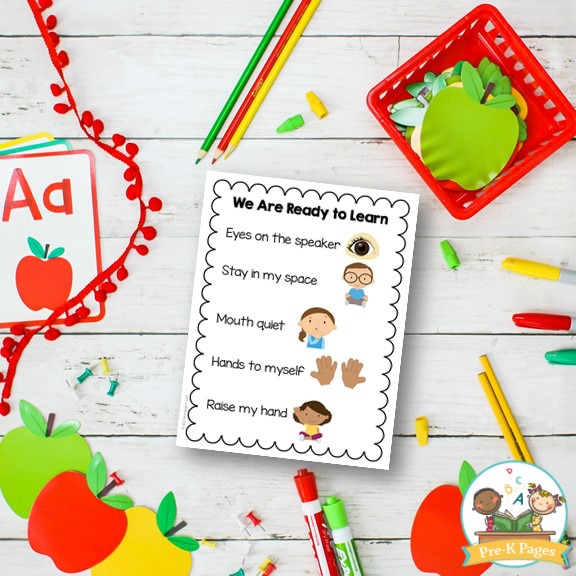 Preschool Classroom Rules
Setting expectations for behavior is a form of social development that directly affects all learning in the classroom. If your goal is for students to make good choices, whether they're with you in the classroom or outside the classroom, then establishing expectations should be your top priority from the very first day of school.
When you have well established rules and expectations you'll have students who are confident problem solvers working collaboratively with others. But it doesn't happen overnight, it takes plenty of daily practice, redirection, and reinforcement from the teacher.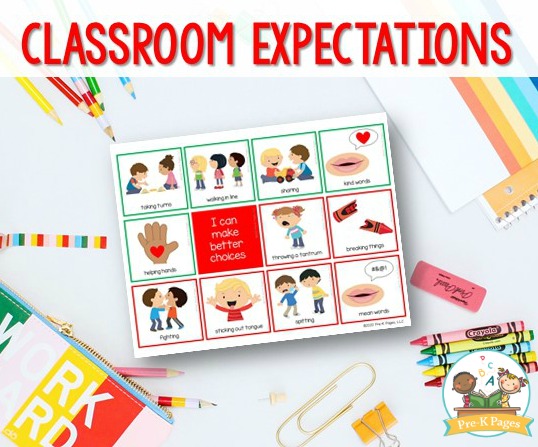 Setting Rules and Expectations
You may be wondering where to start when it comes to setting your expectations. The Making Good Choices Kit includes many different visual picture cues for common problems that occur in most early childhood classrooms.
The most important thing to remember about these cards is to only use the problems that your students are currently experiencing. If you try to introduce them all it will become much too overwhelming for your kids and you won't achieve your desired results. You always want more cards on the green side than on the red side.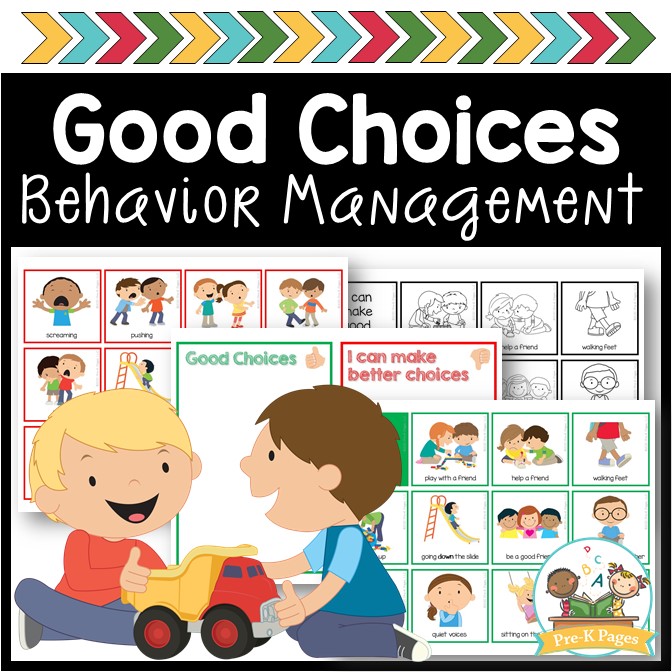 Red and Green Choices
Another important part of establishing your expectations is discussing why each one is important. For example, if throwing rocks on the playground is an issue in your classroom, you might say something like, "The rocks stay on the ground because they can hurt people if they're thrown." The simple act of talking about why we don't do something is a form of higher level thinking. It may be difficult for some preschoolers to grasp how their actions can affect others, but give it time, repetition is key!
You can print the Good Choices cards full size and create your own chart, or you can make smaller charts for individual students. You can even put certain cards on book rings and take them with you when you travel to other areas of the school building or playground with your class. The Good Choices book is also a great way to reinforce your expectations after you've introduced them all.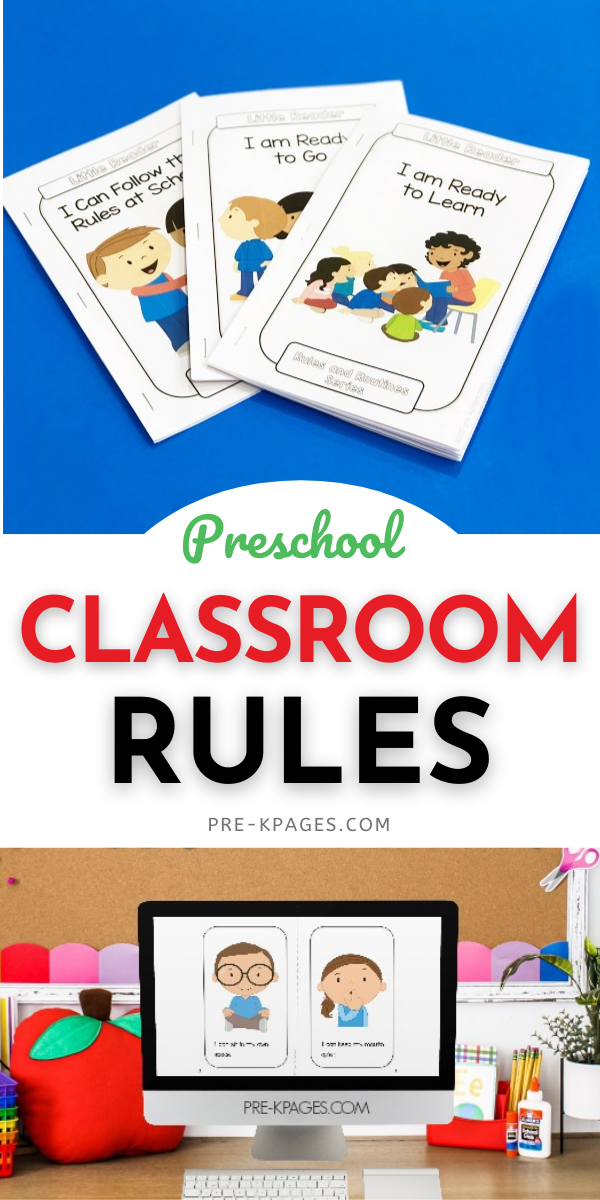 More Teaching Tips