Often when we think of dramatic play, we think of kids putting on different clothes or using different props to play out roles. However, dramatic play can take place in the blocks center, too. For a western or cowboy theme, put horses and other items with your blocks. Children can enjoy pretending to gallop horses across the plains.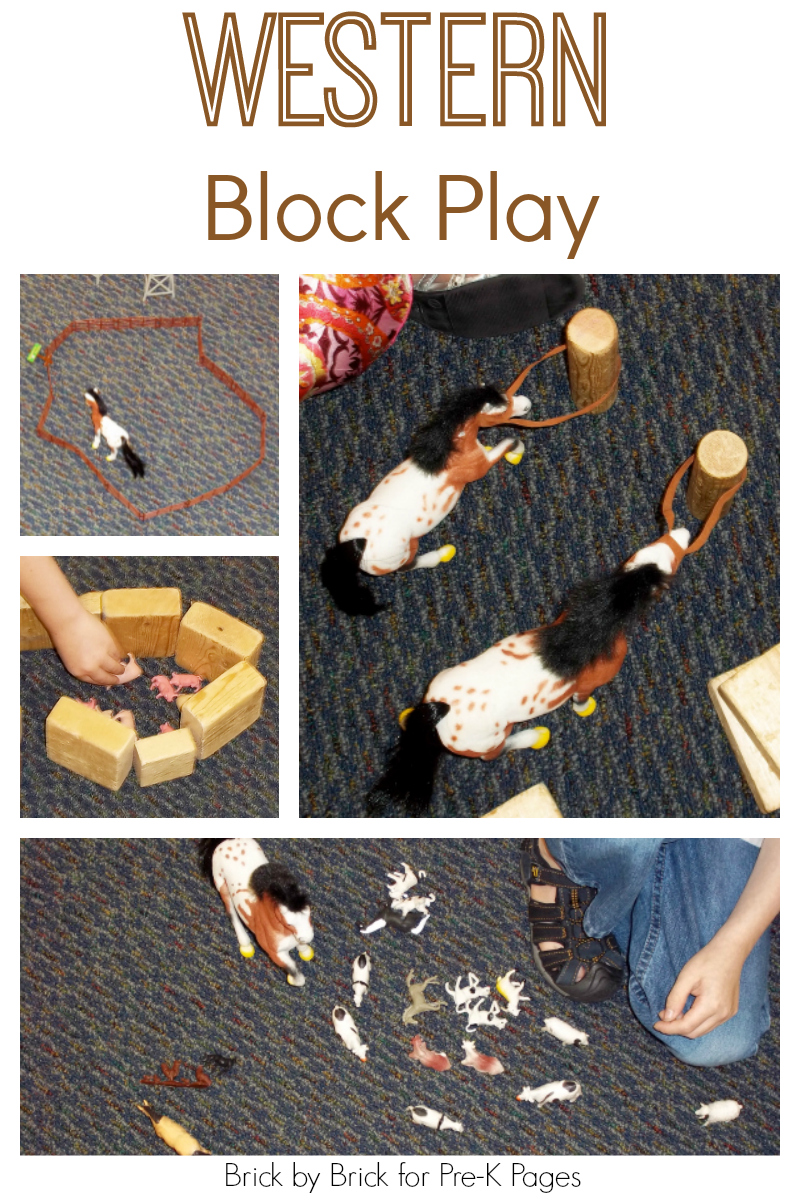 Block Play
I love using blocks with kids. Blocks can become anything–houses, fences, roads, even cars. Blocks encourage kids to use their imaginations and explore creativity. Blocks encourage kids to solve problems and try again and again. Often children will try something, watch it fall, try again, adjust their ideas, and prevail. Persistence in the face of failure is an important life skill. Blocks also promote group play and cooperation. Blocks help develop math concepts such as length, balance, symmetry, and comparison skills. And blocks are fun to use and reuse. (Check out the Blocks Center Page.)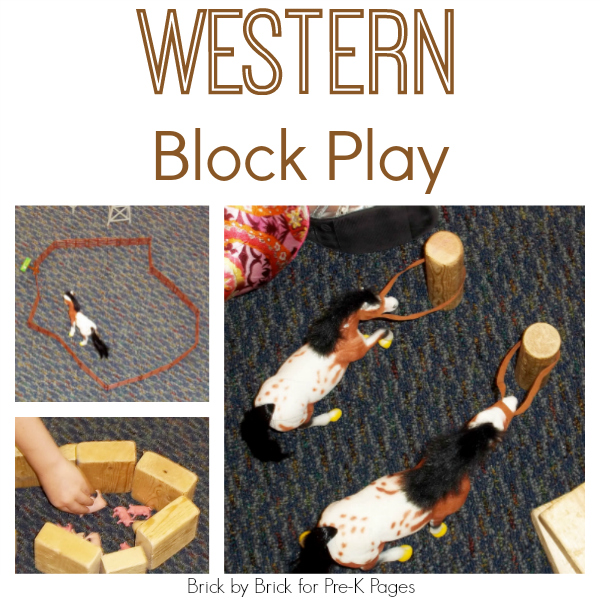 Building Corrals
Supplies
wooden blocks
other farm props (from the dollar store)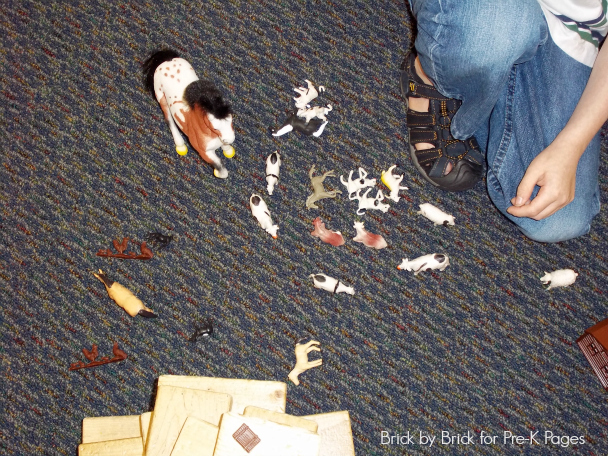 I put out the materials and encouraged the children to use them as they chose. They created some corrals for the horses and other animals.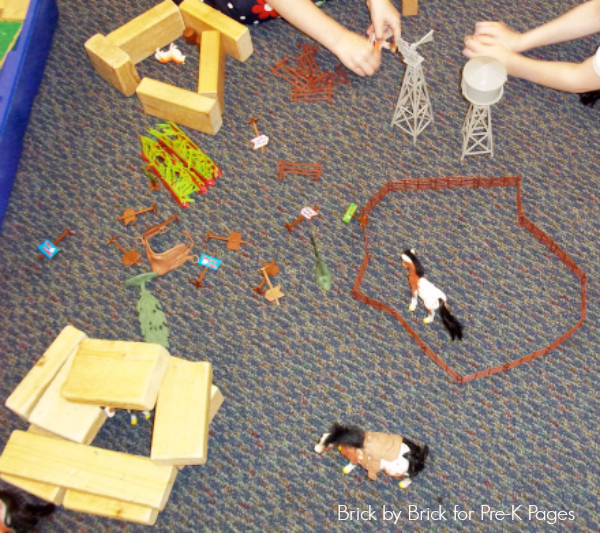 They built a few barns and other structures.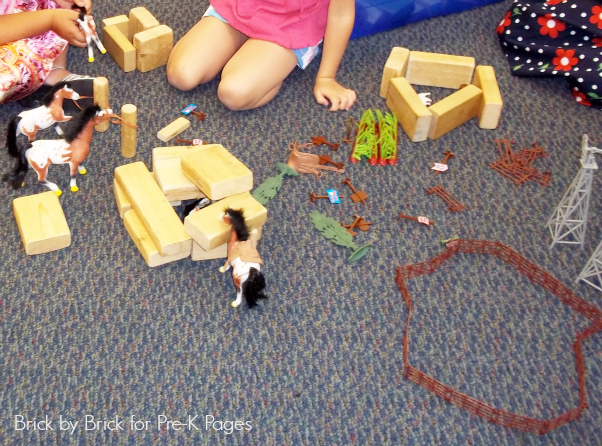 And, of course, created hitching posts for the horses.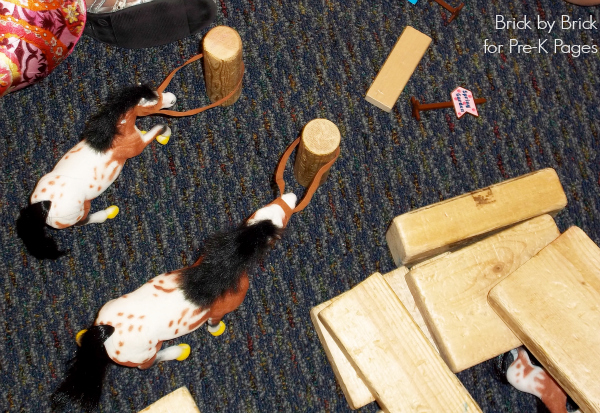 If your children have limited knowledge about horses or cowboys, read a few books to build background knowledge.
We had the other farm props but this activity is great with just horses and blocks. Children will enjoy creating their own scenarios with these items. If you would like additional materials for fencing, etc., add wide craft sticks, too.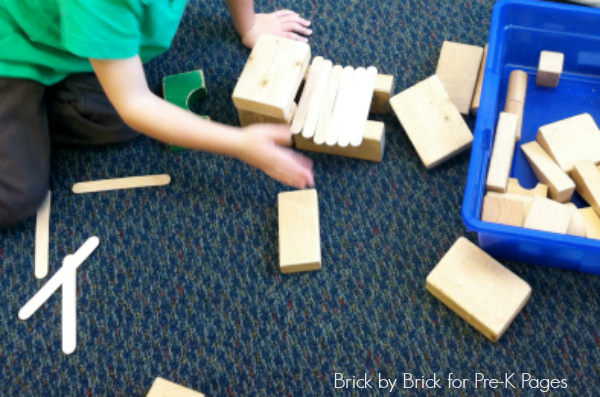 But mostly allow your children to explore their ideas. And, as in any block activity in my classroom, children could always push aside the materials and build whatever they wanted.
One thing I've learned about block play and children – you never know exactly how it will play out. Some days they are on your wavelength and sometimes not. However, construction and dramatic play offer great learning possibilities for preschoolers.
BIO: Scott Wiley, an early childhood educator for over 25 years, is editor for Pre-K Pages. He also blogs at Brick by Brick, exploring the connection between play and learning. He enjoys using unusual items in the blocks center. Connect with Scott on Twitter, Facebook, and Pinterest.
More Western Ideas—
Lasso a Letter
Cowboy Gross Motor Activity
Printables for Western Theme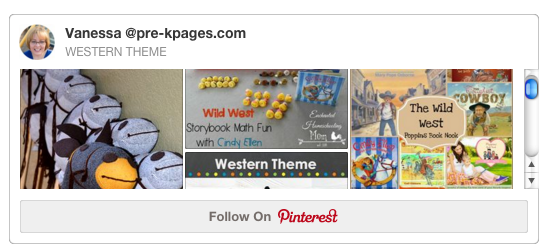 Follow my Western Theme Pinterest Board for more great ideas!