Blocks Center set-up ideas, materials, and organization tips for your preschool, pre-k, Head Start or kindergarten classroom.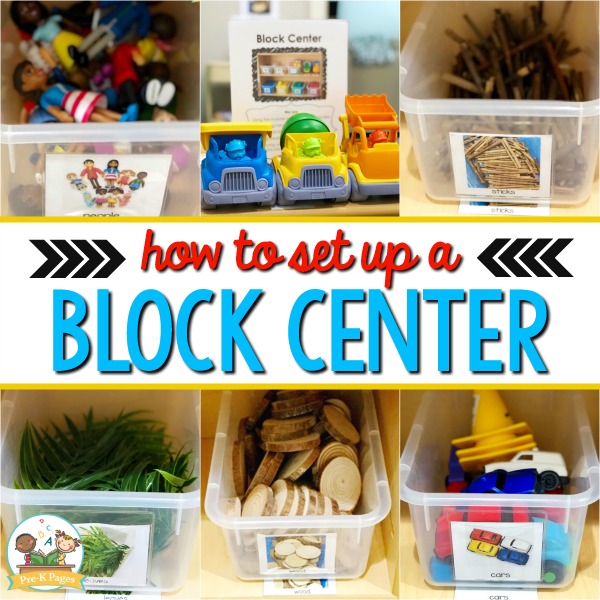 Blocks Center
Raise your hand if your blocks center is the most popular center in the classroom… I thought so!
But setting up a block center in your preschool or kindergarten classroom can be tricky; it's way more involved than just putting out a bunch of blocks and letting the kids go at it. There's so much more to the block center!
And the organization of all the blocks and other materials in the block center can be a huge headache too, am I right?
Here are some ideas for not only setting up and organizing your blocks center, but also for supporting language, literacy, math, critical thinking, problem solving, and social skills too.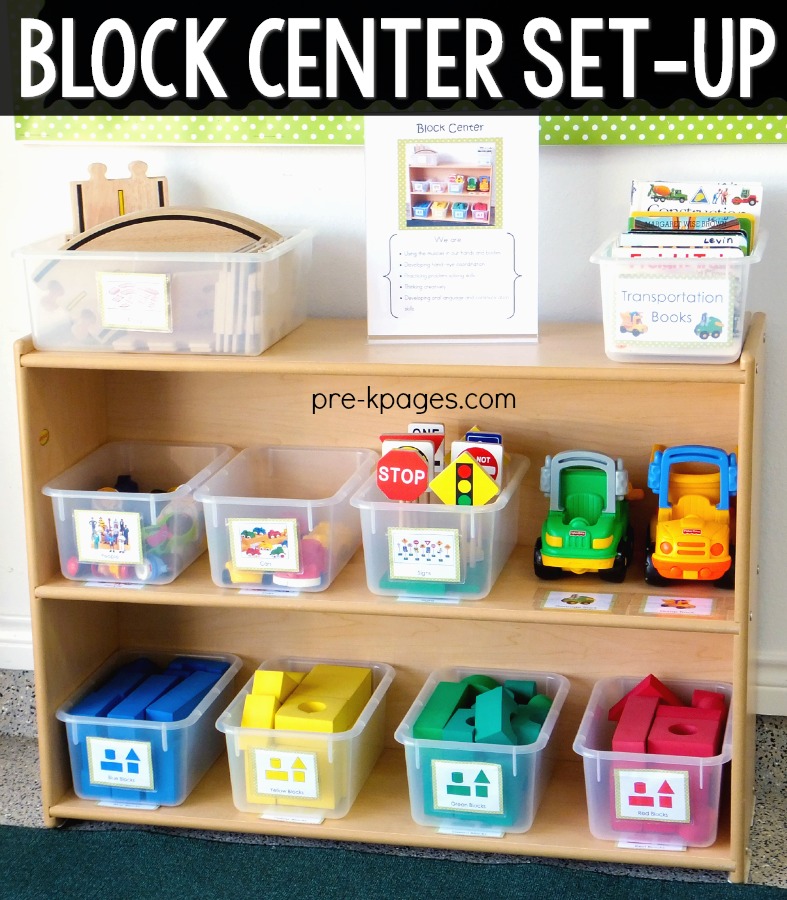 First things first – label all the things! A well organized block center has labels on every tub and a matching label on the shelf. Stick a label on both ends of each tub to increase the odds of your kids putting them away correctly (you're welcome!)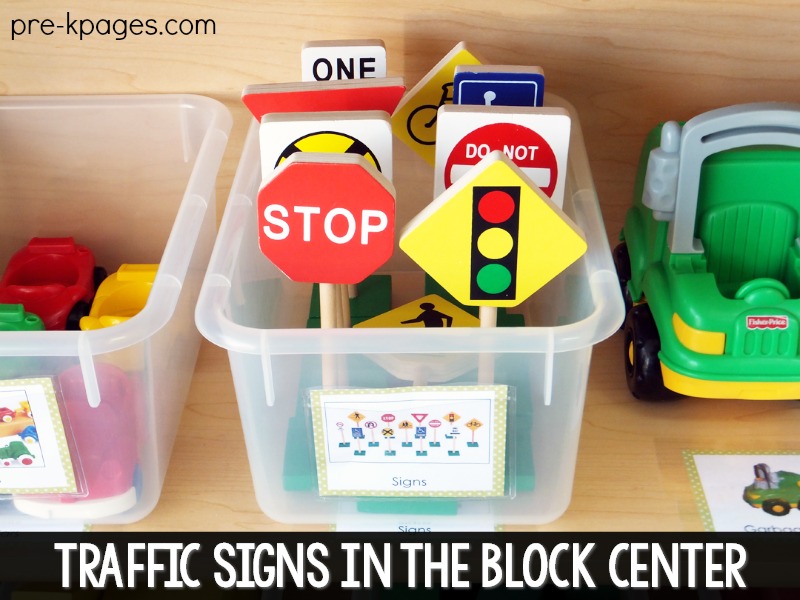 Traffic signs in the block center will provide a print rich environment for your students as well as offer opportunities for identifying environmental print.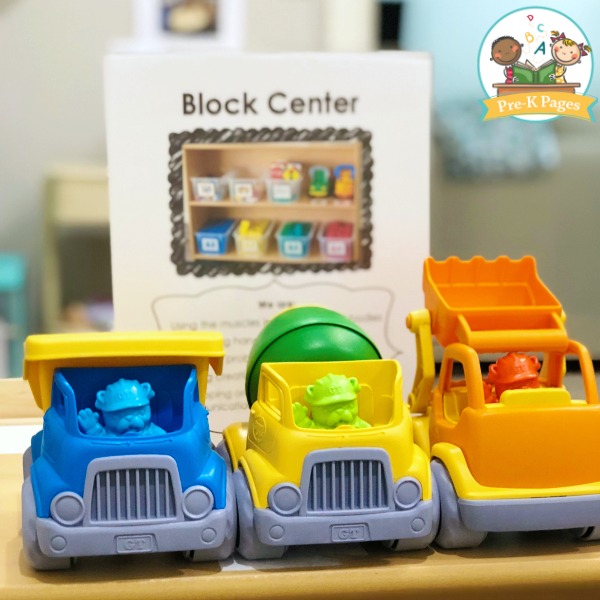 Vehicles in the Block Center
Adding vehicles in your block center will provide your students with opportunities to develop oral language skills as well as problem solving and creativity. And your kids will love making all those great truck and car noises!
Pictured behind the trucks above is the block center sign, you can read more about how our center signs work here.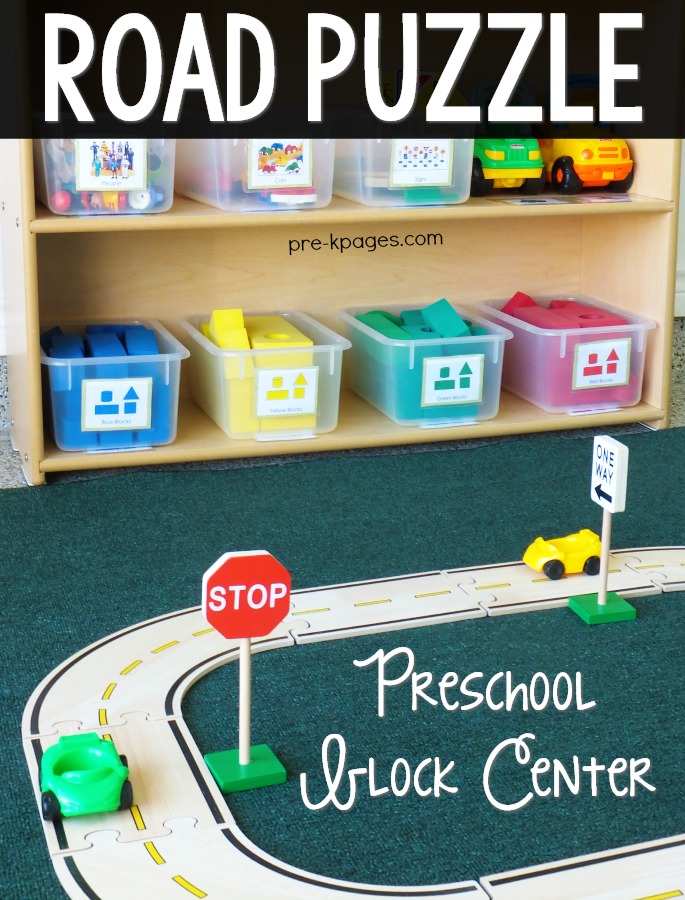 Communication and Problem Solving in the Block Center
This road puzzle set is ideal for groups of students to work together, communicate, and problem solve. The road can be configured in many different ways offering a unique play experience each time.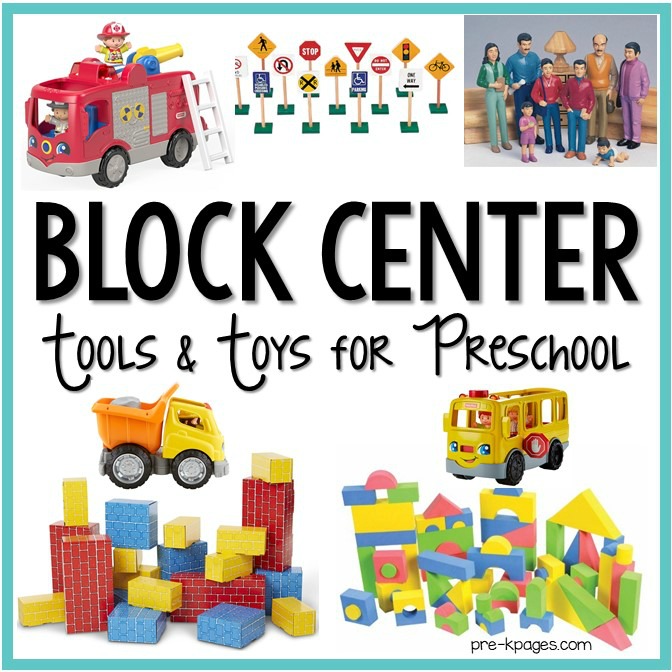 Block Center Materials
When it comes to stocking and setting up your block center you want to choose wisely so you can get the most bang for your buck and still keep your kids engaged and having fun. Here are some of the items I have in my blocks center that have withstood daily use (and abuse) by large numbers of small children.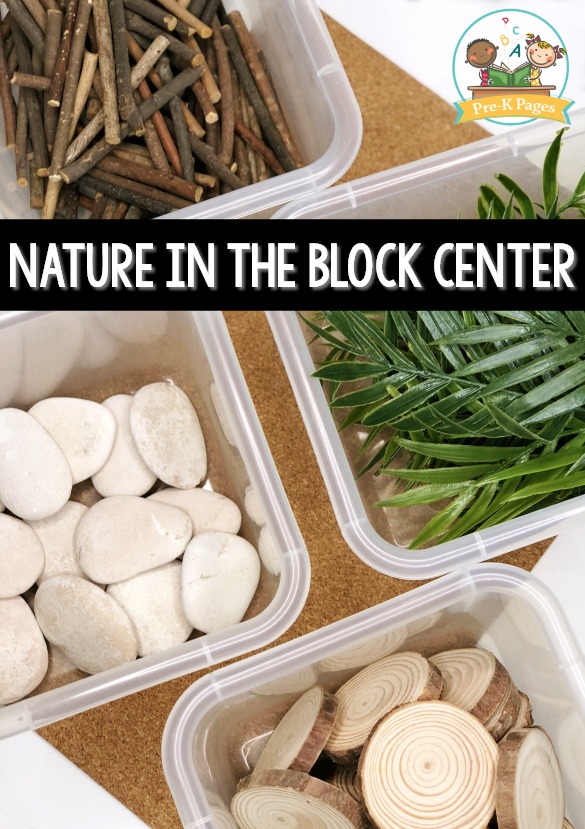 Nature in the Block Center
Adding natural materials to your block center can be a great way to integrate science and math as well as enhance learning and play. Items such as pine cones, sticks, tree trunk slices, rocks, artificial leaves, pieces of natural fabrics, and shells can inspire imagination and creativity in young children. These tree trunk slices still have their bark and children can clearly see the rings, which can create a wonderful opportunity for discussion! You can gather these materials yourself, or purchase them if you prefer.
Please use caution when incorporating natural items into the classroom and be aware that some items such as pine cones and tree trunk slices may trigger environmental allergies for some children.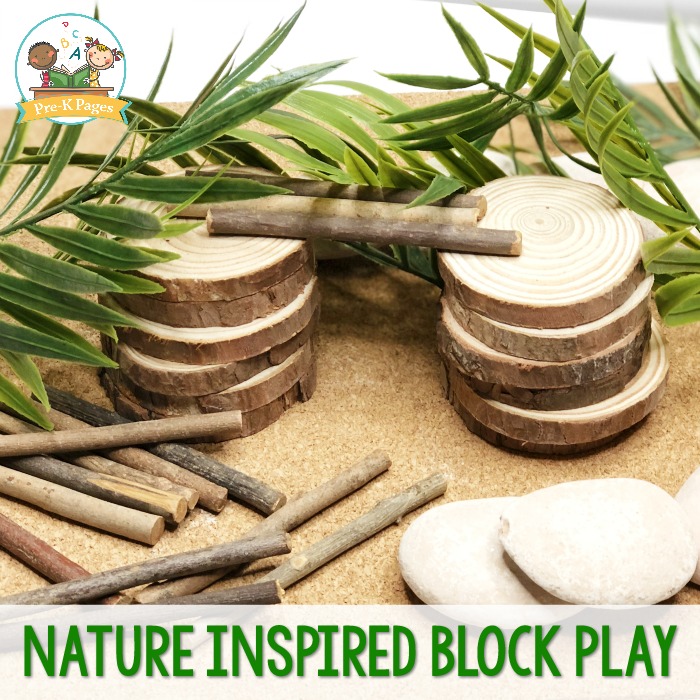 Nature Inspired Block Play
The children enjoyed using sticks, tree trunk slices, rocks, and artificial leaves to create this scenario. They were inspired by the book Going on a Bear Hunt by Michael Rosen and Helen Oxenbury.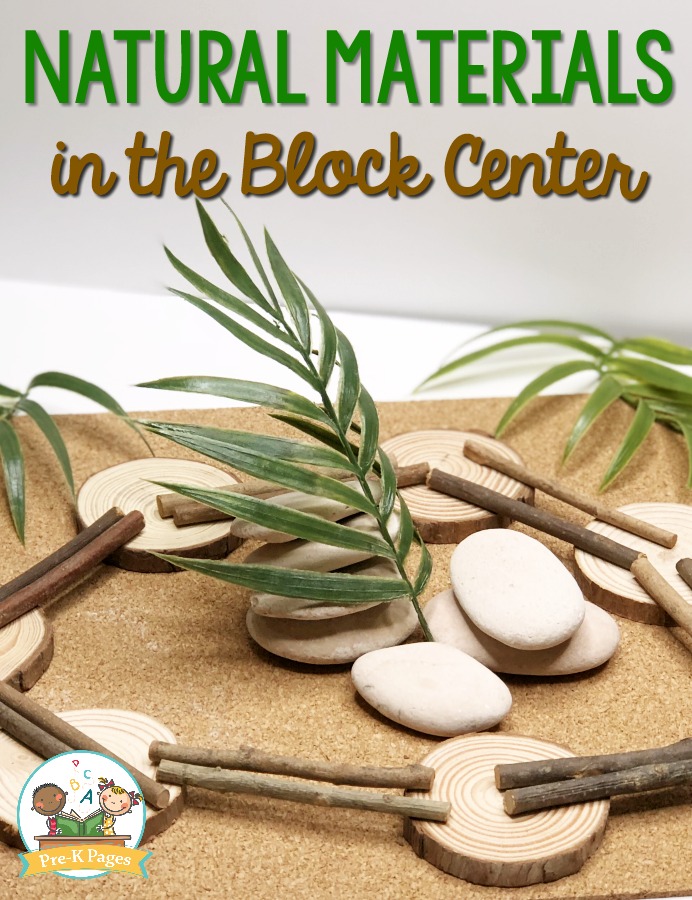 Natural Materials in the Blocks Center
Here's another scenario using the same materials, the children were inspired by the book The Three Little Pigs. They built a wall around the brick house and hid the house behind leaves to hide from the wolf.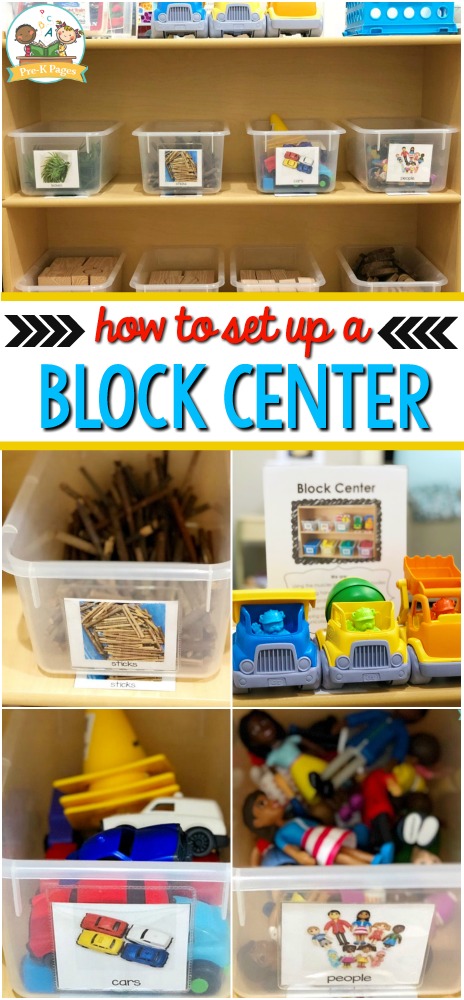 Watch the Video Tour
Learning Centers
Have you always dreamed of setting up amazing, self-directed centers for your classroom…but feel like something is missing? How do you know which centers you need? What should you put in them?
Center Essentials Guide
Get your ultimate, step-by-step guide for setting up centers HERE
More Center Ideas from Pre-K Pages