Are you looking for a fun, easy game for your Zoo thematic unit that builds in following directions, listening, and movement? This roll and move with the zoo animals game will give your kids multiple opportunities for learning while having fun too!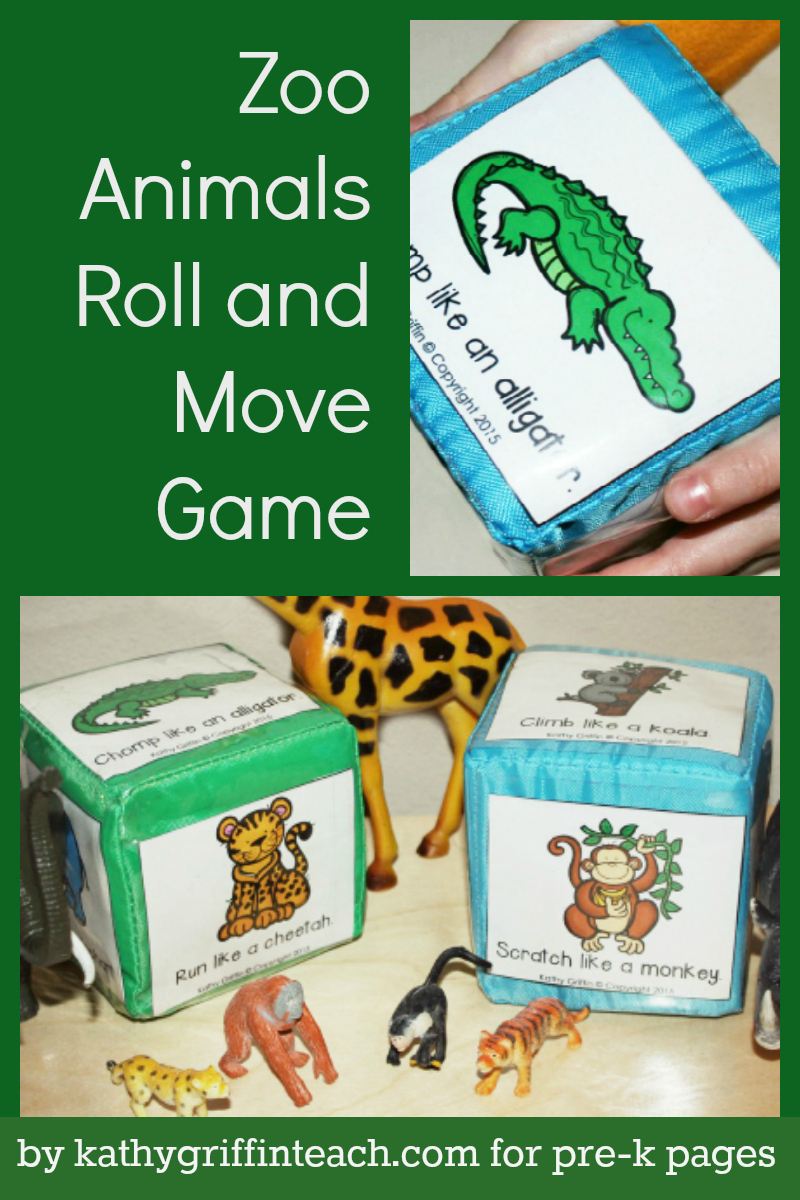 Zoo Animals Game: Learning Opportunities
This zoo animals game helps children build skills in
Listening
Following Directions
Building Vocabulary
In addition to these skills, children can develop social skills when they play group games together. You can use this fun roll and move game your whole class, with a small group of children, or as an individual activity (child-teacher interaction).
Your kids will also build motor skills when they toss the cube. Young children learn best when they are engaged kinesthetically. This movement game encourages all kinds of bending, crawling, hopping, and stretching.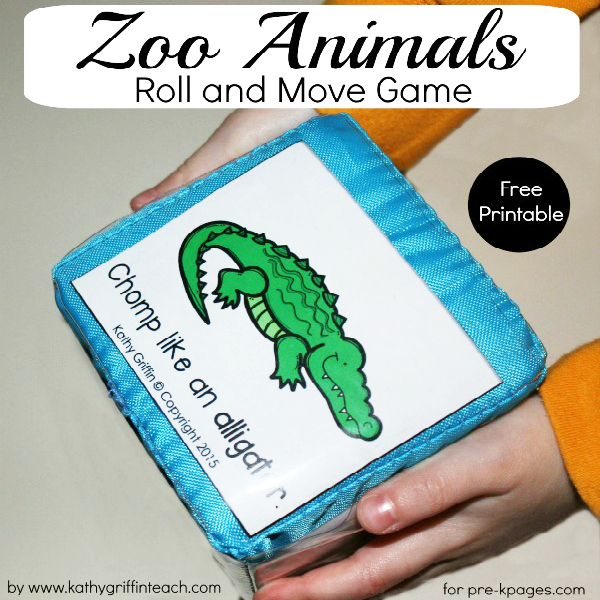 Zoo Animals: Materials Needed
Prepare the cube: Print the cards and cut them apart. Slide the cards in the die. Now you're ready to play!
Directions for Group Learning
Roll the die.
Name the animal.
Read the sentence.
Children move like the animal.
Pass the die to a child.
Child rolls the die.
Child names the animal.
Child reads the sentence.
All children move like the animal.
Repeat.
Modify for Individual Learning
Roll the die.
Name the animal.
Read the sentence.
Child moves like the animal.
Repeat until all animal actions have been rolled.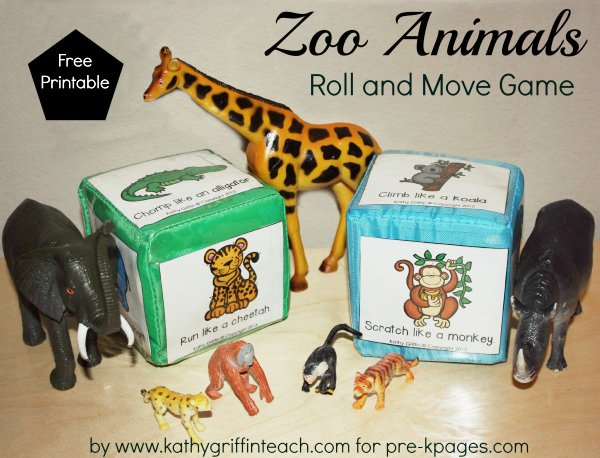 Music and Movement
Turn on some fun zoo animal music like "We're Going to the Zoo" by Raffi and play the game with music. A teacher or child rolls the die and shows the animal to the class. Children move like the animal to music. Repeat until the song is over.
Play it Another Way
Make extra copies of the cards. Give each child one animal card. Roll the die. Name the animal. Children with that animal card stand up and move like the animal.
After the Game
Brainstorm and record a list of other zoo animals.
Ask the children how these animals move.
Children can play animal charades with this list.
Have fun moving and learning with your children!

BIO: Kathy Griffin is an early childhood teacher, educational consultant, mother, and a "Nana K" who writes about teaching children through hands-on play, music, and movement. You can download her free Five Little Monkeys math and literacy printable. Connect with Kathy through her blog, Facebook, and Pinterest.
Check these zoo theme links—
Preschool Books About the Zoo
Zoo Animal Fine Motor and Counting