Do you have children who love the block center? You know the one I'm talking about, the child who always wants to be there and never wants to leave. I've had those children.
Recently I was thinking about the Muffin Man theme and what we would do in the block center to engage that group that wants to stay there and not venture elsewhere in the room. And then I remembered the time I put bakery/kitchen items in the block center.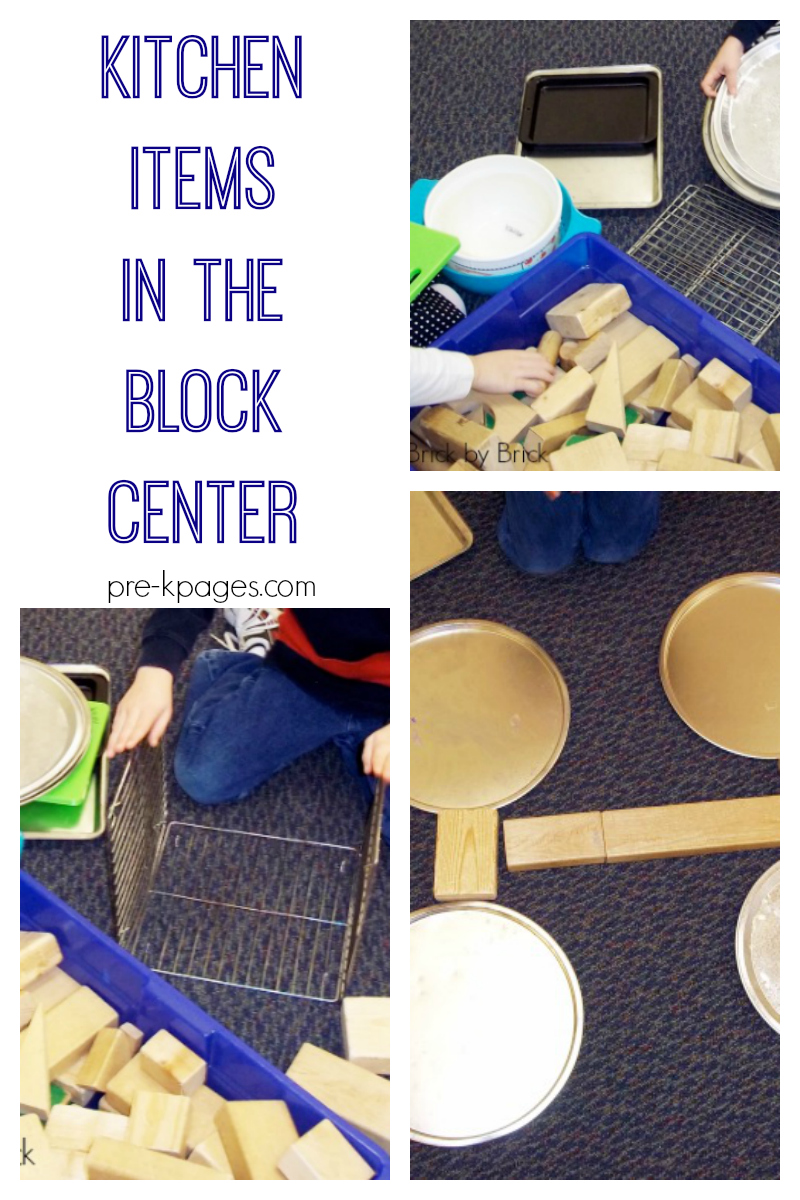 Bakery Items in the Block Center
You can add whatever items you have available. Use items that are not regularly in your home center. Use items from the dollar store or thrift store. Here's what we used:
Pizza pans
Cutting board
Cookie sheets
Wire cooling racks
Bowls, colander
I stacked these items in our block center with our regular wooden blocks. I told the children they could use them with the blocks if they chose.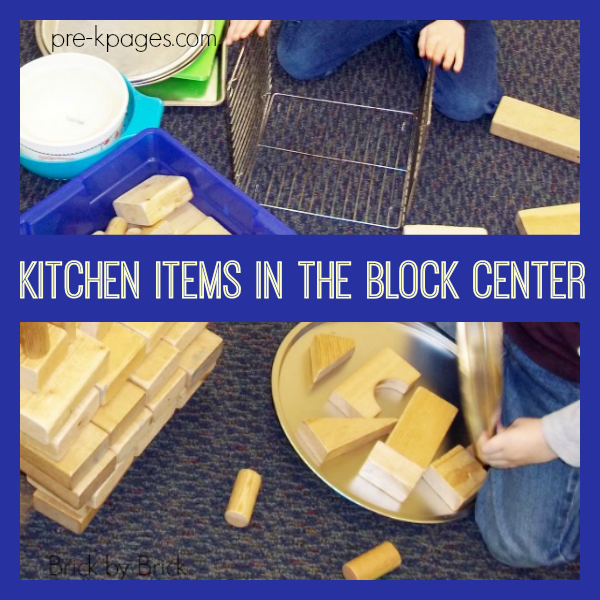 Kitchen Items in the Block Center
A few children pushed the items aside and just built with the blocks. But a couple began to see the possibilities. They tried building with the items, using them as walls or structures.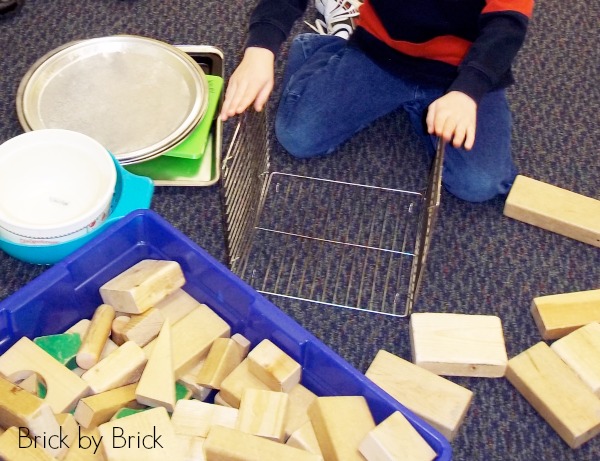 They incorporated some in more traditional structures.
Others flipped the idea and used the blocks as food on the pans.
One boy began to explore making designs and patterns with the blocks and pans.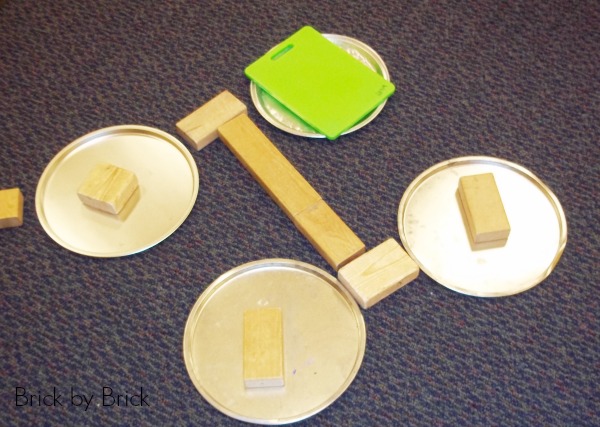 Expanding Understanding
Adding different items to your block center can really help with development and understanding of different concepts.
Preschoolers begin to think about things in a different way. They see items in a different light. This helps develop more abstract thinking, important to math and literacy understanding
Preschoolers can think creatively and develop their problem-solving skills. If the wire rack won't stand like they want, what else could they do? How could they make it stand? Or how could they modify their plan to fit what is happening?
Adding unusual items brings different children into the center. I had children who rarely build at least investigate the block center. Children who may not interact much talked about ideas with one another.
Different types of conversation and different vocabulary were sparked with the addition of different materials.
This activity would be a good STEM challenge. Engineering thinking is definitely involved in deciding how to incorporate these unusual building elements.
Adding these types of materials is great for any cooking or bakery theme in your classroom. In addition to Muffin Man, this activity would work if you are reading The Gingerbread Man, The Little Red Hen, or even the Three Little Pigs. If you are studying families or different cultures or celebrations, you could supplement the block center with different types of cooking utensils. The possibilities abound.
I think I'm going to head to the dollar store and find even more unusual kitchen gadgets to add to my building possibilities.
BIO: Scott Wiley, an early childhood educator for 30 years, is managing editor for Pre-K Pages. He also blogs at Brick by Brick, exploring the connection between play and learning. Connect with Scott on Twitter, Facebook, and Pinterest.
More Nursery Rhyme Activities