Most teachers have a smartphone these days, but are you using your phone to your advantage? Did you know you can use your phone to save time in the classroom too?
Here are some of my favorite ideas for using your phone in the classroom for everything from tracking your books to playing music, and more!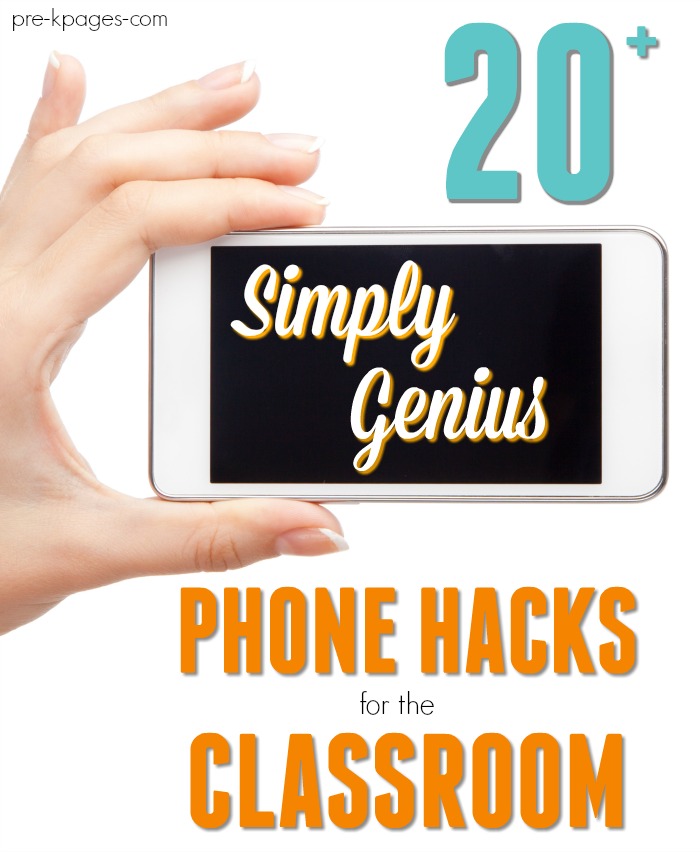 20 Simply Genius Phone Hacks
1. ScanBot: Do you have a lot of paper to store? Is your filing cabinet overflowing? The free ScanBot app will allow you to get rid of your bulky filing cabinet and go digital! It's also helpful if you have to sign documents and send them electronically, no more scanning the old fashioned way. Just take a picture of the signed document with your phone and ScanBot will convert it to a PDF that you can send electronically.
2. Sortly: The Sortly app is a teacher's dream come true! Not sure where your pipe cleaners are? How about those wiggly eyes you need for that project tomorrow? Sortly allows you to easily categorize everything in your classroom and find it quickly. Just take a picture of each item, tag it, and put it in a folder. When you need something, type it into the search box and Sortly will tell you right where it is!
3. Remind: This free service, designed with teachers in mind, allows you to safely text parents without revealing your personal phone number. Send a text to a group of parents, individual texts, or make an announcement to all parents with Remind.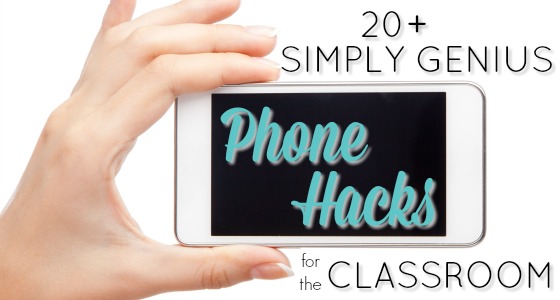 Best Phone Hacks for Teachers
4. Google Drive: Ditch your flash drive and store all your documents for free in the cloud so you can easily access them from any device, anywhere, at any time!
5. Bluetooth Speakers: Use bluetooth speakers to play music directly from your phone!
6. Music Playlists: Create music playlists on your phone for different times of the day, like circle time, transition time, rest time etc.
7. Sound Discrimination: Karen from Prekinders explains how she uses free apps to teach kids how to discriminate sounds.
8. Increase storage on your phone: This trick to getting more storage on your phone is brilliant if you don't have enough room for all of your music, photos, or apps!
9. DIY Projector: Easily turn your smartphone into a projector with this simple hack!
10. QR Codes: Create a free QR code for your classroom blog, school Facebook page, or class calendar. Next, print the code, along with instructions for using it, and place it outside the door of your classroom so parents can scan it for more information during open house.
11. SeeSaw App: Jennifer from Sugar, Spice and Glitter says, "I really love the SeeSaw app – and it's free! You can send notes, videos, and pictures to parents and grandparents instantly, which is great especially on field trips or on special days that the parents can't be there. At the end of the year, parents can download a file with all of the content."
12. Speakers: I place my iPhone in a cup with the speaker on the bottom to amplify the sound- instant and inexpensive speakers! (Sugar, Spice and Glitter)
13. Siri: I also like using Siri on my iPhone- kids can ask any questions and Siri will either respond or give webpage results. I've also used Siri to teach my daughter how to call for help in an emergency rather than hoping she can figure out how to call 911 and hit "send." (Sugar, Spice and Glitter)
14. Airdrop: Meghan from Playground Park Bench says, "Airdrop is amazing. When we go on field trips or take photos in the classroom, we can airdrop all of them instantly to the teacher. They share them on the school FB page, do activities with photos, make gifts for parents, etc. It's a built in feature on your phone, you don't even need an app!
15. Artkive: You can quickly and easily create online portfolios of kids work with this cool app! Take photos of children's art and tag them in albums by name, age, description etc. You can also have high quality books printed from artkive or email them to your contact circles. (Playground Park Bench)
16. Timer: Jodie from Growing Book by Book suggests using the timer feature on your phone to signal when it is time to transition.
17. Rest or Nap Time: Use your phone to play calming music during rest or nap time. (Growing Book by Book)
18. Emergency Contact Info: Save a class list with parent contact info in the notes app on your phone for emergency drills, field trips, etc. (Growing Book by Book)
19. Book Buddy App: Do you have a lot of books? Do you ever wonder if you already own a book when you're out shopping? Book Buddy is a free app that will help you quickly and easily keep track of all the books you own!
20. Class Books: Mary Catherine from Fun-a-Day says, "Let the kids use the camera on your phone to make class books like our Pumpkin Counting Book".
21. Timer: Use the timer on your phone to time your sensory bottles. (Fun-a-Day)
More Teaching Tips from Pre-K Pages