Do you dread the first day of school? Teachers often have "schoolmares" – or nightmares about the first day of school, long before it ever arrives.
Along with the unknown comes fear, it's only natural. Each new school year brings many unknowns to preschool and kindergarten teachers when it comes to challenging behaviors. We never know what new challenges await us each year, it's always a surprise.
One of the biggest challenge any early childhood teacher faces on the first day of school is separation anxiety. In this post we will look at ways to help teachers and children cope with separation anxiety.
Challenging Behaviors Book Study
Welcome to the challenging behaviors book study. For those of you just joining us, the details about the book study can be found here.
Looking for solutions to challenging behavior problems in your early childhood classroom? You're in the right place! We invite you to join the Challenging Behaviors book study! This virtual discussion will always be available to you.
I suggest following the book study guide Karen at Prekinders has put together that includes all of our book studies and has links to each discussion.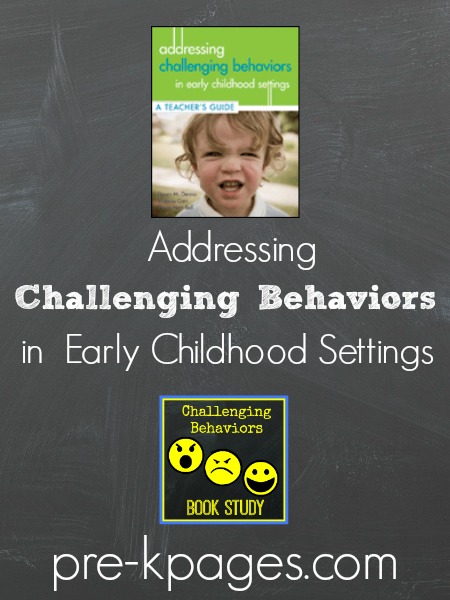 Addressing Challenging Behaviors in Early Childhood Settings
The book Addressing Challenging Behaviors in Early Childhood Settings: A Teacher's Guide by Denno, Carr, and Bell was used as a resource for this post. This book is a comprehensive toolkit for teachers of young children that is well organized and includes a CD full of helpful, printable resources.
What is Separation Anxiety?
Teachers aren't the only ones who fear the first day of school. Young children can also become very fearful of being in a new environment. When separated from their families for perhaps the first time, young children may become very fearful and anxious. This fear of being apart from family or a specific caregiver is called separation anxiety.
Types of Separation Anxiety

Each child is unique and will experience separation anxiety in his or her own way. Some children may experience extreme physiological responses to being separated from caregivers including rapid heart rate and increased levels of stress hormones.
Three different types of responses to separation anxiety have been identified; they are active, quiet, and aggressive. I know which one you're hoping to get in your classroom! It's no surprise that the types of responses children exhibited were directly related to the behavior of the caregiver.
Those parents or caregivers who stayed in the classroom for a few minutes, talked to the teacher, and talked positively about school had children who were active and responded well to being separated.
Children whose parents were less socially active and dropped them off quickly were more withdrawn and less likely to interact with their peers.
Those parents who were the most fearful and exhibited their apprehension through body language and words were more likely to have children who reacted to separation with extreme emotional outbursts- or tantrums.
What to Do About Separation Anxiety in the Classroom
1. Guide Parent Behavior
2. Create a Visual Daily Schedule
3. Create a Calm and Caring Classroom Environment
Guide Parent Behavior
One thing I do to help guide parent behavior is to teach parents how to talk to their children about the first day of school BEFORE the first day of school. I usually do this at our Parent Orientation event.
Some parents may not have had positive experiences with school and are inadvertently passing along those negative feelings and emotions to their children. I provide examples of positive phrases parents can say to their children to help prepare them for the first day of school.
Create a Visual Daily Schedule
The authors discuss how some children, especially those children living in extreme poverty, may have inconsistent home lives. This inconsistency often contributes to feelings of uncertainty, fear, and stress in children.
All young children crave consistency and routine, having a visual daily schedule will help all students feel safe and secure in their new classroom environment.
When children are experiencing separation anxiety I gently guide them to our visual picture schedule and ask them to help me identify where we are in our daily routine. Then, we count the number of pictures left until the final picture, which signals the end of the day.
Create a Calm and Caring Classroom Environment
Starting your day with routines and rituals will go a long way to help kids feel safe and secure in the classroom and ease separation anxiety. In the book Addressing Challenging Behaviors in Early Childhood Settings: A Teacher's Guide the authors talk about the importance of children learning to love school and their teachers.
Some of the ways I have created successful routines and rituals is to greet the children at the door each day. A friendly smile, a hug, or a high-five will go a long way in getting the day off to a great start. Once they enter the classroom, the children put away their belongings, then locate their name card on a table and place it in a pocket chart. Once we are all together we sing a welcome song- my favorite is Welcome to School by Dr. Jean.
Just as important as the beginning of the day is the end of the day- children need closure too. We gather together in a large group and sing a good-bye song as we move our clip down on our visual picture schedule to indicate the end of another successful day. One of my favorite good-bye songs is See Ya Later Alligator, also by Dr. Jean.
What to Do if Kids Cry on the First Day of School
Never bribe or negotiate a "deal" (if you stop crying I'll give you this…)
Never send them home- this sends the message that they can get their own way if they throw a tantrum
Speak positively and cheerfully
Stay calm
If other children complain about noisy crying say, "Yes, Jimmy is crying because he misses his mom. He needs some time to learn how school works. Let's show him how much fun ____ is and maybe he will join us." Then move along to your next activity.
Acknowledge the child's feelings (I know you miss your mom, you'll see her soon.)
Invite the child to join in activities but don't force them to participate if they are overly distraught.
More Preschool Behavior Resources