Cardboard boxes are a great resource for preschool play. After all, who hasn't seen a child playing with a box instead of the toy inside it? These ideas take using cardboard boxes to a whole new level. These ideas are perfect for enhancing dramatic play or for fun exploration of different themes. Check out these awesome ideas for cardboard box play shared on the Pre-K Pages Facebook page.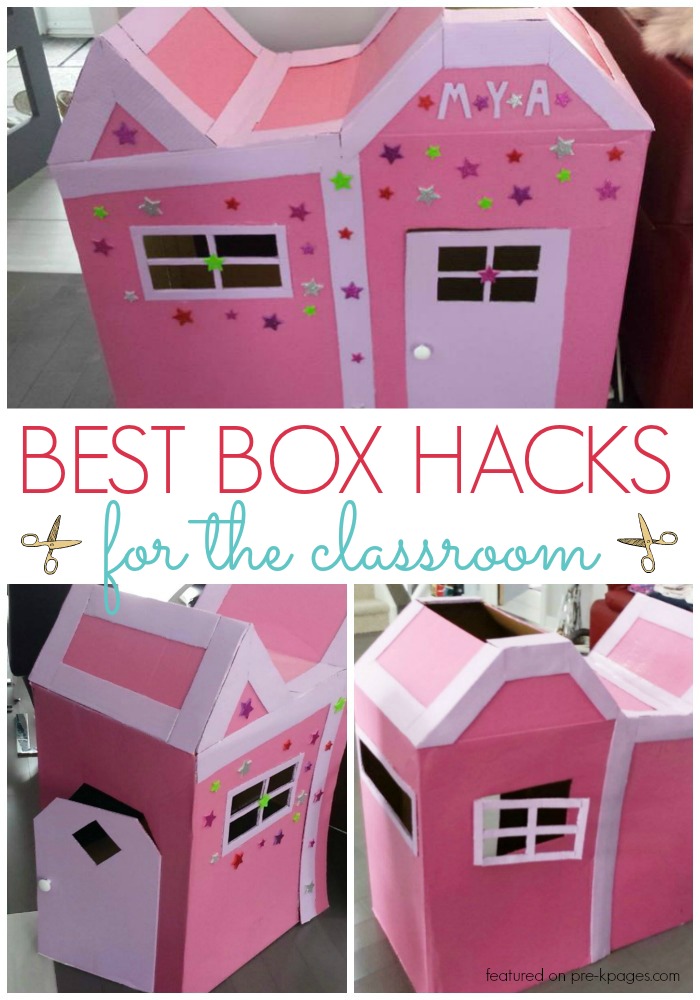 Make a Box House
How much fun would your kids have playing inside this adorable box house? The windows and doors allow light inside. Cut the flaps of the box into the shapes for the roof or cut an additional cardboard box to create the roof and tape onto the structure. Leave the roof open for a skylight. Invite your kids to paint and add stickers to give this cottage a charming feel. This one even has a motion light inside to brighten the corners. Preschoolers will love acting out everyday scenarios or fairy tale themes in this adorable cardboard box cottage.
Daniel shared this creative cottage idea over on the Pre-K Pages Facebook page.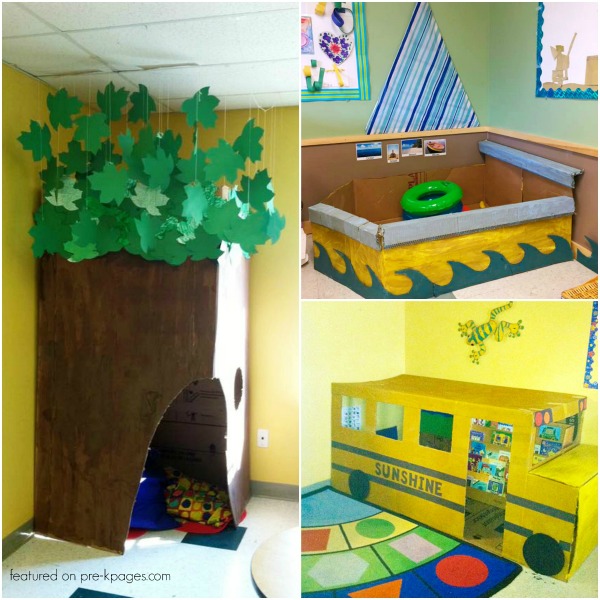 Cardboard Box Reading Corners
A cozy reading nook could be a fun, quiet place for your preschoolers to explore books. Create a reading corner that matches your classroom theme (or one that you just love!).
Tree reading corner – Paint your box brown, cut a hole so children can burrow in and stand the box in the corner. Leaf shapes are suspended from the ceiling to cover the top of the box and form the tree's foliage. This is a great idea…and changeable, too. Invite kids to paint paper with fall colors, then cut and add to the tree to change the seasons. Add snowflakes for a wintry tree. Inside, add pillows, a blanket, and books.
Boat reading area – A shallow box makes a great boat reading corner. Paint the sides to look like waves lapping at the boat. Add other painted cardboard scraps to make the boat's rim. Cut a sail triangle from paper or fabric and attach to the wall above the box. Inside add a few comfy accessories: pillows, pool rings, and so forth. Enhance the atmosphere with photos of boat and water scenes.
School bus reading corner – Tape a smaller box to the front of a longer, taller one to make a school bus. A little yellow and black paint make the look complete. This bus includes a small bookshelf and a couple of chairs. Children will enjoy reading in their very own bus!
Jennifer shared these creative box hacks with our followers over on the Pre-K Pages Facebook page.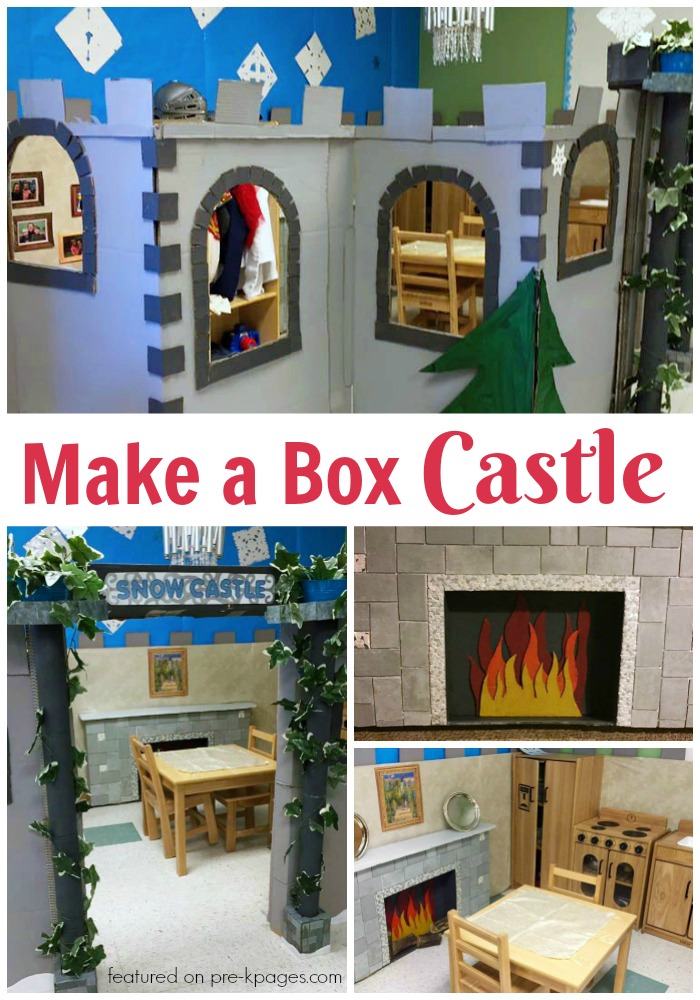 Make a Box Castle
Here's how one teacher used boxes to transform her dramatic play center into a castle, I love how much detail she put into her design!
The fireplace was sponge painted and even includes flames and a mantle. Faux plants are wrapped around the columns at the entrance to the pretend castle to give it a more authentic look.
The rounded windows and the "stone" accents around the windows and top are amazing little touches, I bet the kids had a blast with this pretend play theme!
This creative castle was created by Jennifer and shared over on the Pre-K Pages Facebook page.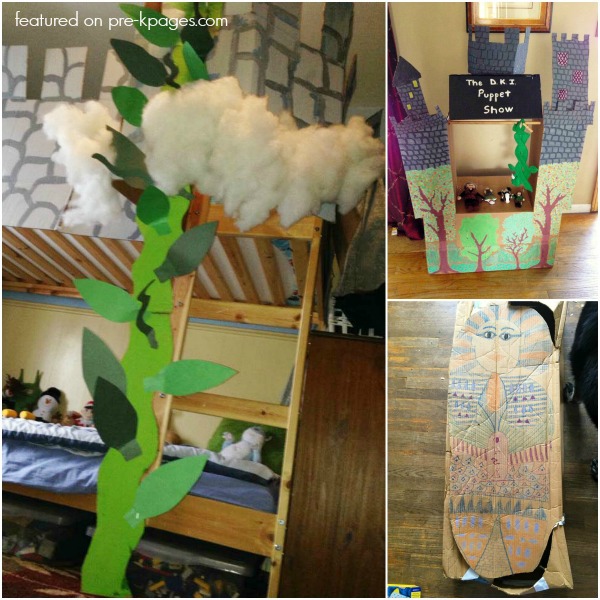 Cardboard Box Hacks for the Classroom
Boxes can be used to add to exploration of any theme in your classroom.
Bunk beds for a Jack and the Beanstalk theme – Cut shapes for a beanstalk from a cardboard box and paint it green. Attach to a bunk bed or reading loft so your children can climb the beanstalk like Jack did. At the top, add a box castle and some fluffy clouds (batting).
Puppet theater – Use a box as a base for a puppet theater. Or add cardboard box scenery around an existing theater. This one painted to look like a castle is perfect for acting out fairy tales and other fun adventures.
Sarcophagus for a study of egypt and egyptian history – This box is a great example of creating specific items for your themes. You could not find anything like this easily to purchase and it would probably be expensive if you did. Creating your own from a cardboard box is the best idea. Or bring a box in and work with your children to create it.
Judy shared her love for repurposing boxes with readers over on the Pre-K Pages Facebook page.
What ways have you used cardboard boxes in your classroom? Share them with us here or on the Pre-K Pages Facebook page.
More Creative Ideas for the Classroom—
20+ Ways to Use Popsicle Sticks
Tape Hacks for the Classroom
40+ Brilliant Teaching Hacks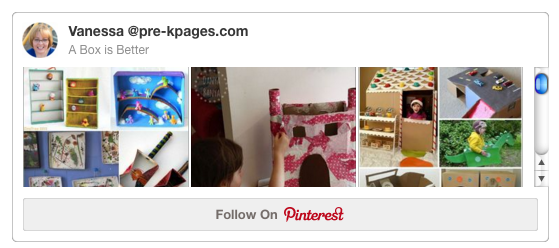 Follow my Cardboard Box board on Pinterest for more great ideas!