The dramatic play area is always a huge hit with young children. Every year it's a tie between which center is the most popular in my classroom, the dramatic play center or the blocks center. Young children thrive on pretend play, they love to dress up and role play real life situations in the play center. The opportunities for developing creativity, imagination, and oral language skills in the play center are endless!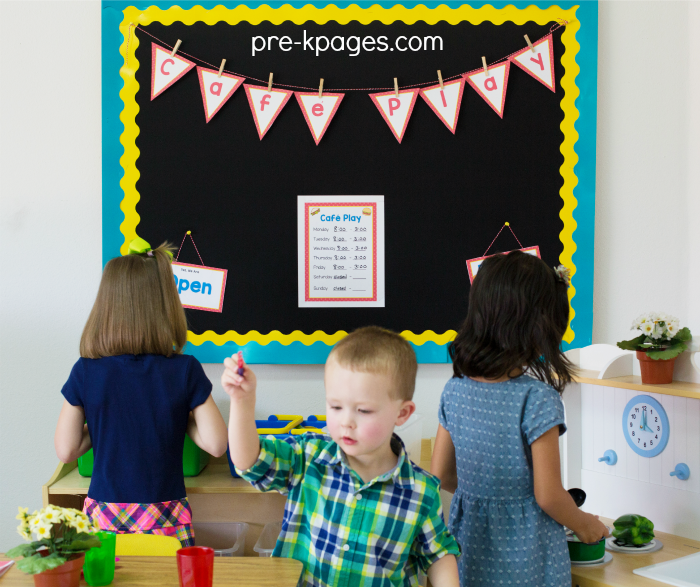 Preschool Dramatic Play Center
To the untrained eye it may seem like kids are just playing when they're in the dramatic play area, but early childhood professionals know differently!
Your pretend center can be filled with many opportunities for both learning and fun. If you're intentional about planning rich and meaningful play experiences for your little learners, they'll not only be having fun, but they'll be learning through play!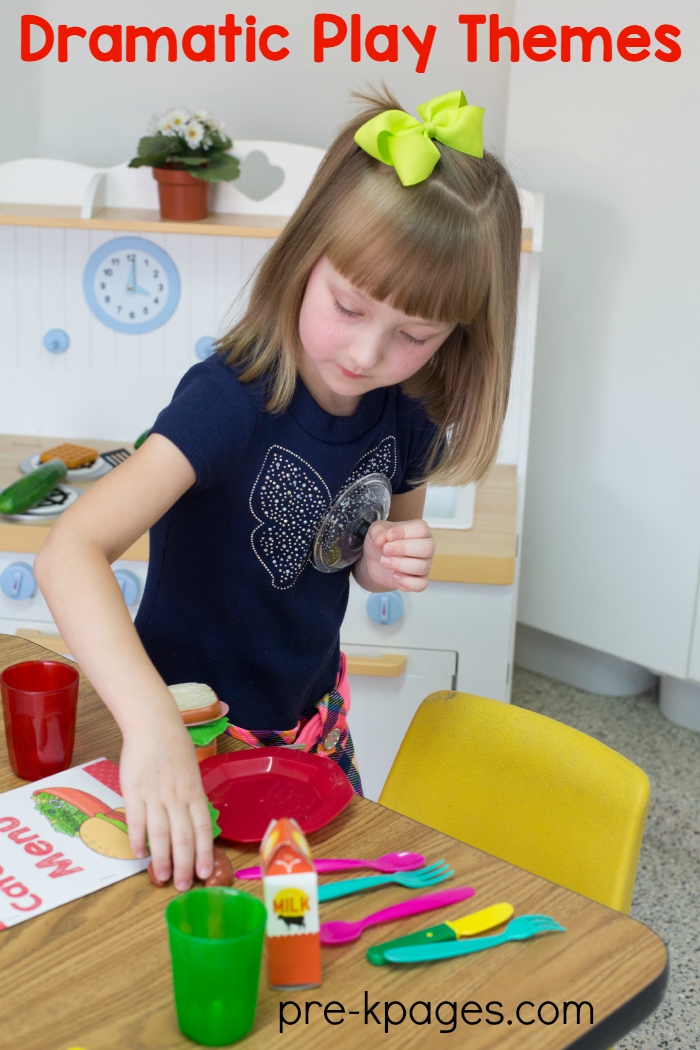 Benefits of Dramatic Play
It's no secret that young children are extremely observant, they like to act out the social scenarios they observe in everyday life in the pretend play area.
When they're acting out these scenarios, they're expanding their vocabularies and developing important oral language skills. They're also learning to think abstractly, practicing problem-solving skills, and developing their abilities to empathize and work cooperatively with others.
Pretend play promotes the development of higher level thinking skills, problem solving, oral language development and oh so much more! When your kids engage in pretend play they're developing critical skills across all learning domains such as language and literacy, math, science, social studies, fine and gross motor, and even social skills!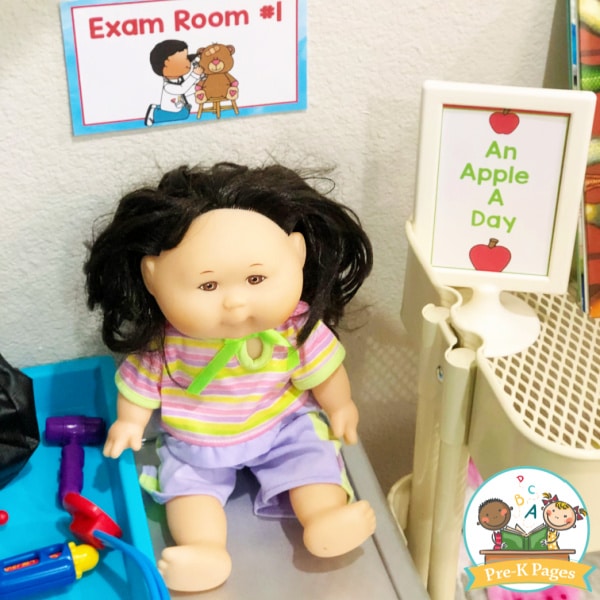 Social Studies
Your dramatic play center provides many opportunities for kids to learn about families, communities and how the world works. Kids can learn about where food comes from in a pretend play apple orchard or at the farmer's market.
Setting up different scenarios in your pretend play area can help your students learn about the different roles people in the workforce have at places like the fire station, doctor's office, or car repair shop.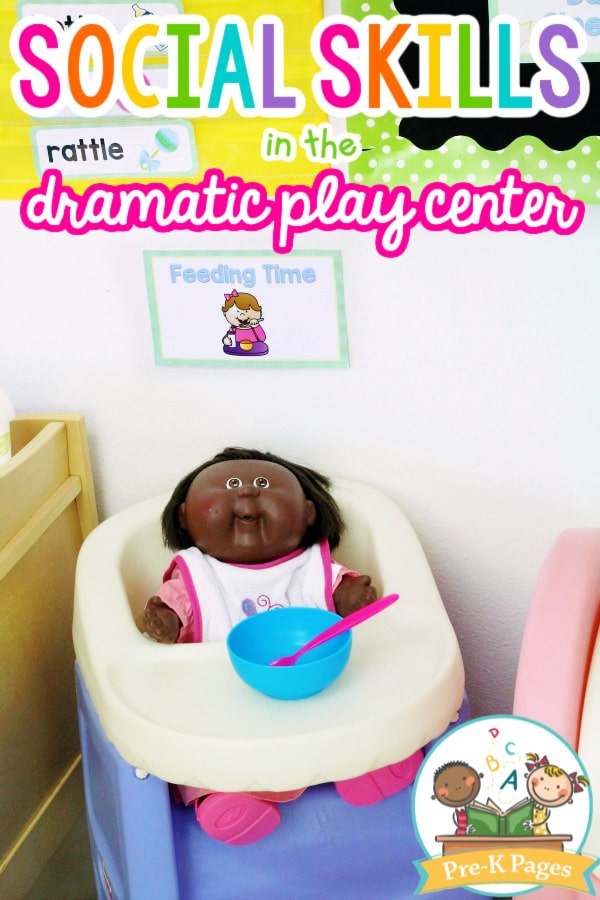 Social Skills
Young children learn how to work cooperatively and solve problems when they engage in pretend play. They're developing empathy as they respond to the needs of babies in the nursery or sick animals in the vet clinic.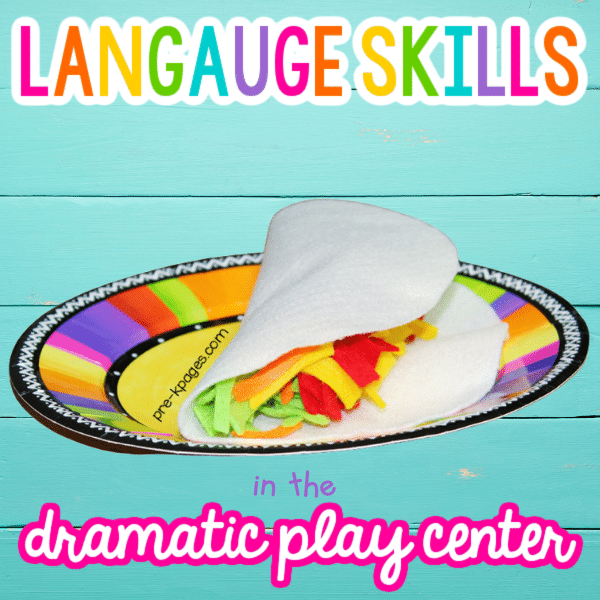 Language Skills
The dramatic play center is filled with rich opportunities for young children to practice new vocabulary. When they play pretend in this center, your kids are practicing how to communicate their wants, needs, and even their food preferences, "No tomatoes on my taco please!"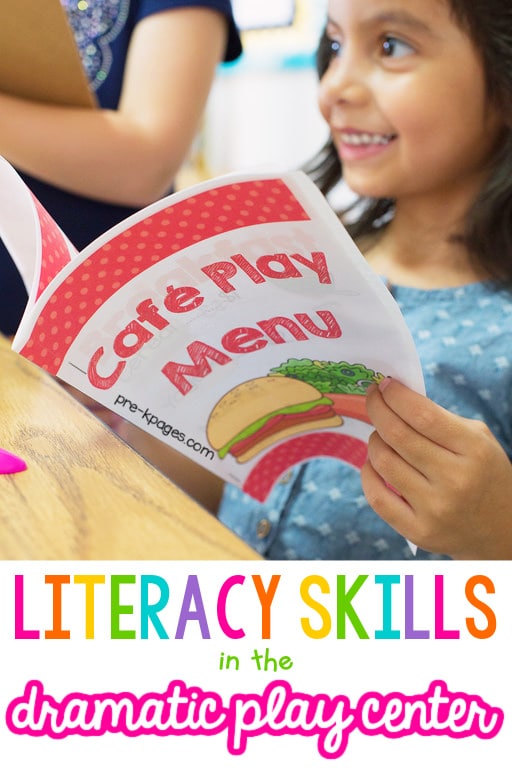 Literacy Skills
Your kids can engage with a wide variety of printed text in the dramatic play area. Things like restaurant menus, a grocery shopping list, campground maps, and pizza order forms help young children better understand the function of print and the importance of reading and writing as a part of our everyday lives.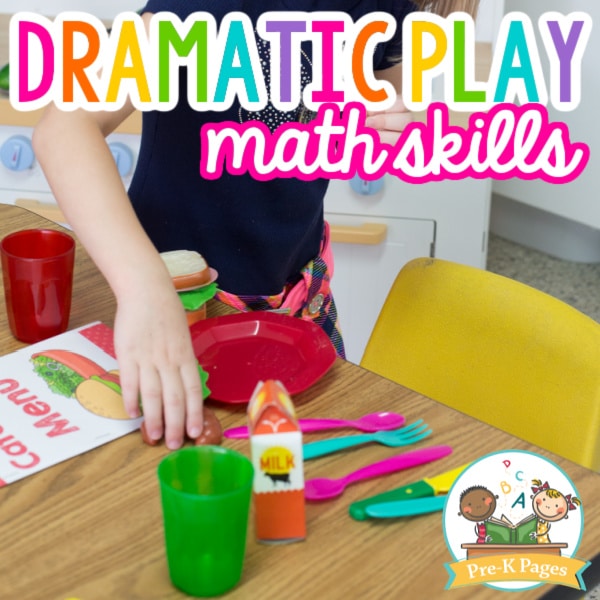 Math Skills
There are so many opportunities to develop math skills in the dramatic play area. When kids count out the scoops at the ice cream shop, buy stamps at the post office, or take the temperature of sick animal at the vet clinic they're practicing important early math skills.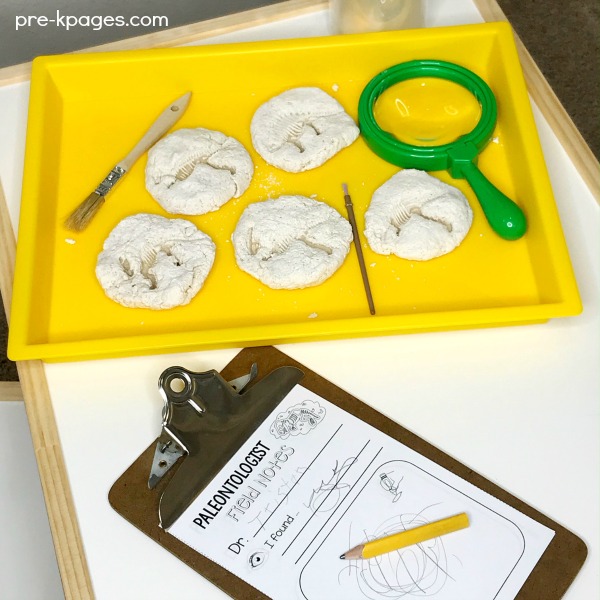 Science Skills
Even science skills can be taught through dramatic play as young children pretend to be astronauts in the space center or paleontologists on a dinosaur bone expedition. They'll be absorbing and practicing important scientific vocabulary when they engage in these types of science rich pretend play scenarios.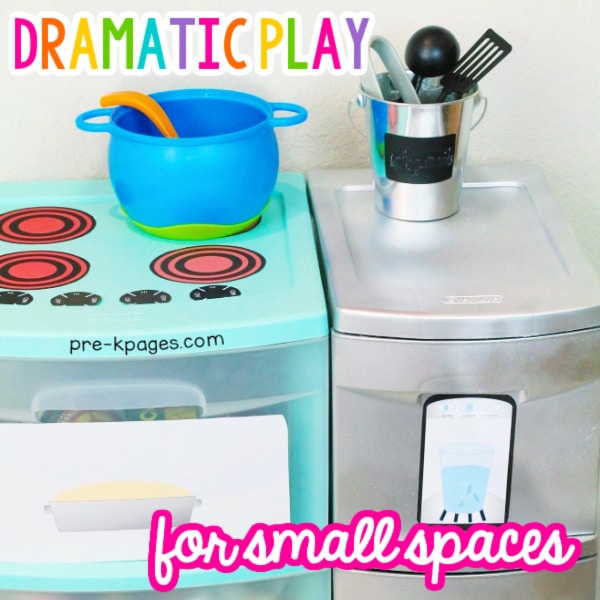 How To Set Up A Dramatic Play Area
The size of your dramatic play center is usually determined by how much space you have for it. If you have a large classroom with lots of space, then the sky's the limit. But even if you have a small space you can still have a very functional and successful dramatic play area.
Here are the very basics for getting started with stocking your dramatic play area with furniture: kid-sized table and chairs, a sink, stove, oven and refrigerator.
If you don't have space or a budget for setting up a dramatic play area in your classroom, then you might consider doing what I did and using plastic Sterilite drawers from any big box store to create a play kitchen. I used one as-is to create the stove and oven, and the slender one was pained with silver spray paint to create the refrigerator. Then, I just cut out some clipart and attached it to the top and front of the drawer units to make it a bit more realistic.
If you have the space and budget for a large play kitchen, here are my suggestions:
For more detailed information about how to set up your dramatic play area, please download my free Center Essentials Guide which includes classroom maps, supply lists, and more!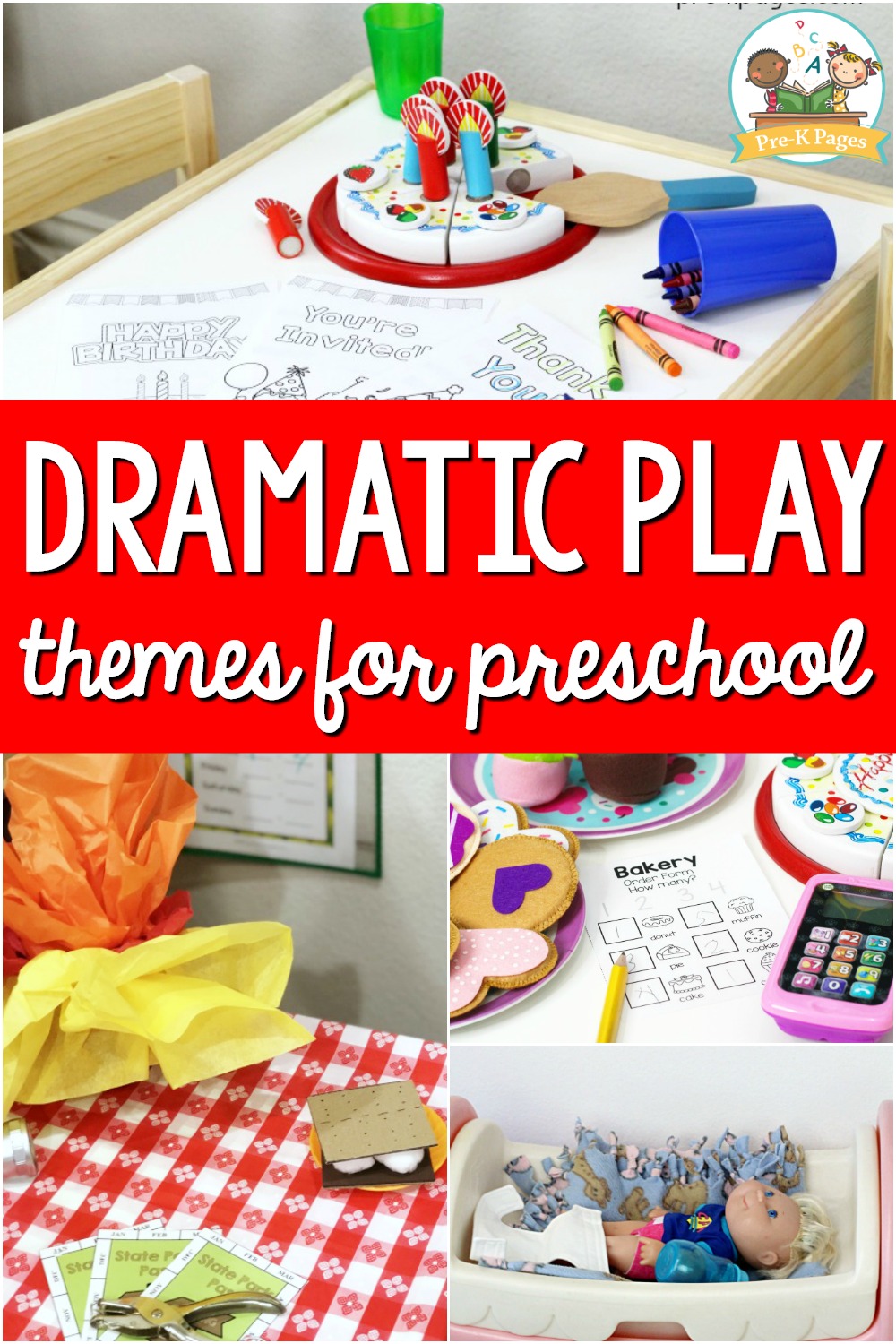 Dramatic Play Themes
You can change your dramatic play center throughout the year to keep it fresh, fun, and exciting. It also allows your little learners to have a wide variety of role-playing experiences.
We like to start out the school year with the basic home living, housekeeping area or play kitchen center, and then we spice things up by changing our dramatic play themes about every two weeks or so. Changing dramatic play themes every two to four weeks allows children opportunities to practice important vocabulary, begin to internalize the new words offered in each play theme, and role-play a variety of common situations.
Click on the links below to see pictures of and learn more about each of the different dramatic play themes we have used in our classroom.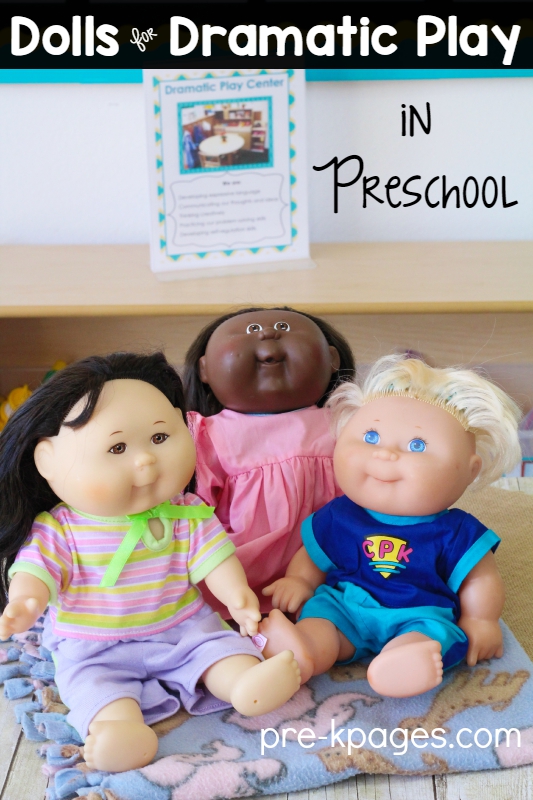 Dolls for Pretend Play
Having dolls that represent a variety of ethnicities in the dramatic play center will provide opportunities for cultural identification for some students, and acceptance for others.
I found all of the dolls pictured here at my local Goodwill store for a few dollars each. I was lucky enough to have a parent make doll clothes one year, and I bought the rest of the clothes for the dolls at the toy store since I didn't have to pay much for the dolls.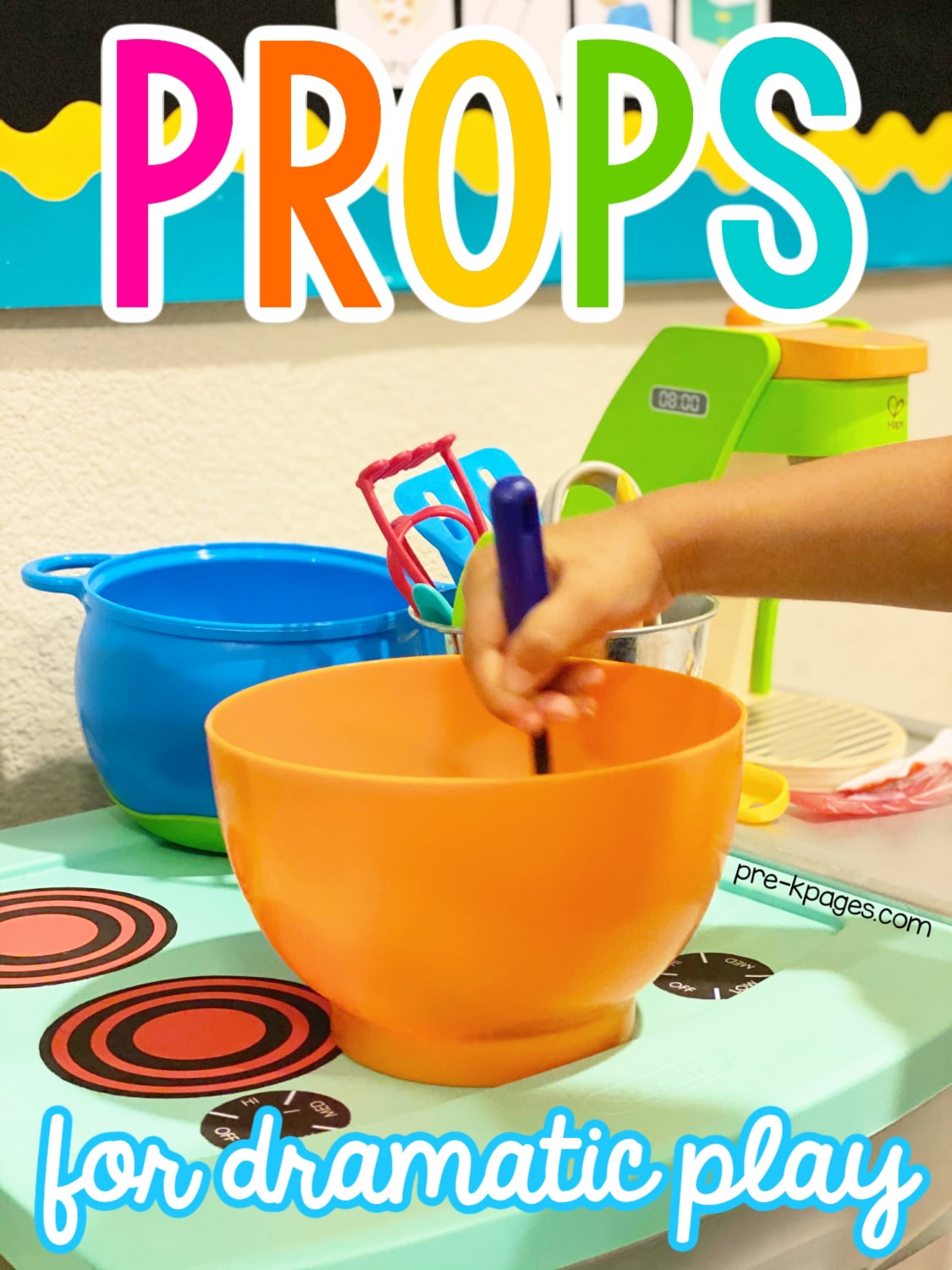 Props For The Dramatic Play Set Up
Having props to enhance opportunities for oral language and skill development is essential in your dramatic play area. Providing your students with props in your dramatic play area can increase engagement and enhance opportunities for critical oral language and skill development.
It's important to give careful thought and consideration about which props to add to your center. You can use real life props, purchase some made specifically for pretend play, or source others inexpensively at the dollar store. You can even make some props yourself.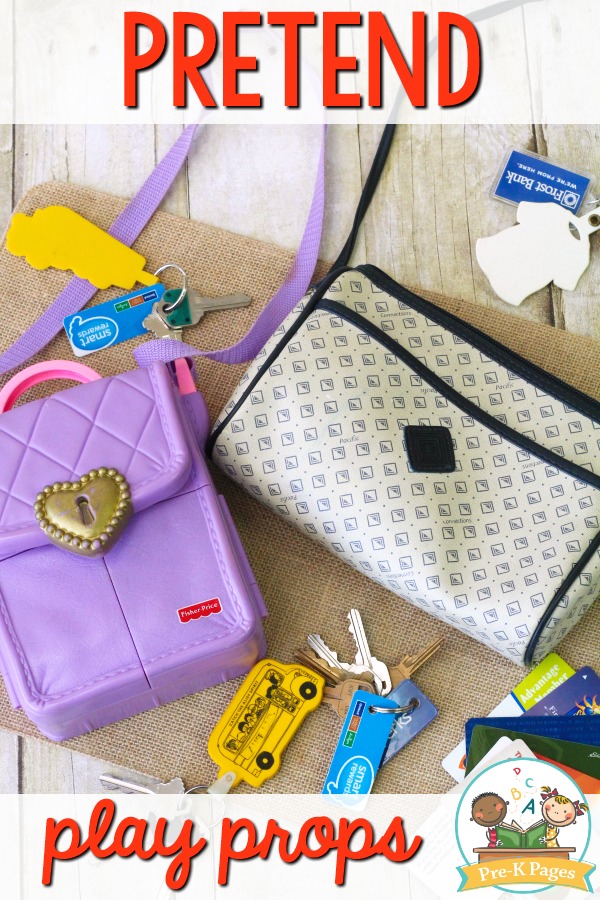 Old purses, wallets, keys, old cell phones without the sim card, and used gift cards are always extremely popular in the pretend play center. I found these purses at a garage sale. Save your old gift cards, wallets, and keys to use in the dramatic play center, you can ask your family and friends to save these things for you too.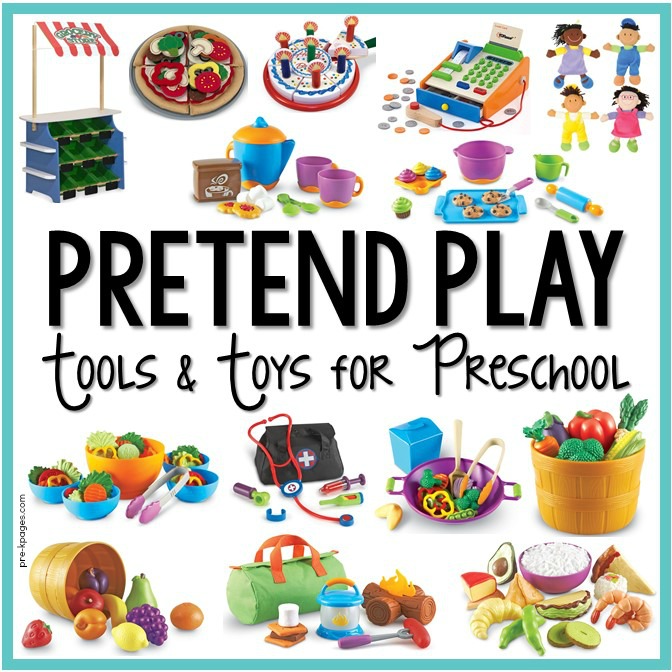 Favorite Props for Pretend Play
There are many pretend play props readily available to purchase in stores. Here are some of my personal favorites.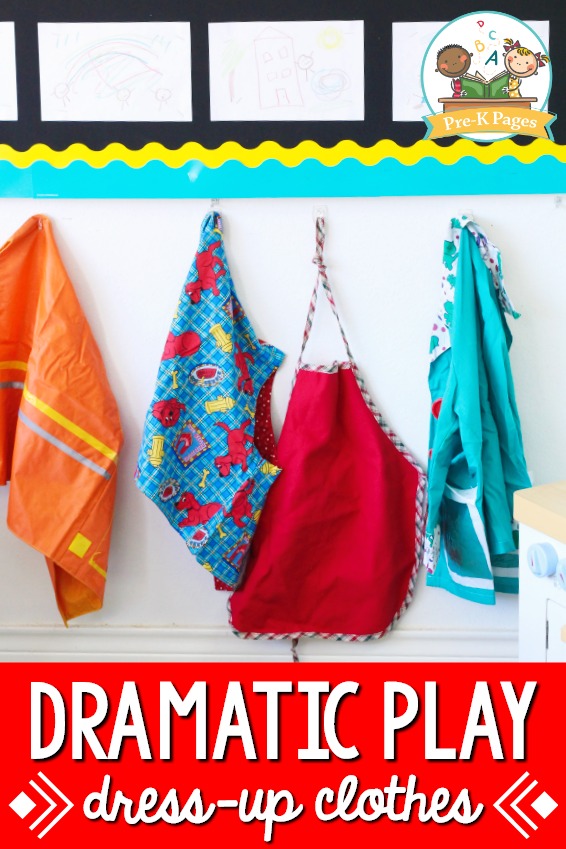 Dress Up Clothes for Pretend Play
Don't forget to add dress-up clothes to your dramatic play area. You can attach hooks with adhesive backing to the wall to hang up your dramatic play clothing. My favorite place to get dress up clothes is the thrift store. You'll find a wide variety of fun clothes that won't break the bank at your local thrift store. Another way to get inexpensive play clothes is to shop the costume sales after Halloween.
If you have a budget and would like to invest in some kid-friendly dress-up clothes, here are a few popular choices: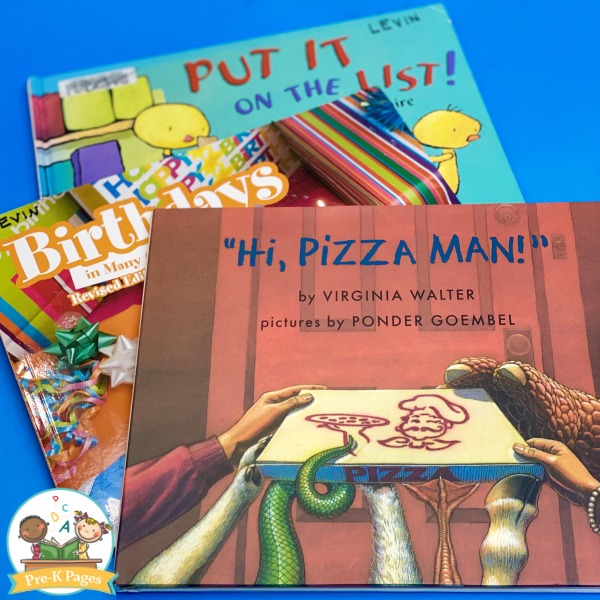 Print-Rich Dramatic Play Center
It's important to include print in every center in your classroom. You can easily add print to any center by providing your kids with books to go along with a theme. Place a tub or basket of books about homes, clothes, food, and families in your home living center, including cookbooks and magazines. This will help them understand that there are many different types of texts that are used for different purposes.
When you make books available in this center you're help your students understand the importance of reading – especially to the baby dolls! Show your kids how to read board books to the baby dolls as they hold and rock them in the play center.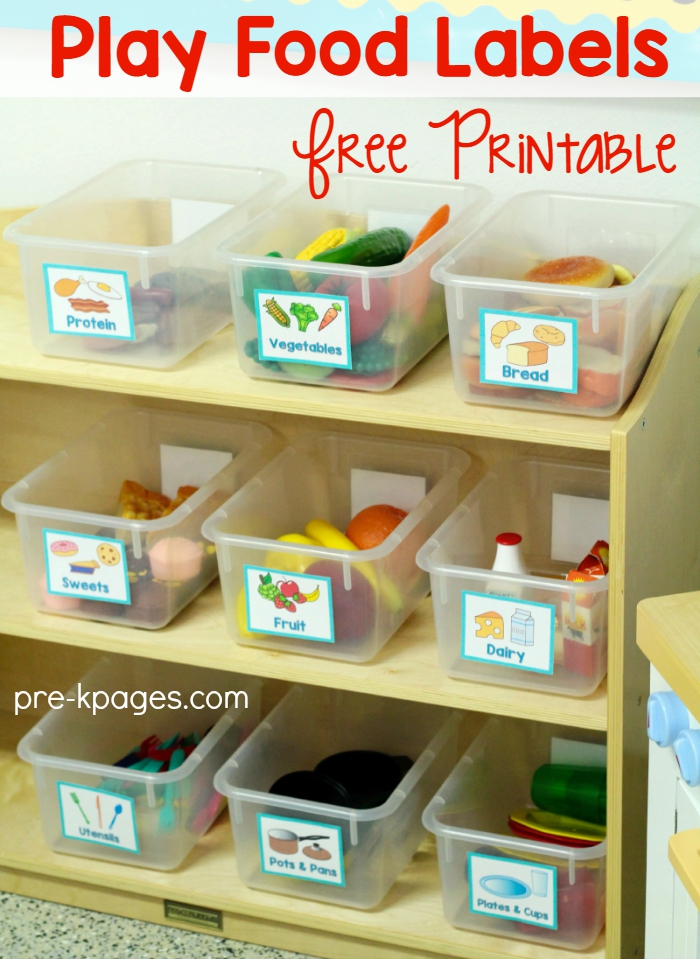 Printable Labels
Labels are another way to create a print-rich environment in your play centers. When it comes to cleaning up the dramatic play area, labels are your best friend! If you label absolutely everything in this center it will make clean-up time go so much more quickly and smoothly for everybody!
You can take pictures of each item in this center with your phone, then add them to a Word or PowerPoint document. You'll also want to add words along with the pictures on the labels to help create a print rich environment in your classroom.
If that sounds like a lot of work, I've got your back! I created these free printable labels for you to print and use in your pretend play area to help organize the pretend food and dishes – I hope you like them!
Here are some ideas for adding print to popular play themes in your dramatic play set-up:
Grocery Store – ads, coupons, sale signs, shopping lists
Post Office – price charts, postcards, stamps, labels, envelopes
Restaurant – menus, signs, order forms, guest checks
Fire Station – checklists, signs, reports, maps
Doctor's Office – sign-in sheets, signs, checklists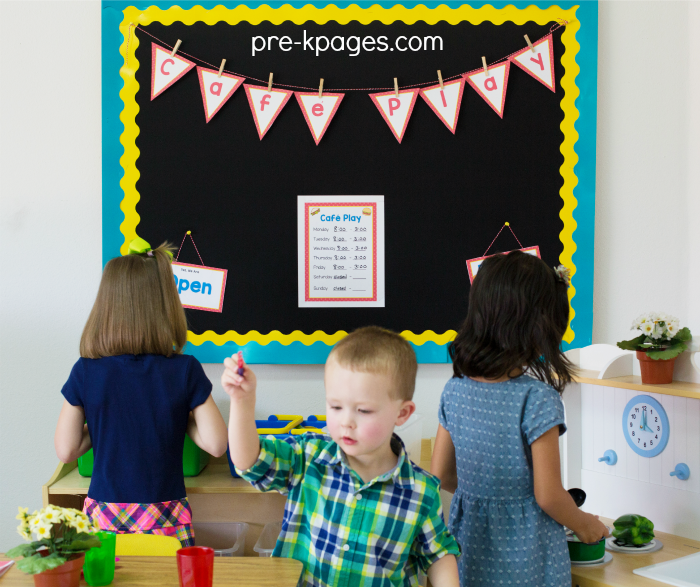 Teaching Trailblazers™
Having a dramatic play center in your classroom is awesome! But let's face it, a dramatic play center can't make you a better teacher. The best place to discuss teaching best practices and get the support you need is in the Teaching Trailblazers. We have many printable lessons and on-demand video trainings to help you become the best teacher you can be! If you want to get on the waiting list for the Teaching Trailblazers, do it soon so you don't miss the next open enrollment period!
Preschool Learning Center
Have you always dreamed of setting up amazing, self-directed preschool learning center for your classroom…but feel like something is missing? How do you know which centers you need? What should you put in them?
Center Essentials Guide
Get your ultimate, step-by-step guide for setting up centers HERE
More Center Ideas from Pre-K Pages